"Choose to create jewelry that is unique to you." ~ South Hill Designs
When I was a child, I remember my mother buying herself a special locket made of 14kt gold. On the front was etched her initials. When you opened up this beautiful piece of jewelry, there was a place to secure two small photos inside. My mum kept a photo of both her parents in the locket (keeping them close to her heart).
I was fascinated by this locket. I loved that it opened up, and that you could hide something inside of it (photos). It was one of my favourite pieces of my mum's jewelry.
Forty years later and my mum's locket is still occasionally draped around her neck. Her gold locket has withstood the test of time, and looks just as pretty on her today as it first did when she bought it.
While lockets never really go out of style, they have come a long ways since the late 1970's.
My wonderful sister-in-law, Lori, recently introduced me to South Hill Designs, a jewelry company based out of Scottsdale, Arizona.
Who are South Hill Designs?
"South Hill is a home party company (created by dads Brian and Joe) that offers beautiful personalized jewelry. Just as important, it's an international community of women entrepreneurs, providing a lifestyle business designed to be fun, inclusive, creative and profitable."
Lori loved the South Hill Designs jewelry line so much, she decided to become a South Hill Designs Artist, selling this fun and whimsical jewelry line. I can certainly understand why she is – this jewelry practically sells itself!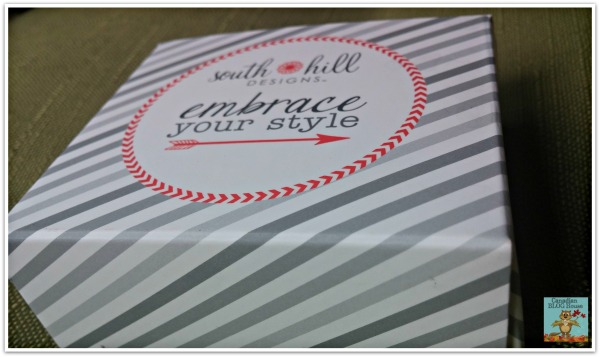 One peek through their catalogue and I was hooked! I fell in love with the huge selection of cute South Hill Designs charms. The fact that I could design my own locket that is unique to me, sealed the deal. I had to order one for myself!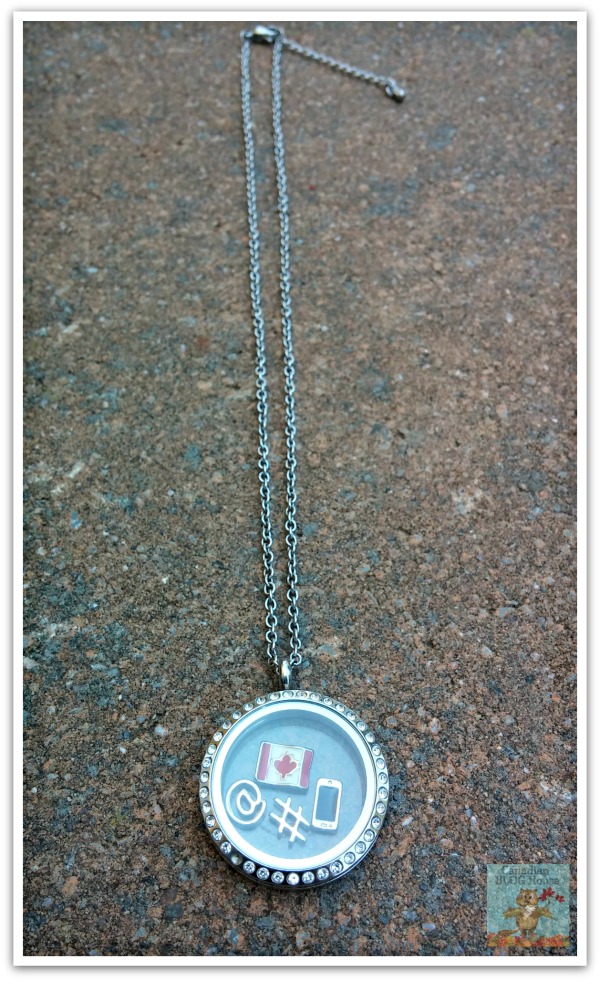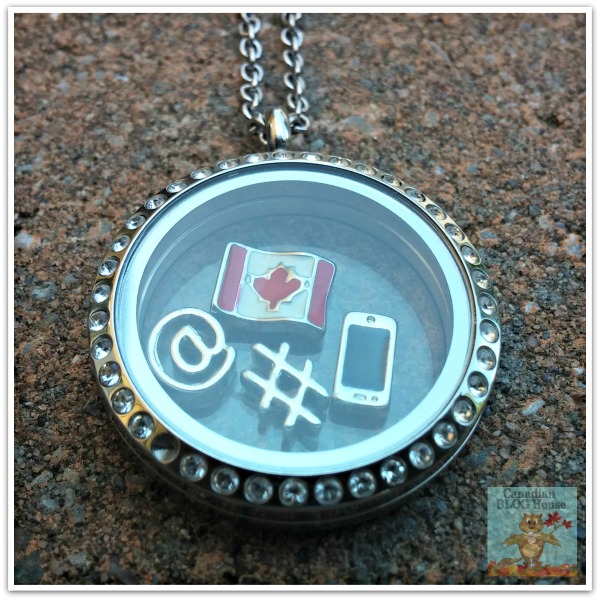 I'm certain it's obvious as to why I chose these particular charms for my locket. Aren't they adorable?
For my actual locket, I chose the Large Silver Tone Locket With Crystals, as I love the design, and I wanted a locket that can hold at least 6 charms. That's the beauty of South Hill Designs lockets – you can mix and match everything. One day you can wear 3 charms, the next you can wear 6 (and yes, I plan on adding more charms to my collection some day soon!).
You can select from different "coins" and "screens" as backdrops behind your charms. South Hill Designs also lets you choose the style of chain you prefer, so you can pick the chain that looks best with your locket and charm selections.
I have to admit, I find South Hill Designs jewelry rather addicting. I love how you can design your locket to be simple and understated, or give your locket more pizzazz by adding fancier charms, coins and screens.
Lori graciously agreed to donate a complete locket set as a door prizes for an event I helped organize in May: the BConnected Conference.
Here's what Lori put together: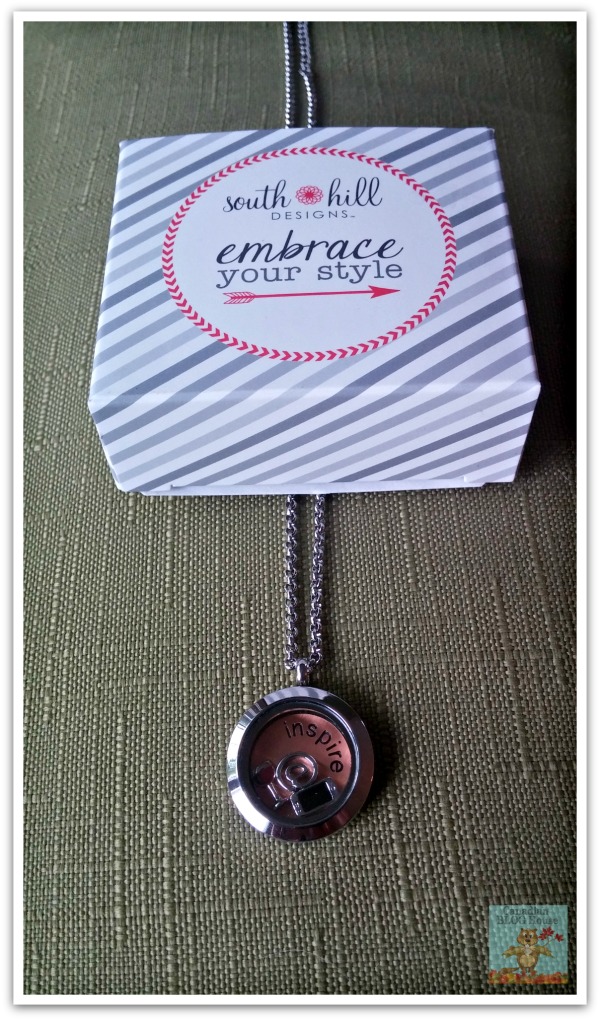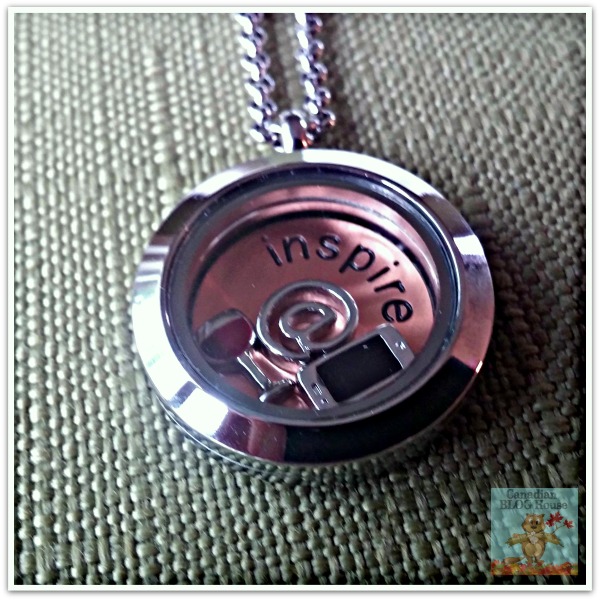 I think the winner of this door prize was happy to receive it!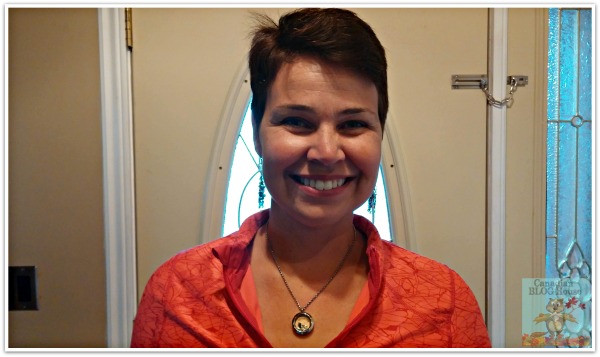 That's the lovely Christa, aka, @ChristaClips, Community Manager for Used Ottawa. Her new South Hill Designs locket looks fabulous on her!
Looking for a unique gift for friends or family, or maybe yourself? Visit the South Hill Designs website to browse through their great selection of charms, coins, screens, and chains.  You'll even find a selection of rings, earrings, and bracelets. Oh and…how about this cute Canadian dog tag!
Need help designing your locket? South Hill Designs has a great virtual Locket Designer, which allows you to design your own locket before making your purchase. It will even tell you when your locket is full and cannot hold any more charms!
Want to see everything at a glance? You can view all South Hill Designs jewelry within their online catalogue.
A big thank you to Lori for donating some fabulous South Hill Design lockets to the blogging event, and for sharing this great product with me!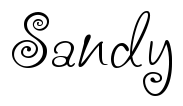 Disclosure: Canadian Blog House was not compensated for this post. I purchased my own South Hill Designs locket and love it so much I wanted to share it with readers!