Canadians face a number of driving hazards during our snowy winter months that can challenge even the best of drivers. When the temperatures finally start to rise, and the snow starts to melt, we face a whole new set of dangers when it comes to driving in spring conditions. With spring comes rain, and often, torrential rains.
Spring storm season has arrived which means it's important all drivers understand that any amount of rain can cause hazardous road conditions. Did you know that, contrary to what most may think, only 17% of weather related crashes occur during snow or sleet?
According to the U.S. Department of Transportation/Federal Highway Administration, 74% of weather-related crashes happen on wet pavement. Take time today to gain some simple wet weather wisdom that can help all drivers reduce the risk of car crashes.
When rains start to collect at the side of the road you are traveling on, hydroplaning can occur. Hydroplaning can cause you to lose control of your vehicle, resulting in an accident.
Do you know what to do if you hydroplane while driving your car? Here is an infographic from State Farm with great tips on how to recover control of your vehicle: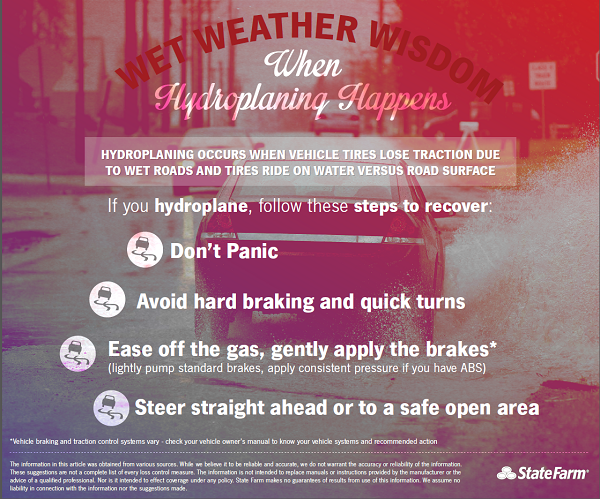 Wet weather driving can be dangerous but, with these road savvy tips from State Farm, you can minimize the risk of vehicle accidents for you and your family:
8 Ways To Stay Wet Weather Wise
Make sure windshield wiper blades and headlights are working well. Replace blades at least once a year for best results.
Check that rear and brake lights are functioning properly. They help your vehicle be seen in rainy weather.
Switch from winter to summer tires, if needed. Don't forget to check tread wear and tire inflation. Both can help with traction.
Reduce your speed on wet surfaces and allowing a safe following distance.. Rain, oil and dust equal slippery conditions and traction problems on roads.
Turn off cruise control. When roads are wet it is best to allow the driver to control speed and react to conditions.
Pay attention to flood warnings and barricades. They're typically placed in areas where flooding occurs often and can be potentially dangerous.
Avoid driving through standing water, putting yourself, passengers and your vehicle at risk. You can lose control in as little as six inches of water; deeper, moving water can cause stalling or carry vehicles away.
Hydroplaning, the skidding or sliding of tires on wet surfaces, can happen anytime roads are wet. If your vehicle hydroplanes:  Don't panic.  Avoid hard braking and quick turns.  Ease off the gas, gently apply the brakes (lightly pump standard brakes, apply consistent pressure if you have ABS).  Steer straight ahead or to a safe open area.  Vehicle braking and traction control systems vary. Check your vehicle owner's manual to know your vehicle systems and recommended action.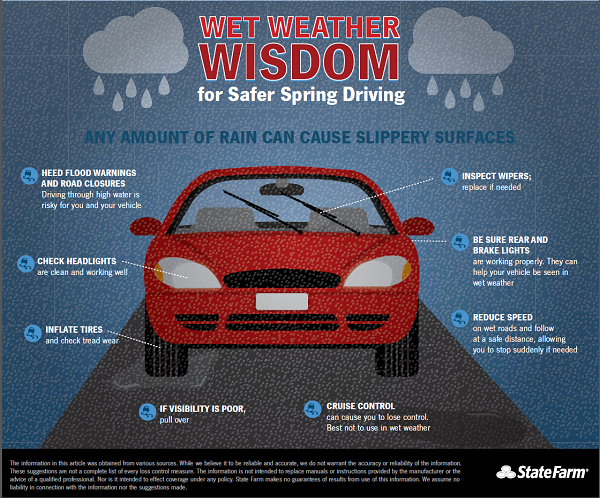 State Farm takes their role as a good neighbor seriously when it comes to keeping you and your family safe on the road. Their relationships and programs promote child passenger safety, teen driver safety, seat belt safety, sober and engaged driving. For more great safe driving tips be sure to check out the State Farm Auto Learning Center.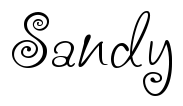 Disclosure: Canadian Blog House received compensation for this post. All opinions are our own.
"The information in the article was obtained from various sources.  While we believe it to be reliable and accurate, we do not warrant the accuracy or reliability of the information.  These suggestions are not a complete list of every loss control measure.  The information is not intended to replace manuals or instructions provided by the manufacturer or the advice of a qualified professional.  Nor is it intended to effect coverage under any policy.  State Farm makes no guarantees of results from use of this information.  We assume no liability in connection with the information nor the suggestions made." State Farm