Back to school is a busy time of making sure kids are ready to face a brand new school year, set up with all the back-to-school supplies and clothing they need to get them off to a great start.  So now that it has been a few weeks since the beginning of this school year, routine has set in and the learning is in full force.  This is the time when you start to realize that perhaps there were a few things you left off that back-to-school list.  Or maybe your little munchkin has already lost a few of the items you JUST bought. No matter what, finding all the school essentials you need is EASY at Staples!
Life is full of "firsts", and so is school.  There is your child's first day of school, their first teacher, their first school lunch…and the first time they have to visit the Principal's office (well..ok..hopefully THAT is never on your child's "firsts" list!).  Then there is one of the proudest moments for any parent – the day their child reads aloud from a book for the very first time.
Today, reading from a book is no longer limited to flipping paper pages.  High quality readers, like the Kindle Fire HD, are virtually taking the world by storm.  This is great news for little readers learning to read for the first time.  What could be better than combining a child's love of fun stories, colourful images, and gadgets?
Staples recently invited us to head into our local Staples store to see for ourselves what Staples has to offer for back-to-school essentials.  Tops on our list was the new Kindle Fire HD.  If you are not familiar with this "hot" e-Reader, here are some specs:
Vivid 7″ display (1280×800), with over 1 million pixels, for an immersive HD experience

Massive selection of top-rated games, apps, books and more with free unlimited cloud storage for your Amazon content

Easy-to-use parental controls lets everyone enjoy worry free

Ultra-fast processor, apps launch quickly, games play smoothly with the dual-core 1.5 GHz processor

Fast web browsing, email and calendar support including Gmail and Outlook.  View documents with built-in OfficeSuite

Top games and apps now in HD
X-Man has already mastered the first few levels of reading in French, however, he just started learning to read English for the first time a few months ago.  An eReader such as the Kindle Fire HD is the perfect companion for learning to read.  X-Man is already a pro with tech devices.  He can run circles around me when it comes to his Nintendo 3DS and his iPod.  We have no doubt he could master his English reading skills AND this Kindle Fire HD in no time.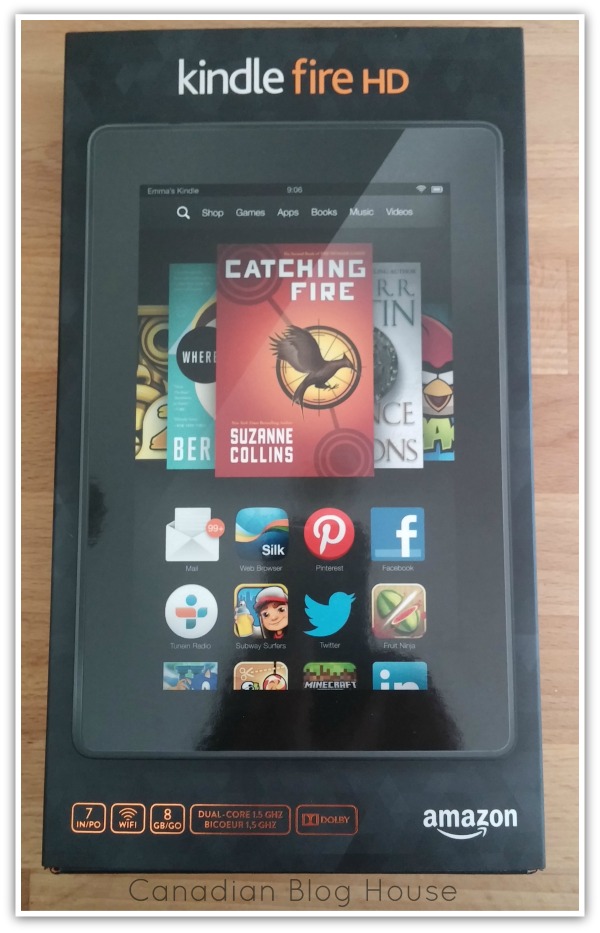 Choices abound when it comes to finding great reading material for our Kindle Fire HD.  To start, Amazon has a huge selection of kids books that are compatible with the Kindle Fire HD.  Browse through the Amazon.ca children's section – they offer books for kids up to 12 years of age.
Shhh! Don't tell anyone.  I saw my personal fave there – Captain Underpants!
The Kindle Fire HD was just the start of our school supplies shopping at Staples.  Next on the list were two "staples" (pardon the pun) that every child needs: a backpack and a lunch bag.
I've shopped at Staples many times over the years but, I must admit, I don't tend to think of this retailer when it comes to shopping for backpacks and lunch bags.  I will now. I found out that Staples has an amazing selection of these items, both in-store and online.  After taking a quick peek at the Staples online selection, I have no doubt that every parent could find a backpack and/or lunch bag there that would be suitable for their child.  It was a tough choice for both items – there were so many we liked! We narrowed it down to a High Sierra Access Backpack and a Lug Tacklebox Lunch Tote:
There's no mistaking the top-quality materials and workmanship that goes in to both the High Sierra backpack and the Lug lunch box.  All seams are well sewn, hardware appears rugged and durable, and both pieces are highly functional and perfect for their respective jobs: carrying a load of books and school supplies, and a day's worth of food and drink.
I adore the High Sierra backpack. Here's why:
plenty of hidden pockets, compartments and oodles of room to store and carry just about anything

padded straps and back panel make this backpack comfortable to wear and provide good support to your back and shoulders

great little cell phone pocket easily accessible on strap (yet secure)

can carry a 17″ laptop and plenty of books

comes with a "tech spot" – a zippered opening that opens just enough to slip a laptop in and out
I have been in love with Lug bags ever since I first spotted them online, yet haven't owned a Lug product…until now. Here's why I love our Lug Tacklebox Lunch Tote:
ample room for all that food needed for growing kids

a foil lining which is great for keeping hot foods hot and cold foods cold

a large opening on top of the lunch box for easy access to the contents inside

a detachable shoulder strap

strong durable hardware

handy pocket on side for personal information (name)

stylish, durable, camo-look outer shell
 My favourite feature about the High Sierra backpack?  The rain cover! That's right, this backpack comes complete with a yellow shell hidden in a pocket at the bottom of the backpack.  All you do is quickly unzip the pocket, pull out the shell and cover over the backpack, keeping everything safe and dry.  That's smart thinking!
We also managed to scoop a few additional school supplies that were well-needed:
a handy "Staples Brand" 3 hole punch

a pad of lined paper

a box of triangular learner's pencils (X-Man loves these!)

a package of pencil cap erasers

a Mead Five-Star notebook
That wrapped up our school shopping – for now.  As any parent knows, shopping for school supplies never really ends.  That's ok.  Now we know we can head on over to Staples to help us meet all our school supplies needs.
At Staples, school supply shopping is that EASY!
 
Disclosure:  Canadian Blog House was provided with the above items in exchange for this post.  All opinions are our own.