Reality television has been going to the dogs for years – and I'm not just talking about Dog the Bounty Hunter, I'm talking about storage locker shows! Some of the best moments on Storage Wars, Storage Hunters, and Auction Hunters have come to us courtesy of man's best friend. Here we look back on some of our favorite storage locker finds from the storage-hunting shows we all know and love.
K9 Training Suits
No one can forget the time Allen let himself be attacked by a K9 on an episode of Auction Hunters. Ton and Allen traded foam core material from one of their storage lockers to a local man for a treasure trove of K9-training suits. Allen was sure it was worth more than the foam core material, and found a buyer who agreed in the form of a trainer from one of the top K9 academies in the area. She said she would pay $2,300 for the suits, but would throw in an extra $700 if they would include a field test in which Allen donned a K9 training suit and let himself be attacked by a German Shepherd. Allen was initially resistant, but eventually agreed. The dog got to use him as a chew toy for several minutes, and the man walked away, mostly intact, with a cool $3,000.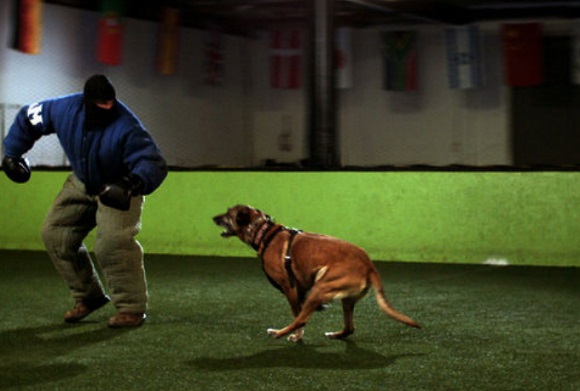 Dog Collar
On an episode of Storage Hunters, Brandon and Lori won a bin for $400, containing what looked to be supplies for a dog grooming business dropout. Underneath all the shampoo and organic dog food, Lori found a rhinestone-studded dog collar in a tiny box. She thought it was worth something, but Brandon wrote it off. Turns out the rhinestones were actually diamonds and the collar was valued at $1,000! Nice find, Lori!
"Blue Dog" Painting
Another valuable storage locker find from Auction Hunters was an original painting of a blue dog by artist George Rodrigue. Ton and Allen uncovered a signed book full of Rodrigue's artwork, which was estimated to be worth about $75. Portrayed within the book, however, was a unique painting of a blue dog, touted as "one-of-a-kind" by the book. This original painting just so happened to be kept in the same locked storage unit as the book! The art expert they called to confirm the painting's authenticity also confirmed its value, and ended up purchasing it from the duo for $8,250. Not bad!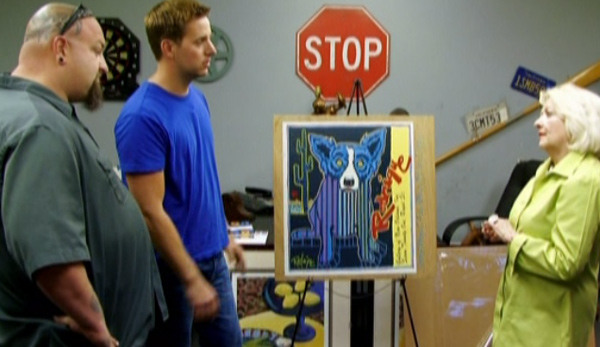 Sniffing Out a Winning Unit
My favorite dog-related storage show moment came on an episode of Storage Wars. Brandi and Jarrod's canine sidekick, Johnnie, helped them score a winning storage unit. "Good job, Johnnie! I think Johnnie sniffed out a winner! I just took storage locker advice from a dog," said Jarrod. The unit ended up netting them over $1,000, and Twitter went mad. "Love your new help #Johnnie know his storage lockers … Listen to the dog," one viewer tweeted. Turns out that making money can be a doggone good time!
I love the anticipation and surprise of these types of shows. You never know what someone is going to find when they open those closed doors and bins! Did you happen to catch Jarrod's Twitter moment when he tweeted about Johnnie? I missed it!
Do you watch any of these reality shows? What is your favourite and why? I'd love to know!