GEEK TESTED NERD APPROVED
Who doesn't LOVE getting a package in the mail? Me, I get excited every time I see a courier truck pull into the driveway!
Imagine if you could get a surprise delivery shipped to you every month, how fun would that be? I'd say FUN with a capital F!
X-Man always gets excited when a package is delivered…until he realizes that it's for me again. But surprise! Just before Christmas, X-Man got his very own special delivery:

"Nerd Block is a monthly mystery package delivered right to your door filled with nerdy apparel, toys, and collectables! Every Nerd Block comes with a custom t-shirt (in your size) and 4-6 epic items for you to tear into! Nerd Block is filled with toys and collectables from your favorite brands including Star Wars, Adventure Time, Doctor Who, Marvel, and many more! Every box is loaded with various genres to appeal to everyone from video game and movie fanatics, to toy and comic collectors. Each item is Geek Tested, Nerd Approved!"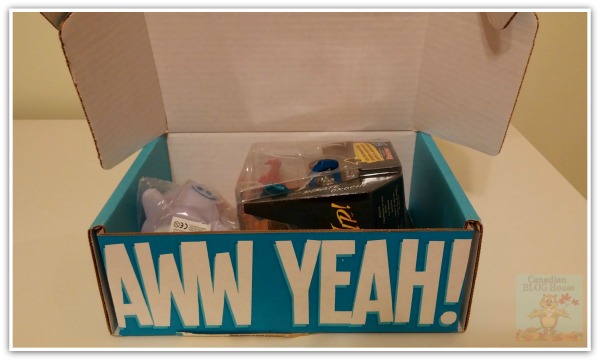 Since X-Man is 9-years-old, we decided to get him the "Nerd Block Jr. – Awesome Boys Toys For Ages 6-11".  As per the Nerd Block website, it says you can expect to received things like "Star Wars Action Figures, Hot Wheels and Mega Bloks Power Rangers" when you choose the Nerd Block Jr package for boys in this age group.
Well, we didn't receive any of those items (much to X-Man's displeasure – he's a Hot Wheels/car fanatic), however, we did receive some other great things in our Nerd Block Jr. box: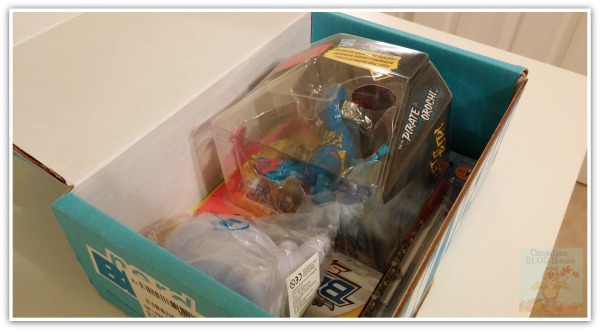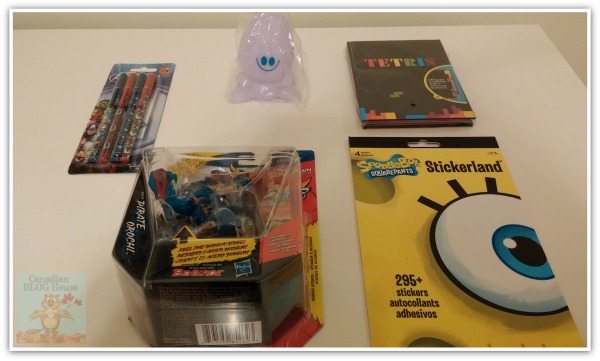 " Nerd Block contains licensed merchandise, hand-picked by our team of uber-nerds representing all genres from movies, television, video games, internet, and more! Each item is carefully selected and put through a series of in-house testing based on quality, brand association, collectability, and most important – fun factor. Working with some of the biggest brands in the business, Nerd Block not only delivers on value but also rewards members with exclusive items found nowhere else!"
So depending upon your child's age and interests, you can select a Nerd Block or Nerd Block Jr. subscription service that matches their likes and interests. Have further questions about Nerd Block? They've got a terrific Nerd Block FAQ section.
X-Man really enjoyed getting his very own Nerd Block subscription box in the mail, and we all loved the element of surprise of not knowing what to expect when we opened the box.  We were very impressed by the way our Nerd Block contents were packaged – in a very strong, sturdy box that kept everything safe and secure.  Not to mention the "fun" graphics on the outside of the box!
If a Nerd Block subscription service is something you think your child would love, be sure to visit the Nerd Block website to check out the Nerd Block options available. Don't forget to like Nerd Block on Facebook and follow Nerd Block on Twitter for more information and fun!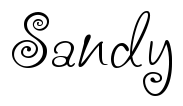 Disclosure:  Canadian Blog House received the above product in exchange for this review.  All opinions are our own.