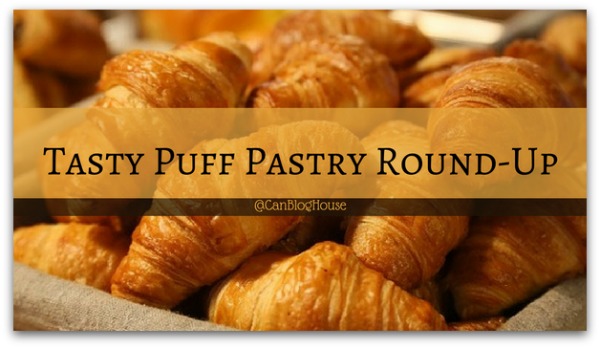 This past New Year's Eve, despite good intentions, and the fabulous Ottawa 2017/Canada 150 celebrations happening on Parliament Hill, we did not venture downtown to ring in the new year.
Instead, we stayed in, with a bottle of bubbly – and some tasty puff pastry Pear and Cheese Galettes.
In fact, we found the recipe for Pear and Cheese Galettes SO tasty, it inspired this post.
Created by my friend Paula, Food Editor of Ottawa At Home Magazine, and blogger behind Constantly Cooking, Paula also developed the recipes for the Ford Canada #FordFarmToCar Sustainability Breakfast at the 2016 BConnected Conference.
[bctt tweet="Tasty Puff Pastry Round-Up " username="CanBlogHouse"]
I had never attempted a puff pastry appetizer before, and I couldn't have chosen a better recipe to start with.
The only thing I need to learn is how to roll out my puff pastry better. It appears I did not roll the pastry out thin enough. I ended up with only 12 galettes when the recipe says I should have had 24.
But who's counting?
Apparently not me.
I ate the equivalent of 6 (regular sized) gallettes on New Year's Eve…and 6 more on New Year's Day.
Yes, they were that good!
I made mine with brie. Next time I'm trying blue cheese or stilton.
PEAR AND CHEESE GALETTES ~ CONSTANTLYCOOKING.COM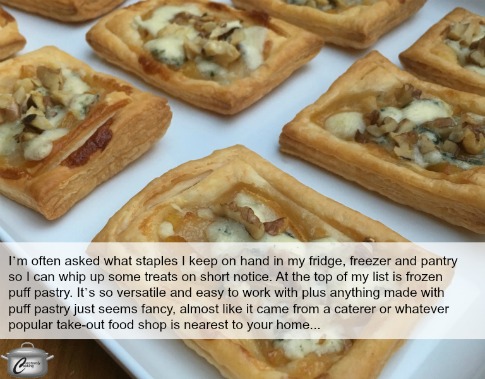 After eating such a tasty puff pastry recipe, I decided I need more puff pastry in my life.
So I put the call out for tried and tested puff pastry recipes, and I gathered 4 more that look every bit as tasty as Paula's Pear and Cheese Galettes.
Starting with Shayna's recipe for Asparagus Tart.
Shayna says she's not an asparagus fan, but I sure am. My mother passed her love of asparagus on to me at a young age.
This recipe looks super easy…and super tasty – at least to me!
Next, I was thrilled when Cheryl offered up her Best Chicken Post Pie recipe. I have been wanting to try a chicken pot pie for a while now but, I didn't have a recipe I liked the look of.
This chicken pot pie looks delicious.
Cheryl's a good cook, so I have no doubt that this recipe will live up to its name. This one is on my "must make" list.
I love baked brie. I've had it several times – but always at a restaurant. I always thought it must be far too complicated for me to attempt at home.
Wrong.
Here's another fabulous puff pastry recipe from Shayna that looks oh so super easy, and so tasty!
Are you hungry yet? I am.
Here's another one from Cheryl that looks a dish that could quickly become a fan favourite in my family. I also love the fact that Cheryl included some step-by-step photos so you can see how everything is put together.
So do you have a favourite puff pastry recipe? Let me know if you give any of these recipes a try!