Toronto will always have a special place in my heart.  It was in Toronto that I spent my teenage years.  I loved every minute of growing up in this city full of fun things to do, exciting concerts to attend, and endless streets and malls full of great shopping.
Now living a 5 hour drive from Toronto, I don't get back there very often anymore, so when our March Break plans changed suddenly, we decided it might be fun to make a quick little trip to Toronto.  Trying to make new plans, and book a hotel right before the busy March Break vacation time, left me wondering if we would be able to pull it all together so quickly, but thanks to the great folks at The Grand Hotel & Suites in downtown Toronto, we didn't need to worry about a thing!
The Grand Hotel & Suites is "an exclusive retreat offering luxury accommodations and unsurpassed service.  It features 177 extraordinary guest suites."  Located just a couple of blocks east of the "Times Square of Toronto", Yonge & Dundas, The Grand Hotel & Suites is just a short drive away from many of Toronto's top tourist attractions, including the new Ripley's Aquarium, the CN Tower, Rogers' Centre and the Air Canada Centre.
We were invited by The Grand Hotel & Suites to come relax and enjoy their hotel during our visit to Toronto. We were thrilled they were able to accommodate us at this busy time.  One peek at their website and we knew we were in for a real treat!
Upon our arrival at The Grand Hotel & Suites I ran inside to check in with the front desk.  What a beautiful front entrance and registration area this hotel has.  Beautiful decor and nice lighting combine to make for a very warm and inviting arrival.  It took me less than 2 minutes to be served by one of the lovely ladies at the front desk.  I did not advise her of who I was, or why I was staying at this hotel, until after I had finished checking in.  She was nothing but courteous and helpful.  She answered all my questions and gave me some good advice.  My check-in experience was fast, efficient and friendly.  A great start to our stay at The Grand Hotel & Suites!
We had the pleasure of being treated to a "behind the scenes" tour of The Grand Hotel & Suites by Tanya, my contact for our visit to the hotel.  Tanya provided us with all kinds of interesting tidbits of information about this hotel during our tour. For example, we found out that The Grand Hotel & Suites was previously the Toronto Headquarters of the RCMP up until the year 2000.  What a rich history this hotel has!  If the walls of this hotel could talk, imagine what they could tell us!
Tanya took us to see Citrus, The Grand Hotel & Suites' on-site restaurant. Located just steps from the front desk, this restaurant offers guests a great indoor seating area, as well as an outdoor heated patio area (for when the outside temperature isn't sitting at minus 25 degrees celsius like it was during our visit!).  The dinner menu at Citrus looks absolutely superb!  Sadly, due to time constraints and previously made plans, we were not able to take The Grand Hotel & Suites' invite to enjoy a dinner there. Be sure to read my friend Kim's review of her dinner at Citrus.  It looks like she had a great meal there!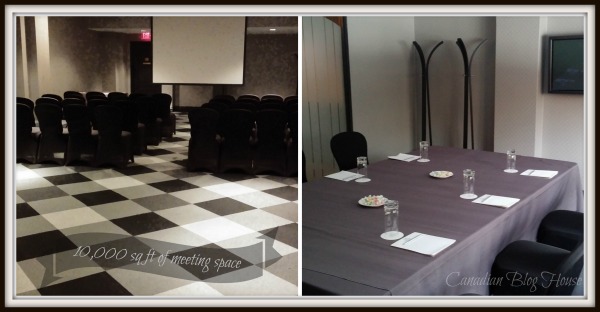 Continuing on our tour, Tanya showed us many of the conference rooms that make up the 11,000 square feet of meeting space located in The Grand Hotel & Suites. This hotel is a very popular location for hosting conferences, meetings, weddings and other events.  The Grand Hotel & Suites has just about every size of conference room to meet your needs.  All rooms we saw were well appointed and clean.
Of course, one of the highlights of our tour was the pool area.  X-Man had his mind set on this from the minute we left home.  He couldn't wait to jump into the water.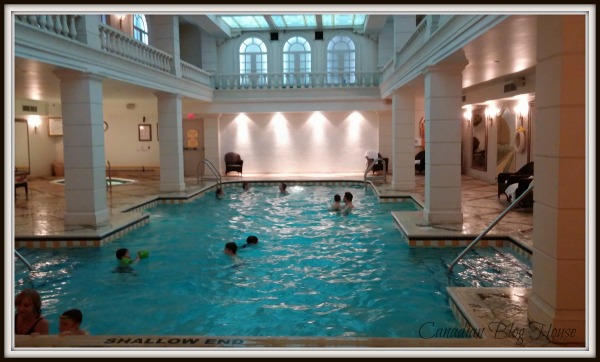 This two-storey indoor pool is one of the nicest indoor hotel pools I've ever seen. Filled with saltwater, this pool has plenty of room for guests who wish to swim and play, and also for those guests who prefer to soak quietly at the side of the pool. The pool area was immaculate, with plenty of chairs for guests surrounding the pool itself.  Loads of clean fresh towels were displayed near the pool within easy reach for all guests.  We loved that there are change rooms in the pool area!  This meant that we did not have to come down from our room wearing our bathing suits – instead we could bring them and change there.  A nice added touch that you don't often get at hotel pools!  Something I loved about the pool area at The Grand Hotel & Suites is that they keep this area WARM! I can't tell you how often I freeze getting in and out of indoor pools, so it was a nice treat to be in a pool area that is kept at a comfortable temperature.  The only issue we noted in the pool area, which is simply a cosmetic issue, is that the wallpaper was beginning to look dated and, in some places, was starting to peel off the walls, likely due to heat and humidity.
The fitness room at The Grand Hotel & Suites is filled with brand new equipment. Treadmills, Elliptical Machines, Weight Lifting Sets, and other equipment line the outer edges of the room. The fitness room is nicely maintained and also has a comfortable sitting area with couches, chairs and coffee tables.  Definitely one of the nicest fitness rooms I've ever seen in a hotel.
Tanya escorted us all the way up to the 19th floor of The Grand Hotel & Suites to show us the roof top hot tubs. WOW! The view from the top is spectacular! From the roof top you get a 360 degree view of downtown Toronto. Here's what we could see looking south towards Lake Ontario: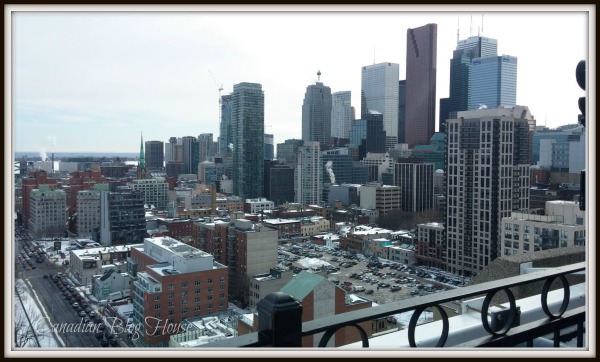 After a quick look around the wonderful roof top patio garden,  it was time to head back down to the third floor to enjoy a little bit of relaxation time in our suite.
A suite? They call this a suite? SWEET!!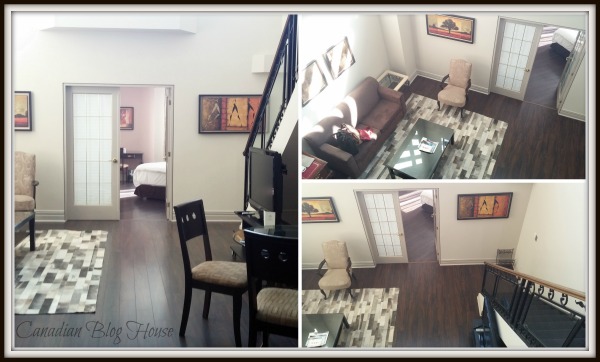 Upon opening the door, this is the view that greeted us. Our Ambassador Suite was larger than my first apartment!  Complete with a fully stocked kitchenette, dining area, guest bathroom, living room, master bedroom with full ensuite bathroom, and cupboards and closets galore, the first floor of our Ambassador Suite was a sight to behold!
You heard me right – the FIRST floor.
Suddenly we realized our Ambassador suite came with a second floor loft.  Up the stairs we ran to find a beautiful king-size bed, a large flat-screen tv, bedside tables…and another full ensuite bathroom! All of this luxury overlooked the lovely living room downstairs, not to mention this great view of downtown Toronto from the massive window directly across from the bed: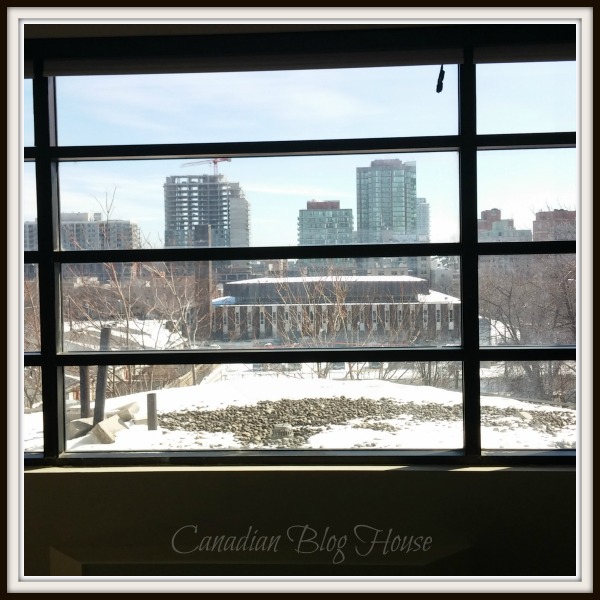 By the way, the blinds on this window? They are powered by a remote control!! X-Man, being the remote control fanatic that he is, couldn't believe we had blinds controlled by a remote.  That settled it.  He wanted to sleep up in the loft, with his own bathroom, his own flat-screen tv, and with a remote that could open his blinds…right from the comfort of his king-size bed.  Talk about a dream room for a kid!
Wait a second…that's a dream room for us adults too!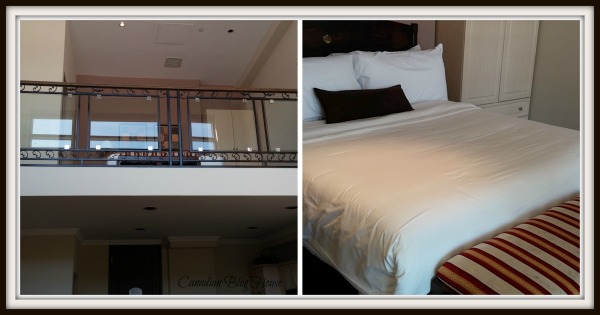 Both the bed in the loft and the bed in the first floor master bedroom were king-size…and comfortable!  We all had a great night's sleep – especially me because I had an entire king-size bed to myself! Woo hoo!!
There were so many great things to explore in our suite, we headed back down the huge staircase and decided to check out  the kitchenette.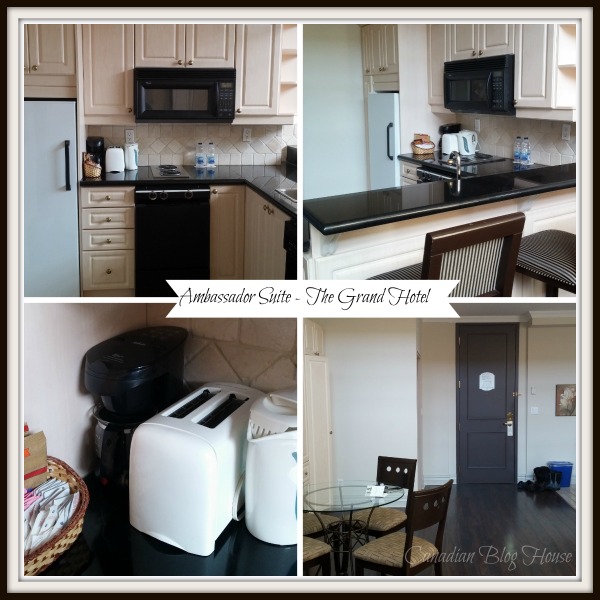 Talk about a home away from home.  Our kitchenette was loaded with small appliances, a dishwasher, a microwave, a small oven, dishware, glasses, cutlery, pots, pans…everything you need for an extended stay. Never mind the beautiful granite counter top! Speaking of extended stays, The Grand Hotel offers guests the option of extended stays. Many business clients stay at The Grand Hotel & Suites for weeks at a time while in Toronto on business.  If you have to be away from home for any length of time, this suite will definitely provide you with all the comforts of home.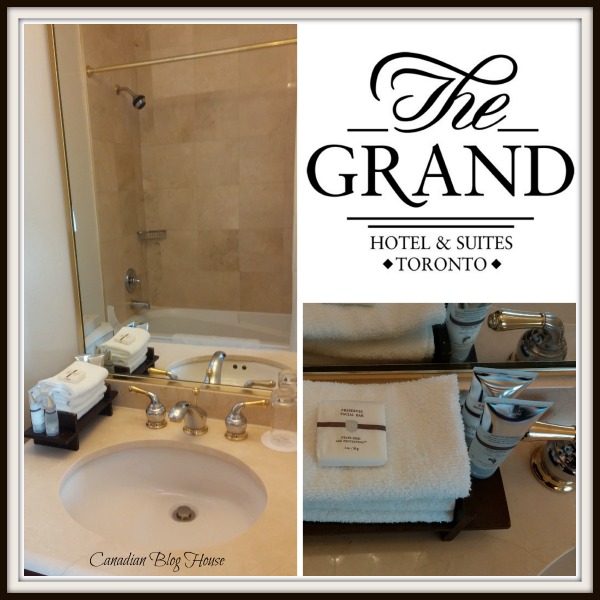 You have to love a hotel suite that comes with 3 bathrooms.  Whether we were up in the loft, down in the master bedroom, or in the kitchen/living room area, there was a beautiful bathroom at our disposal.  Each bathroom came stocked with all kinds of beautiful toiletries, towels, hair dryer, and even mini sewing kits. Bathrooms were immaculate when we arrived.
We felt so cozy and comfortable in our suite that we could have just stayed there all night, however,  we did have dinner plans so we ventured out for a couple of hours to fill our bellies. Upon returning from dinner, we decided that there was no better time than now to take a dip into the roof top hot tub that was open until 10pm.
Wait a second…it was feeling like minus 25 degrees celsius that night! Were we nuts? You bet we were!
We put on our bathing suits, bundled up in the luxurious Grand Hotel & Suites bath robes that came with our room (they even had one to fit X-Man!), went up to the 19th floor, and ran from the inside door into the hot tub faster than the speed of light! The hot water felt amazing, and we all had a blast soaking in the hot tub while the cold winds licked our cheeks.  The view of all the city lights was magnificent, and we even got to watch some music videos on the huge screen in front of the hot tub.  What a great experience that was, and one that none of us will ever forget! X-Man loved it!
We were the only guests out on the roof top that night (gee, I wonder why? lol) and it's a good thing.  We must have looked pretty funny hopping out of the hot tub into the frigid winter wind and racing for the hotel door to get inside.  I'm pretty sure we were all screaming like banshees! Great fun!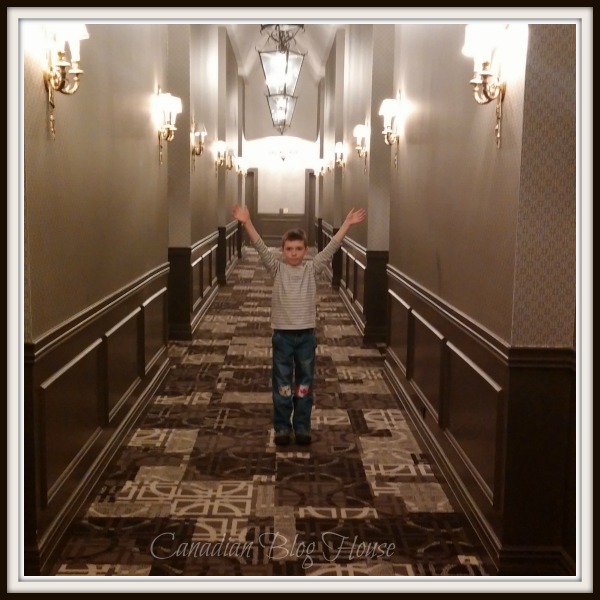 Our night at the beautiful Grand Hotel & Suites quickly came to an end.  We had time for one last picture and we thought there was no better place than in the amazing hallway outside our Ambassador Suite.  X-Man was happy to pose for this one. This hallway is the entry point to all the Ambassador Suites that used to be home to the RCMP officers who needed to stay for extended periods of time back in the days when this grand hotel was the home of the RCMP Headquarters in Toronto.
Before we packed up the car though, we had one more treat in store for us. When you stay at The Grand Hotel & Suites, your stay includes a full buffet breakfast each morning.  We are talking about everything you can think of to feed your hungry family for breakfast: eggs, bacon, sausage, home fries, toast, bagels, yogurt, muffins, fresh juices, coffee, cereal…the list is practically endless. Our breakfast was hot, delicious, and the service was fast and friendly.  You won't be disappointed with the buffet breakfast at The Grand Hotel & Suites.
The ONLY piece of advice we have for guests staying at this wonderful hotel is that it is located in one of the "less desirable" areas of downtown Toronto. By this I mean that we would advise guests not to walk around neighbourhood streets at night. This is no secret to Torontonians.  Hotel staff are very open about this, and will readily mention this to guests.  This area of downtown Toronto is by no means anything like undesirable areas in large metropolitan cities in the U.S. Toronto is a very safe city.  Simply put,  If you leave the hotel at night, take your car, or take a cab, and enjoy all the great things downtown Toronto has to offer!
Be sure to follow the great folks at The Grand Hotel & Suites on Twitter and Like them on Facebook.  They are very active on their social media channels and this is where you will often find great deals and packages being advertised for a stay at the hotel.  The Grand Hotel & Suites have all kinds of options when it comes to rooms and rates for those looking for a little luxury during their travels.
Looking for more opinions? Don't just take our word on our stay at The Grand Hotel & Suites.  Check out The Grand Hotel & Suites' Facebook page to see reviews and comments from other guests.  You can also read this review from Kim from Tales Of A Ranting Ginger to see what she thought of her stay at The Grand Hotel & Suites.
Canadian Blog House would like to thank The Grand Hotel & Suites for such a wonderful stay! We certainly hope to get back one day to enjoy more time at this great Toronto hotel!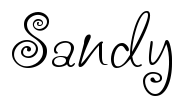 Disclosure:  Canadian Blog House received a complimentary stay in exchange for this review.  All opinions are our own.