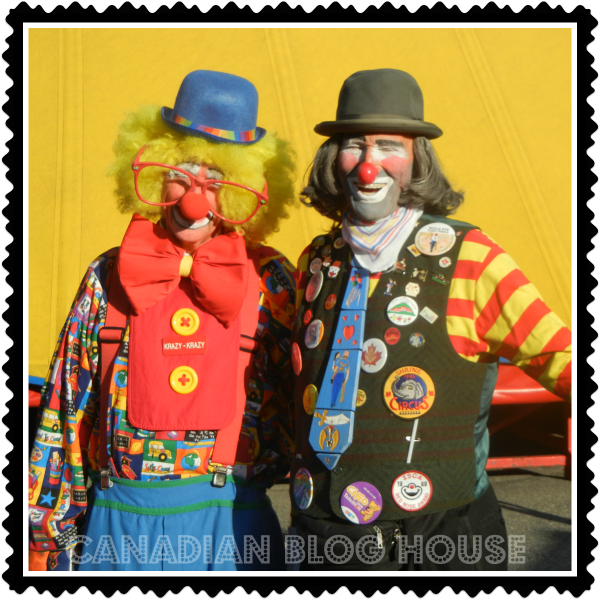 The Shrine Circus rolled into Ottawa yesterday!  Celebrating their 250th anniversary this year, the Zerbini Shrine Circus is a family-run circus run by the 10th generation of the Zerbini family.
We were extremely lucky to be invited to attend the opening night of the Shrine Circus under the big top.  Even more exciting – we were invited to a backstage tour before the show! Joining me, my boyfriend and X-Man were my friends and fellow bloggers, Shannon @Shandon00, Julie @CoffeeWithJulie, and Sherrimae @sherrimae23, and their families.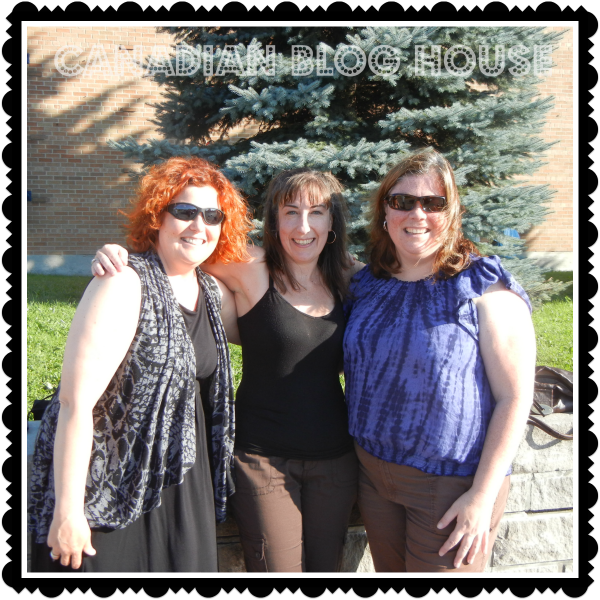 Julie, Sandy & Shannon
It has been decades since I attended my first (and only other) Shrine Circus as a child in the 1970's.  Many things have changed since then, including the circus.
You can't mention the circus today without being confronted with concern over the welfare of circus animals.  Afterall, the Shrine Circus' star attractions are the Asian Elephants, the Equestrian Horses, and the Bengal Tigers.  Being the huge animal lover that I am, I have to admit one of the reasons I accepted tickets to the Shrine Circus was the fact that I would get a chance to go backstage and see what goes on "behind the scenes" with the animals.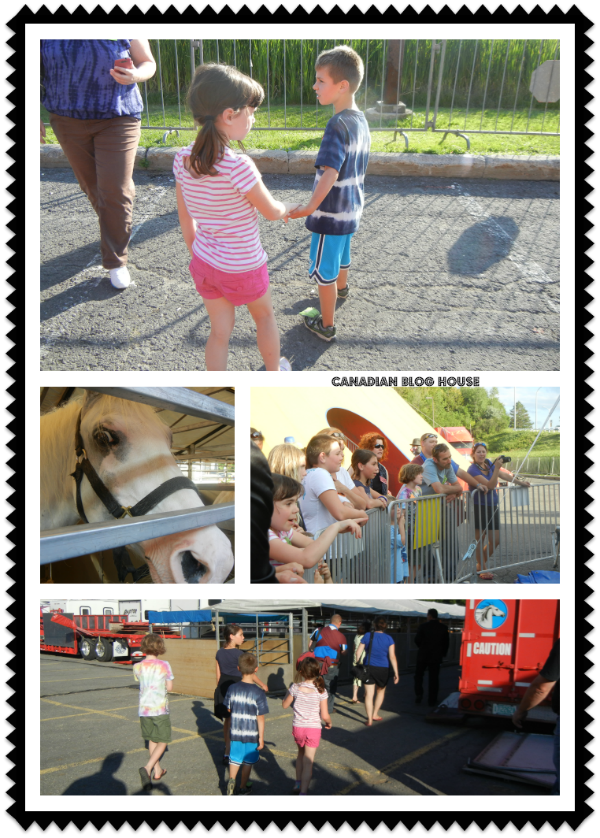 Of course you could argue that, with us there, everyone would be on their best behaviour. From what I saw, that doesn't appear to be the case. Things seemed more like "business as usual".  While I listened to all the interesting information that Ringmaster Richard Curtis was telling us about the animals, I kept a close eye on what was going on in the background.  What did I see?  I saw clean surroundings, clean trucks, clean trailers, and well-maintained grounds around the animals.  Sure, I saw animal feces (in fact, you can see some elephant dung in one of my photos), but where there are animals, there will be poop!
No animals were standing around in their own feces.  The animal's food supply was plentiful and looked fresh.  I saw large bales of hay, bags of apples and carrots. There was plenty of water available to the animals, and all the animals were being housed under large open canvas awnings to keep them out of the sun.  I also noticed a line of large fans blowing directly on the tigers to keep them cool.  When travelling, the Zerbini's Shrine Circus has pre-determined places they can stop to give the animals water, food and some relaxation.  They never travel more than two hours without giving the animals a break.
Our behind-the-scenes tour took us first to see the beautiful Equestrian Horses.  The horses were very friendly, allowing me to come right up to them and pet them.  All the horses looked impeccably groomed and healthy.  I thoroughly enjoyed being able to spend a little time amongst these sweet horses!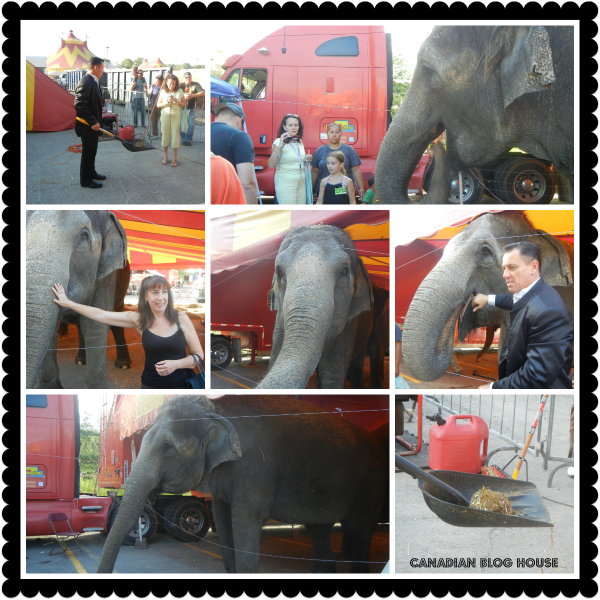 Our next stop was a visit with Shelley & Marie, the Zerbini's 30+ year old Asian Elephants. These girls were gorgeous…and HUGE!! Let me tell you, you feel so insignificant standing beside one of these beauties.  And stand beside them I did.  In fact, they were so gentle they let me pet them, hold their trunks, hug them, and even feed them a carrot and a strawberry. This was one of those rare animal experiences that I can now check off my bucket list.  I'd have to say, this part of the tour was the highlight of my night! A little trivia for you…did you know that elephants have over 100,000 muscles in their trunks? Wow!
Next we were taken to see the Bengal Tigers.  For obvious reasons, the tigers are kept in cages which we were not allowed to go too close to.  These magnificent felines looked clean, well-kept, and well fed.  They looked relaxed in their cages…until our group of humans lined up in front of them.  To them we likely looked like a tasty feast of human flesh! They may be "tame" but they are still wild animals, so I was more than happy to keep a safe distance away. All the Zerbini Shrine Circus animals are born in captivity, however, they are still born with their natural instincts, if you know what I mean!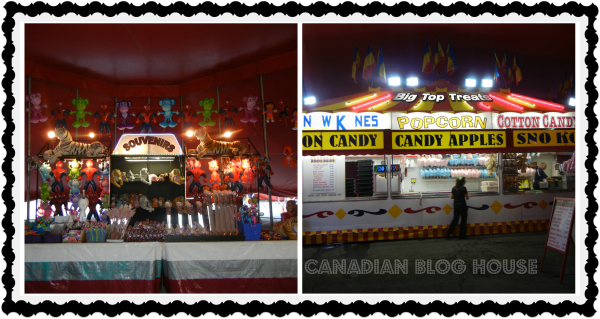 After our visit with the animals, Ringmaster Richard Curtis escorted us inside the big top. Inside was a kids dream.  Circus souvenirs, popcorn, hot dogs, french fries, cotton candy, sno cones, and thirst quenching lemonade was all around us. I found the food/souvenir prices to be expensive, however, I realize that it must be very costly to run the circus.  Thinking about all the costs this travelling circus must incur, I had no problem with the prices.  Face painting for the kids topped off a pretty exciting start to the night for all the kids.  While waiting for X-Man to have his face painted, I had the pleasure of talking to the sweet young daughter of one of the acrobats (her mother was the one painting the kids' faces).  Here's how our conversation went:
Zerbini Girl:  Excuse me lady but you are sitting in my chair.
Me: Oh I'm sorry! (I say…as I move over one seat).  
Zerbini Girl:  That's my mommy doing the face painting.
Me:  That's your mommy?
Zerbini Girl:  Yes, that's my mommy…she's wearing a wig! 
Me:  (Laughing!)…She's wearing a wig? (looked like maybe a hairpiece) I'm not sure mommy would want you telling her secrets.  I'm Sandy, what is your name, sweetie?
Zerbini Girl:  My name is _____ Zerbini.  You need to remember my name.  (I didn't catch her first name).  
Me: (Laughing some more)…Oh! You are one of the Zerbini's? I need to remember your name, do I?
Zerbini Girl:  Yes, because I travel with the circus.
And that was the end of my conversation with the little Zerbini girl as we got interrupted by the crowd around us.  What a precocious little cutie she was!
Turns out that little Zerbini girl's mother is not only a face painter, but she is one of the featured acrobats too.  We saw her death-defying act later in the show.  This is something I found fascinating about this circus.  It seems that many of the performers do so much more than just perform.  They literally run the whole circus.  We even found Ringmaster Richard's daughter working behind the donut stand. Talk about a family business!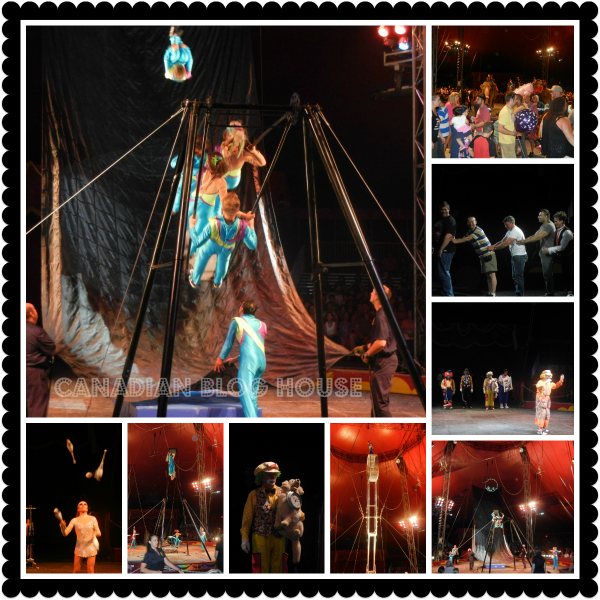 The circus itself was full of laughs and crazy antics, amazing animal tricks, mesmerizing feats of strength and endurance, and edge-of-your-seat stunts.  I was holding my breath on more than one occasion watching the performers as they showcased their talents far above our heads.  What they were able to do was nothing less than amazing.
For those of you who are parents, imagine your seven-year-old being twirled around in the air by a grown man's feet? How about riding high atop a unicycle, or being flung through the air at high speed?  These are the types of acts we witnessed as performed by the young Zerbini kids.  Talk about impressive! The kids really stole the show.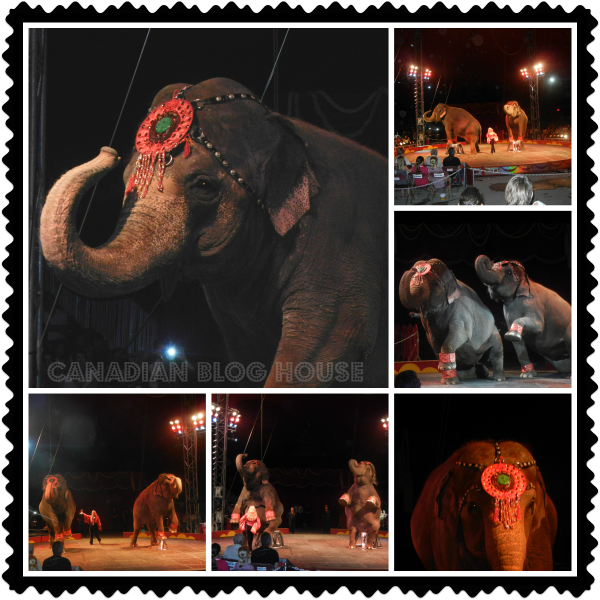 We enjoyed all the animal acts, and they all did a fantastic job.  My favourite parts? Watching one of the Bengal Tigers take a poop mid-performance (when you gotta go, you gotta go!), watching the Asian Elephants, Shelley & Marie, come dancing out into the ring to "Gangham Style", and watching four "unwitting volunteers" from the audience get up on stage and perform their best dance moves alongside Piolita the Clown.
I was actually surprised to find out that a great deal of the Zerbini Shrine Circus is performed by humans.  The animals were featured far less during the performance than I had expected.  I think that is a good thing.
Ringmaster Richard Curtis is well-suited to his job. He's a true performer!!  Richard is the man that kept the show running smoothly and on time, provided us with a few laughs…and he even sang a song.  He has got a real announcer's voice.  In fact, his voice reminds us of the announcer for the WWE, Michael Buffer.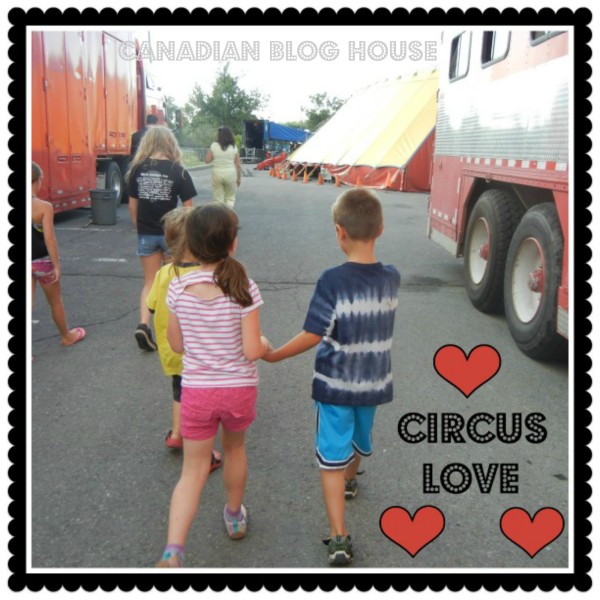 To me, the cutest part of the whole evening was watching X-Man and Miss T. (Shannon's daughter) walk hand in hand during our backstage tour.  They met each other for the first time last night…maybe there's a Canadian Blog House/Shannon's View From Here wedding in our distant future?
For those of you wanting to attend here in Ottawa, you have two more chances to catch the Shrine Circus tomorrow (Sunday August 10th). Canadian Blog House readers you can scoop some 2 for 1 passes by using the code FUN.  Quebec residents, the circus is coming your way next! Be sure to take advantage of this code if you plan to go.  You can find the Shrine Circus schedule here.

For all you contesters out there, I hope you've entered the Shrine Circus contest. You can win a trip to Two Tails Elephant Sanctuary in Florida! Enter here. You can enter until September 22, 2013.
Already have a ticket for the Shrine Circus but can't go?  Did you know you can donate your ticket to Kids Up Front Canada (a charity supported by the Shrine Circus)?  Instead of a seat sitting empty on performance night…why not let a child sit in your seat and enjoy the show? I love the concept behind this charity!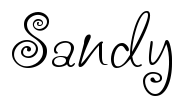 Disclosure:  Canadian Blog House received complimentary passes to attend the Shrine Circus, however, was under no obligation to write this review. All opinions are my own.