Growing up in the 80's I recall being slightly obsessed with the sticker trend that happened during that decade. Anyone remember that? I had a sticker album where I displayed all kinds of stickers like those scratch 'n sniff stickers, foil stickers, sparkly stickers…and those personalized name stickers. Yes, I just loved any stickers I could get my hands on that came with my own name on them. Back then it wasn't as easy to find personalized products like it is today.
Now kids have all kinds of ways to personalize their own belongings, like with Oliver's Labels. This fabulous Canadian online labels store offers an abundance of decals, labels and tags in a wide assortment of colours, designs, and sizes. Oliver's Labels would have been my version of a "candy store" back in the 80's.
Haven't heard of Oliver's Labels before? Here's a little Oliver's history for you from their website:
"It all began with a small idea to keep Oliver, my nephew, from losing his stuff. After seeing the overwhelming positive reaction from his teachers and other parents, I realized there was a huge demand for high quality labels. I used my 6 years of experience in the printing industry to develop a label that was both durable and beautiful. The business was born and now our full-colour designs and exclusive Found-it™ tracking system are a few of the things that set Oliver's Labels apart from the competition."
I was pretty excited when I was contacted by Oliver's Labels to review some of their Room-eez™ Wall Decals. Such a fun idea that is great for sprucing up wall space in the kids' rooms…or even the family room at Christmas, like I will be doing.
Oliver's Labels generously sent me 3 packages of Room-eez™ Wall Decals:
Ordering my Room-eez™ Wall Decals from Oliver's Labels online was so quick and easy – except for the fact that there are so many great options to choose from, it took me awhile to decide what I wanted!
Since we are getting close to Christmas, I decided it would be great to have a set of the Santa's Village Decals so I could decorate a wall for the holidays. This pack of decals comes with 75 assorted decals, definitely enough to make a large wall very festive! This set of decals is super cute, full of Christmasy colours, and appealing to both kids and adults.
For the Name and Graphics Decals, I chose to order a set for my great-niece, Eleanor, in the owl design. While this design is cute enough for a little girl, it will still be stylish enough for Eleanor as she grows older. Plus, I just love the colour scheme in this design!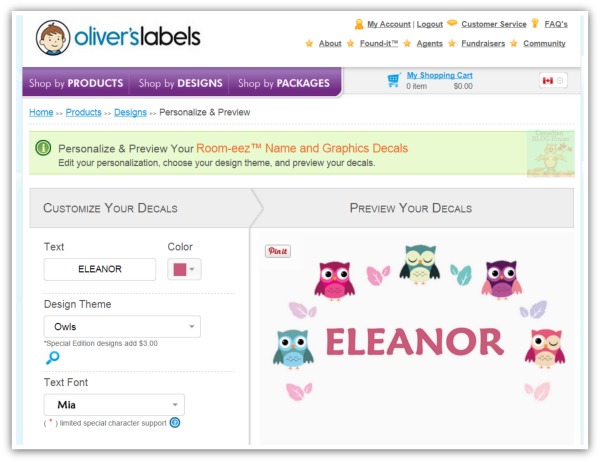 For the Name Decals I ordered X-Man his own personalized name decal for his room. Since X-Man is at an age where he isn't so much into graphics of toy cars and animals anymore, I thought he might enjoy having just his name in decals – graffiti style!
I received my package from Oliver's Labels within a week of placing my order. I just loved the envelope I received it in! Check out the inside of my envelope – it's full of fun activities for kids!
The first thing I noticed in my packages of decals was the fact that each one came with a very explicit instruction sheet on how to apply the decals to your wall. The instructions are easy to read and follow. If you need further instructions, Oliver's Labels even provides customers with some great instructional videos.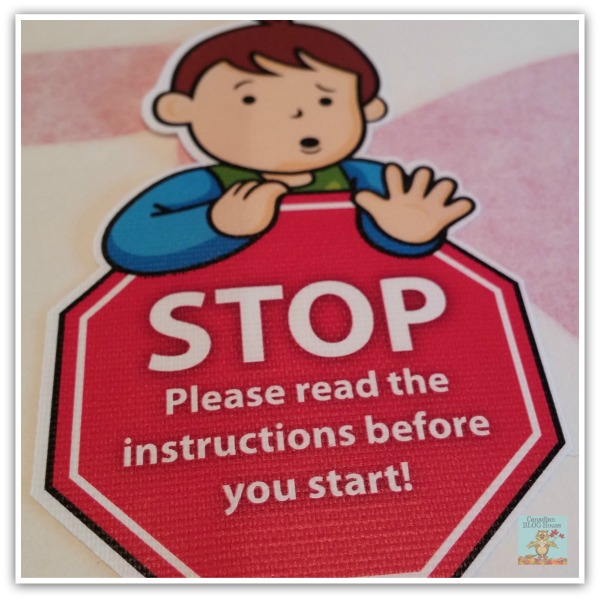 Oliver's Labels decals are colourful, durable and easy to handle. After inspecting all the decals we received, it appears that Oliver's Labels decals are top-quality decals. You can apply them on your wall, leave them on as long as you want, remove them, store them away, and then take them out later and re-apply them!
Wow!
Oliver's Labels Room-eez™ Wall Decals bring a whole new meaning to that familiar phrase "reduce, reuse, recycle"!
Aside from how fun and appealing the Room-eez™ Wall Decals are, my favourite feature of these decals is that you CAN reuse them.
When X-Man turned 6 he was given a full-sized wall decal of a monster truck from a friend of his. It was an outstanding, mammoth-sized wall decal.  Sadly, that wall decal had to be left behind when X-Man moved from that room because THAT wall decal was NOT reusable.  So with our new Oliver's Labels Room-eez™ Wall Decals we can, for example, put the Santa's Village Decals up on the wall this Christmas, take them down after the holidays, store them as per the instructions, and reapply them on the very same wall again next Christmas. Same goes for the Name and Graphics Decals – once the kids tire of them, you can take them down and save them for another time, or you can reuse all or parts of the decals in another room.
One thing I was pleasantly surprised about was the SIZE of the decals. For example, each letter in X-Man's name is approximately the size of my hand (what I would term an average-sized woman's hand with palm open). Each individual letter looks great, and for Eleanor's, the owl graphics that come with the letters of her name are beautiful. I would have loved the set as a young girl!
The customization options available for the Name and Graphic Decals I ordered are impressive. It was fun playing around with all the options! Oliver's Labels allows you to choose the colour of letters you want (some letters even come with patterns on them!). My favourite option was the styles of fonts I could choose from. Some were too "childish", but the Grafitti-style lettering was "cool" enough for "almost" 9-year-old X-Man.
I am a little behind on Christmas decorating right now so I haven't had the chance to get the Santa's Village Decals up on the wall yet, but you can be sure that when I do, I will share a photo of it on Facebook and Twitter. I'm pretty certain it is going to look cute!
Be sure to stop by the Oliver's Labels Facebook Page, give them a like, and tell them Canadian Blog House sent you! Watch the page for all kinds of great info, promotions and contests!
In the meantime, I've got a great surprise for Canadian Blog House readers! Our wonderful friends at Oliver's Labels are offering up a fab prize for one lucky Canadian Blog House reader.  You could WIN a $40 Gift Card to spend at Oliver's Labels!
***Please note: You can enter this promotion across multiple blogs but you can only win ONCE.
 Here's how you can enter to WIN: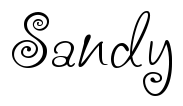 Disclosure:  Canadian Blog House was provided with the above products in exchange for this review. All opinions are our own.