I had great intentions for my Three Cheese Baked Penne.  Since it is SO delicious and SO simple, I wanted to share it with you.  So two nights ago I whipped up a batch for supper,  and got my camera all ready to take a picture of my bubbling, cheesy, Three Cheese Baked Penne fresh from the oven.  That's where my plan failed. Ooooh that aroma! My hunger got the better of me.  I completely forgot about my camera sitting on the counter next to the oven.  All plans for a lovely picture of my Three Cheese Baked Penne went right out the window.
Fast forward to today. I know what you are thinking…what kinds of strange pictures is Sandy posting on this blog post.  I mean, there is half eaten food there, and frankly, it doesn't look pretty.  I sure won't be up for any Food Blogger Awards with this post.  But trust me, this Three Cheese Baked Penne is YUMMY!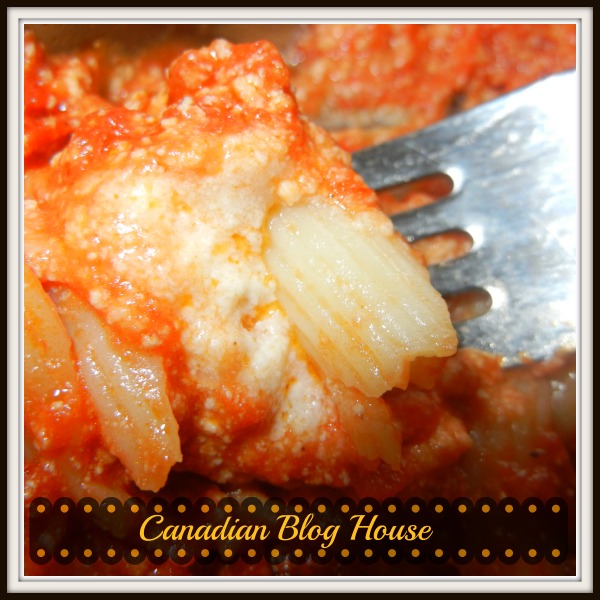 So rather than scrap my plans for sharing this simple, delicious and kid-friendly recipe with you, I decided to take a photo of today's lunch…the last bit of my Three Cheese Baked Penne.  So don't pay too much attention to my terrible photos.  Give it a try – it's sure to be a hit with the whole family – and be sure to invite me over for supper when you make it!
2 1/2 Cups Of Dried Penne Pasta

1 475G Container Of Trestelle Ricotta Cheese (I use the extra smooth variety)
3 Cups Of Mozzarella Cheese – Shredded (I use Kraft Shredded Mozzarella)
1/2 Cup Of Parmesan Cheese (I use Kraft 100% Parmesan Shredded)
3 Cups Of Your Favourite Spaghetti Sauce (I use Ragu Old World Style Original)
Boil the Penne in salted water until tender (about 8-10 minutes).  Drain the Penne and pour into a large bowl.
Mix the Penne with the whole container of Ricotta Cheese and half of the Mozzarella (1 1/2 Cups).
Grease a 9×13 casserole dish with butter.
Spread 1/2 of the spaghetti sauce over the bottom of your casserole dish.
Add the Penne/Ricotta/Mozzarella mixture on top.  Cover the mixture with the remaining spaghetti sauce.
Sprinkle Parmesan Cheese and remaining 1 1/2 Cups of Mozzarella over the top.
Bake uncovered at 350 degrees fahrenheit for 25 minutes, or until the casserole is bubbling on the edges.
Bon Appetit!!