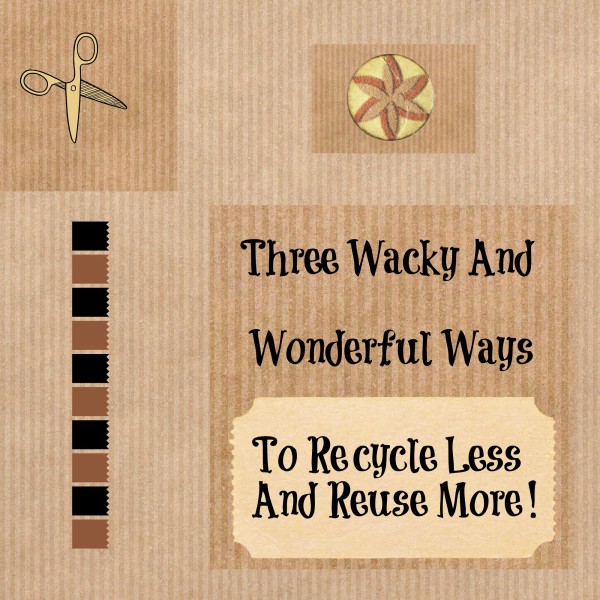 Want to recycle less and reuse more? Try saving your cardboard! It's already a great product to recycle, but have you ever thought about how you could reuse it at home?
Cardboard for kids is somewhat akin to pots and pans for babies and toddlers. You can buy them all the fancy toys you want but, it's often the basic things you already have around the house that they love to play with more – like cardboard!
X-Man loves cardboard boxes. Rarely does a good, sturdy cardboard box leave the house without first being reused by X-Man. Smaller ones get added to bigger ones to create pretend buildings…or even a house for his snake!  Larger ones make great garages for his collection of cars and monster trucks. The biggest cardboard boxes? Those get reused and remade into fabulous cardboard houses, forts and hideaways that he and his friend, D, spend hours playing in.
Here are some project ideas using cardboard you save at home that will have you never recycling packaging materials again. Your youngest can tackle the simple project like the flowers and vase. Older kids can decorate their walls and personalize their rooms with the cut out design I found. And you can build sturdy play structures, like fridges or stoves that will give your children hours of fun, and save you a few bucks in costly toy purchases. Over the years, cardboard has become an indispensable part of our entertainment and idea toolkit. It can work wonders for you, too. Check it out.
Why cardboard is so great
Your kids can safely use cardboard to make fun and fabulous creations that are super green and eco-friendly. The surface is great to color or paint. It cuts easily, even with kid scissors. Cardboard glues well, and holds up under heavier materials like macaroni and glitter. And I am always amazed that it comes in so many sizes, shapes, weights, textures and colors. It's a cheap and practical material to make lots of useful and fun things. You can use it with your kids to make party favors, at parties to entertain the kids, sleepovers, a rainy afternoon, or just when you want to pass some creative time.
How to get started
Save your toilet paper rolls, wax paper and foil rolls, or wrapping paper rolls to make round shapes in different sizes.
Keep square boxes as you empty cereal and plastic bag holders, juice and cracker boxes.
I think gift boxes are great because they're often made of corrugated material that's really strong.
And, of course, big boxes for televisions or stereos are perfect to build big projects.
Save storage space by flattening the boxes out, and storing them by size and texture. Put smaller toilet rolls inside bigger ones. You won't believe the variety you can collect, and how much you can store even in a small space. And you'll have plenty of materials, fast, to start your projects.
So don't let those great materials sit and gather dust. Get on it and make some of these ideas that are fun and easy for everybody!
Wonderful Idea #1: Spring Flower Fun for Kids. . .
Make spring flowers out of corrugated boxes and other cardboard packaging It's easy and pretty, and you can make the project more challenging for older kids, like letting them draw and cut out their own flowers, stems, and leaves as well as painting or coloring them. It's a project that you can spend a little bit of time on, or an entire day. It's good for one or two kids, or even a large group. Kids can work on their own or together to create fantastic collages, 3-D flowers and vases, and anything else your imagination can think up. There's an easy-to-follow set of how-to's here.
Wonderful Idea #2: Wacky Wall Art for Your Creative Teen . . .
Your teens can spend hours at home in their rooms with this idea and you can let them express themselves (within limits, of course!). Teens can personalize cardboard wall stamps they make out of toilet paper rolls (yep, true) or build and mount their 3-D wall designs made without any special tools. It's a lifesaver project when your 15-year old tells you how bored she is! Find out how to do it here.
Wonderful idea #3: Krafty Kitchen Construction: Let the Whole Family Pitch In!
Kids of all ages love to play house. You can build an entire kitchen out of cardboard that will keep them busy for hours (and you, too). This project is a super simple design to build a fridge. Go here for instructions. To make an oven, try Martha Stewart's fabulous on-trend design. Getting the crafty fever? Build an entire kitchen with colored tape and markers.
Cardboarding can be simple fun or pretty complex stuff. I've found it a great way to be green, reuse material I might otherwise recycle or even toss out, and keep kids entertained. Try it out; I think you'll like it too!
What do your kids make out of cardboard?