Yesterday, March 9th, was Canadian Blog House's 1st Anniversary…otherwise known in the blogosphere as our 1st blogiversary.  I have really enjoyed reading all the wonderful comments on social media, and on the blog itself, in response to my celebration post "Top 10 Fun Facts About Canadian Blog House".
I had so much fun writing that post.  It was fun to look back at the things I included in my list.  It was like my own personal "Year In Review".  Then it hit me. Why not do this again?  Only, instead of featuring Canadian Blog House, I would feature some of my fellow Canadian bloggers, and THEIR Top 10 Fun Facts about THEIR blog. I love trivia, and I love learning things about my fellow bloggers and their blogs.
So to get us started with my new Top Ten Fun Facts series here at Canadian Blog House, is Jenn from 1Heart1Family.  Thanks to Jenn, for getting things rolling and providing us with this great list!
Be sure to visit Jenn's blog…I'm thinking you won't want to miss out on her "One Minute Cookies" recipe!
Ten Fun Facts about 1Heart1Family!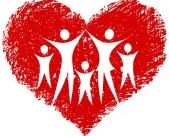 1. Since beginning our blogging adventure,
1Heart1Family

has produced 586 posts to date!
2.
1Heart1Family

was welcomed into the PTPA Blogoholics, Savvy Storytellers,  and Yummy Mummy Club communities in 2013.
3.
1Heart1Family

has attended 4 blogging conferences (MomsMeTimeTo, ShesConnected, Strutt13 and BlissDomCA). I have learned so much, and made so many new life long friends.
4.
1Heart1Family's

most pin-able post has been : Lentils and Rice
5.
1Heart1Family's

top referring sites are StumbleUpon, Pinterest, Twitter, ContestChest.ca and Facebook.
7.
1Heart1Family

has tweeted over 17.2K in the last year! I guess I know where all that 'missing' time on the computer went! lol
8. Because of
1Heart1Family

, I was able to make a family in need's Christmas brighter by winning the #ButterballCa Christmas contest.
9.
1Heart1Family

has gotten to visit the Canadian Open and met a family whose life was improved because of the Ronald McDonald House Foundation
10.
1Heart1Family's

#1 StumbledUpon/Viewed post (with over 10,000 views in one day!) was Food Friday – One Minute Cookies