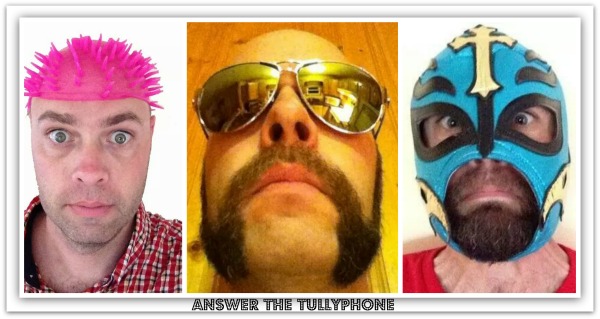 One look at Matthew's pictures and you can just tell..um Tull?….he's a fun guy.  Leave it to Matthew to slap a pink rubber cap (do we really know what that thing is? lol) on his head and plaster that photo all over his social media channels.  Every time I see that photo, I laugh.  That's the thing about Matthew, he will definitely make you laugh. I've known Matthew online for a number of months now.  I'm not quite sure how or when I first spotted him, but I do remember one thing, I loved the way Matthew used his surname, Tully, and used it in a witty way, in the name of his blog. Very catchy and memorable – just like Matthew himself!  Matthew is one of the most genuine people I've met online.  Matthew is willing to lend a hand any time help is needed, and is a very supportive fellow blogger.
I thoroughly enjoyed reading Matthew's Top 10 Fun Facts list.  His engaging personality shines through in every fun fact.  Be sure to head on over and check out Matthew's blog, Answer The Tullyphone.  Matthew is very interactive on Twitter and Facebook too, so make sure to follow and like him there!
Get ready to laugh! I present to you….Mr Tully!
Top 10 Fun Facts about Answer The Tullyphone's Mr.T:
You just never know what you're in for when you "Answer The Tullyphone" and you can take that any way you want as it still won't be out of context. I'm a people person in every way shape and form, and in ways that would and have embarrassed the hell out of my wife (totally unintentional..hehehe). I push buttons on toys in the aisles, talk like an East Indian taxi driver or a Chinese restaurant owner. So many thoughts and so little time….
1. I live in the very French city of Dieppe in New Brunswick which is funny because I don't speak a word of French unless we have a blowout and then you have to "pardon my French".
2. I am actually a born and raised Caper! If you don't know what that is well….let's sit down have a few beers and talk about it (How many hours do you have?) As some people would tell you, "Dats da bye dat fell off da boot on is way o'er to Newfundland". I'm not illiterate,  I've never been on a boat bigger than a canoe, and yes I'm from Cape Breton!
3. I was raised by fantastic, extremely hardworking parents that worked for everything we had. and then a lot more, to pay it off. I've got two older brothers and a younger sister, and let me tell you, if I'm scared of any of them, it's definitely her. I guess growing up with boys really taught her a thing or two. We all live within a 20 min drive of each other, except for my sister who is now Alberta bound and owns her own spa! Very proud but it's tough sometimes without her.
4. Yeah, I can say confidently that I'm not your typical guy as I've spent just as much of my life working with only woman in retail clothing as I have getting dirty in the car industry. That being said, I could spend all day in the mall or at outlets, watching a so-called "chick flick" with my wife or just as easily be carving something out of wood and getting dirty.
5. I'm also a so-called "Man's Man", I enjoy hunting (Not Trophy, I'm against that), fishing…Spending weekends at the camp whenever possible..telling jokes, spitting….yup, I even made the sound as I wrote this..lol.
6. My sneakers have duck tape on them because they about 5 years old and tear my ankles apart. Why, well due to being out of work because of medical issues for the last 16 months, food and rent is more important. My mother always said, "Food in the fridge, love in your heart and a roof overhead is all the riches you need". Hey maybe a few more running shoe pitches are in order?
7. What was #6 all about….oh yeah leave it in the past..my family is my rock. I have a beautiful wife and a 7-year-old daughter who I love to the moon and back. Our daughter pretends to be shy but, once you get her going watch it, I like to call her "Blabber mouth" because she just doesn't stop. One thing I can say is that she is not boring and is smart as a whip, sometimes too smart for her own good.
8. I can definitely be a kid at heart. I love a great shooter game and when I have the time, I like any of the Call of Duty games and prefer online gaming over the main so I can chat with others while playing. A great game that makes you think hard to figure out a puzzle in order to get ahead is equally great other than the migraine I'm probably going to have when I'm done.
9. My blog let's you not only get to know me and our family but, talks about everything from the new gadget I must have, to the ones I've tried. I speak about food and health, perform reviews and talk about sensitive real issues which could be family related or in the news. I find that by writing the blog for me first and being true to myself allows me to write better content for you.
10. Four tattoos and counting as some day I will have more, each one with special meaning to me. I've had piercings in the past in my tongue and nipples and personally recommend you tell everyone if you have them…i don't anymore..ouch. If I can leave you with anything and it be meaningful would be to say, "you know the saying Live, Love, Laugh you see everywhere?  That's how I like to think I live".