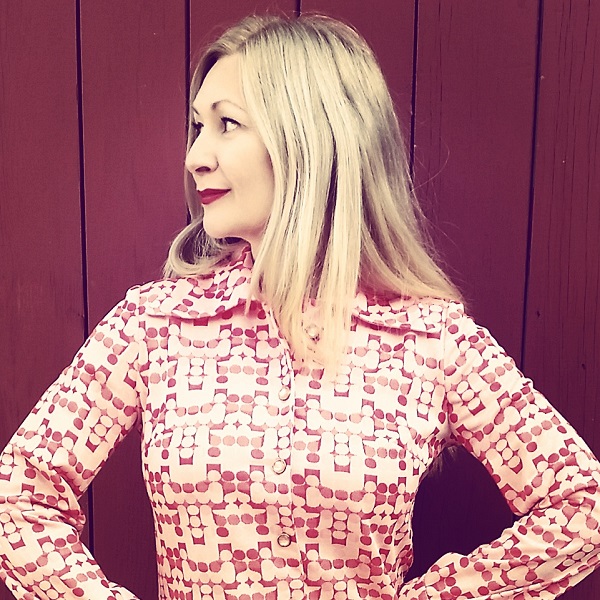 It has been awhile since my last Top 10 Fun Facts post featuring my fellow bloggers, so I was thrilled when Sheri Pavlovic, from Confessions of a Refashionista, contacted me recently about being featured on Canadian Blog House. I knew she would be perfect for this series!
I love Sheri's quirky sense of humour and sense of style. I love how she upcycles and refashions clothing and puts together some pretty fabulous outfits and looks. I always enjoy browsing through thrift stores but, I don't have the same "eye" for a great look that Sheri does. I mean, I would never think to add coloured pom poms to a black blazer (see photo below) to add a "pop" of fun, but Sheri did, and it looks great!
You can find Sheri over on her blog, Confessions of a Refashionista, as well as follow along with her fashion fun over on Twitter, Facebook, and Instagram.
TOP 10 FUN FACTS ABOUT CONFESSIONS OF A REFASHIONISTA
---
1. Sheri Pavlovic, the quirky Canadian DIY diva behind Confessions of a Refashionista, lived a most extraordinary existence in North America, Japan, England, Greece and Germany before finally ending up in Toronto this past summer after over 20 years spent living and working abroad in the DIY, Fashion, Publishing & Entertainment industries.
2. Sheri has always been an avid thrifter and upcycler but, it wasn't until she inherited a vintage sewing machine a few years ago that her passion for refashion was ignited. She'd avoided sewing machines since spectacularly failing Home Ec in school years ago, as that heavy metal machine was very intimidating. However, as off-the-rack clothing rarely fit her body properly, she was soon sorting through her wardrobe, and having a go at re-creating old clothes and upcycling thrifted fabrics into cool new gear!
3. Her journey to sharing step-by-step upcycling tutorials online began when she was deconstructing and refashioning garments and became curious about the people behind the clothing she was transforming. This led her to discover the shocking truth behind how modern fashion is actually made, and the horrible unethical treatment of garment workers throughout the world. It was then that her commitment to sustainable, ethically produced fashion began, and her Confessions of a Refashionista became what it is today: a space full of easy to follow refashioning & upcycling tutorials, ethical fashion information and sustainable style inspiration!
4. She firmly believes that anyone can become a kick ass DIY eco-fashion upcycling warrior by simply sorting through their wardrobe, shopping at thrift and charity shops, and creating their own fabulous, affordable, totally unique sustainable style.
5. According to Sheri, the easiest way to begin a sustainable lifestyle is to simply stop buying new and start re-using, refashioning, DIY-ing and shopping second-hand.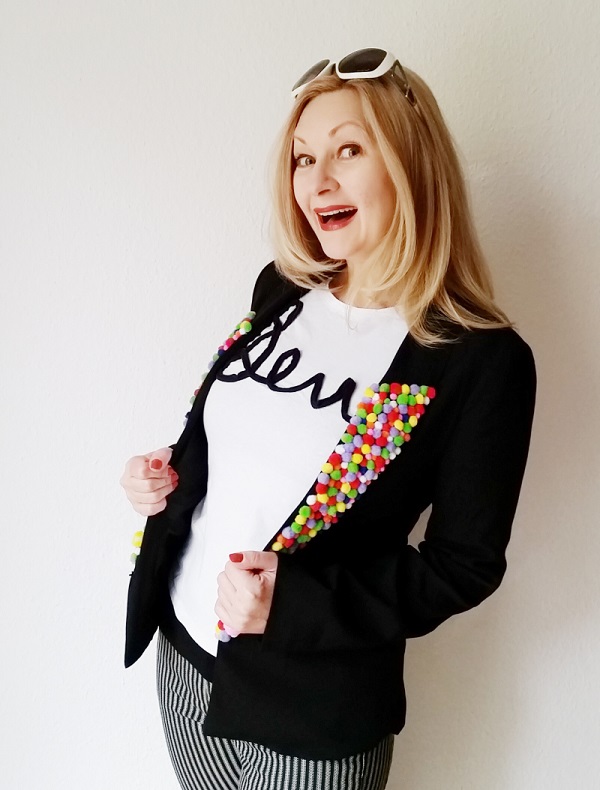 6. Wearing and refashioning pre-owned garments means they are not ending up in landfills. North Americans send more than 10.5 million tons of wearable waste to landfills each year, not to mention the increased impact when you add in the rest of the world. In fact, only around 15% of used clothing gets recycled or donated, giving textiles one of the poorest recycling rates of any reusable material. That's even more shocking when you realize around 95% of the textile waste sitting in our landfills today, is actually recyclable.
7. Sheri not only provides clothing and accessory DIYs for the whole family on her Confessions of a Refashionista, but also upcycled furniture and decor tutorials for every room of the house and the backyard.
8. Her fave refashionista motto? "New to you is still new!"
9. Sheri has written and created 11 self-produced DIY lifestyle e-books, and has so far shared nearly 1000 free ethical fashion articles and step-by-step upcycling tutorials for everything from groovy clothing & accessories to funky home decor (in both photographic and video formats), plus a healthy dose of thrifty style inspiration on her Confessions of a Refashionista blog and channel.
10. Her ambition to inform and influence others to step away from unethically (& immorally) produced products is the driving force that motivates her to continue providing fabulous free eco-fashion/accessory/decor tutorials, ethical outfit inspiration and helpful thrifting tips on her Confessions of a Refashionista & Refashion Nation blogs, as well as contributing and sharing her creative skills throughout the online maker world. Meet the amusing cast of characters in her Why Not Thrift? video, and discover why thrifting and reusing should be an important part of everyone's life: