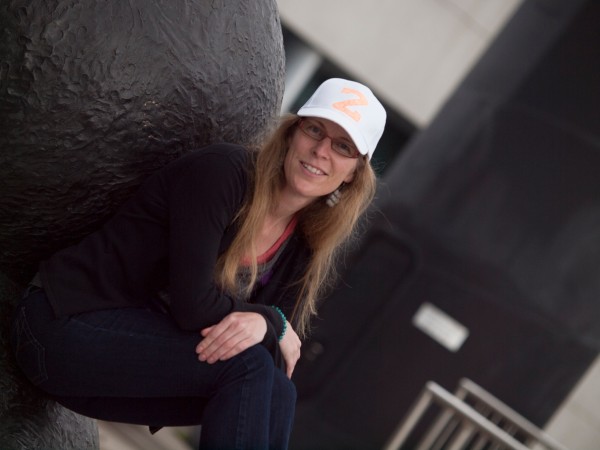 Today I'm featuring my friend, Sarah, the writer behind one of my favourite blogs, Journeys Of The Zoo, in my Top 10 Fun Facts series.  While I love reading Sarah's blog on a regular basis, my favourite blog posts of hers come straight from her winter home in Mexico.  Sarah and her family make the annual trek every winter to Mexico and, like she says, they drive everywhere..even to Mexico! Her Mexican family adventures provide Sarah with some great material for her blog posts.  I love reading all about their slice of Mexican life.  Not only are Sarah's posts informative, but they are always mixed with some of her fabulous sense of humour.
I had the pleasure of meeting Sarah once in real life at a blogging conference a couple of years ago.  Get to know Sarah online and you will get to know Sarah the real person.  Sarah is every bit the kind, sincere, helpful and funny person she is online, that she is in real life.  No surprises.  Those of you who are already familiar with Sarah and her blog will know that she is an awesome mom and a great supporter of her community and those around her who are less fortunate. For these reasons (and many more!), earlier this year I nominated Sarah for the Walmart Mom of the Year Award.
So sit back and enjoy these great Top 10 Fun Facts about Journeys of The Zoo. After, be sure to stop by over at The Zoo to experience a few of Sarah's posts for yourself – and tell her Canadian Blog House sent you!
TOP 10 FUN FACTS ABOUT JOURNEYS OF THE ZOO:
Journeys of The Zoo documents the trials and tribulations of The Kids and furry family members. The Kids, sometimes referred as "The Litter" includes Alexander, Maximilian and Artemis. They are triplets that live without their brother Alexander.
The blog started out in 2010 as a way to keep everyone up to date on all things Zoo and has morphed into what it is today. We hope you'll come along on our journey.
1. Given that fact that The Kids were named after "The Great", "The Emperor" and "The Goddess", you might think that they have big shoes to fill. As long as they grow up to be happy, they'll have met my expectations.
2. We love to support, highlight, and share all things Canadians. We run a monthly "I Am Canadian" Feature and would love to share you with our followers. Yes, you. No, there's no one behind you, I'm talking to you. Add your name to the linky and find out how you can get featured.
3. We like to think that we're funny. You be the judge.
One thing for sure, we're almost always joking. Except when we're not.
4. We write as much as we can about the loss of our son, Alexander. He is a daily part of our lives. If that doesn't make sense to you, that's okay. If you want to know more about what we're talking about, you can read our post on What it's like to care for a Deceased Child . If not, that's okay too, we're not a fan of death either.
5. The furry family members include Reina and Phoenix the dogs and the recent passing of Aries The Cat at 18 years of age. All three are rescues and we work hard to support those animals in need as a founding member of the Tzi'te Humane Society in Mexico.
6. Speaking of Mexico, we travel six months of the year. We spend the winter in Mexico and the summer driving around Canada. This August we will find ourselves in Newfoundland for two weeks. We drive everywhere. Yes, even drive to Mexico.
7. We enjoy writing products reviews and offering giveaways.
We were a contester long before we started hosting them. If you like giveaways, be sure to check out our weekly giveaway linky and our Master Giveaway Linky that has lists to all the Top Giveaway Linkies.
8. One of the biggest impacts on my life was when someone gave me a quarter.
Yes, a quarter. It changed the way I see things and my desire to help others in need. Our family focus is local charity work and we regularly support our local foodbank
House of Lazarus.
9. Our mantra is "Life is Short".
10. We are truly grateful for each and every person that we have ever met and even those we haven't yet. We are fortunate to be surrounded by supportive and kind people.
"The life and death of each of us has an influence on others" ROM 4:17
Connect with Journeys of The Zoo Website | Facebook | Twitter