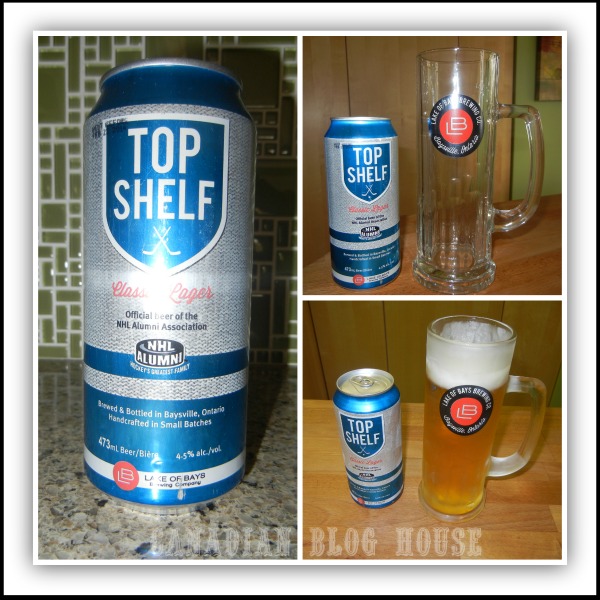 The Lake Of Bays Brewing Company, located in Baysville, Ontario, has recently scored an impressive title with their Top Shelf Classic Lager.  In fact, if you ask me, this title is more like winning a trophy – the "Stanley Cup" of the brewery world.
Top Shelf Classic Lager, Lake Of Bays Brewing Company's newest beer, has been designated the "Official Beer Of The NHL Alumni Association."
So what does that tell you?  It tells you that Lake Bays Top Shelf Classic Lager is one great tasting beer. After all, who knows beer better than Canadian hockey fans? That's right! NHL Alunmni!
As part of their partnership with the NHL Alumni Association, and the official launch of Top Shelf Classic Lager, Lake Of Bays Brewing Company recently hosted an official launch party at Wayne Gretzky's in Toronto.  Guess who showed up?  The beloved Walter Gretzky!  What a great party that must have been!
So who are Lake Of Bays Brewing Company?  They are a state-of-the-art brewery, retail store, and beer garden located in the Lake Of Bays region, about a 2 hour drive north of Toronto, just off Highway 11 on your way to Algonquin Park (northeast of Bracebridge, Ontario).  Besides Top Shelf Classic Lager, Lake Of Bays Brewing Company specializes in their signature "year round" beers: Crosswind Pale Ale, Spark House Red Ale and Rock Cut Baysville Lager.  They also offer "limited releases" depending on the time of year (I'm already eyeballing their Spring Maple Belgian Blonde Ale).
Beer taste testing.  It's a tough job, but someone's got to do it.
We had the extreme pleasure of getting to taste test some Top Shelf Classic Lager of our own.  Normally I like to enjoy some cheese, or another type of snack, while sipping on a beer, but in this case, we simply sat down with a frosty mug of Top Shelf Classic Lager on it's own…and enjoyed every last sip.  We did not want any other flavours to impact our taste testing.
Our thoughts on Lake Of Bays Top Shelf Classic Lager?
Extremely crisp and refreshing

No big aftertaste

Full-bodied flavour but not too hoppy

Nice golden colour

Would be great paired with some tasty cheese or a plate of nachos
We both tried hard to compare it to any other beer we have tried previously – but we couldn't.  Top Shelf Classic Lager has its own great flavour.  It's one of those "thirst-quenching" beers that is perfect for that hot summer day.  Pour it into an ice cold frosty mug and you've got yourself a prized beverage.
My favourite part of our taste-testing experience (besides drinking the beer!) were the comments made by my boyfriend:
"This is NOT a light lager – this is a REAL beer!"
"I could easily pound one of these back!"
I'm not sure my boyfriend was paying attention to the fact that I was writing down his comments. Probably not…he was too busy drinking his Top Shelf Classic Lager.  I particularly like his second comment, lol.
We both enjoyed our Top Shelf Classic Lager so much that we went looking for more the next time we made a trip to our local LCBO.  That's right, in Ontario, you can find Top Shelf Classic Lager at over 335 LCBO outlets – so hopefully you can find some at your local LCBO.  If not, don't be afraid to ask staff to order some in for you!  For those of you who are more of a "pale ale" lover, try Lake Of Bays Crosswind Pale Ale – it's superb too!  Spark House Red Ale will surely satisfy those who are into more of a darker, heavier flavour.  No matter your favourite "type" of beer, Lake Of Bays Brewing Company has something to please everyone's palate.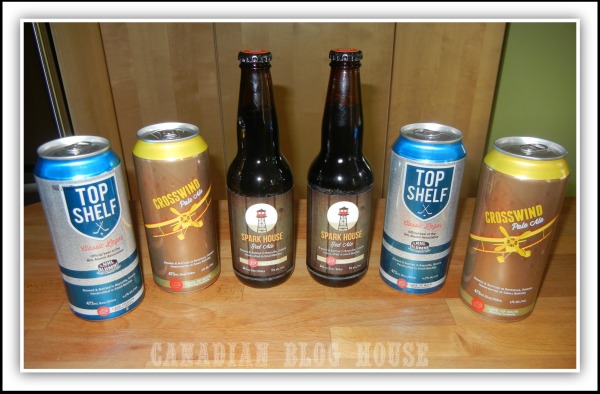 By the way, did you know that good tasting beer is not just about the beer?  That's right, a good tasting beer can be made better depending upon the the way you pour the beer, the type of glass you use, and how cold/warm the glass is.  For example, certain beers are tastier at "room temperature" in a warm glass…or so I've been told.  Not my thing, but I've known some people to love drinking their beer that way (especially when drinking a real dark ale).  I prefer to have my beer icy cold.  To me, there is nothing better than a frosty mug pulled from the freezer and filled to the top with an already cold lager like our Top Shelf Classic Lager.  So delicious and thirst-quenching!  Lucky for us, Lake Of Bays Brewing Company sent us a cool selection of their mugs/glasses to enjoy our beer in.  See that frosty Lake Of Bays Brewing Company mug in my photo above?  That made an already great beer, fantastic!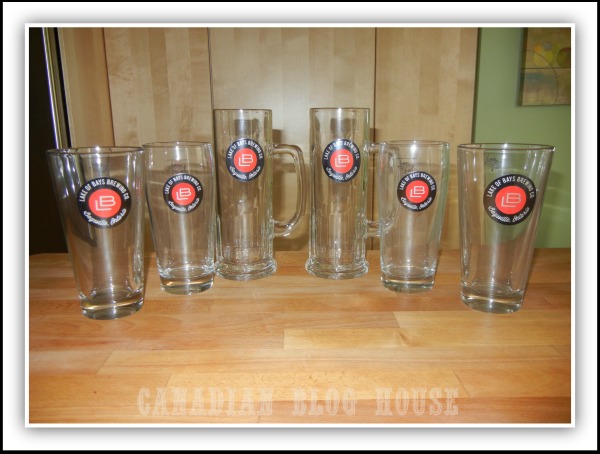 The Lake Of Bays Brewing Company website is full awesomeness.  They've even got a "Beer Finder" App that you can add to your iPhone or Android phone.
You also MUST take a listen to this – the very funny "Did We Put You On Hold? Was It Awesome?" voice-mail recording.  Makes me want to call them up just to see if I get put on hold when I call so I can hear the song again.  Great way to take something that is normally so irritating, and make it fun.
If you are lucky enough to live close to the Lake Of Bays Brewing Company (I'm jealous!), or if you are vacationing in the area, be sure to stop in at the brewery, say hi, and tell them Canadian Blog House sent you.  Lake Of Bays Brewing Company offers FREE brewery tours and taste testing for visitors.  You can also enjoy a cool brew in the lovely beer garden they have set up for visitors (weather permitting of course).  On the first Saturday of every month they have a sampling day where you can sample their featured beer.
Our friends at Lake Of Bays Brewing Company want YOU to be able to try their beer, so they are generously offering up 20 vouchers (valid at Ontario LCBO outlets) for a FREE can of their Top Shelf Classic Lager.  That means 20 Canadian Blog House readers will each win one voucher! As well, the first two winners chosen at random, will also receive a cool piece of swag – a Lake of Bays Brewing Company Bottle Opener.
My apologies to readers outside of Ontario – this giveaway is OPEN TO ONTARIO RESIDENTS ONLY.  Why? Simply because Lake Of Bays Brewing Company is made in Ontario, and only sold at LCBO outlets across Ontario.
Here's my public service announcement.  We here at Canadian Blog House encourage our Ontario readers to head out to your local LCBO and give one of the great Lake Of Bays Brewing Company beers a try. But please drink responsibly! You've heard this a million times, so here is number one million and one….PLEASE DON'T DRINK YOUR LAKE OF BAYS BEER AND DRIVE! Thank you <3
Here's how you can enter to WIN!
Giveaway Ended!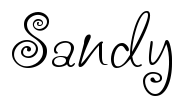 Disclosure:  Canadian Blog House was provided products from Lake Of Bays Brewing Company in exchange for this review.  All opinions are our own.