What happens at Whitewater Village, stays at Whitewater Village.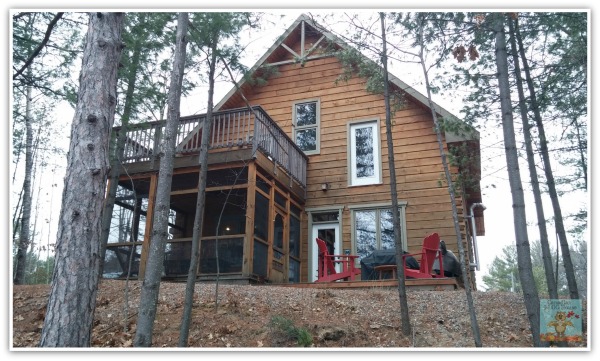 View of Whitewater Village cottage looking up from the waterfront
Well not really.
Why? Because Whitewater Village, located on the shore of the great Ottawa River, one hour northwest of the city of Ottawa, is a piece of Ontario cottage country paradise that everyone should get to hear about, and experience in person, at least once!  This idyllic retreat is where I got to spend an entire late fall weekend enjoying a beautiful waterfront view, a gorgeous waterfront cottage surrounded by endless forest, great food and drinks, wonderful conversations, and plenty of laughs with 3 of my favourite fellow Ottawa Bloggers.  Put up 4 #WhiteWaterWomen bloggers in a luxurious cottage setting like this for a weekend, and well, unlike in Vegas, nothing stays a secret.  Of course we just have to tell you all about it!
During my childhood when I was aged 4-7, my parents spent 3 summers renting a cottage in Eastern Ontario. Those summers I spent on the lake were by far the happiest memories I have from my childhood. We have so many fond family memories from those summers.  For my parents, the great thing about renting the cottage was that they didn't have to deal with all the expense and maintenance that comes along with owning a cottage.  They also didn't have to worry about opening and closing the cottage every spring and fall.  Renting a cottage meant that mum and dad could simply enjoy their time they way they wanted to, which meant spending their days mostly at the beach. The only downside to renting this cottage was that, sadly, once we stopped renting, it was gone. It wasn't a family cottage that would be passed down to another generation.  In fact, our rental cottage eventually became the property on which former Maple Leafs player, Wendel Clark built his present home.  Imagine that property value now!
ENJOY THE BENEFITS OF SHARED OWNERSHIP
I was very intrigued when I was invited to come for a stay at one of the beautiful cottages at Whitewater Village. While the gorgeous photos of both the cottage and the surrounding scenery piqued my interest right away, I was also curious about the concept behind Whitewater Village – Shared Ownership.
Whitewater Village offers Canadians the chance to experience all the great benefits of cottage ownership – without the burden of upkeep usually associated with owning your own waterfront property:
"When you arrive at Whitewater Village, you can look forward to your clean cottage – primed and ready for family fun. Fractional ownership gives you the ability to experience a second home in a prime location without any burden. You commit to a fraction of the purchase price, running costs and responsibilities and never worry about seasonal tasks, cottage repairs, landscaping, or security."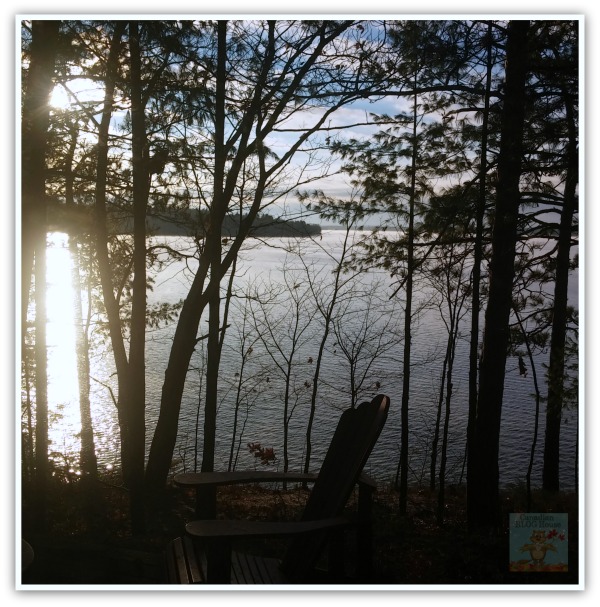 View from the deck at Whitewater Village cottage
For those of you more familiar with the concept of Timeshare, Fractional Ownership differs in a few ways. Fractional Ownership at Whitewater Village gives you the ability to own one week of the summer that is yours – you get to use the cottage every year during that same exact week.  In addition, you own 4 other weeks throughout the year that will rotate from year to year, based on a fair rotation schedule.  Unlike Timeshare properties which usually come with a set time frame of "ownership" (often 25 years), when you purchase Fractional Ownership at Whitewater Village, you own it for life. In fact, ownership gets transferred to whomever you wish to transfer it to upon your death. You always retain the right to sell your Fractional Ownership in the property, either on your own or by allowing Whitewater Village to sell it for you (for a fee).
Having grown up with my parents owning a timeshare in Florida, I am very familiar with the pros and cons of timeshare. Unlike with Timeshare, I love how with the Fractional Ownership at Whitewater Village you always retain your ownership and can pass that ownership on to your kids.  I wish that my parents' timeshare had worked like that. Oh how I would have loved to still own that timeshare property now. Instead, after 25 years, they no longer own that timeshare.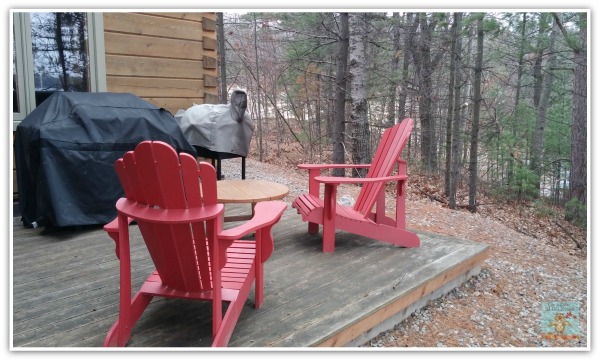 Deck that overlooks the waterfront view
We arrived at our Whitewater Village cottage destination one cold and dark November night.  Most of us (including myself) think of being at a cottage in the middle of summer, on a hot July day, with a cold beverage in hand, and the smell of hamburgers on the BBQ.  Well, my blogger friends and I (Vanessa from Turnipseed Travel, Shannon from Shannon's View From Here, and Ann from Kick-Ass Living), thought it might be pretty spectacular to go "off-season" and see what it's like to spend a weekend in the Ontario outdoors during one of the dreariest times of the year.
Turns out, our stay at Whitewater Village in November was just what we all needed. Nestled amongst some spectacular scenery, with a gorgeous view of the Ottawa River, our weekend at Whitewater Village turned in to something even better than we expected. This was no basic weekend away at some random Canadian cottage. This was more like a Whitewater Blogger Retreat. It was an amazing weekend of relaxation in such a beautiful, peaceful, cozy setting.
THE ULTIMATE COTTAGE EXPERIENCE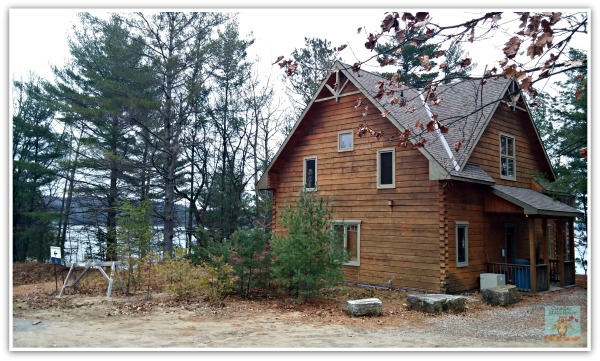 Our cottage at Whitewater Village
This majestic 2-story, 4-bedroom, fully-furnished cottage turns the typical image of a small Canadian cottage, sans indoor plumbing, on its ear. There's no such thing as "roughing it" at Whitewater Village. The cottages at Whitewater Village are like your home away from home. Wait a second. For most of us, these cottages are BETTER than our own city houses! Complete with all the amenities of home, including 3 bathrooms, a fully stocked and equiped kitchen (even includes a dishwasher and numerous small appliances!), a full dining room/living room, deck furniture, BBQ, WiFi, air conditioning and more, Whitewater Village cottages offer ALL the comforts of home.
From the minute we walked through the front door of our Whitewater Village cottage, we knew we were in for a pretty special weekend.  What wouldn't you love about a cottage that offers such luxury indoor living space like this: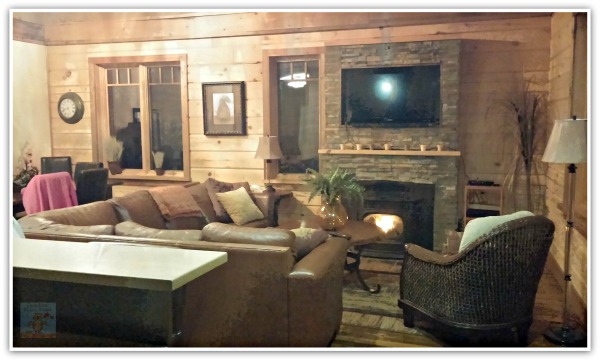 Whitewater Village Cottage Livingroom
and this: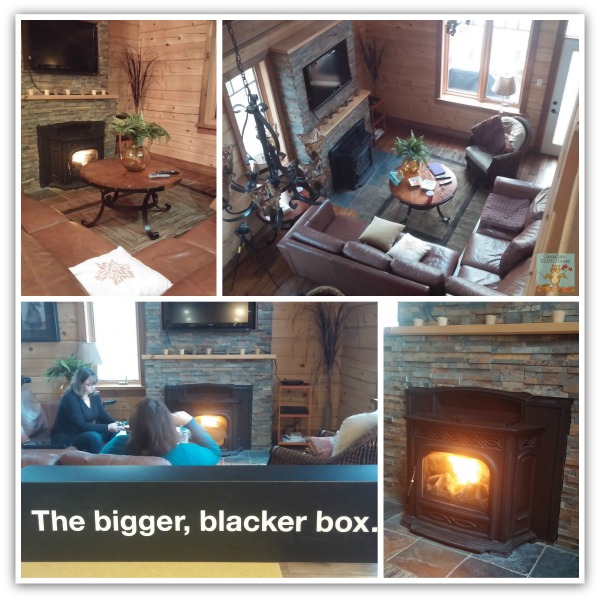 Whitewater Village Cottage living room views, pellet stove, and view from second floor balcony (note the game of "Cards Against Humanity" all ready to go!)
In fact, we loved spending time inside this cottage so much, we barely stepped foot outside the whole weekend! We did explore a bit of the area by car, checked out a fabulous local brewery (more on that later!), and we did wander down to the beach, but it was the comfy cottage furniture, the warm and inviting pellet fireplace, the great conversation, and the inspiring waterfront views that gave us a weekend away that more than exceeded our expectations.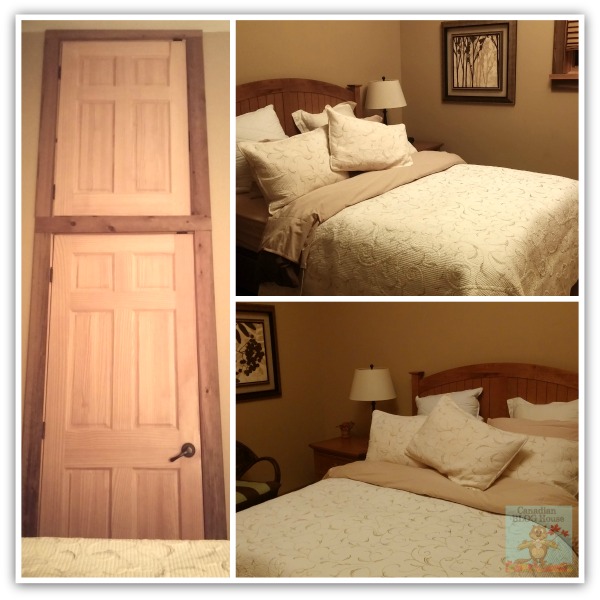 My bedroom – including the closet that piqued my interest. Can you guess what was inside the top section?
Beds were very comfortable, with a great selection of beds including a bunk bed, a Queen-sized bed, a King-sized bed, and a pull-out couch. For those that have the urge you can even sprawl out on one of the two very comfy couches in the living room in front of the fireplace.  Ann will vouch for this comfy place to rest – we caught her dozing off on the couch a couple of times!
I was pleasantly surprised to see some of Whitewater Village's "green" commitment in action. We spent much of our weekend relaxing in front of the pellet fireplace that burns compressed pellets of recycled wood shavings.  The heat the fireplace put out was incredible.  I also love that Whitewater Village makes such great use of the living area. The best example of this that I found was the first night in my bedroom at the cottage. Lying in bed, I couldn't help but notice the odd-sized closet in front of my bed. Why did it have two doors, and yet one without a door handle.  I was so curious that, by morning, I just had to get up there and take a peek. So I did. Guess what I found? The hot water tank! What a clever place to hide that away!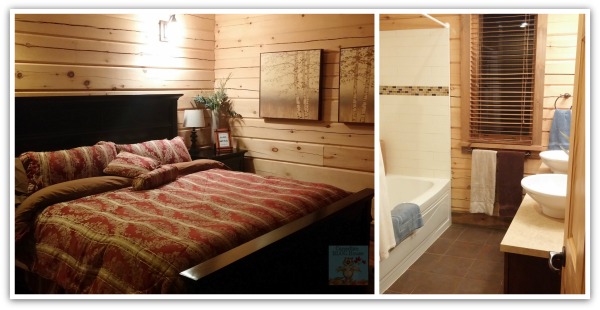 Vanessa was the lucky lady who scored the beautiful master bedroom, complete with an ensuite that included a large tub with jets!
While we were there during "off-season", come the summer months, Whitewater Village is bursting with activities for the whole family, including kayaking, canoeing, swimming, sauna, boating, water toys, and even…gulp!…bungee jumping!
For the more adventurous types (and you thought bungee jumping was adventurous!), Whitewater Village's neighbour is none other than Wilderness Tours, Canada's top river company.  They are the fab folks who bring you some of Canada's best whitewater rafting! As part of Whitewater Village, owners and guests are welcome to use their pool, hot tubs, basketball courts, and rocking climbing wall. Special discounts apply for rafting adventures and other activities.
If you are a horse lover, I've got a little secret for you. Plans are in the works for something fabulous to do with horses in 2015. That's all I can tell you. Sorry. Yes, I'm a tease!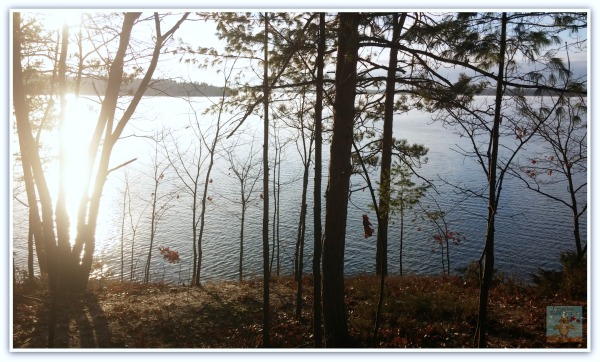 Ottawa River waterfront view
I came home thinking, if Whitewater Village is this wonderful in the middle of dreary November, just imagine what it must be like in the middle of summer!!
If you would like to experience some of what Whitewater Village has to offer for yourself, they are currently offering a special promotion – a two night stay in 2015 for $250 (That works out to just $31.25 per couple, per night, if you fill all four bedrooms). Regular price is up to $750.  That's a pretty fantastic deal for great weekend away!
If you go, you will need to bring your own food and drinks, however, that's it.  No need for linens, towels, oranything else for that matter. Just your own personal items. Whitewater Village is all about letting you enjoy your time away from home. When you leave, Whitewater Village even takes care of housekeeping and the changing of beds and linens.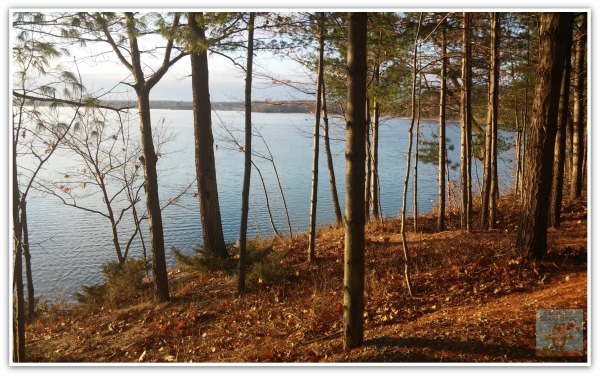 Ottawa River waterfront view
The folks at Whitewater Village are fabulous and would be more than happy to answer any questions you may have about Fractional Ownership.  You can find them on Twitter at @wwvcottageclub  and on the Whitewater Village Facebook page.
Thanks so much to Jason and the rest of the staff at Whitewater Village for a fantastic weekend!!
Be sure to check out what my friends and fellow bloggers thought about our weekend at Whitewater Village:
Are you a fan of cottages? Do you rent a cottage? Own a cottage? I'd love to hear about some of your great cottage experiences!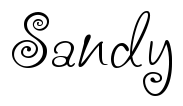 Disclosure:  Canadian Blog House was provided with a complimentary stay at Whitewater Village in exchange for this review.  All opinions are our own.