Minimalist necessities for the modern NOMAD
It's a fact of life for many of us now that we spend our lives attached to one or more electronic devices, specifically our mobile phones.  If you are like me, you don't go anywhere without your phone.  I happen to have a new smartphone, the LG G2 phone I reviewed a few months ago.  I loved my test model so much, I purchased the phone when my old one died.  My LG G2 has a fantastic battery that usually holds a charge for a couple of days but, as they say, nothing lasts forever.
So whenever I travel, whether it's to visit family across the country, or just a day trip away from home for the day, I always have to remember to bring my phone cord with me so that, if need be, I can charge my phone while I'm away. Don't get me wrong, bringing a cord with me isn't a difficult thing to do: remembering to bring it with me is.
I no longer have to worry about forgetting my phone cord now that I own a NOMAD ChargeCard Micro USB Cable. Why?  Because this handy little gadget from NOMAD, which is compatible with my LG G2,  fits perfectly in my wallet  – just like a credit card!  So I can just leave my NOMAD ChargeCard in my wallet so that it's there for me whenever I'm away from home.  My NOMAD ChargeCard Micro USB Cable easily connects to any standard USB port.  This means I could connect it to my laptop, and I can connect it to my USB port in my car.  I can connect it anywhere I can find a USB port – even on the back of some TVs!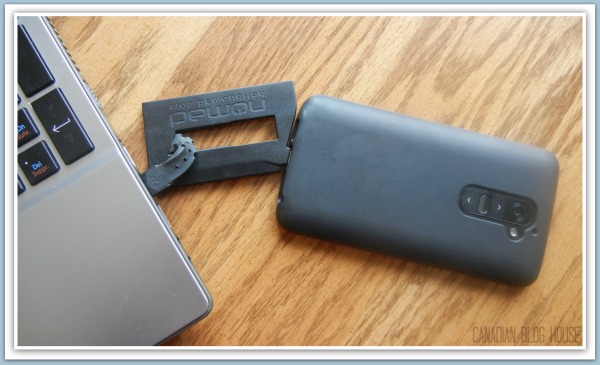 So what exactly are the NOMAD ChargeKey and ChargeCard?
World's smallest, most portable USB cables

Shaped like a house-key and credit card, respectively

Allows for charging from any USB port (works just like your standard iPhone 5 cable) and full data transfer when connected to a comput

Just launched on Amazon.ca with expedited shipping available
Obviously, I love the NOMAD ChargeCard's slim, easily portable design.  This is the feature that sells it for me.  I never have to worry about forgetting a charger for my phone again.  The USB "arm" clicks into the flat "card" body, but pops out when you need to connect your device.  This USB arm is flexible so that you can actually bend it in different directions, allowing for easy connection of your device to the charging source – no matter where that charging source may be (keeping in mind that the NOMAD ChargeCard does not have a long reach).
After 3 charges using my new NOMAD ChargeCard, I can safely say that the ChargeCard charges my LG G2 phone in the same amount of time as the charger that came with my phone. I tried charging it in a few different locations, making sure to have to bend the USB "arm" into a twisted position to see if it would still charge properly – and it did.  That was impressive as I was certain that bending it would cause "issues" with the charging but, it didn't.
The NOMAD ChargeKey is another well-designed USB cable that hangs right on your key chain.  How handy is that?  This one is especially great for the guys who don't wish to sit on a NOMAD ChargeCard in their wallet. The NOMAD ChargeKey is small, slim, and barely takes up any room on your key chain.  
 The boys have inherited the NOMAD ChargeKey USB cable as it works perfectly with my boyfriend's phone, and X-Man's iPod.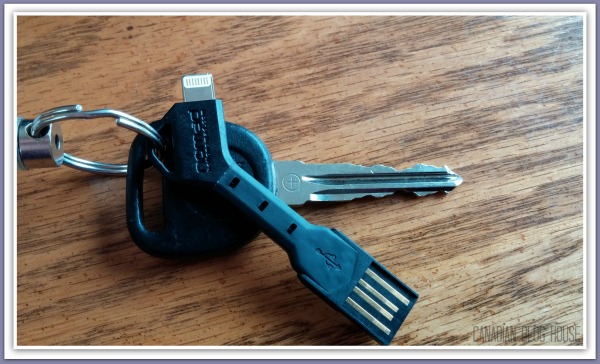 A little history about NOMAD.  They just launched the ChargeCard (their first product) last year on Kickstarter, and exceeded their goal by 300%.  That's a pretty fantastic launch!  ChargeKey, their second product was successfully launched on Indiegogo.
In NOMAD's own words:
"In the nomadic spirit, we accept barters as a way for people/companies to exchange their own goods and services for ChargeCards/ChargeKeys. We received an overwhelming response, ranging from custom bikes and die-stamped office furniture to wall art and artisanal popcorn."
Make charging your devices a little easier.  Be sure to check out NOMAD's website to see which USB cable is a good fit for your device and your lifestyle. I should also point out that NOMAD offers a referral program.  If you refer 3 friends who end up purchasing a NOMAD, you can get one free!
The great folks at NOMAD are offering up a great prize for one lucky Canadian Blog House reader!  You could win your choice of either the NOMAD ChargeCard OR the NOMAD ChargeKey!
Here's how you can enter to WIN:
Disclosure:  Canadian Blog House received the two above mentioned products in exchange for this review.  All opinions are our own.