Yesterday marked Canada's 148th Birthday. As happy as I was to celebrate our great country's birthday, I was even more excited during the afternoon when I received the most amazing email I have ever received here at Canadian Blog House.
I'm over the moon, and excited beyond belief about it. It's the best opportunity I've received to date. I've been doing my own little Canadian Blog House "Happy Dance" since I received the news.
But I can't tell you about it.
I must leave you to wonder what it could be. I must leave you on the edge of your seat.
Or maybe you aren't doing either of those things. Perhaps instead, you are feeling like throwing your mobile phone, or laptop, across the room in frustration right about now.
No matter how much you beg and plead, I'm afraid I just cannot spill the beans.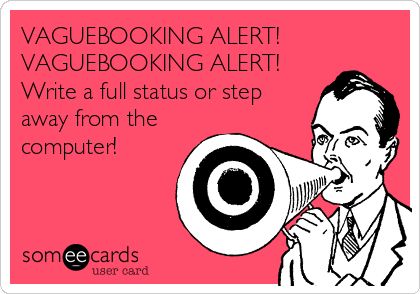 That's right, I'm "vaguebooking"…or should I be calling it "vagueblogging"?.
I've given you just a tidbit of information about the exciting news I received, enough to pique your interest, make you want to know more, then left you hanging off the proverbial social media cliff by one hand. Actually, I've given you a bit more information than you would normally get when someone vaguebooks.
Annoying isn't it?
Vaguebooking is but one of many annoying, frustrating, irritating, and nauseating things that we all see on our social media channels each and every day.
While online the other day, after seeing a few of my own personal social media pet peeves, I thought it would be interesting to see what others find annoying on their social media channels.
So I put out this question to my readers:  "What is your biggest social media pet peeve? Be it on Twitter, Facebook, Instagram (etc)…what do you see others do, that really boils your blood?"
The response was stellar.
This led me to conclude that there are a lot of social media pet peeves out there, and everyone seems to have at least one social media pet peeve.
Here is what my readers had to tell me: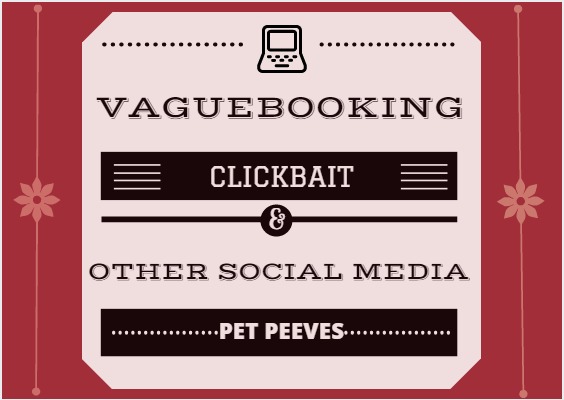 "You won't believe what happens in this video." (clickbait headlines) ~ Gina B.
Or "You won't believe what happens next…" (clickbait headlines)~ Lindsay G.
"Photos of lost or missing persons. If the police aren't directly involved, then don't share…you never know who may be looking" ~ Dot M.
"I despise before and after work out photos that are super posed, staged and edited to make the before look hideous, and the after glamorous. I also do not approve of parents filming their seriously injured child who is screaming and bleeding. Put the phone down and comfort your child! Last one: woe is me drama." ~ Jennifer O.
"My pet peeve is when people complain about their kids and their spouses all the time on fb. GRRR. It's so self-destructive and I always want to "fix" it, but I can't. I just find it so destructive. A wise woman builds up her house, but a fool tears it down." ~ Anonymous
"The "totally unliking this page" commenters." ~ Lindsay G.
"Vaguebooking." ~ Lisa Marie F.
"Auto DMs when you follow someone on Twitter. I despise those!!" ~ Shayna M.
"I can't stand auto-DM's!" ~ Nancy P.
"Drama, shaming, judging and attention seeking posts." ~ Kim L.
" #1 pet peeve…people who sell wraps on Instagram. I accidentally like and then there are bellies all over my feed." ~ Mary S.
"I think that my biggest peeve has got to be sites that post referral links (contests) to gain extra entries, especially when they don't state that this is what they are doing and go on and on about how they are doing you a favor by running this site etc this really irks me." ~ Gayle B.
" The 'share if you have a heart' posts. C'mon." ~ Heather N.
"I'm absolutely sick of all the "skinny" bashing in my news feed. I have a naturally "skinny" daughter who doesn't need to accidentally see "skinny" bashing if she happens to glance over my shoulder when I'm on Facebook. I am tired of seeing remarks like "give that girl a burger" or "real men like curves, not bones"." ~ Anonymous 
"Drama, drama, drama…if you've got something to say to someone say it, your 300 friends don't need to know about your personal business." ~ Amanda K.
The list of social media pet peeves is virtually endless!
I agree with each and every pet peeve that my readers shared with me. In fact I even have a few of my own that weren't mentioned:
Social media channels filled with a selfish agenda – shares that scream "me, me, me…and only me".  Social media should be about "us".
Spam accounts that want me to pay them for getting me 10,000 followers. No thanks, I don't want fake followers, I only want followers who actually WANT to follow me. Who pays for followers? This just reeks of dishonesty to me.
People who post their blog posts/website info/events on my Facebook page without asking permission first. I am most happy to share many things on my Facebook page, but don't assume it's okay to just go ahead and surprise me by posting your information on my page. I find that rude.
Repeatedly tweeting for me to share your post with my followers – if it's that good, you don't need to push me to share it. How about sharing something of mine? I'll happily go looking at your blog/website to reciprocate.
Not responding to my questions, complaints, or even compliments on social media. Social media is supposed to be just that…social. Don't make me feel like I'm being ignored. If I have specifically mentioned you in some way, have the courtesy to respond.
Not following some of these social media engagement tips. Some are just plain common courtesy.
So back to my original comments at the start of this post.
Yes, I really did get that email yesterday, and yes, I really am super excited.
My apologies for vaguebooking. It will never happen again!
Oh and…I will share details about that email when I can. I promise!
Do YOU have any social media pet peeves? I'd LOVE to hear all about them!!