FEEL BEAUTIFUL.

 

LOOK BEAUTIFUL. 

BE BEAUTIFUL. 

INSIDE AND OUT!
I love this message from Younique, a line of high quality, cutting-edge cosmetics.  It's a reminder to all women to feel beautiful both inside and out.  Of course, we all love a pretty face but, when I think of true beauty, I think of the person who walks into a room and lights it up with her personality, her exuberance, and her big smile, not her looks.  This type of beauty isn't necessarily the prettiest woman in the room, but she captures everyone's attention just by being her – by being (Yo)unique!
Of course, no matter how beautiful we are on the inside, many women enjoy using cosmetics to enhance their natural outer beauty.  Choosing the right cosmetics can make (or break) the desired effect.
"Younique's cosmetics development processes utilize scientific research to ensure that our products contain high quality ingredients without unnecessary fillers. The result is a beautifully efficacious product that is safely compatible with virtually every skin type.
Younique begins by looking to Mother Nature for the inspiration behind our cosmetics. Our in-house scientific team then formulates a product that honors that inspiration while delivering cutting-edge cosmetics. Our goal is to use science to help nature provide healthy, clean, and pure cosmetics, without fillers or junk".
I was recently contacted by Allison Bell, a Younique Presenter, asking me if I would like to try out a couple of their most popular products.  Although my make up routine is almost non-existent (slap a little of this here, a little of that there), I would never turn down the opportunity to try some great looking cosmetics products.  I can use all the help I can get!!
So here is what I received in the mail: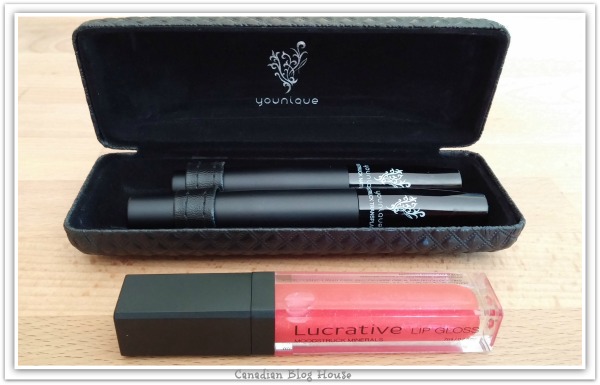 How pretty is that? The top case contains my Younique 3D Fiber Lashes. This beautifully packaged kit comes complete with a Younique Moonstruck Transplanting Gel, and the Younique Moonstruck 3D Natural Fibers.  The cosmetic in the bottom is the Younique Lucrative Lip Gloss (Lovesick).
I must admit, when I first opened the kit containing the Younique Moonstruck 3D Fiber Lashes, I wasn't sure what I had gotten myself into.  My go-to cosmetic item is my mascara.  I don't leave home without it.  If I were stranded on a desert island and only had one cosmetic item with me, it had better be my mascara.  As important as my mascara is to me, I don't put much thought into how I apply it on my eyes.  I'm a brush on and go kinda gal.
So looking at my Younique 3D Fiber Lashes kit, and seeing that it was a 2-part process, made me want to call my niece and see if she would like to try out some great new mascara.  My apprehension increased when I read the instructions and realized that there are actually three steps to this mascara process.
Well, I'm glad I never picked up the phone.  With my current tube of my regular mascara nearing its end, I hopped out to my local drug store to buy myself a brand new package of my usual brand.  Stay with me. This is where it gets tricky.  You see, Younique 3D Fiber Lashes work together WITH your existing mascara.  The job of the Younique 3D Fiber Lashes is to enhance the lashes that Mother Nature, and your usual tube of mascara, gave you.  And ENHANCE them it does!  Younique Moonstruck 3D Fiber Lashes provide a 300% increase in thickness and volume!
Now, I'm no eye model, and it's pretty darn tough to take a decent, close-up photo of your own eyeball, but hopefully these pictures illustrate how well the Younique 3D Fiber Lashes work to give you longer, thicker, more voluminous eye lashes: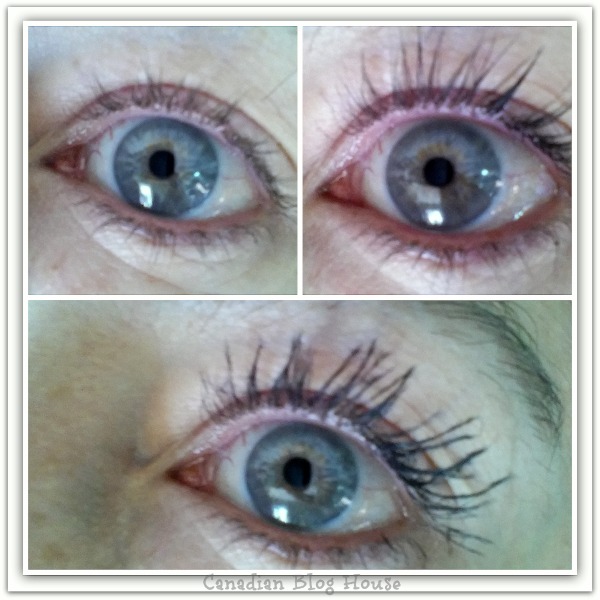 If you can get past the scary looking photo collage of eyes, and horrendous lighting, you can see what I'm talking about.  The photo of my eye in the top left corner is without mascara.  The photo of my eye in the top right corner is with MY brand of mascara.  The photo at the bottom shows my eye after applying a coat of the gel, a coat of the 3D Fibers, and a second (finishing) coat of the gel.
Let me just say that these 3D fiber lashes are something else! I've tried a lot of voluminous mascaras in my time, but none have come close to the fullness and length that my Younique 3D Fiber Lashes provide to me. Unfortunately, I did not have the proper tool on hand – a lash comb – to help brush out and separate my lashes. I've now got one of those on my shopping list.  Regardless, I still loved the effect that my 3D Fiber Lashes gave my eyes – and they looked even nicer once I applied my eye shadow.  I left the eye shadow off my eyes for this purpose as I was strictly concentrating on the look of the lashes.
The great thing about the Younique 3D Fiber Lashes is that you can apply the fibers as many times as you wish, depending on the effect you want.  You just need to remember to seal each coat you apply onto your lashes with the Transplanting Gel.  You will end up with fibers on your cheeks if you try to put too much of the fibers on at once.
As I mentioned, another Younique product that I was sent to review was their Lucrative Lip Gloss.  I almost always have something on my lips, whether it's lip balm or lip gloss.  My lips are not a fan of our harsh Canadian winter climate so, long ago, I got myself in the habit of always covering up my lips to help protect them.  When it comes to lip gloss, I tend to stick with paler shades that give my lips just a hint of colour.  My "Lovesick" Lucrative Lip Gloss was perfect for me for this very reason. I love this hint of soft red.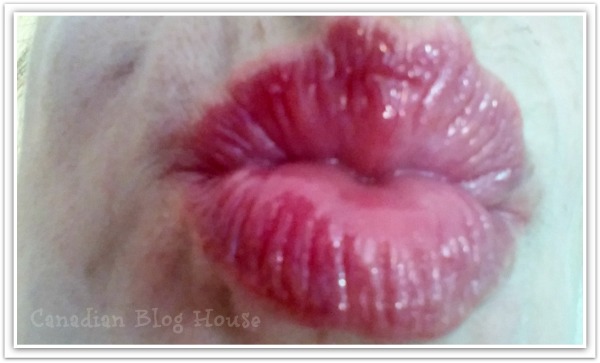 Again, not the best picture, but you can see there is a nice touch of shiny colour to my lips.  I was very happy I chose "Lovesick" as I find it has just the right hint of colour for me.  This Younique Lucrative Lip Gloss glides on smoothly and feels great on the lips.  Not too sticky either! That's important because I don't like lip glosses that are too sticky and gooey. I was surprised to find that my Younique lip gloss has absolutely no scent.  In my opinion that is great as I'm not a fan of sickly sweet-smelling lip glosses.  I also love the fact that Younique Lucrative Lip Glosses come with a slender mirror on the side of the tube – perfect for when there is no other mirror in site.
You can learn more about Younique's product line up here.  Younique Presenter, Allison Bell, would be happy to answer any questions you may have about the products I reviewed, or any other Younique product.  You'll find Allison on Facebook, and you can also find Allison on Instagram, where you will find many great photo examples of Allison's Younique look!
Allison is generously offering up a great prize for one lucky Canadian Blog House winner!!  Now YOU can enter to WIN your own Younique 3D Fiber Lashes kit!! A $35 Value!!
Here's how!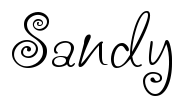 Disclosure:  Canadian Blog House was provided with the above products in exchange for this review.  All opinions are our own.