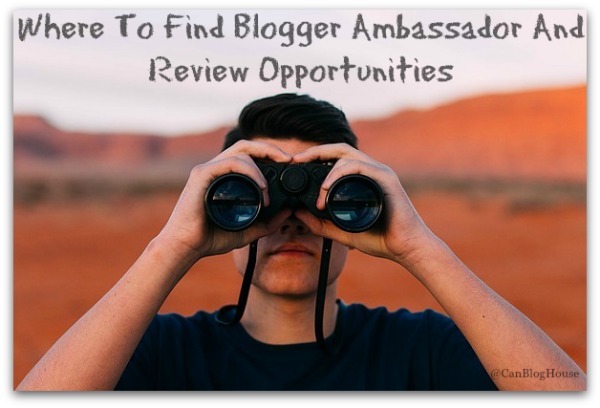 Hot on the heels of my recent post about where to find blogger and influencer outreach programs, comes my list of where to find blogger ambassador and review opportunities.
As evidenced by the number of readers who enjoyed my last post designed to help bloggers easily find outreach programs, I realized that there was a need to help bloggers find brands who are looking to partner with bloggers.
Specifically, brands who have a blogger program already in place.
Getting started in the blogging world can be pretty overwhelming. There are a TON of things to learn.
[bctt tweet="Looking for #Blogger Ambassador And Review Opportunities? @CanBlogHouse Can Help! #SocialMedia #Blogging " username=""]
One of the most daunting tasks many new bloggers struggle with is pitching a company to partner with them.
Even well-established bloggers sometimes cringe at the thought of putting themselves out there, and emailing a pitch to a company.
That's why partnering with a brand that already has an established blogger program can make things a little easier for bloggers uncomfortable with "cold-pitching" a brand.
Brands who have a blogger program in place already understand bloggers, and the value bloggers bring to their brand.
No matter your level of blogging experience, I hope this list helps get you off to a great start, or gives you a much-needed boost to get your established blog back on track!
***Please note that we cannot vouch for all of these programs, as we have yet to try most of them here at Canadian Blog House. Use at your discretion. Keep in mind some programs may work with Canadian bloggers, some with US bloggers, and some may work with both. 
Where To Find Blogger Ambassador And Review Opportunities
---
3D Solutech (3D Products)
Ami Clubwear (Fashion)
ATG Stores Blogger Program (Lowes Canada)
Baginc (Fashion)
Baker Publishing Group (Books)
Bebe POD Pants (Fashion)
Bdellium Tools (Makeup Tools)
Boon (Baby/Toddler Accessories)
Bundle Monster (Fashion/Cosmetics)
BzzAgent (Various Products)
California Delicious (Food)
Canadian Tire Tested Panel (Various Products)
Case Crown (Phone/Tablet/Laptop Cases)
Charmed Aroma (Candles/Bath/Body)
Cricut (Arts/Crafts/DIY)
Crossway (Books)
Decoart (Crafts/DIY)
Eerdmans (Books)
Fallsview Indoor Waterpark (Niagara Falls, ON)
Fashion Frenzzie (Fashion)
Fashion Mia (Fashion)
Fiorella Shop (Fashion)
Flare Style Scout (Fashion)
Giraffe Baby (Baby Products)
Golden Frog (Internet VPN)
HALO (Sleep Sacks – Babies/Kids)
Haute Rogue (Fashion)
iloome (Mobile Phone Cases)
Influenster (Various Products)
Jessica Buurman (Fashion)
Jo-Ann (Arts/Crafts)
Joly Chic (Fashion)
Joovy (Kids Strollers/Toys/Accessories)
Lavy Hair (Hair Fashion)
Lookbook Store (Fashion)
Manitoba Harvest (Food)
Manor (Home Decor)
Moody Publishers Newsroom (Books)
Nanshy (Makeup Brushes & Tools)
Nap Mat Carriers (Toddler/Pre-School)
Nuts About Books (Books)
Odor Gladiator (Sports)
One Up Bands (Fashion)
Penguin Teen (Books)
Please Don't Tell (Fashion)
Presto Photo (Photo Books)
Stacey Jewellery (Jewellery)
Stitch Fix (Fashion)
Stonyfield Organic (Food)
The Great Gift And Paper Co. (Cards/Paper)
The Kitchen Table (Organic/Non-GMO/Healthy Eating)
The Post Office/Shannon Passero (Fashion)
Uncommongoods (Home/Giftware/Fashion)
Unique Cosmetics (Cosmetics)
Vaulia (Bedding)
Vixxen Clothing (Fashion)
---
Do you know of any other brands looking to partner with bloggers? Comment with a link to their blogger sign-up form and we will add it onto our list!