When I was born, my aunt and uncle gave me the gift of a beautiful, stuffed lamb.  My mother tells me that "Lambie" was white, fluffy, and soft, and that Lambie immediately became my best "crib" mate in those early years.
Somehow over the years, "Lambie" morphed into "Doggie" – my best friend, constant companion and comfort toy.  Wherever I went, Doggie went too.  I say "morphed" because Doggie actually evolved from looking like a beautiful white, fluffy lamb, to looking like a well-loved, worn out, old grey dog.  By the time I was 4 or 5, I had given Doggie so much love, and so many hugs, that my mother actually had to start replacing parts of Doggie on occasion.  Doggie had numerous ear replacements, stitches, and sutures over the years he was with me.  Some would think he had facial surgery.  Truth is, he went from having a cute "lamb-like" face, to having his face flattened like a pancake, thanks to years of being slept on by a growing child – me. But Doggie was Doggie…and I loved him no matter what he looked like.
So why am I telling you all this? Because yesterday I read this article, all about Mr. Rabbit, the lost stuffed bunny that was lost by a little girl named Ruby, in London, England:
Wow.  The power of social media.  This left me wishing that the internet, and social media, had been around when I was 12 years old.
You see, when I was 12, I was hospitalized, at the Hospital For Sick Children in Toronto, for a severe infection.  My mum spent every day in hospital with me, keeping me company, and making me feel safe. Nighttime was a different story though.  Mum couldn't be there with me at night…but Doggie could.
Night after night, Doggie lay by my side in the hospital bed while I hugged him, squeezed him, and shed tears on him.  He always kept me safe until my mum could make it to hospital the next day.  Until that horrible day…the day Doggie disappeared forever.
On that cold fall day, my mum had something on that prevented her from coming down to the hospital to see me.  She had told me she wasn't able to visit that day, and told me to call her at home, at any time, if I needed to talk to her.  I remember missing her that morning, and decided just after lunch that I wanted to talk with her.
 I scurried out of bed, leaving Doggie all wrapped up and warm, buried in my hospital bed sheets.  Off I went,  walking down the hospital corridor, to the payphone at the end of the hall (no cell phones in those days!).
Upon my return to my hospital bed, and to my absolute horror, I saw that hospital staff had come by my room while I was gone…to change my sheets!! Where was Doggie?!  I quickly tore apart my tidied up bed, opened every drawer in my dresser, and looked under the bed.  Doggie was nowhere to be found!
To say I was devastated would have been an understatement.  My first thought was to go back to the payphone and call my mother, she'd know what to do.  So I did.  Mum immediately told me to go find my nurse and tell her what I thought had happened…that Doggie had been scooped up with the old sheets and sent to the laundry department.
Numerous phone calls and searches later, staff at the Hospital For Sick Children were never able to locate my Doggie.  I had held out hope for days, but finally came to realize that Doggie was never coming home with me.
Days later I left hospital, cured of the infection that brought me there, but going home with a huge hole in my heart.  Life would never be the same without Doggie by my side.
When I was in my 20's, my mum surprised me one birthday by giving me a stuffed animal – a little white lamb.  Apparently the toy company had released a new version of the same stuffed lamb.  On the label she wrote "This is Doggie – The exact same – can you see the resemblance?"  You bet I could! But…it wasn't the real "Doggie".  He was irreplaceable.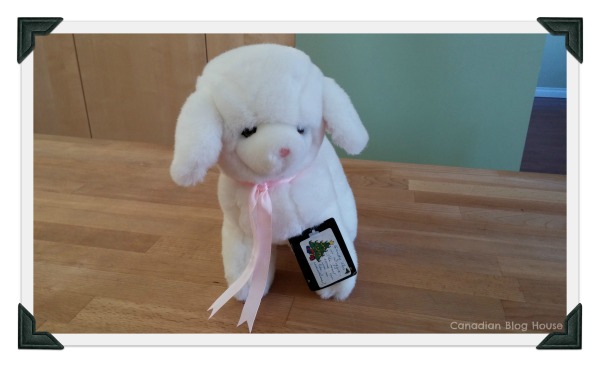 Years passed, I grew up, but I never forgot that day, or Doggie.  I often wonder what ever became of Doggie. Did he dive head first into the wash water with the sheets, only to be found later by the cleaner and thrown out with the trash?  *Shudder*  In my own mind, I'd always hoped that someone found him within that pile of sheets, rescued him, and took him home to be loved by their own child.  In reality, it's probably better to not know whatever happened to Doggie.
So, I am left with some great memories of my old friend, and a few grainy photos.
Thanks to Ruby, and Mr. Rabbit, I spent some time today thinking about Doggie, and all the happy times we shared.  I can only imagine what Ruby and her mom must be feeling during their quest to find Mr. Rabbit.  I just hope that, unlike Doggie, Mr. Rabbit finally makes it home.
Did you have a favourite stuffed animal as a kid? What about your kids, do they?