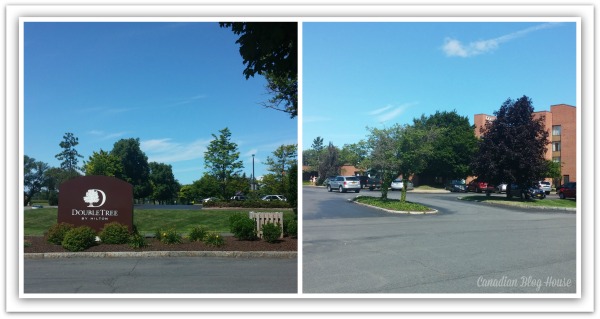 We were recently invited to come spend a couple of nights at the DoubleTree By Hilton in Syracuse, New York (winner of a 2014 TripAdvisor Certificate Of Excellence). Located in the heart of Central New York, Syracuse is a great city for family travel.  One of Syracuse's exciting entertainment and shopping destinations, Destiny USA, was the reason for our trip and, during our stay in Syracuse, we were honoured to be guests of the DoubleTree By Hilton, a lovely hotel close to this tourist attraction that we would be visiting for a day of fun.
I had been to Syracuse a number of times over the years, however, this was my first time staying overnight to enjoy some of what Syracuse has to offer tourists.  While the hotel is located close to major interstates in Syracuse, upon arrival, we were surprised to find this full-service DoubleTree By Hilton tucked away in such a peaceful area of town, in a corporate park, away from the hustle and bustle of city traffic. Nestled amongst other Syracuse hotels, the DoubleTree By Hilton is located on large, lush well-kept grounds, with lots of trees and vegetation surrounding the building.
Check-in time at the DoubleTree By Hilton in Syracuse is 3PM.  We did not arrive until closer to 4PM, thanks to a stop for lunch at the yummy Friendly's Restaurant in Watertown, New York, on our way.  Our check-in was quick, easy and we had the keys to our hotel room within a couple of minutes.  Of course, that was after we had been provided with a warm chocolate chip cookie –  a welcome treat provided to all guests who check-in at the DoubleTree By Hilton.  I loved this little "added touch". Making things even "sweeter", when I told the staff that X-Man has a peanut allergy (the cookies contained walnuts), they quickly produced a milk chocolate Hershey bar for X-Man.  They sure know how to put a smile on a kid's face!
We entered our hotel room, and there sitting on the desk, was this:
Wowee! How did the folks at DoubleTree By Hilton know I loved candy? You can't see them, but buried beneath all those other delicious goodies are bite-sized Krackel chocolate bars. Krackel chocolate bars just happen to be my long-time favourite American chocolate treat.  I believe I had those 3 bite-sized pieces gone within the first 10 minutes of entering our room!  Lucky for us, X-Man's dad is not a huge "sweets" fan, so most of the selection you see in the picture above was divvied up between X-Man and I. We loved the added touch of the cold bottled water. Great for quenching thirst after a long drive!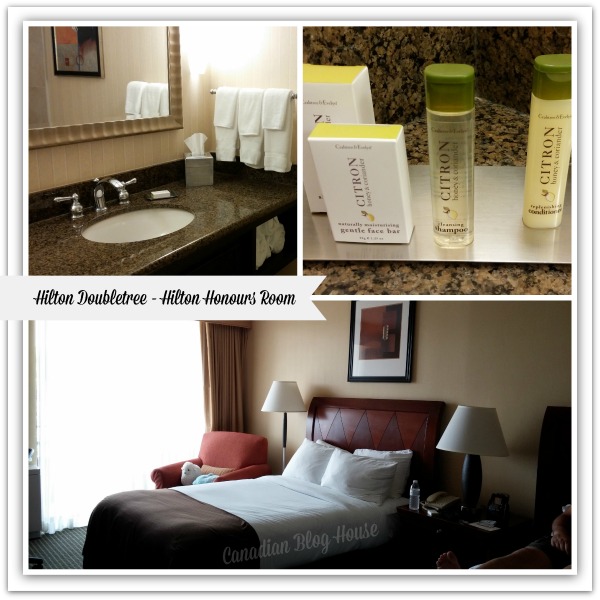 Our room at the DoubleTree By Hilton was a welcome sight after our 3 hour drive. Most of the 250 guest rooms at the DoubleTree By Hilton are furnished with 2 double beds.  A couple of suites at the hotel offer King beds, joined to a room with 2 double beds.  Our room was located on the 7th floor in the Hilton Honors section of the hotel.  You can clearly see the mistake I made in my photo above.  I had titled my photo with the incorrect spelling of "Hilton Honours" – it's the Canadian coming out in me! We had a nice little balcony attached to the room which provided us with this lovely, peaceful view: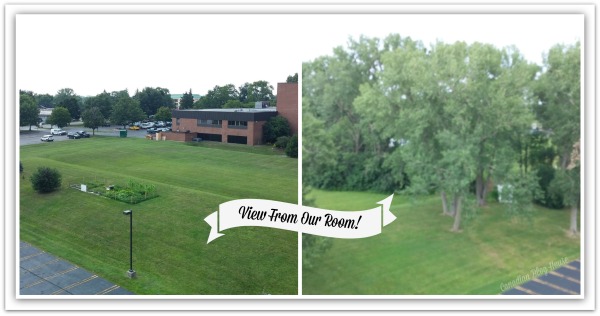 Our room featured an office desk and chair, a sitting chair (which X-Man claimed for himself the minute we walked into the room, lol), an in-room coffee machine, a 32 inch flat screen TV, and other standard hotel room amenities such as a hair dryer and ironing board.  Important for me was the free WiFi.  Not only did it work well, but it was FREE! I'm not a fan of having to pay for WiFi at a hotel, so the free WiFi made me a happy hotel guest.
One thing we noticed about the DoubleTree By Hilton in Syracuse was that, not only was our hotel room clean, the entire hotel was clean. This hotel itself appears to be older in age, but seems to be well maintained. During our stay we noted maintenance workers tending to the lawns and various other maintenance projects around the hotel complex.  A clean hotel room is imperative to me.  I always go on the hunt for dirt and other nasties the minute I enter a hotel room for the first time. We were very happy with the condition of our room!
During our stay, I had to contact the Front Desk a couple of times with questions. Both times my calls were answered promptly and helpful information was provided by the Front Desk staff.  Speaking of staff, we received exceptional service from all staff at the DoubleTree Hilton in Syracuse – from start to finish.  The staff's behaviour was so noticeable that we even ended up having a conversation about this.  It is our experience that, overall, hospitality staff in the United States are extremely friendly, courteous, well-trained and helpful, and the staff at the DoubleTree By Hilton were no exception to this.  Staff at the DoubleTree Hilton were not aware that we were there as part of a blog review, so we were treated as any other guest of the hotel would have been treated.
When it comes to kids and hotels, one of the main attractions for them is the pool. One of the first questions X-Man always asks is if there is a pool at the hotel we will be staying at.  Well, he was in luck at the DoubleTree Hilton – they had two! One indoor and one outdoor, and X-Man tested them both out!

Like the rest of the hotel complex, both pools appeared well maintained and clean. Conveniently located side-by-side on the ground floor, the pools are accessible to one another via a connecting door.  The indoor pool's outer wall of windows is one part of what makes up a courtyard that surrounds the outdoor pool.  The proximity of the pools to one another makes it great for kids who can't make up their minds which pool they wish to swim in.  For X-Man, when he got chilled outside he could just slip into the warm inside pool area.  For adults, the indoor pool area also contains a hot tub for those that wish to relax.  The pools are relatively shallow with the deepest points being 5 feet deep.  No diving!

We ate one supper at the DoubleTree Hilton's "Regatta" restaurant (on the night we arrived).  Our supper was great and service excellent, however, the highlight of our meals at this hotel were the buffet breakfasts we had each morning we stayed at DoubleTree Hilton.  This buffet breakfast was one of the best I've ever had.  Both mornings I had a feast of scrambled eggs, bacon, toast, sausage, toast and coffee. Every item we ate was cooked to perfection.  The home fries were a huge hit with this french fry hound (me!) and the scrambled eggs – wow – we still want to know the chef's secret.  His eggs were SO velvety and delicious! At the suggestion of our fabulous waitress (for both mornings), Bonnie, I finished off each breakfast with a homemade muffin.  These weren't just any ol' homemade muffin.  Just like the breakfast, these muffins were one of the best I've ever had. I tried the blueberry one day, and a cinnamon raisin muffin the next, both equally smooth, delicious, and almost "melty" in the mouth – if that is a way you can describe a muffin! We barely touched on all the selection there is to offer at this buffet breakfast.  We passed on having the chef make us our very own omelette.  Probably a bad choice.  I have a feeling he makes a mean omelette! Kudos to Bonnie for being such an amazing waitress. Bonnie is super friendly, provided excellent service (very attentive), knew the menu items well, and always made sure our coffee mugs were full.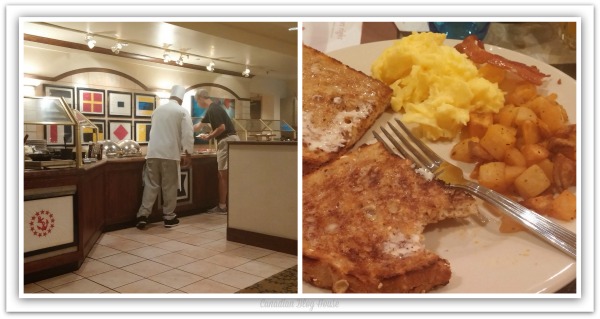 DoubleTree By Hilton Syracuse is a great place to stay for business or family travelers.  With a Fitness Centre, a Business Centre (where I was able to print my Destiny USA information for free), a self-serve pantry (how did I miss that?!), and even a complimentary shuttle to nearby Hancock International Airport, this DoubleTree By Hilton is a great place to lay your head while in Syracuse.  Planning your own stay in Syracuse? Be sure to check out DoubleTree Hilton's special offers!
We left the hotel hoping that, just like these Canada Geese who return to the DoubleTree By Hilton every year, we'll get the chance to return one day ourselves.
RT @CanBlogHouse: These guys showed up tonight at @SYRDT just to make us feel more at home, lol. #CanadaGeese pic.twitter.com/zfNQMb1pc6

— Doubletree Syracuse (@SYRDT) July 24, 2014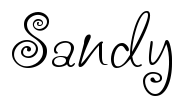 Disclosure:  Canadian Blog House was provided with a complimentary stay at this hotel in exchange for a review. All opinions are our own.