Why You Should Visit The Canadian Tulip Festival
Every year, the Canadian Tulip Festival ushers in spring here in Ottawa. This year, it couldn't come fast enough! After a very long winter, it seemed like Ottawa residents were especially happy to see the beautiful tulips this spring.
Maybe the long winter is the reason that I had an urge to visit the Canadian Tulip Festival myself – for the first time ever!
As Ottawa Mayor, Jim Watson, says " Ranked the world's largest tulip festival, the Canadian Tulip Festival offers festival-goers the opportunity to explore the colourful tulips in bloom, Dutch culture, an International Pavilion, Ikebana workshops, and be entertained by a diversity of music artists as well as captivating fireworks."
Tulip History
While I always had a general understanding of the Canadian Tulip Festival, the Dutch connection, and why Ottawa becomes decorated in beautiful tulips each year, I never understood the detailed history behind the festival – until now.
"January 19, 1943, while in exile in Canada (after the Nazi invasion of the Netherlands), Princess Juliana gave birth to daughter Princess Margriet at the Ottawa Civic Hospital, which was temporarily declared extraterritorial by the Government of Canada, to ensure the princess would hold exclusively Dutch, rather than dual nationality. (The latter would have affected her status in the line of succession for the Dutch throne; Princess Margriet remains the only royal personage ever to be born within North America.) At the news of the princess's birth, the Dutch flag was flown atop the Peace Tower and Dutch music rang out from its carillon." Read More…
I love playing tourist in my own city when I get the chance. The Canadian Tulip Festival provided us with a great excuse to get outside one beautiful morning this week, get some much-needed exercise, and catch some stunning views at the same time, like this one from the grounds of the National Art Gallery overlooking Parliament Hill. In all my years in Ottawa I had never set foot a top this overlook.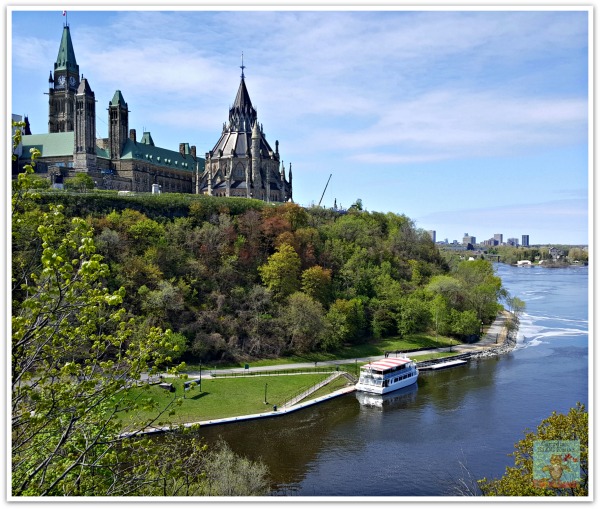 Canada 150 Tulip
A garden of Canada 150 Tulips awaited us at Major's Hill Park, the area we chose for viewing some of Ottawa's best tulip beds. This stunning tulip is, of course, the official tulip of Canada's 150th Anniversary in 2017. A white tulip with red flames, the Canada 150 Tulip can be yours this fall when Home Hardware, the exclusive retailer of this special tulip, offers Canadians the chance to purchase Canada 150 Tulip bulbs for their spring 2017 gardens.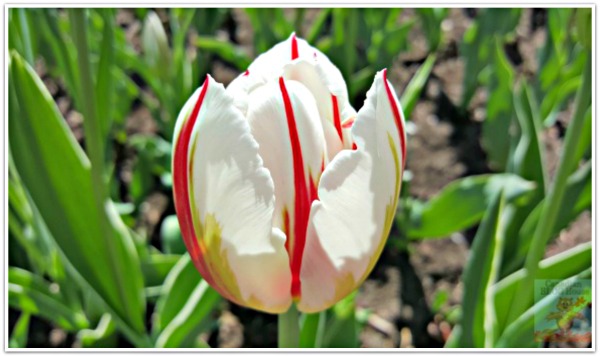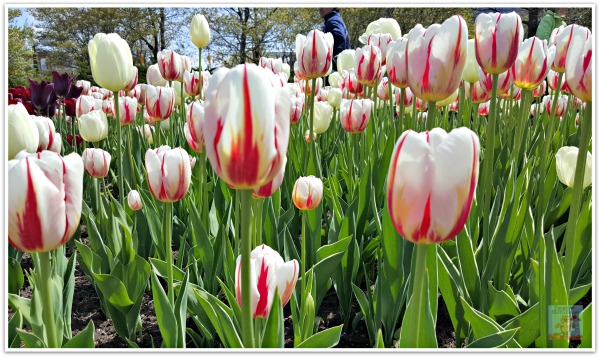 The Canadian Tulip Festival takes place in various gardens around Dow's Lake, Lansdowne Park, Major's Hill Park, and a couple of locations in Gatineau. We chose Major's Hill Park for our tulip viewing as I wanted to be downtown, and had been wanting to explore this park for some time now.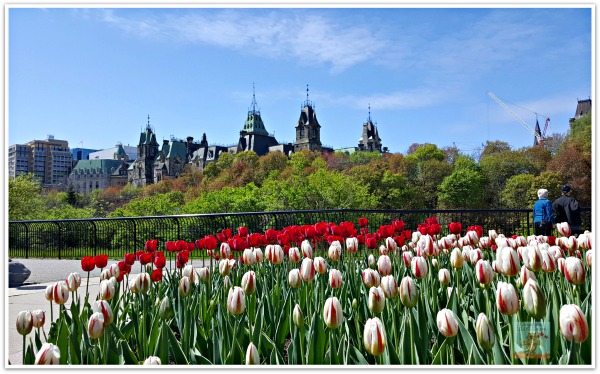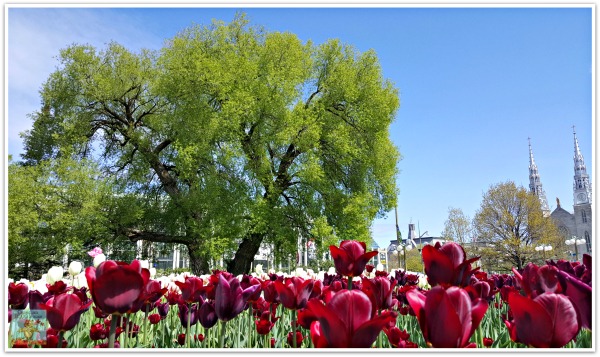 Part of what I love about exploring the tulip gardens in Major's Hill Park are the photo ops that come along with being close to many of downtown Ottawa's historic buildings. The spectacular Notre-Dame Cathedral Basilica provides a beautiful backdrop to this tulip bed.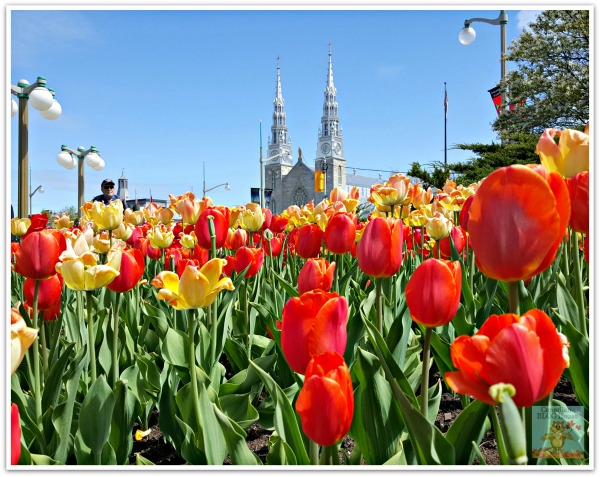 While we didn't get to experience the many festivities happening at the Canadian Tulip Festival, walking around this park full of tulips was such a relaxing and enjoyable way to spend some time on a beautiful morning.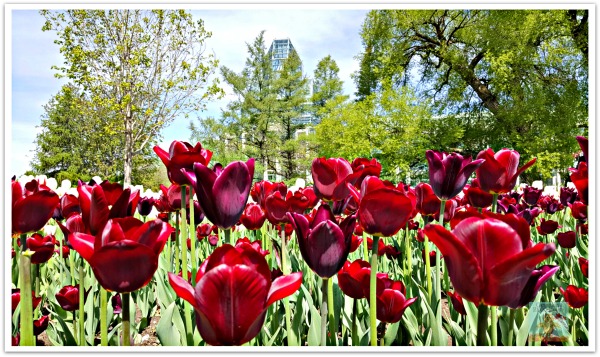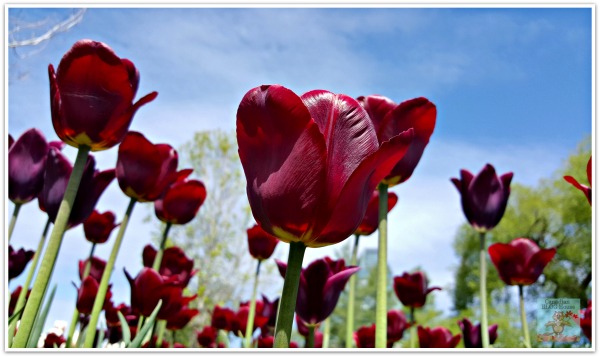 Since Parliament Hill is just a short walk from Major's Hill Park, we decided to wander over and spend some time on the Hill. We found more beautiful Canada 150 tulips there.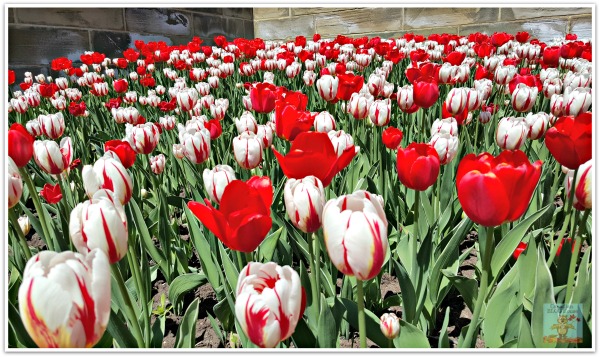 We enjoyed our walk around Parliament Hill. As always, there were many things going on, and lots to watch. A large group of dignitaries from India was wandering around, endless numbers of tourists with their smartphones and cameras, and various politicians getting in and out of vehicles at the steps to the Parliament building. A "people-watcher's" dream! On the lawn in front of us was another sight to behold – hundreds of yoga enthusiasts taking part in Yoga on Parliament Hill (something I experienced last summer).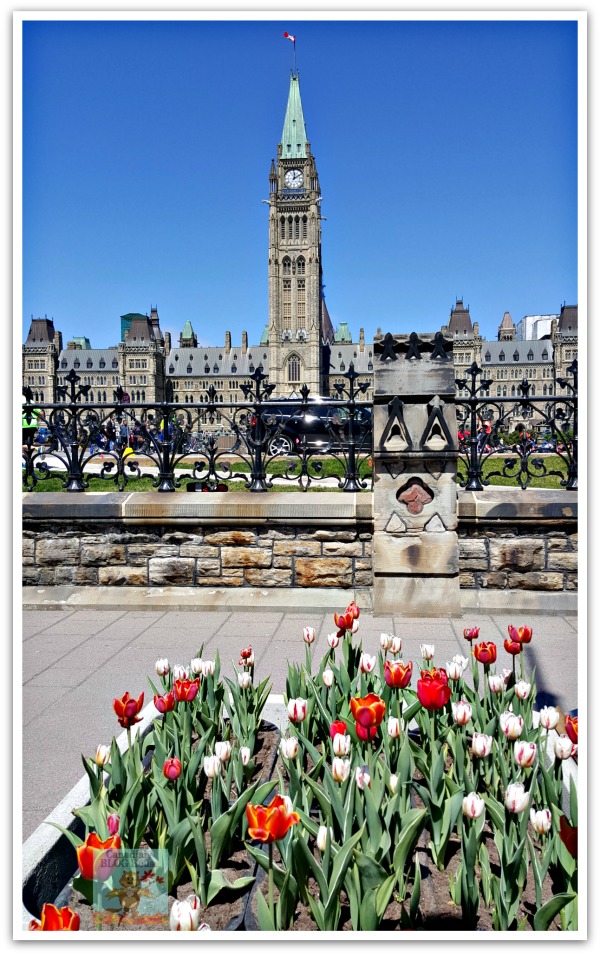 I couldn't resist one last tulip photo as I looked back at Parliament Hill. Then it was time to head over to the Byward Market for lunch at one of our favourite market eateries – Lowertown Brewery. We tried their Cold-Smoked Fish and Chips. If you love fish and chips you will probably love this menu item as much as we did. Of course, we topped it off with an irresistible Lowertown Lager!
Whether you participate in the organized events and activities that are part of this festival, or you simply take time to take a stroll around one of the many tulip gardens, be sure to check out the Canadian Tulip Festival!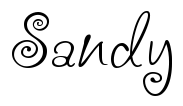 Disclosure: Canadian Blog House did not receive compensation for this post. All opinions are our own.