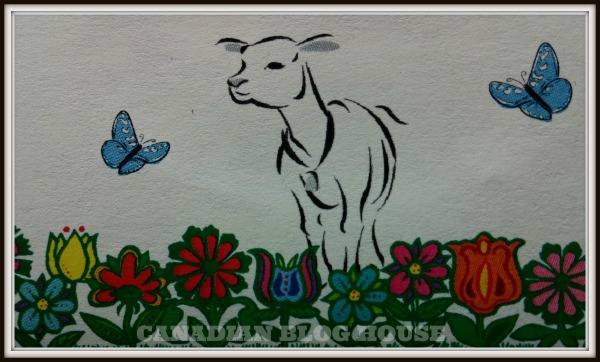 "WHERE GOATS GROW,  AND FLOWERS DON'T!" 
Nestled in the village of Clayton, Ontario, sits Anita Dworschak's pride and joy – her Wildrose Country Homestead.
Located a short drive southwest of Ottawa, Wildrose Country Homestead, is a country oasis situated on 150 picturesque acres of rolling hills and forest. It is here that Anita (aka The Goat Lady) raises goats (yes goats!), hosts people from around the world to come and experience life on a goat farm (as part of WWOOF), and manufacturers a variety of products produced from the goats on her farm, which she sells to her customers.
Some of her most popular products include her line of Goat Milk Soaps and Goat Milk Face and Body Cream.  It's no wonder they are popular! Anita's Goat Milk products smell divine!!
It was my mother who first introduced Anita's products to me when she showed me a bar of Goat Milk Soap that she had bought from Anita.  Not only was it beautifully wrapped in a box featuring Anita's adorable logo, all I could smell oozing from that box was the fabulous scent of the Goat Milk Soap.  My mother showed me another product she had, that I just loved,  which was a netted bath puff/sponge filled with chips of Anita's Goat Milk Soap.  Not only was it pretty, but my mother said the bath puff/sponge lathers up great in the shower,  the soap made her feel fresh and clean and, of course, made her smell wonderful!
According to Anita's website:
"Goat Milk is a 
natural emollient
 that helps soothe and moisturize the skin. It contains vitamins A, B6, B12 and E." 
"Our soaps are made with 
100% Farm-fresh Goat Milk only.
 This means no powdered stuff, and no water is added to dilute the milk! You get the full benefits of pure "Farm-fresh Goat Milk" in every 
bar. They are all made in small batches, along with the 
highest quality ingredients,
 essential or fragrance oils.  They are created right here on the farm and each batch is individually crafted, so shapes and colours may vary slightly. Our handcrafted soaps also contain natural 
glycerin,
  a by-product of the soap-making process which helps the skin retain it's natural moisture."
Goat Milk Soap is "a
n 
excellent choice
 for people with 
sensitive skin
 and with skin conditions like 
eczema, psoriasis and rosacea."
Knowing that my readers would probably love Anita's products, I asked Anita if I could review some of them on the blog.  She was very keen to share Wildrose Country Homestead products with my readers, so she sent me her "Pure Goat Milk Soap – Essential Oil – Lavender" bar and her Papaya Coconut Foot & Body Butter.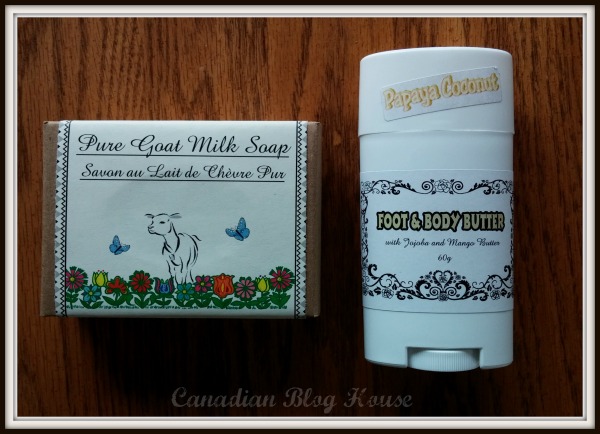 After picking up my Wildrose Country Homestead products, I placed them in my car for the drive home.  By the time I pulled into my driveway, my whole car was smelling magnificent.  It was full of the scent of the Essential Oil "Lavender" Goat Milk Soap.  I'm thinking Anita may want to start her own line of air fresheners!  My car has never smelled better!
After using the Goat Milk Soap for the first time, I now understand how this soap can be good for various skin conditions.  Not only does Wildrose Country Homestead Goat Milk Soap smell amazing (have I mentioned how great it smells yet?  I have? Well it does!), but the soap felt incredibly soft on my skin and left it feeling smooth, silky, and well moisturized.  I like "big lather" when it comes to my bath products, so I'm not usually a fan of bar soaps since they don't normally lather up like a body wash does.  Using my bath sponge, though,  I was able to lather up nicely with the Goat Milk Soap. Would I use Wildrose Country Homestead Goat Milk Soap again? You bet I would.  It has made its way onto my "favourites" list.
I like the look of the natural ingredients in this soap.  No big, long, unpronounceable names on this list! Take a look: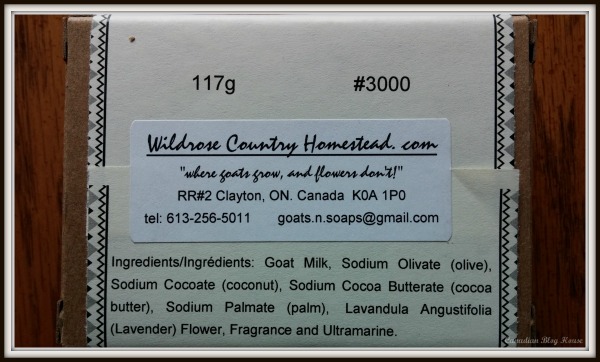 A quick peek through Anita's selection of Goats Milk Soaps and you'll see that she has a good variety of scents to please just about everyone.  After taking a look myself, I'm wishing I had tried the "Monkey Farts" soap. From the description, that soap sounds surprisingly wonderful!  Not to mention the fact that it has a great name, lol. For those of you who prefer "scent-free" soaps, you can find an assortment of these as well at Wildrose Country Homestead.
The second product Anita sent me to review was her Wildrose Country Homestead Papaya Coconut Foot & Body Butter.  Are you having thoughts of tropical beaches, clear water, and palm trees now?  I sure did the minute I sniffed this Foot & Body Butter.  Yet another product of Anita's that smells ravishing!
Don't ask me how it works when used though.  Someone, who shall remain nameless, took one sniff when I opened it up,  and loved it so much, HE ran away to the bathroom with it.  I've been told it makes HIS skin feel great,  and HE loves the scent. I've also been told the scent lasts all day on HIM.  I really don't even think you need my opinion on the Paypaya Coconut Foot & Body Butter.  The fact that it vanished on me the minute I opened it up,  says it all!
So where can you pick up some of these wonderful Goat Milk products yourself?
Patrice's Independent Grocers, Almonte ON

Steve's Independent Grocers, Carleton Place ON

Bumble Bee Blooms, Carp ON

Ouellette Farm, Middleville, ON

Ross' Independent Grocers, Nepean, ON

Mrs. McGarrigle's, Merrickville, ON

Surrounding Memories, Carleton Place, ON

Clayton General Store, Clayton, ON

Barnabe's Independent Grocers, Perth ON

3 Trees, Ottawa, ON
…or even better….take a nice drive out to the Farm and enjoy a little visit to Wildrose Country Homestead.
For those of you who would love to try these two great products from Wildrose Country Homestead for yourself, Anita is giving away this two-piece prize pack to one lucky Canadian Blog House reader.  Here's how you can enter to WIN a bar of Goat Milk Soap ~ Essential Oils ~ Lavender, and one bottle of Papaya Coconut Foot & Body Butter: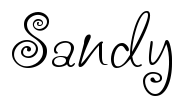 Disclosure:  Canadian Blog House received these products in exchange for a review.  All opinions are our own.