As a kid, long before the internet existed, I spent countless hours reading books all about every kind of animal on earth.  I loved looking at pictures of even the scariest creatures.
I was recently sent a couple of fantastic books from DK Canada.  I was immediately drawn to one in particular – The Smithsonian Super Nature Encyclopedia.  This book is BIG and it features the "100 most incredible creatures on the planet".  I think I was just as excited to look at it as X-man was.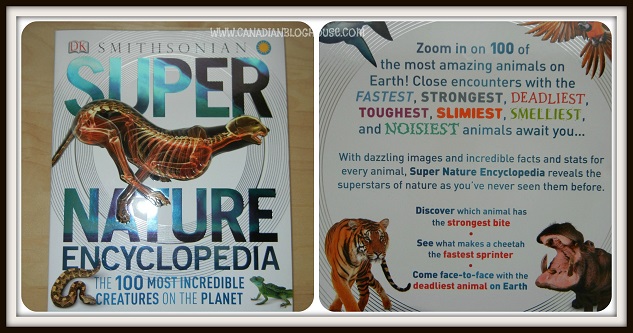 The Super Nature Encyclopedia has incredible pictures.  The print is nice and large and easy-to-read.  Each animal in the book is featured across two pages of the book with information that includes an "At A Glance" synopsis of the animal, and a box of "Stats And Facts".  I love that each page is full of eye-catching pictures, drawings and short paragraphs.  Nothing loses a reader's attention faster than an encyclopedia full of pages of text.  The Super Nature Encyclopedia does a great job of limiting text and keeping the reader's interest, while still teaching the reader all kinds of educational facts.  I also love the graphics that show the inside of certain animals.  What kid hasn't wondered what's inside a Great White Shark? (and no it's not a human body part, lol).
So what did X-man and I learn by reading our Super Nature Encyclopedia?  Here's a few interesting facts:
GOLIATH SPIDER –> The largest spider in the world! Its fangs are more than one inch long and its body can grow to the size of an orange. This arachnophobe can hardly stand to think of finding one of those around the house.  Lucky for us Canucks, they are only found in South America.

GOLDEN POISON FROG –> The most poisonous animal on earth! This frog is scarcely the size of your thumb, but 1/10th of a drop of its poison can kill a human. "Just touching its skin can kill you".
CHAMELEON –> The animal with the fastest tongue in the world!  One of my favourite critters, their tongue is often longer than their body.
GORILLA –> The largest primate on earth! Check out my photo to see the inside of this magnificent beast: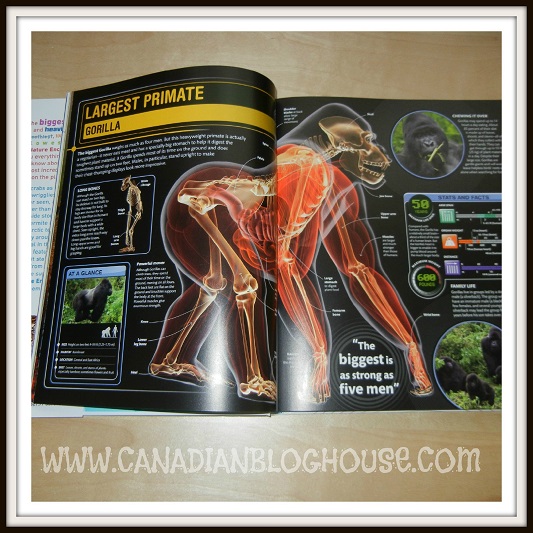 There are just so many interesting facts and figures in this book, I wish I could share them all with you!
In keeping with the animal theme, we also received "Doodlepedia – Animal Antics". This book is more of a "basic" encyclopedia that teaches kids about animals, while at the same time providing them with  places in the book to doodle, solves puzzles, find their way through mazes, and more.  I love this cat maze: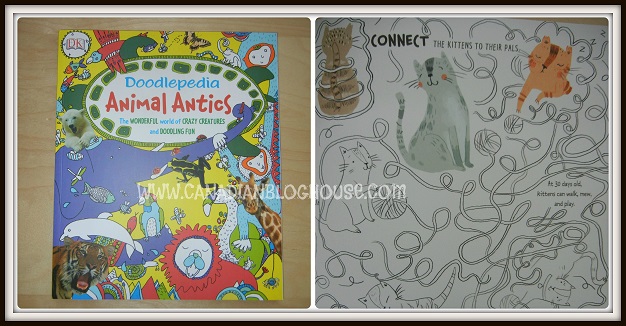 The drawings are whimsical and the book is full of all kinds of activities to keep your little one occupied for hours.  Any of the "budding artists" in your family would love this unique and beautiful doodle book.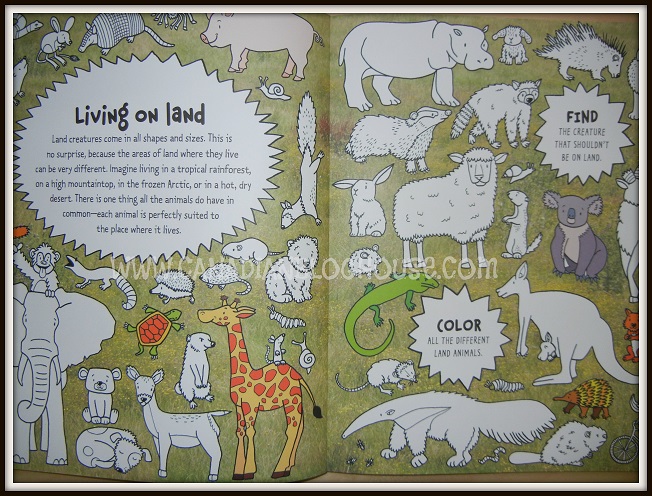 Guess what? The great folks at DK Canada are generously offering up BOTH of these books to one lucky Canadian Blog House member!  Check out all the ways you can enter to WIN!! Please be sure to read the rules.
**Please note**  While it won't get you any extra entries into the giveaway (due to Facebook rules), Canadian Blog House and DK Canada would LOVE a LIKE on Facebook!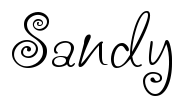 Disclosure:  I received these two books from DK Canada in exchange for a review.  All opinions expressed are my own. No other compensation was received by Canadian Blog House.