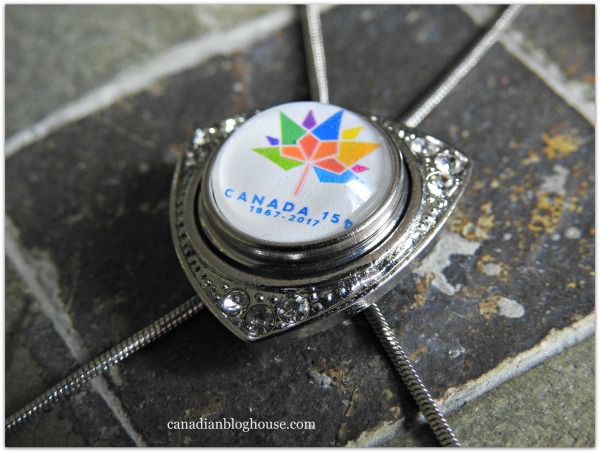 Canadian Blog House received Yoshi-Bella Snap Jewelry products in exchange for this review. All opinions are our own. 
Tell Your Story With Yoshi-Bella Snap Jewelry
We love featuring great Canadian companies here at Canadian Blog House. Especially companies that have beautiful, fun, and unique products – like Calgary's Yoshi-Bella!
Named after Yoshi-Bella, Caroline Brookfield's rescue-dog, Yoshi-Bella started as a pet-themed jewelry line. Caroline, a trained Veterinarian, and "born entrepreneur with a creative side", started her business to allow herself more free time, and more flexibility to spend time with her kids.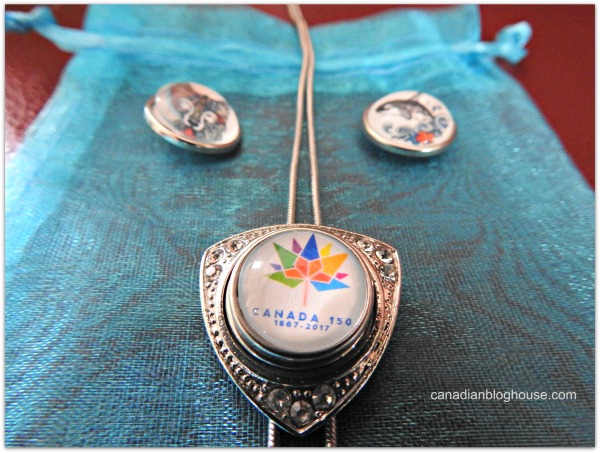 Take a peek at Yoshi-Bella's great selection of snap jewelry, and I'm sure you'll find something to suit your personal taste and sense of style. This interchangeable jewelry features beautiful – and even customizable – designs.
[bctt tweet="Yoshi-Bella Snap Jewelry – Change your style as often as you change your mind. " username="CanBlogHouse "]
You may be wondering what snap jewelry is, and how it works. Before learning about Yoshi-Bella, I had never heard of snap jewelry.
It's as easy as 1-2-3!
Choose a base piece such as a bracelet, necklace, or earings
Choose a medallion
Snap your medallion into the socket
That's it!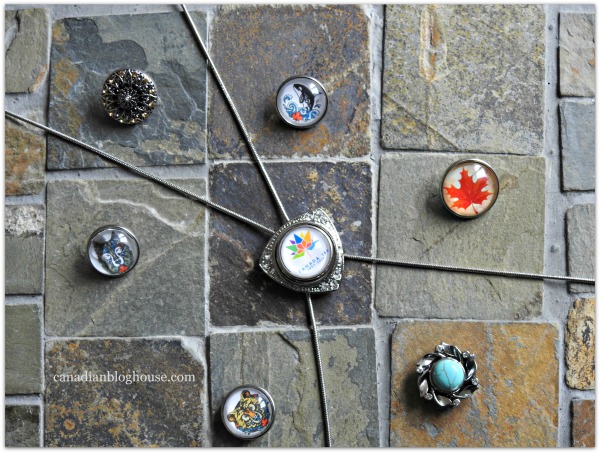 Caroline sent me a gorgeous Hannah Bolo Necklace, a stunning Renaissance Vintage Bracelet, and a selection of magnificent medallions, including (of course!) 5 of the medallions from their "Canada 150" product line. You already know how much I am loving celebrating Canada 150 all year long so, these Canada 150 medallions are definitely a prized part of my jewelry collection!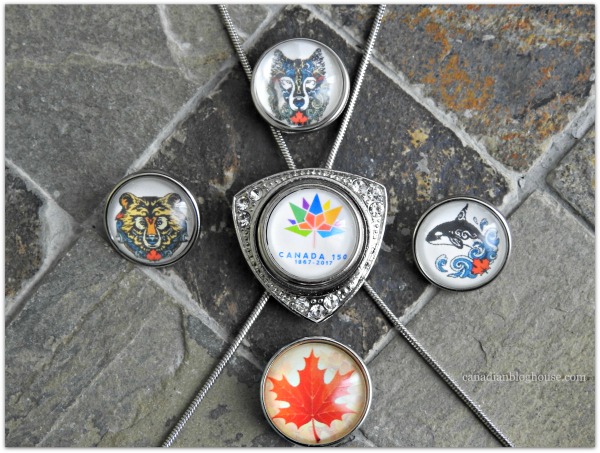 I adore the Canada 150 designs. The Canada 150 Bear, Wolf, and Orca medallions are my favourites, as they are so beautifully designed. I love the colours, and the added touch of our beloved red maple leaf within the design. Most of all, I love that I have so many choices of Canada 150 snap medallions for my necklace.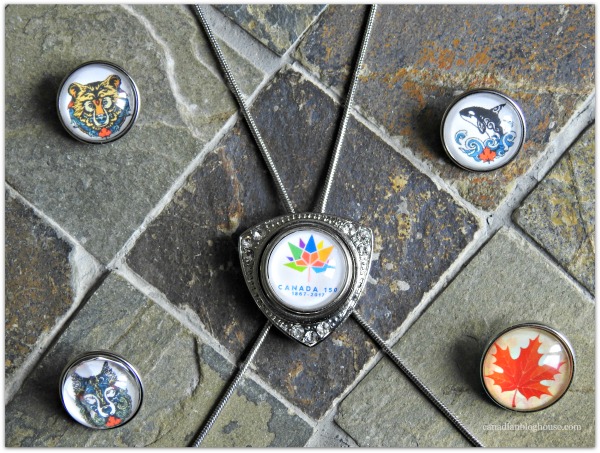 It's going to be a hard choice for me on Canada Day. Which Canada 150 medallion should I wear?
What I Love About Yoshi-Bella Snap Jewelry:
The Quality
A 45 cm stainless steel snake chain, with two small balls at the bottom, makes the Hannah Bolo a strong, durable, and nicely weighted necklace. The pendant easily slides up and down on the chain making this piece of jewelry easy to get on and off. No having to fool with awkward clasps! Thanks to the chain's bolo style, the pendant stays in place and does not flip from front to back like some chains/pendants do.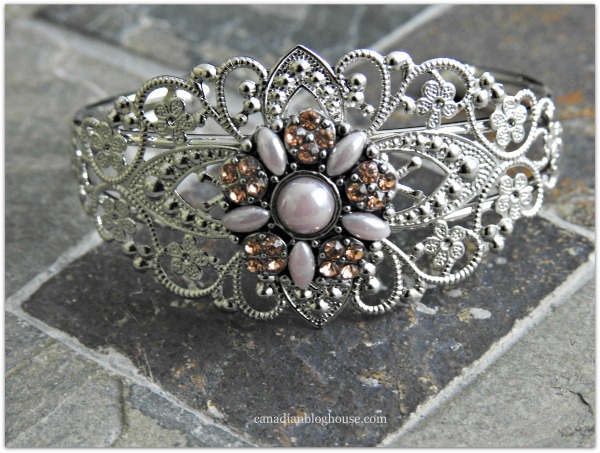 The Renaissance Vintage Bracelet is every bit as beautiful as it appears to be in the photo from the Yoshi-Bella website. With a pretty scroll design, and sparkly silver finish, this bracelet is a wonderful accessory for a night out on the town. Adding a beautiful jeweled medallion like the Stained Glass Sparkle (Black), gives the bracelet a dazzling finishing touch.
All pieces I received, including the necklace, bracelet, and medallions appear to be very durable and well-made.
The Price
In our opinion, all Yoshi-Bella jewelry is very reasonably priced. Medallions range in price from $4.99-$6.99. This makes it inexpensive to purchase a few different medallions to go along with your signature piece of jewelry, so that you can easily change-up your look, depending upon your mood or outfit!
It's Customizable! 
Who doesn't love to "make things their own", especially when it comes to creating your own "look". Yoshi-Bella can customize your snap medallions for you! Want a medallion with an image of your pet? Your kids? A special word? Your business logo? Yoshi-Bella can do it!
The Variety
Yoshi-Bella has such a great selection of jewelry! You'll find necklaces, bracelets, chains, pendants, hair accessories, pins and scarf ties, key chains and more! Are you a runner that participates marathons or charity runs? Check out this great idea – a Shoe Charm! And with dozens of medallions to choose from, the possible combinations are practically endless!
Great Website Information and Images
When I'm shopping online, my shopping experience is very important to me. A site needs to be easy to use, full of information to help me make an informed purchasing decision, and should have good, clear images, that allow me to have a close look at the product I am purchasing.
The Yoshi-Bella is all this – and more!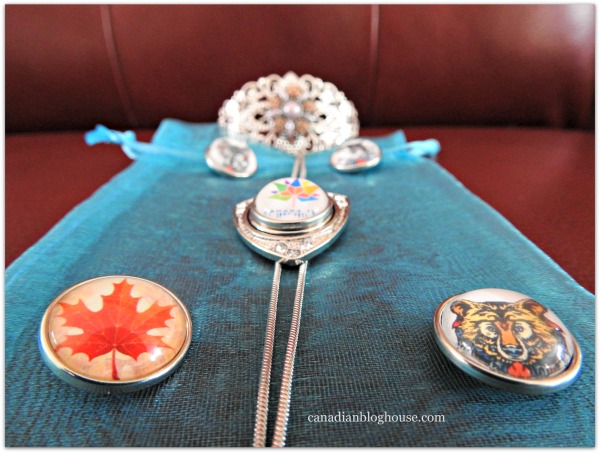 I especially love their "About Us" page as it gives customers a glimpse into the background of Yoshi-Bella, gives you a few other interesting bits of info, and lets you know where else you can connect with Yoshi-Bella on social media. Personally, I love the "title" that Caroline has given to herself. Visit the Yoshi-Bella About Us page to see for yourself!
Yoshi-Bella general from Yoshi-Bella on Vimeo.
For more information, please be sure to visit Yoshi-Bella Jewelry on Facebook!
Want a chance to own some of your own Yoshi-Bella snap jewelry? The great folks at Yoshi-Bella are giving away one Hannah Bolo Necklace with 3 snap medallions of your choice, to one lucky Canadian Blog House reader!
Here's how you can enter for your chance to WIN: