Thank goodness for my Zaggora Hot Pants.  They are the only reason I've finally gotten off my butt after a long, cold winter.  I had been putting off getting back into a regular exercise routine.  In February I said to myself I'll start March 1st.  March came and went , April came and went, and I was still sitting on my butt.  When the mailman arrived a couple of weeks ago with my new Zaggora Hot Pants, that was it.  My exercise program started the next day!
Never heard of Zaggora?  They are a UK-based sportswear company who sell a line of fitness "Hotwear".  Zaggora sportswear clothing contains "Celu-Lite Technology – a multi-layer fabric technology that harnesses the body's natural heat during exercise to help you burn calories" 
Zaggora offers not only the Hot Pants I received for my review but, body blazers, hot tops, bras, fold-over Hot Pants and more.
Zaggora challenged me to a 2 week weight loss challenge.  My challenge was to wear my Zaggora Hot Pants for 30 minutes a day while active.  Over this 2 week period, my daily 30 minutes of activity consisted of walking, working in the yard, or doing my indoor weight training and aerobics routine (check out my Top 20 exercising song list).  On the last day of my 2 week challenge I wore my Zaggora Hot Pants for a full day.

So do I like my Zaggora Hot Pants?  You bet I do.  Thanks to the help from Zagorra's sizing chart, my Zaggora Hot Pants fit me perfectly.  I find my Zaggora Hot Pants to be extremely comfortable.  The feel of the fabric surprised me though.  These are not your typical yoga pants.  Zaggora Hot Pants feel more like a wet suit.  Zaggora Hot Pants are meant to hug your body – so be aware.  There's no hiding those body bulges or imperfections.  Is that a bad thing?  I don't think so.  For me, it helped me focus on what I wanted to get rid of – the extra weight.
Zaggora claims that the "patent pending" technology in their sportswear helps you burn more calories, and therefore, lose weight.  Am I sold on this claim?  No, not entirely.  While I am very happy with my results after my 2 week challenge – I lost 2 pounds and one inch off my waist – I'm not convinced my weight loss was solely based on wearing my Zaggora Hot Pants.  The fact that I had finally started a regular exercise routine again probably played a big part in my weight loss.  That being said, I'm certain that wearing my Zaggora Hot Pants at least assisted in my weight loss.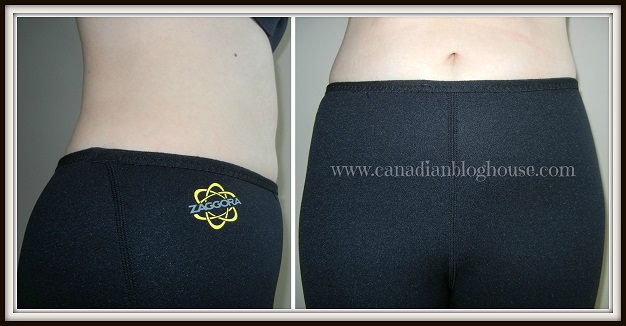 I felt good in my Zaggora Hot Pants while exercising.  They are very comfortable and provide great support.  They are tight yet flexible.  I had no issues with material bunching around my waist or rolling down.  I also did not experience any problems with the material rolling up my legs.  I truly love the way my Zaggora Hot Pants feel while wearing them.
Did my Zaggora Hot Pants make me sweat?  You bet they did!  This was probably the biggest surprise for me.  I am someone who doesn't sweat too easily.  My circulation isn't great, so I tend to stay fairly cool (good in summer…bad in winter!).  The first time I removed my Zaggora Hot Pants after wearing them while exercising…whoosh! My legs and butt were soaked!
Was there anything I did not like about my Zaggora Hot Pants?  Yes…just one thing.  The sound.  Let's just say, while wearing a pair of Zaggora Hot Pants, you cannot walk quietly into a room unnoticed.  The type of fabric used to make Zaggora Hot Pants causes this noise.  My thighs do not rub together, but I still emit a noise when walking around in my Zaggora Hot Pants.  Does this bother me?  Not really, however, it will prevent me from wearing my Zagorra Hot Pants in public.
Here are a few things to keep in mind about Zaggora Hot Pants:
Be sure to consult the size chart when ordering your Zaggora sportswear.  I did, and my Zaggora Hot Pants fit me perfectly.

The Zaggora Hot Pants fit below the belly button (see my photo).  They are meant to rest on your hips.  Don't expect them to fit around your waist.
I am only 5'5′ tall and my capri's fall to just below my knee.
Be sure to follow Zaggora's washing instructions.  I have washed my Zaggora Hot Pants numerous times on the handwash cycle in cold water and then hung them to dry.  They still look brand new.  Do NOT put them in the dryer.
Be sure to drink water while exercising in your Zaggora sportswear.  These products are meant to make you sweat so you need to stay hydrated.
Check out Zaggora's website.  It's a great site full of lots of good information.  Keep your eyes peeled to their blog.  They've just announced that there are new Zaggora products coming next week.  I'll be watching…their teaser has me interested!
The great folks at Zaggora graciously accepted my request to allow me to give away one pair of their Zaggora Hot Pants to one lucky Canadian Blog House member.  Here's how you can enter to win (GIVEAWAY OVER)
***While we cannot offer entries for Facebook "likes" (due to Facebook rules) we would LOVE if you liked us on Facebook:
Canadian Blog House https://www.facebook.com/canadianbloghouse
Zaggora https://www.facebook.com/zaggora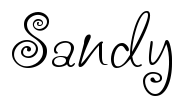 Disclosure:  I received a pair of Zaggora Hot Pants in exchange for this review.  All opinions are my own.