Rock Your Time At The RBC Bluesfest In Ottawa!
Canada's capital city is gearing up to host one of North America's most important music events – RBC Bluesfest!
Our love affair with the RBC Bluesfest started way back in 1997, and is still going strong!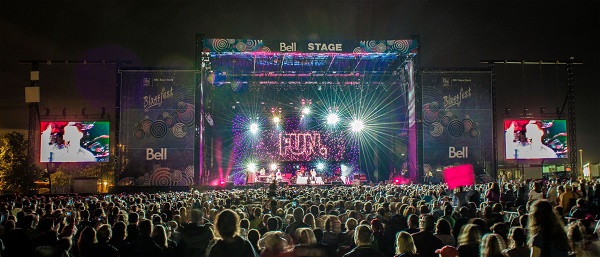 "The RBC Bluesfest is one of Canada's largest outdoor music festivals and is ranked as one of North America's most important music events.
Over the years, Bluesfest has grown to become the landmark event of the Ottawa summer and one of the top-ten music festivals in the world, according to Billboard Magazine. The ongoing love affair between the 'fest and its fans continues to this day."
Although the festival is known for highlighting some of North America's best blues acts, the RBC Bluesfest is so much more than just the blues. No matter your taste in music, you are sure to discover music you love, and rock your time at the RBC Bluesfest!
In fact, part of the RBC Bluesfest's mandate is "to support and sustain the growth of emerging and diverse musical genres, including the Blues, World Music, Alternative, Rock, Jazz, Funk, Soul, Rap, Folk, Urban, and other forms of music that develop from time to time."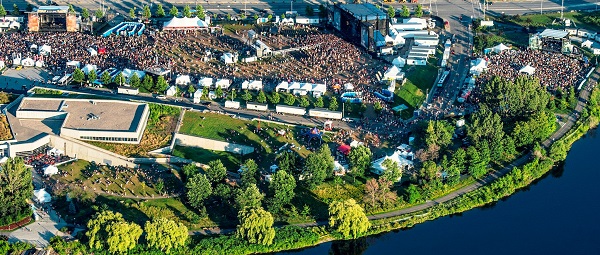 The Blues Is Where It's At
In past years we've seen so many great musical acts at the RBC Bluesfest: The Tea Party, Blue Rodeo, Sam Roberts, Nelly Furtado, LIVE, Our Lady Peace, and Styx, just to name a few.
Of course, the blues is where it's at when it comes to a "blues festival", and there is never a shortage of spectacular blues bands in the lineup.
Blues' greats like B.B. King have graced the stages of the RBC Bluesfest!
Organizers of the RBC Bluesfest know how to pick the right mix of acts to please everyone – no matter your age! This year's festival line up is no exception. With 5 stages, featuring over 200 acts, even the unknown acts will get you tapping your toes!
This year's line up has us pretty excited: Bryan Adams, Colin James, Beck, Dave Matthews Band, Foo Fighters, Hanson, Shaggy, Shawn Mendes, The Strumbellas, Three Days Grace….and more!
So to help you rock your time at the RBC Bluesfest, we're offering up some tips that I've learned from attending this fabulous festival!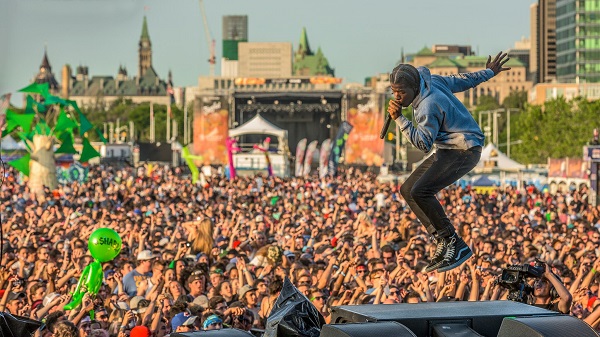 15 TIPS TO HELP YOU ROCK YOUR TIME AT THE RBC BLUESFEST
Water
On a sunny day in Ottawa, in July, it can get HOT – Smokin' HOT! Standing in the middle of the festival grounds under the hot sun can make you swelter. You need to stay hydrated, so think about bringing your own reusable water bottles which you can fill at the festival filling stations. If you forgot to bring some, you can easily purchase, or find, water on-site. The last time we attended, we found a working water fountain inside the doors of the Canadian War Museum.
Food
Fresh air, sunshine, great music, and lots of walking, will definitely make you hungry. You can bring your own soft-sided cooler filled with snacks or, try one of the many yummy multicultural foods at food stands set up within the festival grounds.
Beer & Popsicles
Nothing cools you down better than a frosty beer and/or a tasty popsicle. Are we right? You'll find plenty of both at the festival, so bring some cash for these tasty treats. Be sure to note the fabulous compostable beer cups made from corn – just one of the "green" ways the RBC Bluesfest minimizes, and manages, waste at the festival.
Sunscreen
Don't forget to bring your sunscreen! Sure, you may be able to find the odd bit of shade close to some of the stages at the festival, or under the odd tree by the side of the river but, the majority of the time you'll find yourself standing out in a field under that hot sunshine. Forget it and you'll regret it – later!
Clothing & Shoes
Dress according to the weather – which likely means cool clothing for hot temperatures. When it comes to footwear, the festival is not the time to try out your new heels. Comfort is key. Wear shoes that will keep your feet happy while you are walking all over the festival grounds.
Toilets
Inevitably, you'll have to "go" at some point during your time at the RBC Bluesfest. No worries, the organizers have got you covered – literally! You will find plenty of portable toilets well-situated around the festival grounds. An added bonus – outdoor washing stations where you can wash your hands after!
Lawn Chairs
Not into standing or sitting on the ground while at the festival? No worries. You can bring your own collapsible lawn chair. You'll find row upon row of lawn chairs set up in front of each stage at the festival. Just make sure your lawn chair doesn't make you miss out on Tip #12!
Parking
The best way to travel to the festival is to take OC Transpo (especially since you can ride OC Transpo free to the festival!). If you do wish to drive, parking on nearby streets is very limited, and you still have to walk a few blocks to get to the festival grounds. Want to be assured of a parking spot? You can purchase a parking spot at the Canadian War Museum Parking Garage.
Air Conditioning
Speaking of the Canadian War Museum, this great museum is located on-site, in the middle of the festival grounds. Festival attendees are allowed access to this building during the festival, and this air-conditioned building can provide welcome relief to those needing a respite from heat and humidity.
Map & Schedule
You will be provided with an event schedule, and festival map, on-site when you arrive at the festival, however, it helps to have an idea where things are before you arrive. You can consult the RBC Bluesfest map to find out where the various stages are located, food and drink concessions, washrooms, etc.
First Aid Stations
The RBC Bluesfest takes the safety of its attendees seriously. If you need assistance for an injury, or assistance for things like heat exhaustion, you'll find plenty of help at on-site festival first aid stations.
Just Dance!
Truly rock your time at the RBC Bluesfest! If you love to dance…dance! With all the fabulous music you'll be hearing, don't be afraid to cut loose and move to the music!!
CDs/T-Shirts
Bring some cash or your debit or credit card with you to the festival. You just might want to purchase one of the fabulous t-shirts from your favourite performer, or a CD from a brand new act you've just discovered while attending the festival.
Autographs
One of the things we love about the RBC Bluesfest is the chance to meet the performers and get an autograph and photos with your favourite musicians. Many of the acts at the festival host autograph sessions after their performance. Don't expect some of the best-known acts to do this, however, have a CD or photo handy – and your mobile phone – just in case one of your faves hosts an autograph session.
Rain
What happens if it rains? You get wet! Of course, you can bring a small umbrella with you to the festival, but sometimes, the best concert experience includes rain! I have a great memory of standing in a cooling rain shower listening to Sam Roberts Band at the festival one summer!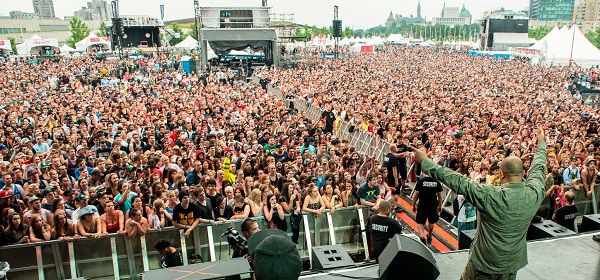 Here are a few additional tips to help you rock your time at the RBC Bluesfest, things you should consider bringing with you to the festival, courtesy of the RBC Bluesfest website:
What to bring:
Cell phones (they have charging stations!)
Soft-sided coolers; snacks
Sealed water bottles or empty reusable water bottles (they have filling stations!)
Small backpacks, bags, and purses. Small = not massive camping gear
Blankets and beach towels, sunscreen, hoodies or rain ponchos
Personal cameras without removable lenses. See Camera Policy for details
Small collapsible lawn chairs
Medication in its original packaging with matching photo ID
Umbrellas (small handheld ones – no patio, golf, or beach umbrellas please)
Baby strollers (for kids)
Come for the music but, don't leave without checking out some of the Bluesfest's on-site attractions!
The RBC Bluesfest is happening July 5-15th at Lebreton Flats in Ottawa.
Just a short drive from Montreal, Kingston, and only 5 hours from Toronto, this festival is worth the drive! Get your tickets now!
For more information about the festival, be sure to like the RBC Bluesfest on Facebook, and follow the RBC Bluesfest on Twitter and on Instagram.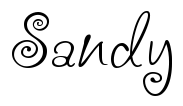 Disclosure: Canadian Blog House received media passes to the RBC Bluesfest in exchange for this post. All opinions are our own.
***Post updated 03/2018