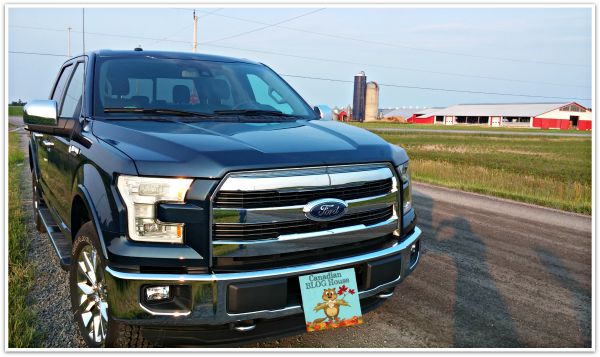 You may remember my recent evening spent with the great folks from I Love New York, New York State Division Of Tourism, where I won a 2 night stay at the Greek Peak Mountain Resort, Hope Lake Lodge, in beautiful Cortland, New York.
A few weeks ago we took a summer road trip across the border to enjoy a little rest and relaxation at the Hope Lake Lodge, nestled in the hills of the Allegheny Plateau.
What better way is there to enjoy a road trip through the hills of south central New York than in a fully loaded Ford F-150 Lariat SuperCrew®?  There is NO better way!
Thanks to Ford Canada, we were able to ride the roads of New York State in complete comfort, with plenty of room for everyone.
And when I say plenty of room…I mean PLENTY of room.
Which leads me to my next point. The title of this post.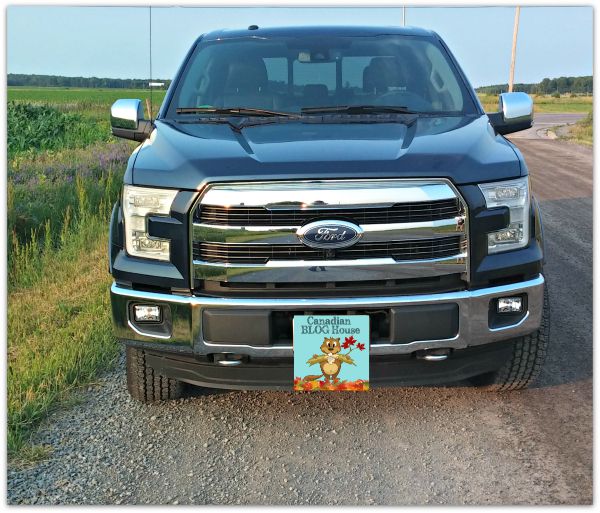 You may think I'm exaggerating when I tell you there are 99 things to love about the Ford F-150 Lariat SuperCrew®. Maybe I am. To be honest, I never really tallied up all the things we loved about the Ford F-150 Lariat  SuperCrew® that we drove to New York State. But it sure SEEMED like 99 things to me.
You see, we both fell in love with this beautiful beast of a truck, and we fell hard.
Before I go any further, yes, Ford Canada provided us with the 5L V8 F-150 Lariat SuperCrew® for the purpose of this review, and yes of course the goal here is to (hopefully) influence you to consider an F-150 (or other Ford vehicle) for your next vehicle purchase. There is no denying any of that.
Truth is, you really don't need me to tell you how fabulous the Ford F-150 Lariat SuperCrew® is. Go see one at your local dealer, and you'll know exactly what I'm talking about.
I also wish to clarify that, no, I'm not a "truck" type of gal. I never have been. I've never had a deep desire to own a truck, and frankly, never thought I had a need for one.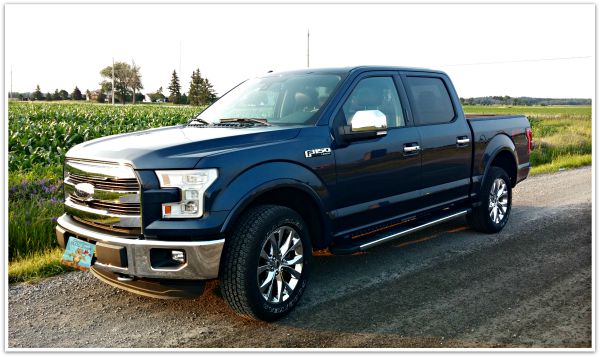 The Ford F-150 Lariat SuperCrew® completely changed my thinking about trucks.
My new dream vehicle? A Ford F-150 Lariat SuperCrew®.
So I present to you, 99 things to love about the Ford F-150 Lariat SuperCrew®.
Okay, maybe more like 23. I could list more…but I think you get the picture!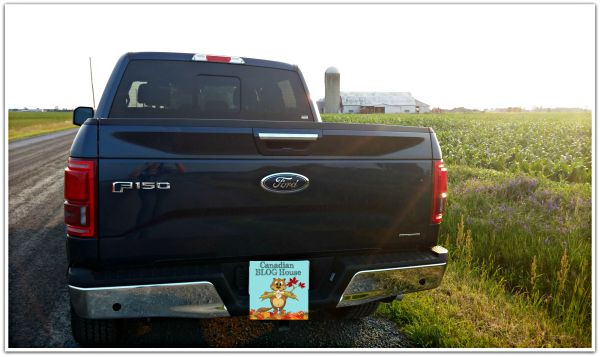 1. Adaptive Cruise Control and Collision Warning With Brake Support ~ This feature tops our list of favourite features on the fully loaded Ford F-150 Lariat SuperCrew®. Set your desired speed, take your foot of the accelerator, and watch as the Adaptive Cruise Control slows down and speeds up, depending on how the vehicle in front of you is driving. With three "distance" options available to the driver, this is a great feature to help keep you at your desired distance from the car ahead of you. This feature DOES NOT replace the need for the driver to remain alert and be ready to brake manually should that be required.
2. Park Assist ~ We were so impressed with this feature, we just had to take a video of the Park Assist in action. Wow. This is especially impressive considering the size of the F-150 Lariat SuperCrew® we had. Imagine never having to worry about your parallel parking skills again! This is a dream feature for me.
3. BLIS® (Blind Spot Information System with Cross-Traffic Alert) ~ This is another feature that is key (at least for me) in a truck this size. Knowing there are extra "eyes" on each side of the truck makes me feel a little safer when the truck is in reverse, or when changing lanes on a busy road or highway.
4. Reverse Sensing System ~ Backing up the Ford F-150 Lariat SuperCrew® can be rather intimidating, just because of its size. That's why this feature helps to make backing up the truck a breeze. Beeping alarm increases the closer you get to another vehicle.
5. 360 Camera with Split-View Display ~ This feature partners well with the Reverse Sensing System, giving you a fantastic view of what's behind you when backing up the truck.
6. 110-volt/400-watt Power Inverter – Instrument Panel ~ For a blogger who is "always online", the fact that I could plug in my smartphone while we were driving, was nothing short of outstanding to me. I was charged up and ready to go, every time I got out of the truck!
7. Separate Temperature Controls/Dual-Zone Electronic Climate Control ~ Where has this feature been all my life? For someone who is perpetually cold, while my partner (and everyone else I seem to drive with) is perpetually hot, having separate climate controls for both driver and passenger was a win-win situation for both of us. I could kiss the inventor of this fabulous feature. Now…if I could only have it in my own car!
8. Heated/Cooled Seats ~ I have heated seats in my current car, and frankly, in winter, I could not live without this feature. Ford Canada has gone one step further with cooled seats. What a fabulous feature, especially for those that overheat easily…or women like me who are nearing menopause. Hot flashes be gone!
9. SPACE ~ I can't say enough about the S P A C E inside the cabin of the Ford F-150 Lariat SuperCrew®. One of the reasons I've never really wanted to own a truck is due to the lack of passenger space in many pick up trucks. This was NOT an issue in the Lariat. In fact, the inside cabin was likely bigger than any car I've ever been inside. We filled the back seat with luggage (and X-Man of course!) and still had room for plenty more. That's not even accounting for the room in the truck bed!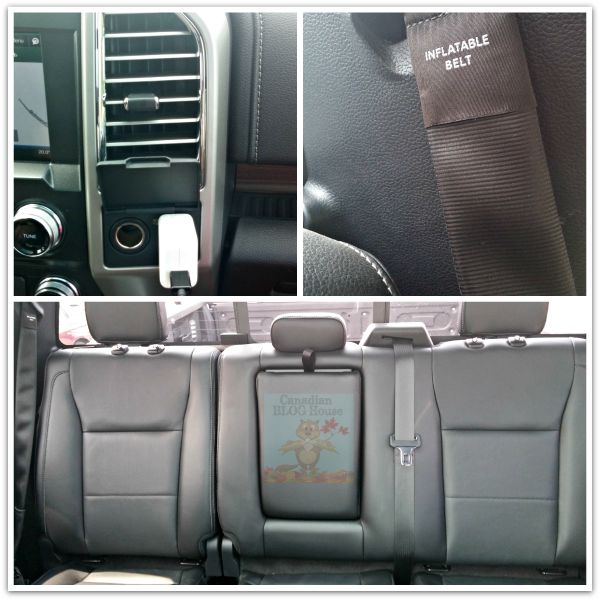 Power Inverter, Inflatable Seat Belt and Spacious Back Seats
10. 8″ Productivity Screen ~ Vehicle information and gages are a very important part of any vehicle. In the Ford F-150 Lariat SuperCrew® everything is digital. Drivers can customize their screen to show additional information they want to see on their dash, besides the standard things like speed and gas gage. In particular, we found it handy that we could tell our exact speed. You can even get info such as towing data.
11. Backseat Temperature Controls ~ As someone who is always cold when others are hot, I'm all about having separate temperature controls! To have this feature in the backseat as well, is icing on the cake!
12. Keyless Ignition ~ Not really a necessity but a fun feature nonetheless! Who doesn't love pushing buttons?
13. Moon Roof Twin Panel ~ I'm a big proponent of sunroofs as I have known a couple of people who have been in accidents whose only means of escape was through the sunroof. The Ford F-150 Lariat SuperCrew® takes it one step further with the Moon Roof. I love this feature and the amount of light it lets into the vehicle, not to mention the fresh air when open!
14. SYNC with My Ford ~ Who wouldn't want this feature in their car? We loved that you could pair it a mobile phone for hands-free calling. This feature has so many great functions. Some of our favourite features of SYNC included the large touch screen and the built-in GPS.
15. Spray-in Bed Liner ~ I never really thought about the difference between a regular painted pick-up bed, and a spray-in bed liner. After seeing the spray-in bed liner in the Ford F-150 Lariat SuperCrew®, I wouldn't buy one without it. You can tell it's tough, rugged, and durable. You could have hauled all kinds of things in the back of our Lariat's bed and never had to worry about paint chipping, sitting water, etc.
16. Power Sliding Glass Back Window With Tint ~ X-Man loved having this feature right behind him in the truck. He thought it was pretty cool that the back window could open up. Great for letting in a little extra fresh air on a nice day.
17. Custom Seat Settings ~ This is a luxury feature I would love to have, and so would you if you've ever gotten into the driver's seat and bashed your knees against the steering wheel after a family member has driven the car and left the seat too far forward (okay..I admit..I do this). In the Ford F-150 Lariat SuperCrew®, you can customize seat settings for up to 3 people. Yes, these seats are smart. They remember you. Once you have saved your seat settings, this truck will automatically position your seat, steering wheel, and pedal every time you get into the driver's seat.
18. Fully Flat Load Floor ~ We did not discover this feature until the day we had to return the truck. Yet another fantastic feature when you need extra space in the back seating area. The bottom of the seats fold up against the back of the seats, creating SO much storage space. Need to put Fido's crate in the back? No problem. Want to haul all your groceries home from the store without using the truck bed? No problem. Love this feature!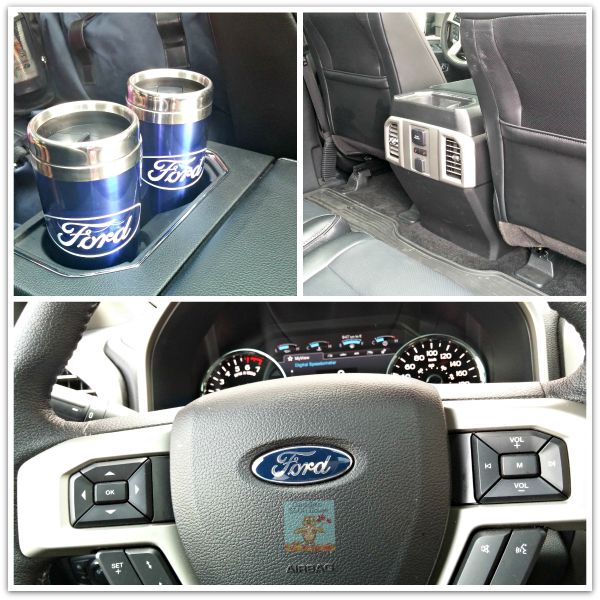 Cup Holders, Backseat Temperature Controls, Steering Wheel (digital dash display is hidden)
19. Airbags ~ Of course, airbags are standard in all cars now, however, Ford has gone one step further with their rear inflatable safety belts. Shoulder straps on these belts inflate upon impact in an accident, helping to keep passengers (especially kids and seniors) safer by adding an extra layer of protection.
20. Minimal Cabin Noise ~ I was amazed at the lack of cabin noise in our Ford F-150 Lariat SuperCrew®. It drove much quieter than my existing car. This was something I noticed right away, probably because I was expecting a big truck to be noisy.
21. Great Sight Lines ~ Okay, so this really isn't a feature of this truck that is advertised but, for me, sitting this high up off the road was fabulous! Top this off with the huge windows, and I'm one happy driver/passenger. I could see EVERYTHING! I guess it's a big deal to me because I'm used to driving in a car with less than stellar sight lines. I loved this about the Ford F-150 Lariat SuperCrew®.
22. The Look ~ Again, not really a feature, but something that is worth noting. This beast of a truck attracted attention everywhere we went. It was THAT noticeable. Maybe it was the overall beautiful look of the truck, or the stunning "Ford Blue" colour, or maybe it was a combination of the two. Whatever it was, this truck attracted attention.
23. Easy Fuel® Capless Gas Tank ~ The first time we went to gas up the truck, we discovered the truck has an Easy Fuel® Capless Gas Tank. What's so great about this feature? No messing with a cap, no splash back, no fuel theft, and no getting water in the tank.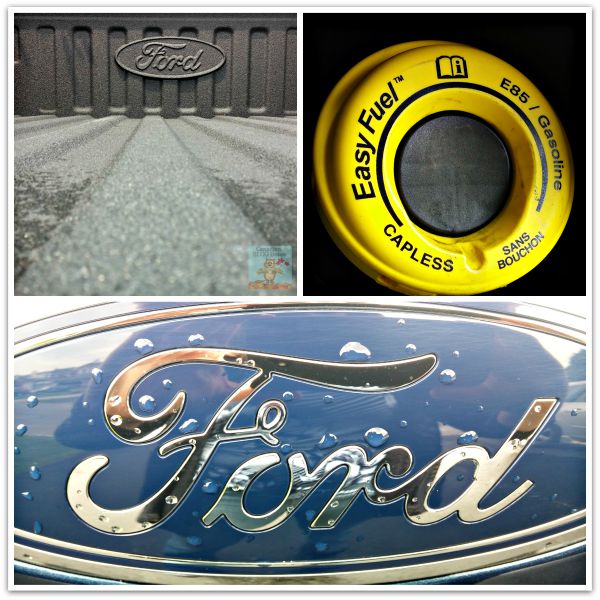 Easy Fuel® Capless Gas Tank and Spray-In Bed Liner
We did find one feature of the Ford F-150 Lariat that we weren't fussy about – the grab handle on the driver's side. For any man with large hands, the positioning of the grab handle is a nuisance, at times, when turning the steering wheel.
Yes, that's it. That's the only "problem" we had with the Ford F-150 Lariat.
Would we buy a Ford F-150 Lariat ?
You bet. In a heartbeat.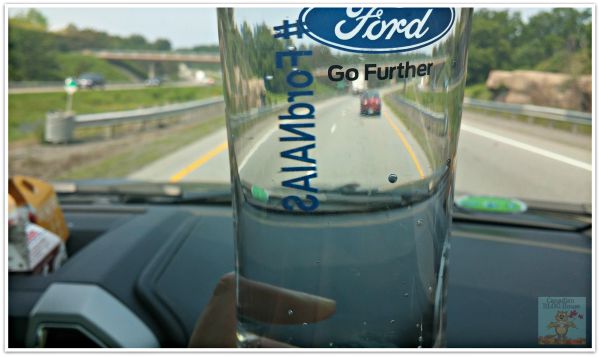 Of all the features I have listed here, what feature would you love to have in your current vehicle?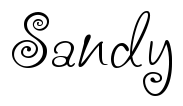 ***A huge thank you to Ford Canada for facilitating our week with this beloved Ford F-150 Lariat SuperCrew®   media fleet vehicle, and to Melissa from National Public Relations for working hard to secure this vehicle for our trip!