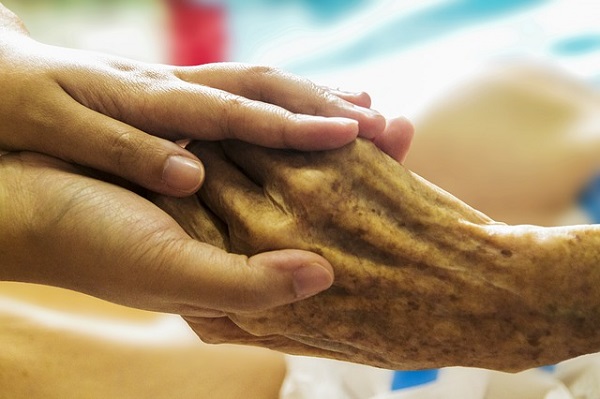 As our parents age, it is inevitable that we are often faced with taking our mother or father for visits to see doctors and specialists, and ultimately, spending time in hospital at their bedside, helping to care for our ill, or injured, parents.
I recently faced this reality when my mum passed away after falling and breaking her hip.
Despite being involved in many visits to doctor appointments with mum over the last few years, I had no concept of the help she would require from myself, and my siblings, during her hospitalization, in the last 3 weeks of her life.
I think most of us are acutely aware of how short-staffed many of our hospitals are, how nurses and doctors try their best to care for the sick and injured, and how difficult it can be for these professionals to keep up with the demands of such a stressful job.
I spent the better part of the last three weeks of mum's life at her bedside with her, and got to see first hand what others before me had often mentioned.
The reality is, when a parent is hospitalized, you need to be there for them.
You will become their nurse, advocate, researcher, negotiator, cheerleader, and helper.
Nurses and doctors are there to try to make your parent well again. Unfortunately, most simply do not have the time to tend to all the other wants or needs of an elderly patient.
So after my family's recent experience of helping to care for my mum in hospital, I have come up with a comprehensive list of things that could help you and your family if you have a parent faced with a long hospital stay.
While much of this information is intended for helping our parents while in hospital, some of the information may apply to any family member faced with a stay in hospital.
The list is long but worth the read. 
In fact, I have so much advice, this is just the first of several posts providing information on how you can help your parent when they are admitted to hospital.
I wish I had this advice ahead of time.
Hopefully it helps you if and when the time comes…
---
11 Ways To Help Your Parent In Hospital
Schedule Bedside Help
When you have a loved one in hospital, someone needs to be there for your parent, especially an elderly parent. Nurses can only do so much, and cannot be attentive to your parent 24/7. Mum often needed help when a nurse was not available to provide help. We realized this early on, and scheduled a family member, or friend, to be at mum's beside as much as possible.
Request To Stay Over Night
In my experience, rules for a family member staying over night differ, depending upon the hospital. When mum was in the ICU, I was provided with a cot so that I could spend the first few nights sleeping right beside her. When mum's health began to (temporarily) improve, and she was moved to a hospital ward, nursing staff allowed one family member to stay with mum for the first couple of nights, until she was comfortable being on her own again.
ICU 24/7
Speaking of the ICU, your hospital may allow immediate family to be with your parent 24/7 while they are in the ICU. Keep in mind, the number of visitors allowed at any one time may be limited. One of mum's ICU nurses told me that having family present can help calm the patient. I couldn't agree more. It was very reassuring to mum to have one of us there at all times.
Take Care Of Yourself
When I received permission to stay overnight with my mum, I was thrilled. I wanted nothing more than to be with her 24/7. That is, until I spent the first 48 hours with her in hospital. During my third day at hospital, I realized that, as much as I wanted to stay at mum's bedside, I needed to take a break and go home for some much-needed rest. As my family told me, I needed to stay healthy in order to be able to help mum. They couldn't have been more right.
The Family Team
No matter how much you may want to, you can't do it alone. Your family needs to work together at a time like this. Play on everyone's biggest strengths. For example, I did most of the overnight stays with mum, as my brother is a tall man, and no hospital chair, nor cot, was suitable overnight accommodation for him. My sister is a light sleeper. Light sleepers do not do well in a hospital environment. One night in mum's ward room, with the nurses alarm (almost) constantly ringing all night, forced my sister to abandon thoughts of further overnight stays.
Friends Like Family
If friends volunteer to help, and you trust them, let them help. We were so lucky to be able to rely on a treasured family friend during mum's 3 weeks in hospital. This family friend went above and beyond, relieving us at mum's beside when we needed to go home for a meal or some rest. One of her strengths was getting mum to eat more, to work on her exercises, and to get up and out of bed. As a trained nurse, our family friend knew tips and tricks to help mum become mobile and independent again. Her wonderful, positive attitude went a long way helping to encourage mum to work hard at getting better, and getting out of hospital.
Be Upfront With Friends And Family
When someone is in hospital, they are there for a good reason – they are sick! Extended family and friends may ask to come to visit your parent. However, too many visitors can be exhausting for your sick parent.
If you don't feel your parent is up to visits, be upfront with friends and family. Thank them for their love and support but, tell them that a visit is not a good idea at the moment. Tell them that you will keep them informed of your parent's condition, and you will advise them when your parent may be open to receiving a visit.
On the flip side, be sure to consult your parent in this regard.
An overnight visit, approved by mum, from one of her beloved cousins, provided my mother with a much-needed boost of excitement and happiness. Her cousin's visit also provided our family with some respite, as she spent a full 24 hours in hospital with mum. It was a welcome relief, and we knew mum was in good hands.
Don't Make Decisions For Other Family Members
Everyone deals with problems and stress differently. Some take charge and handle things well, while others fall apart and find it difficult to cope with even the easiest of tasks. When a parent is hospitalized with a serious illness or injury, your siblings and/or your other parent, may react to the situation completely differently than you.
For example, worried for his health, my siblings and I became concerned about the amount of time my 89-year-old father was spending at my mum's bedside. He was there almost every day for 3 weeks. We tried scheduling dad's time at hospital, thinking we knew best, however, we soon realized that the only place dad wanted to be was with mum. At that point we began to let dad make the decision, on visits with mum, for himself.
You've Got Mail
Or should I say, a text. Technology can be your friend when you've got a parent in the hospital. Our smartphones were invaluable to my brother and I as a way to keep in touch while at home, and in hospital. Texting allowed us to keep in touch with one another, and other family members, providing updates on mum's condition without having to disturb her with ringing phones and loud conversation.
Reconnect With Family And Friends
Unfortunately, as my family learned, a hospital stay involving an elderly parent often results in the death of a parent. Whether a hospital stay is caused by a disease, a fall or injury, a common illness, or simply "old age", a long recovery, from a serious illness or injury, can be too much for their body to handle.
My family was well aware of the risks associated with mum's fall, her hip surgery, and her overall health. That's why I made the decision, during her first week in hospital, to get in touch with mum's extended family of cherished cousins, and some of her life-long friends, all of whom she had not been in contact with recently.
This turned out to be one of the best decisions I made. Mum ended up receiving all kinds of wonderful cards, emails, and phone calls from these friends and family. Thanks (again) to my smartphone, I was able to share each message with mum, including voicemail messages. Mum knew everyone was sending their love, and cheering her on. She especially loved listening to messages from those living far away.
Offer To Help Your Parent Call Friends And Family
Depending upon your parent's situation, you may find they wish to be able to make phone calls to friends and family.
My smartphone came in handy once again during the early days in hospital, when mum's health took a turn for the worse. Mum was able to receive phone calls from some of her grandchildren who live outside of Canada, who weren't able to make it to her bedside to be with her.
Once mum was transferred into a ward room, she had access to her own phone situated on the beside table. During the time that her health appeared to be improving, she decided she would like to try to make some phone calls. She managed to call my aunt, and of course, my dad. She also made the effort to call her best friend from childhood, and one of her cousins who had called her. Sadly, she missed them both but, she was able to leave a voicemail for them.
Those were all treasured phone calls. They ended up being her way to say goodbye.
A week later, mum passed away.
If your parent does not have access to a hospital phone, offer to let them use your mobile phone while you are visiting with them.
Stay tuned to the blog for more advice for helping your parent in hospital…coming soon.