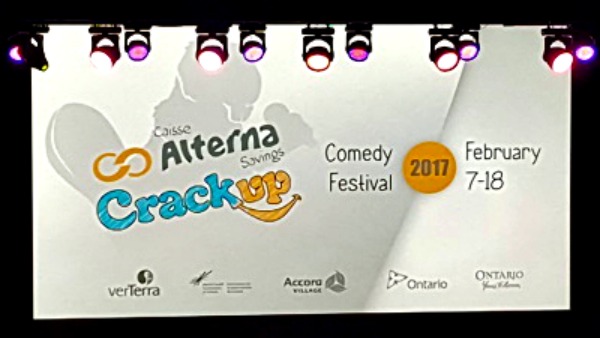 Alterna Savings Crackup provided Canadian Blog House with media passes to cover this comedy festival. All opinions are our own.
Alterna Savings Crackup Comedy Festival
Big names in comedy came to Ottawa this past week to take part in the festivities of the Alterna Savings Crackup Comedy Festival.
Ottawa is home to some of the best festivals Canada has to offer, and the Alterna Savings Crackup Comedy Festival is no exception!
This festival, formerly known as Cracking Up The Capital, began in 2003, and originally began as a one-night comedy show.
Not Just For Laughs
The Alterna Savings Crackup Comedy Festival has now grown into a week-long event, showcasing some of Canada's top comedic talent. Local stand-up comedians also get the chance to shine and showcase their comedy skills in front of Ottawa audiences.
But this festival is not just for laughs. There is a serious side to this funny business.
With the help of our sponsors, community partners, media partners, and our supporters, Alterna Savings Crackup Comedy Festival has raised over $190,000 in support of local mental health initiatives.
This year, Alterna Savings Crackup Comedy Festival, in partnership with the United Way of Ottawa, supported the following charities:
Amethyst Women's Addiction Centre
Causeway Foundation
The Dave Smith Youth Treatment Centre
Do It For Daron (DIFD) at The Royal
Partners for Mental Health
The Wabano Centre for Aboriginal Health
The grand finale of the festival, Comedy Night in Canada, presented by Accora Village, was hosted by writer, producer and host of CBC's Still Standing, Jonny Harris.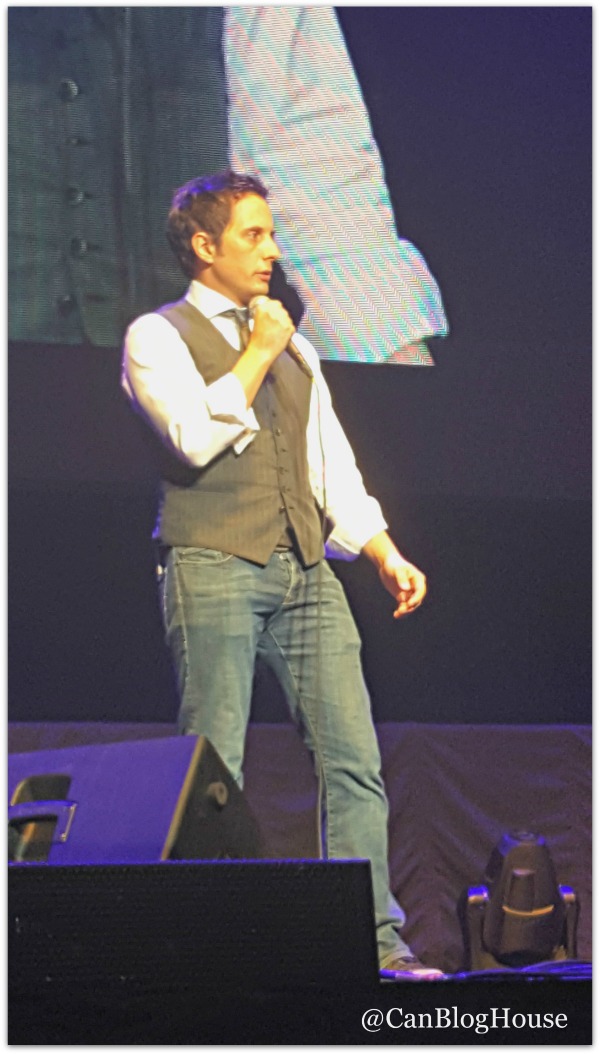 Ottawa's own funny man, Tim Riel, took the reigns like a seasoned performer and opened the show: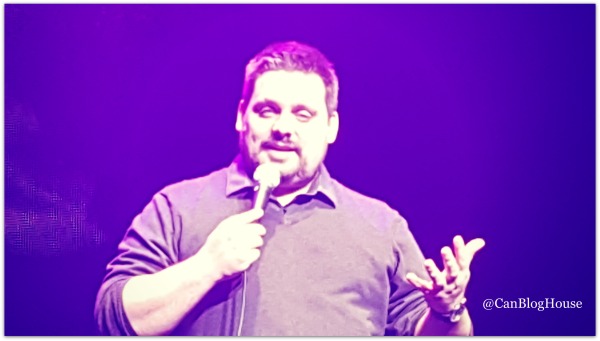 Never Sit In The Front Row At A Comedy Festival
We were honoured to be invited to attend this fabulous festival, and even more thrilled when we were shown to our seats – a front row, centre stage table!
We were both excited and profoundly horrified all at once!
Because we all know what happens at a comedy show to the "victims" who sit in the first row.
Just ask the "KIA Man", "GMC Truck Man" and "17-Year-Old Kid from St. Bernard High School" who became the target of headliner, Jeremy Hotz, during his side-splitting performance.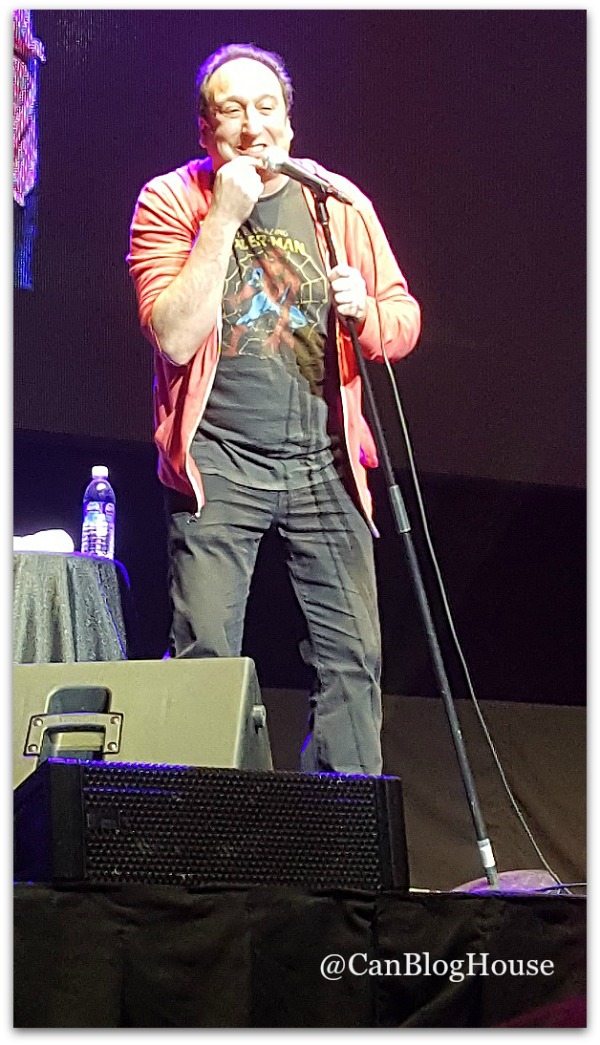 I adore Jeremy but, let me tell you, both my partner and I were extremely happy that he chose to focus on those three during his comedy set.
These three audience members provided fantastic fodder for Jeremy's quick and "miserable" wit and banter.
It was classic Jeremy Hotz all the way!
Speaking of comedic victims, audience member, Evan, graciously accepted the over-the-top adoration of award-winning performer, Sharron Matthews, who starred in the role of Joan the Secretary alongside Tina Fey in the hit movie "Mean Girls".
Evan, who was seated at our table with us, played along fabulously with Sharron's antics, much to the delight of the happy crowd.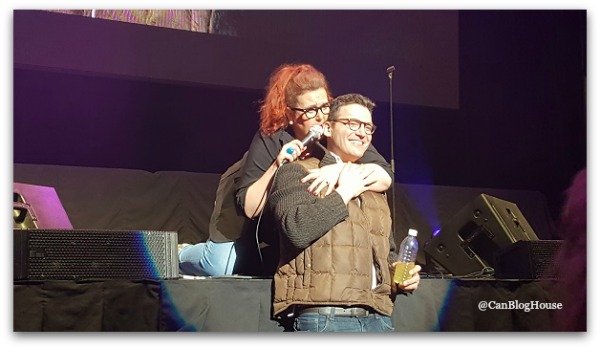 Little did Sharron know at the time was that her "victim" was none other than CTV Question Period's Evan Solomon.
Sharron's (and Evan's) performance kept the audience highly entertained. Here is just a little snippet of their interaction.
Yes, Sharron even made Evan get up and grab a chair directly in front on her:
Of course, I had to have my photo taken with Sharron's victim once he was back at our table: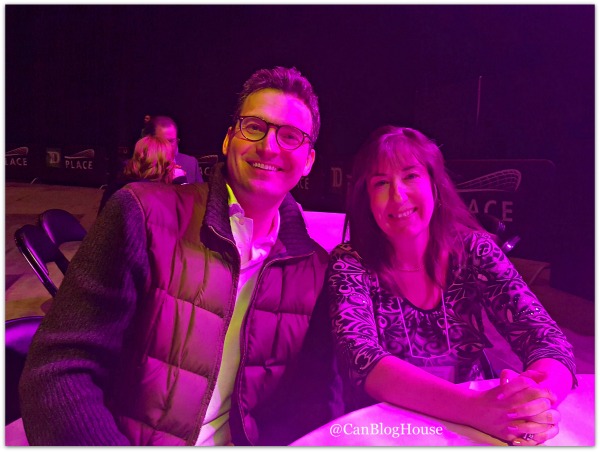 Evan was such a great sport that night. It wasn't until he came back to our table that I realized I recognized him from TV. We truly enjoyed sitting with Evan, and sharing the many laughs to be had that night.
I must admit that it was comedian Jeremy Hotz who I was there to see that night. I would have to suggest that was likely the case for a large percentage of the audience in attendance that evening.
To say that we were pleasantly surprised by the quality of the other comedians performing that evening, would be an understatement.
One of our favourite performances that night was LA-based Canadian, Debra DiGiovanni. Debra had the audience laughing from start to finish: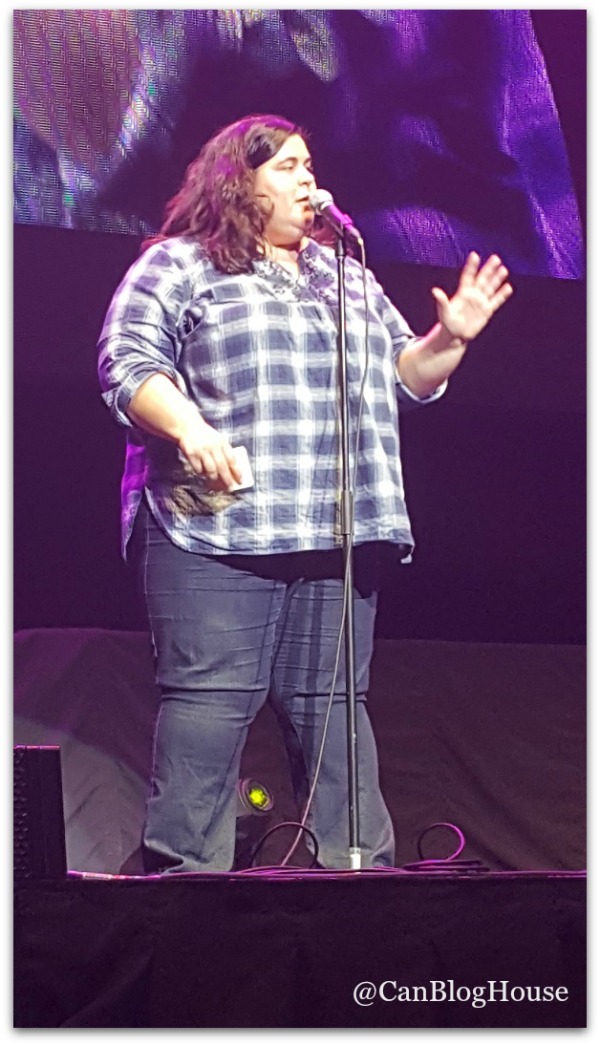 High Calibre Of Comedic Talent
In addition to Jeremy Hotz, the calibre of comedic talent at Comedy Night in Canada was superb:
Jonny Harris – writer, producer, host of Still Standing, and Gemini Award Nominee. Also known for his role as Constable George Crabtree on CBC's Murdoch Mysteries.
Debra DiGiovanni – three-time winner of the Canadian Comedy Award for Best Female Comic.
Mark Forward – multi Canadian Comedy Award Winner who appeared on John Oliver's New York Stand-Up Show on Comedy Central. Mark has made multiple appearances on the Late Late Show with Craig Ferguson.
Derek Seguin – a six-time performer at the Just For Laughs festival. At this festival in 2016, Derek received a standing-ovation from the audience during the filming of the gala set for HBO.
Jenn Labelle and Tim Riel, local comedians from Ottawa each performed an outstanding act in front of what must have been one of their largest audiences to date.
In order to highlight some of the performances from the Alterna Savings Crackup Comedy Night In Canada, I filmed a few short clips for your enjoyment:
Here's Letterkenny's Mark Forward:
Still Standing's Jonny Harris on pub crawling in St. John's, Newfoundland, and peeing on jellyfish:
One of Canada's hottest comedians, Derek Seguin on Ottawa's close proximity to Brossard, Quebec:
Reigning Queen of Canadian Comedy, Debra DiGiovanni on napping:
Ottawa's own Jenn Labelle on men and women:
Murdoch Mysteries' Jonny Harris the Ideas Man:
Honouring the late Canadian comedian John Candy (who's award was accepted by John's daughter, Jen Candy):
Thinking of attending next year's Comedy Night In Canada finale event?
Here are a few tips to help you make the most of your evening:
Parking for events at TD Place can be tricky. While you may luck out and find a parking spot on the streets surrounding the stadium, your best bet is to either take public transportation, or do what we did, purchase your event parking online prior to event day to guarantee a parking spot. Your ticket is one-time use only though, so if you exit the garage, you cannot get back in with your ticket.
Food vendors are on site at TD Place serving typical event foods such as fries/poutine, and hot dogs, at typical event price points. Alcoholic beverages are available. Cold water is available at public fountains.
The view of the stage for Comedy Night In Canada seemed to be excellent from all vantage points in the stands. Upon arriving at TD Place we were seated temporarily at the very back of the venue, and found the view to be terrific. Obviously, the higher your seats are, the smaller the performers look on stage, however, an on-stage screen allows the audience members who are further back to see performers close up.
Bring some cash! We made the mistake of only bringing our debit cards for food and drink purchases. Volunteers were selling 50/50 tickets to benefit the Mental Health charities that Alterna Savings Crackup Comedy Festival supports. While there are ATMs available on site, and close by to the stadium, we were already situated in our seats when the 50/50 ticket sellers came by.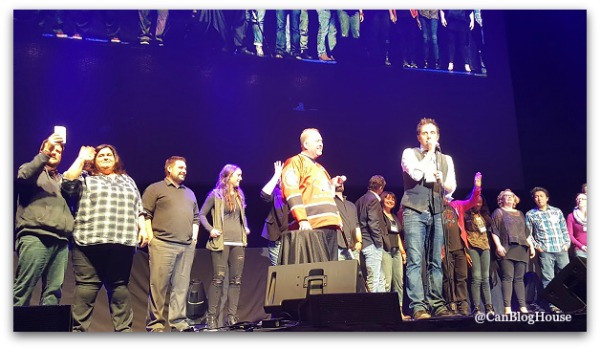 Our stellar evening at the Alterna Savings Comedy Night In Canada left us wondering why we had never attended this event before. We have obviously missed out on years of outstanding entertainment at a festival that could now only be described as a world-class comedy event.