Camp Fortune, located just north of Ottawa, in Chelsea, Quebec (Gatineau Park), is a well-known ski hill with a reputation for being one of the best in the area. Growing up, I spent a lot of time in Ottawa visiting family and friends, and I often heard many people refer to Camp Fortune when talking about great ski hills in the Outaouais region. Camp Fortune is the highest vertical within a 15 minute drive of Ottawa featuring 23 different runs, 7 lifts, a Terrain park featuring jumps, rails, boxes and a wall, and offers night skiing and snowboarding.
But, there is so much more to Camp Fortune than skiing and snowboarding!
Looking for a few fun things to do with my boyfriend and X-Man this summer, I happened upon some online advertising for Camp Fortune.  Turns out, not only is Camp Fortune a great ski hill in winter but, they have some pretty fantastic family attractions on site during the summer months too.
Have any of you ever been zip lining? Aerial climbing? How about free fall jumping onto a giant air bag?
We recently got to try all three activities for the very first time when we were invited by the great staff of Camp Fortune to come out for the day to give them all a try.
While we were excited to be offered the opportunity to visit Camp Fortune, and try all these amazing activities, I can't say that I didn't set off that morning without a lot of apprehension.  You see, I'm a huge scaredy cat when it comes to heights. I'm a total Acrophobe.  So the thought of being up on a mountain, climbing into the treetops, zip lining, and jumping off the edge of some scaffolding, made my hands just a wee bit sweaty.
Ok…make that a whole lot sweaty. Niagara Falls sweaty.
I had to keep reminding myself that I'm the same person who confronted their fear of heights by walking on a glass floor over the Grand Canyon.  I certainly wasn't going to let my fear of heights get me this time!
We started our Camp Fortune adventure with the Aerial Park climb.  Camp Fortune has three Aerial Park courses to choose from: Children's Park, Explorer's Park and Amazone Experience.  Since X-Man was joining us on this adventure, we harnessed up for the Children's Park Aerial Climb.  Don't let the name fool you, even the Children's Park Aerial Climb can be "exhilarating" for adults!  This climb generally takes about one hour to complete. 
We made reservations a few days in advance and arrived approximately 1/2 hour before our scheduled departure time.  Camp Fortune actually requests that visitors arrive at least 30 minutes in advance of their reservation.  This allows for time to get fitted with the necessary gloves, helmet, and harness required for your climb up into the trees.
The young staff and guides were all professional, knowledgeable and helpful. They helped us "gear up" and made sure we were all safe and secure in our harnesses.  Once we were outfitted, we were briefed on some general information about the aerial park and, of course, some safety information.
We started our aerial park climb right on time, with a short walk up a hill and into the forest.  It was a gorgeous day and we were anxious to get climbing!
At the start of the course, staff briefed us with another safety lesson, this time showing us exactly how to use our clips and harnesses, and making it very clear – if you don't follow the rules (such as staying clipped to a cable at ALL times), you WILL be removed from the aerial park.  It was very apparent that Camp Fortune takes the safety of its guests seriously, and in my mind, that is a very good thing.  You cannot be too careful when you are dealing with (mostly) inexperienced climbers, obstacles, and heights.  Never having used a harness, clips and zip lining equipment, my boyfriend and I felt a little overwhelmed with all the instructions about how to use the equipment and what to do on the zip line. No time to worry though….
Off we went! What a fantastic experience it was!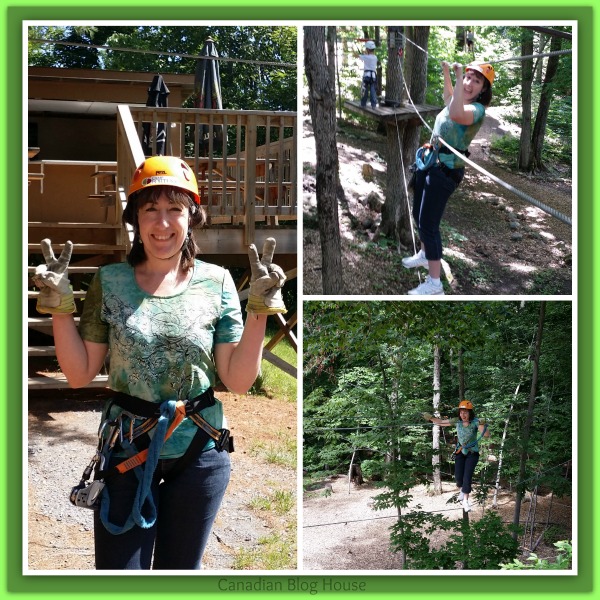 I have a new-found respect for Nik Wallenda, the daredevil who has crossed both Niagara Falls and the Grand Canyon, unaided, on a tightrope.  Granted, his cable would have been wider than the cable we used to cross between the trees on but, we were clipped on to the cable at all times, had other cables to hang on to as we made our way across, and were only 15-20 feet off the ground.  For someone who has a fear of heights, none of that mattered, however.  It was still scary….yet amazing at the same time!
I am also more in awe of my brother-in-law now.  He is a mountaineer who has climbed many of the world's tallest mountains, including Mount Everest.  After our time climbing at Camp Fortune Aerial Park, I cannot even imagine the strength, agility, and guts it must take to climb a mountain. That's not even taking into account doing it in blizzard conditions!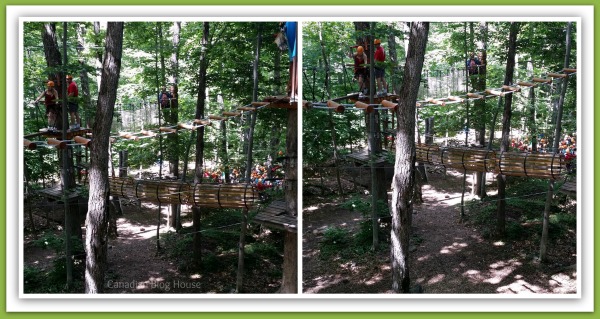 After a couple of minutes out on the course, we quickly realized that our concern about how to use the equipment was unfounded.  X-Man did a fantastic job operating his own harness and making sure he was always clipped in.  If he could do it…so could we! X-Man even volunteered to be the first to zip line!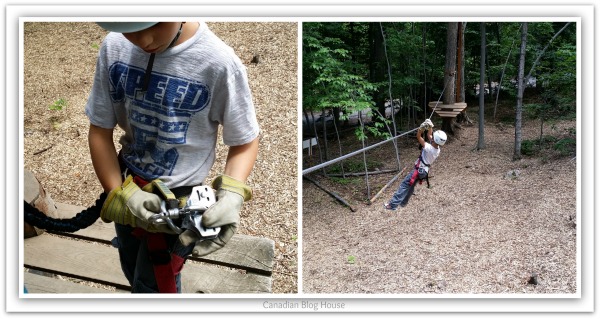 One of the biggest things I learned from this experience is that you have to trust your equipment.  All of the equipment used at Camp Fortune Aerial Park is designed with your safety in mind.  The cables? They can hold a weight that FAR exceeds the weight of any man or woman who may ride on the zip line.  The clips? They will keep you safe as long as you remember to use them properly (and trust me, you WILL remember!).  As you can see here from my first attempt at zip lining, I was a little cautious about putting my full trust in cable (note the initial hesitation)!
After traversing through a wooden tunnel on our knees, over swinging wooden slats, cable wires, and many other obstacles, we were hooked! Camp Fortune Aerial Park is a MUST-DO tourist attraction in the National Capital Region!  All three of us agreed that this attraction is well worth the entry fee, and a great way to get some exercise, enjoy the beautiful outdoors, learn some new skills, and have FUN.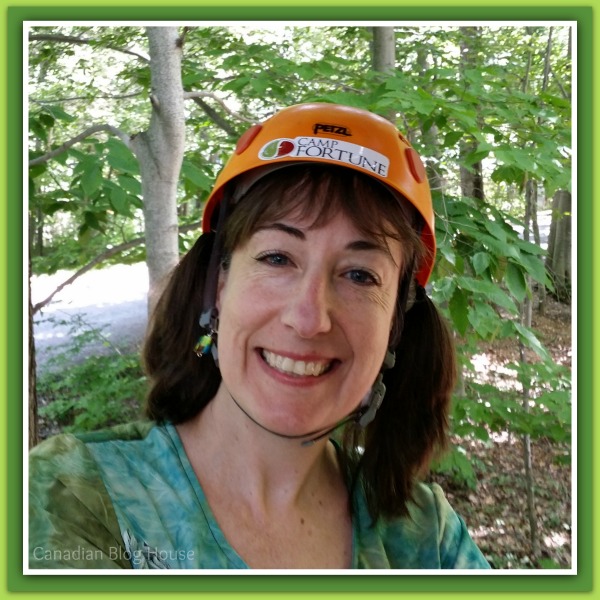 I think this picture of me, taken at the end of the course, says it all. Two clips up!! Camp Fortune Aerial Park is our new favourite local attraction, and you can be sure we will be back.  We've already been talking about tackling the Explorer's Park climb before winter.
Our fun at Camp Fortune wasn't finished once coming down from the treetops. Next we were on to the Freefall Air Bag Jump.
GULP!!
Fellow Acrophobes can probably relate to what I'm about to explain.  My phobia is a little weird.  At the root of my phobia, I very much dislike standing in high places. Stick me on a moving plane at 30,000 feet and I love to stare down at the earth.  Make me step out onto a 7th floor balcony though, and the first feeling that washes over me is one of wanting to jump – yes jump – off that balcony.  Why? Because my phobia makes me want to get down to the ground to feel more secure.  I know. It's a very twisted way of thinking.
So you would think I would be the perfect person to perform a jump at the Camp Fortune Free Fall Airbag Jump. I thought so too.  I was wrong! The minute I climbed up to the first level and realized I had to take a running jump over the edge of the scaffolding, I felt like chickening out.  BUT…I did it! I jumped! Albeit from the first of 3 levels. You see, my jumping style left little to be desired, and the great staff at the Freefall Air Bag Jump, Will and Yves, felt it wasn't safe for me to jump any higher than the first level.  Smart men, they are!
The key to jumping onto the air bag is keeping your legs out straight in front of you as you jump, and landing on your butt or your back.  My body just did not want to do that. My body instinctively wanted to land on my feet.  While it's ok to land on your feet, it's not the safest way to land because you could fall forward and do a faceplant, which wouldn't be pretty.  So I was relegated to the first level, which was fine by me, making 3 jumps in total.
It was after my last jump that all went wrong for this clutzy jumper…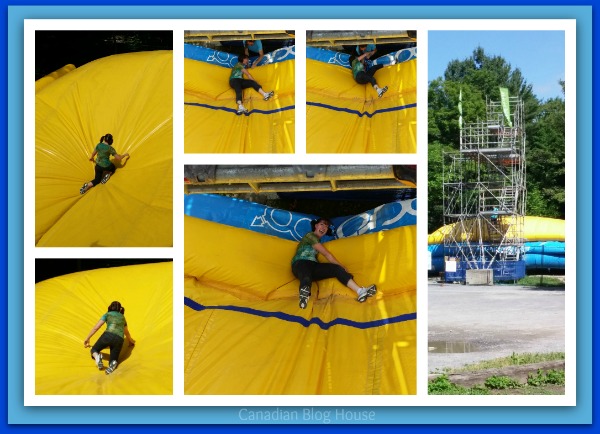 Yep, that's me on the air bag after my last jump, struggling to get off the air bag. Staff will warn you, getting OFF the air bag can be one of the most difficult things.  In fact, they make you practice getting off the air bag before you even take your first jump.  They also explain that the giant air bag is surrounded almost entirely with an air bag "wall" that helps keep you on the air bag should you roll down the side of it. Foolish me, I laughed when they explained this and said "do people really fall off the air bag?"  They said it doesn't happen often…but yes.
So guess what happened to me after my last jump?
I rolled down the side of the air bag, got stuck hanging onto the side of the air bag, and had to be rescued by Yves! SO embarrassing!
You can see me in all my glory, rolling off the air bag, captured on video by Will:
Luckily, my boyfriend and X-Man are WAY better jumpers than I am.  X-Man got to jump off the 2nd level, and my boyfriend was able to finish his jumps from the very top level.  I'm thinking they both may have a future in skydiving!
Camp Fortune was an amazingly fun experience for all of us, and we can't wait to go back some time.  For those of you, like me, who don't like heights…DO NOT be afraid to come try BOTH attractions.  Despite my fear of heights, I wouldn't hesitate to do both again.  This was a day we will all enjoy reminiscing about for years to come.
You'll find other fun things to do at Camp Fortune including a 9 hole Disc Golf Course, as well as some amazing cross country and downhill trails for mountain biking.
Camp Fortune Aerial Park is located in the town of Chelsea, Quebec, just a short 15 minute drive from Ottawa, Ontario.  Depending on which Aerial Park Climb you choose, plan to spend 1/2 day to 3/4 of the day at the park. There is a lot more to do in the Chelsea area after you are finished.  Camp Fortune is located in gorgeous Gatineau Park, a popular tourist destination that offers more fun activities such as:
Seeing amazing views of the Ottawa Valley from various lookouts including the favoured Champlain Lookout
Swimming at 6 public beaches, including the infamous Meech Lake
Playing mini golf at Dunn-D's
Hiking and biking the endless trails in the park
Visiting the estate of former Prime Minister Mackenzie King
Eating a delicious meal at the Chelsea Pub
Before heading to Camp Fortune Aerial Park and Zip Lining, be sure to leave all your "dangly bits" at home. This means things like earrings, necklaces, finger, nose and belly buttons rings. Be sure to tie long hair up and away from your face. Leave all other bags, purses and gear safely locked in your car.  These rules help to keep you (and your gear!) safe while you are climbing through the trees like a monkey!
Camp Fortune and their Aerial Park, Zip Lining and Freefall Air Bag Jump adventures come highly recommended by Canadian Blog House.  That's why I'm SO excited that the fabulous folks at Camp Fortune have offered up a great treat for one lucky Canadian Blog House reader!  Here's YOUR chance to WIN a Family Pass For 4 to the Camp Fortune Aerial Park and Zip Lining, which includes entry to any course for 4 people of any age, max value of $140. ***Ironically, due to provincial contesting regulations, this giveaway is not open to Quebec residents. Sorry folks! Please be sure to read the full giveaway rules on the Rafflecopter form.
Here's how you can enter for your chance to WIN:
***GIVEAWAY HAS ENDED***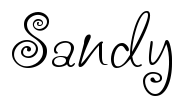 Disclosure:  Canadian Blog House received complimentary passes to Camp Fortune in exchange for this review. All opinions are our own.