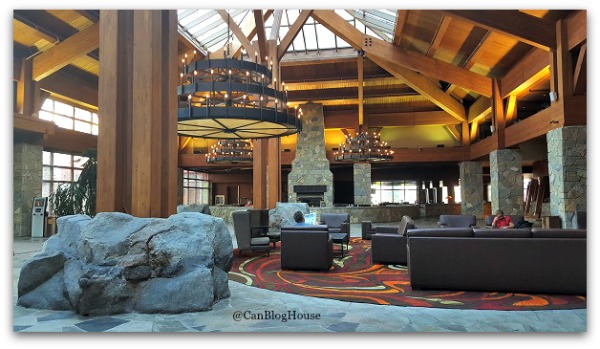 Premier entertainment destination, Casino Rama Resort, and Ontario's Lake Country facilitated our stay during the #LetsGoMaple media trip, organized by SJ Consulting. All opinions are our own.
Casino Rama Resort, Ontario's only First Nations commercial casino, has earned the distinguished reputation for presenting exclusive world-class sporting, entertainment & television events.
Premier Entertainment Destination
This magnificent premier entertainment destination resort "offers a complete entertainment experience with over 2,500 slot machines, more than 110 gaming tables, 8 unique restaurants, a world-class 5,000 seat Entertainment Centre, and a 300-room all-suite, full-service hotel, featuring spa and health club facilities."
Located just outside the beautiful city of Orillia, in Rama, Ontario, Casino Rama Resort first opened its doors back in 1996. The resort was "designed to pay homage to the culture and proud heritage of Rama First Nation". 
You don't have to look far to see the impressive imprint that the Rama First Nation people have left here. Visitors will see this First Nation's influence all throughout Casino Rama Resort.
Welcome To The Great Indoors
This year-round resort has the perfect slogan befitting a premier entertainment destination: The Great Indoors.
That's because there is so much to see and do inside the resort, there's no worry about keeping your family busy, even if the weather outside is frightful.
A few months ago, I had the chance to travel to Ontario's Lake Country, for a 3-night stay at Casino Rama Resort, as part of the #LetsGoMaple event. From everything I had heard about this resort from friends and family who had stayed there, I was certain I was going to like it. I just did not realize how much I would like Casino Rama Resort.
In fact I loved it!
25 Things To Love About Casino Rama Resort
---
The Customer Experience – It's all about the customer experience at Casino Rama Resort. From the friendly, helpful staff and immaculate surroundings, to their all-suites rooms, extensive dining choices, luxury amenities, entertainment options, and attention to detail, a stay at Casino Rama Resort is not just a place to "stay", it's a place to enjoy the "experience".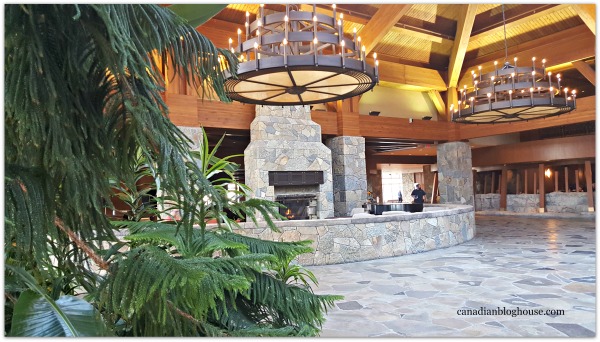 The Great Indoors – Casino Rama Resort's motto says it all. There's so much to see and do inside this premier entertainment destination resort, you may not have time for the great outdoors. No matter how much fun you are having at Casino Rama Resort though, be sure to save a little time to explore Orillia and Ontario's Lake Country!
Orillia – This beautiful city, located on the shores of both Lake Couchiching and Lake Simcoe, is home to fascinating museums, galleries, festivals, and fun recreational activities. Cobblestone streets, heritage buildings, fabulous eateries, and quaint local shops, make downtown Orillia a must-see destination when staying at Casino Rama Resort.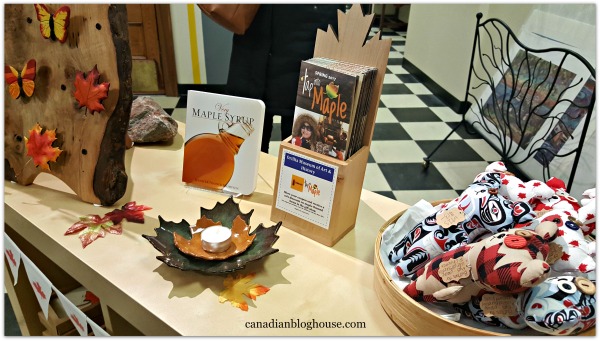 Ontario's Lake Country –  Casino Rama Resort is located in Ontario's Lake Country, one of the most picturesque areas in Ontario. Beautiful lakes abound in Ontario's Lake Country. This year-round vacation destination features endless activities for those staying at Casino Rama Resort, including all the fun outdoor winter activities we participated in at Horseshoe Resort and Mount St. Louis Moonstone.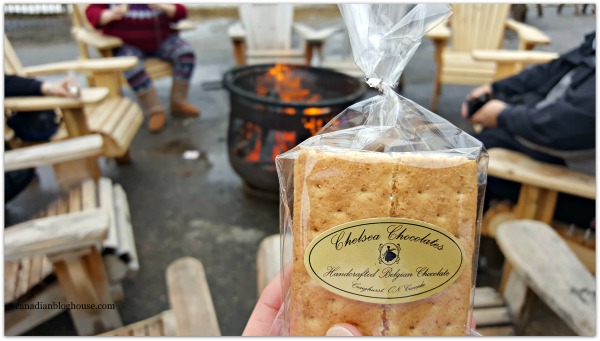 The Casino – Blackjack, Roulette, Slot Machines, Casino Rama Casino has them all. This is a first-rate casino, and while I'm not a big gambler, I was so impressed with the way this casino is run, I wrote a whole post about the casino itself.
Two Seasons – I chuckled when I heard a few staff members comment that Casino Rama Resort has 2 seasons – busy season and peak season. From what I saw at the beginning of March, this is the truth. This resort is a "happening place". Visitors come from all over to experience everything that Casino Rama and Ontario Lake's Country have to offer – no matter the time of year! Don't let that scare you away from visiting! There's plenty of room for everyone at this huge resort!
Rama First Nation – Casino Rama Resort is one of the largest employers of First Nations People. Throughout the resort, beautiful sculptures, paintings, and displays, like this one of fish, pay homage to the history and culture of the people of Rama First Nation.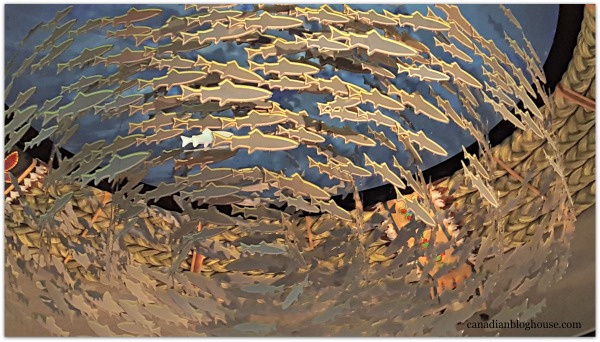 Community Donations – To date, Casino Rama Resort has donated millions of dollars to over 50 community organizations since its inception. I love that the fact that giving back to the community is an important mandate for Casino Rama Resort.
Transparency – Casino Rama Resort is very big on transparency, especially when it comes to their casino. Rules are clear and easy to follow. Casino Rama Resort is committed to providing guests with a safe, responsible, and fun customer experience.
Persons With Disabilities – Casino Rama Resort's entertainment centre configuration takes into account things like mobility aids, and how easily people can move around inside their entertainment venue. Large open spaces within the resort, wide hallways, large elevators, and large suite rooms, make this a great resort for persons with disabilities who require mobility aids.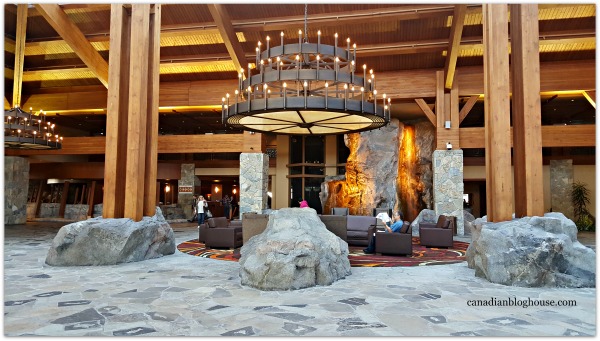 Restaurants – Casino Rama Resort features 8 unique restaurants – all on-site! That's a lot of choice! I had the pleasure of dining at St. Germain's Steakhouse, which featured some of the most delicious dishes I have ever tasted. It's tops on my list if I ever get the chance to go back!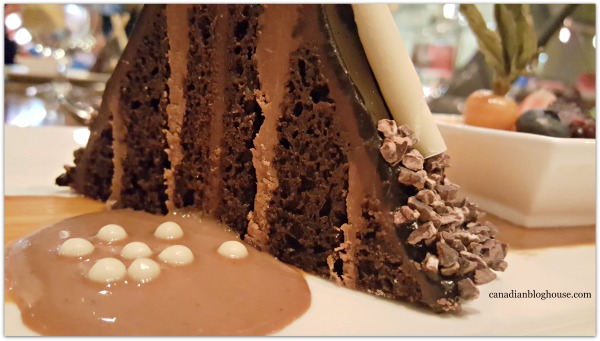 Entertainment Line Up – I've never seen a more extensive line-up of star power at any one entertainment venue than they have at Casino Rama Resort. Take a peek at their event line-up and you will see what I mean. Especially during the summer season. Makes me wish I lived closer so that I could attend many of these great performances!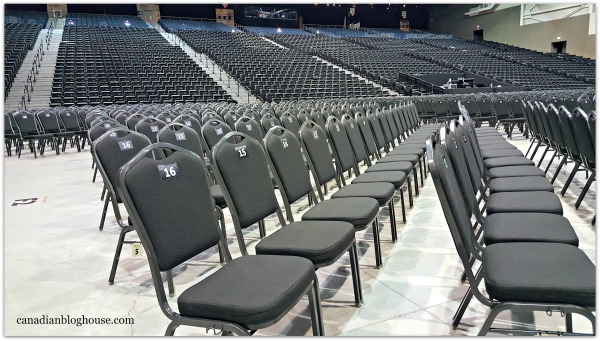 Entertainment Destination – Casino Rama Resort truly is an all-in-one entertainment destination. Whether you love the casino, live shows, great dining, relaxing in a saltwater pool, or time at the spa, this resort has something to keep every member of the family happy.
The Beds – Ohhh the beds! If our agenda during our stay at Casino Rama Resort hadn't been such a busy one, I would have opted to spend at least one morning lounging in my luxurious king-sized bed. Just the right balance of cushy and firmness for me. One of my favourite hotel beds to-date!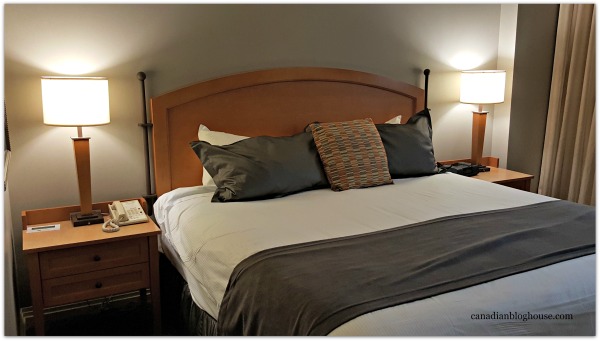 Come As You Are – Whether you are a fashion diva all done up for a night out, or you are more of a "jeans and t-shirt" fan, no matter your style, you will feel comfortable at Casino Rama Resort. As I am a fan of the latter, I loved that I never felt the need to have to "dress up".
The Gathering Place – You don't have to leave the resort to enjoy shopping in great retail shops that include a clothing store, a gift store, and a gallery.
Ski Hills – Thanks to the great folks at Mount St. Louis Moonstone, and especially my very patient ski instructor, Rick, I rediscovered my passion for downhill skiiing – when I could actually stay upright on my skis. This fabulous ski hill is just a short drive from Casino Rama Resort, which makes the resort the perfect place to stay for those that love to ski.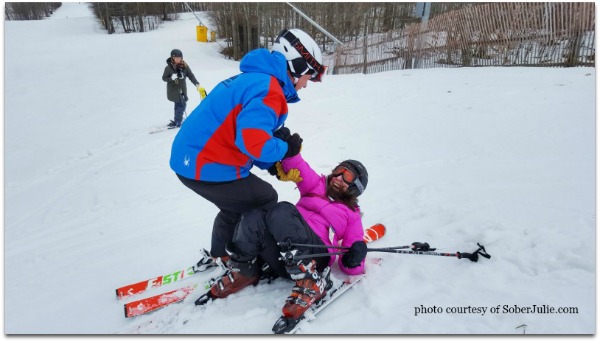 Hotel Packages – For visitors who like to take advantage of hotel packages, Casino Rama Resort offers some great ones – like their Tap Into Maple package available in spring, their Stay And Ski package in winter, and their Girls Getaway package.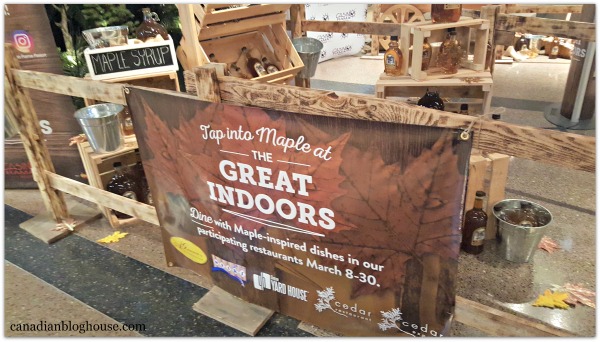 The Rooms – What's not to love about a resort that offers "luxury all-suite hotel rooms"? Every guest will feel pampered at Casino Rama Resort. Rooms are large and beautifully appointed. All rooms are "equipped with full living area with additional seating, gas fireplace, flat screen television and free WIFI."
The Pool – Relaxing in the warm salt water pool should definitely be on your list of things to do at Casino Rama Resort. In addition to the pool, visitors can also enjoy a steam room, fitness facility, hot tub, and sauna.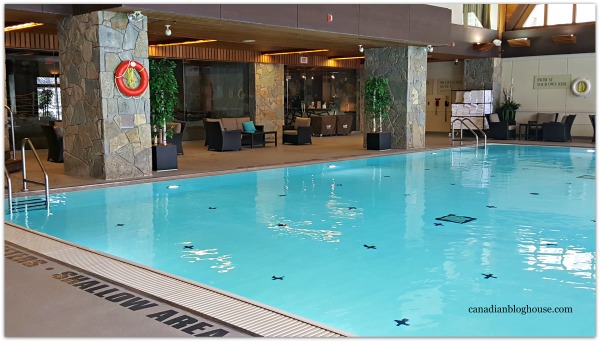 The Spa – I was treated to a one hour spa treatment during my stay at the resort – a massage. Without a doubt, it was THE best massage I have ever had. Joyce gave me a massage I will never forget. Not too hard, not too soft…just right. It was just what I needed after a long day on the slopes…and several falls! Balance In Life Spa offers many great spa services to suit all guests.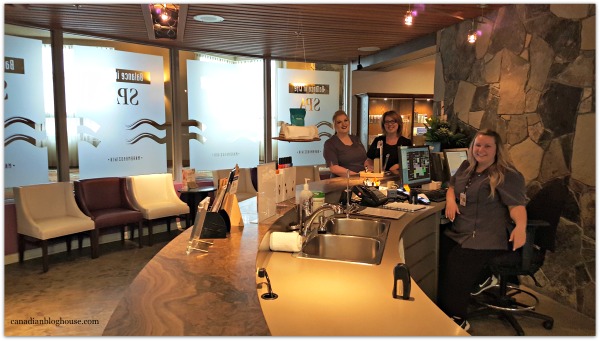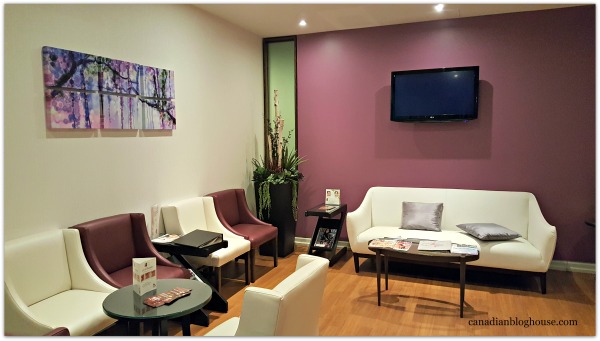 Tim Hortons – I don't believe this needs much explanation. The new Tim Hortons coffee shop at Casino Rama Resort was a welcome sight for me. A stop for a fresh cup of Timmy's coffee was a must before heading out to our early morning activities each day.
Over-sized Elevator – I admit, this is a rather odd thing to "love" but, the over-sized elevators at Casino Rama Resort are terrific. Not only can they hold a lot of guests at once, there is plenty of room for suitcases as well. Added bonus – these elevators are quick!
The Decor – While the decor has a most obvious nod to the Rama First Nation people, it also has a very "Canadian Cottage Country" feel, featuring plenty of wood and stone throughout the lobby, and main floor corridors. Some of the highlights of the gorgeous decor include a magnificent stone fireplace and pretty waterfalls, which help to create a very inviting atmosphere.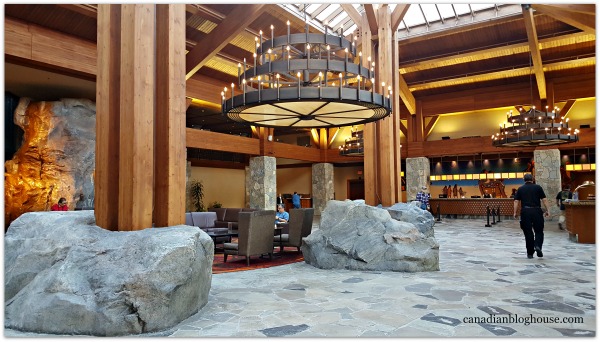 The Parking – There is ample parking surrounding Casino Rama Resort, so even on nights when the resort is hosting visitors at the entertainment venue for a show, it appears that there would be no worry about finding a parking spot. Guests may also choose to use Valet Parking.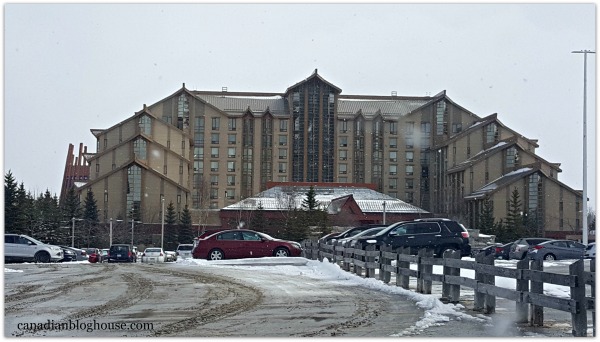 Of course, one of my very…er…beary favourite things to do when I go somewhere new is to visit with some of the locals…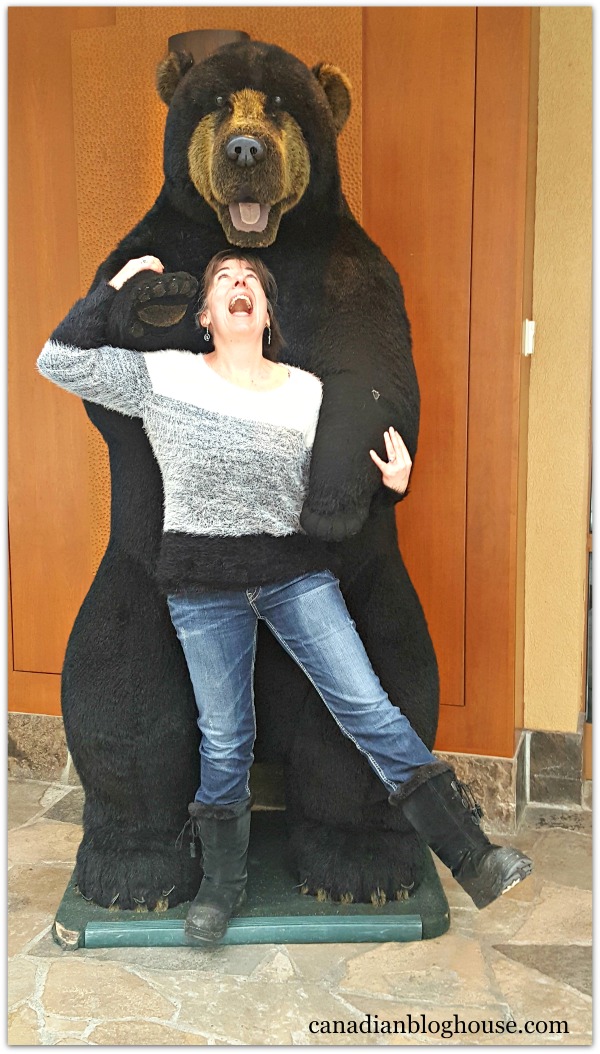 Have you ever been to Casino Rama Resort? What do you love about staying at this resort?