Climbing a mountain has never been high on my bucket list. While I love to experience new places and activities, I've never been what you would call the "sporty adventurous type". I love the great outdoors but, when it comes to taking part in challenging outdoor activities, I'm usually the type to hang up on the "call of the wild".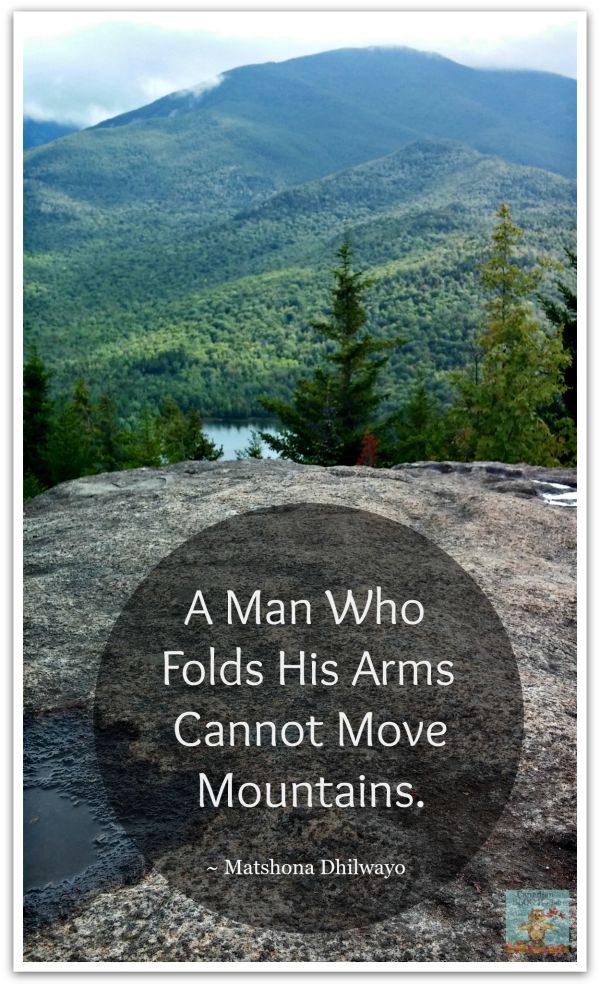 Perhaps my reluctance to challenge myself is thanks to my disability. When I was growing up, those with disabilities like mine were considered "fragile". At school, I was always told to "be careful" for fear I may injure myself. There were many a gym class where I sat on the sidelines watching my classmates perfect their athletic skills.
These days I see things a little differently than I did back then. Attitudes towards disabilities have changed, and those of us with disabilities are encouraged to push ourselves, and reach for goals we thought were never attainable in the early 1970's.
This brings me to my recent #EatPlayLoveNY adventure where I decided I would challenge myself to become a little more adventurous.
Our week in the Adirondack Mountains and upper New York State was slated to be full of non-stop adventure. Our itinerary included hiking, canoeing, kayaking, and even fly fishing. Most of the activities on our #EatPlayLoveNY adventure were activities that we took part in as a group.
On one particular day we had to make a choice between fly fishing and a hike up an Adirondack mountain. While the fly fishing opportunity tempted me, it was the opportunity to climb a mountain that was calling my name.  As strange as this may seem, despite my acrophobia, I was feeling drawn to the chance to summit a mountain.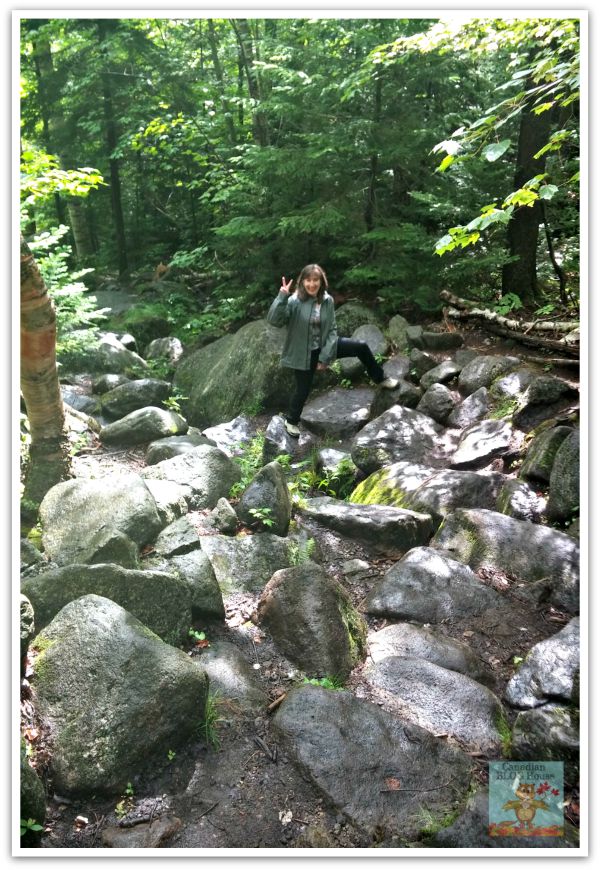 This is the type of rocky terrain I faced all the way up Mount Jo
I must admit, when I agreed to taking part in the hike up the mountain, I was very naive about the type of hike I faced in the Adirondacks. At home in Eastern Ontario, we don't do mountains. We have hills, and here in the National Capital Region we even have the Gatineau hills, however, we have nothing like the Adirondack mountains. I love to hike, but my hikes usually consist of dirt trails winding through a beautiful forest – on flat land.
I met Jan, a local guide from Adirondack Rock and River Guide Service, near the entrance to the Adirondack Loj, located on Heart Lake, the gateway to the High Peaks Wilderness Area. According to Jan, that's not a typo in the lodge name, the correct spelling is "Loj". It was Melvil Dewey, inventor of the Dewey Decimal system, who changed the spelling of the word lodge. Apparently, Mr. Dewey was a proponent of making the spelling of words easier by spelling them as they sound.
The original intention on this day was for Jan to guide me up Mt. Van Hoevenberg. After initial discussions, Jan determined that this "moderate" hike may be a little much for me, and perhaps take longer than the time we had allotted for this hike. Jan is a smart man, and he definitely made the right choice for me.
The rest of the #EatPlayLoveNY team had chosen to go fly fishing, so I was going it alone with Jan. I admit, for a few minutes, I was wondering if I had made the wrong choice. Seconds into our hike, I knew I hadn't.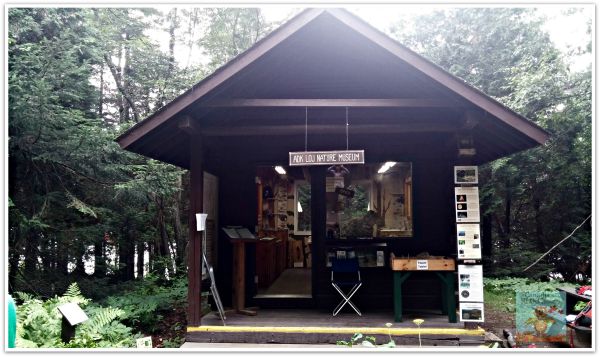 Our hike began at the Adirondack Loj Nature Museum, a small building located on the shore of Heart Lake. Taking a short moment to visit this intimate museum was a great way to introduce myself to some of the flora, fauna, and animals located in the High Peaks Wilderness Area.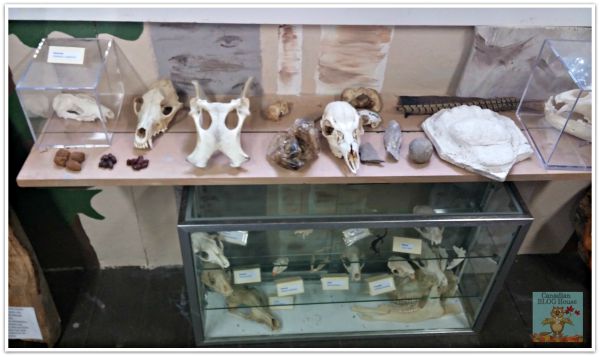 Surrounded by skulls and skins of all kinds, I got to wondering about the venomous snakes I have read about that inhabit the mountains of the Adirondack region. Thankfully, Jan informed me that there was no need to worry about seeing any venomous snakes on our hike, as there are no known venomous snakes in the Mount Jo area. As much as I like snakes, and actually have two as pets, I'm not fond of the venomous variety!
Apparently it wasn't the snakes I needed to worry about, but the black bears. As Jan said though, even with the black bears that roam the region, there is little to worry about. They don't bother hikers…unless you set up camp and have some tasty food hanging around your campsite!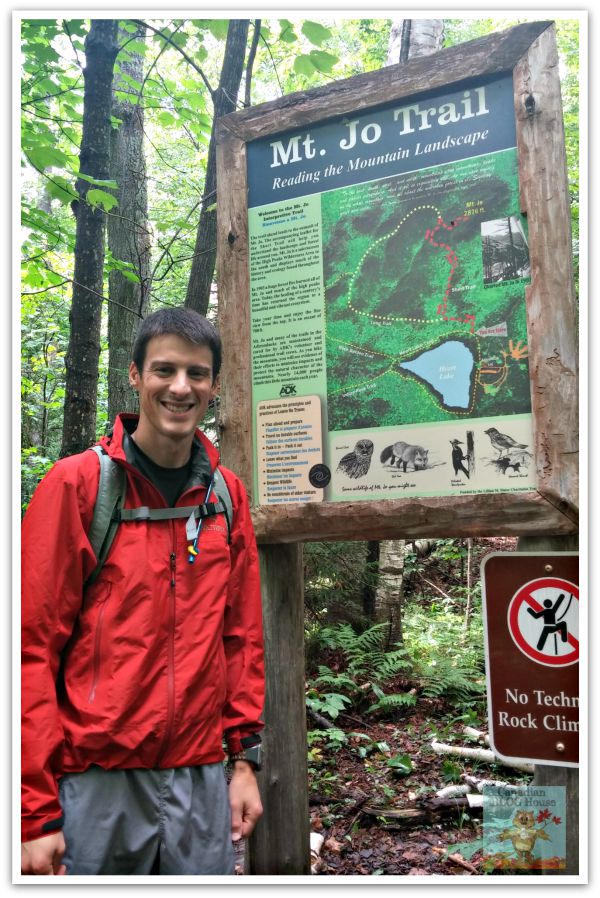 My guide Jan – Mount Jo, NY
My guide, Jan, has lived in the Adirondacks his entire life. He is the true definition of an Adirondack mountain man. While physically he may not represent the image that comes to mind when you hear the words "mountain man", Jan IS a man of the mountains. He knows so much about the Adirondack Mountains, that he spent almost 2 1/2 hours satisfying my curiosity about this beautiful region by answering the endless questions I had for him, as we made our trip up (and down) Mount Jo.
Perhaps it's because I did not stop talking the whole way up that I ended up looking like this: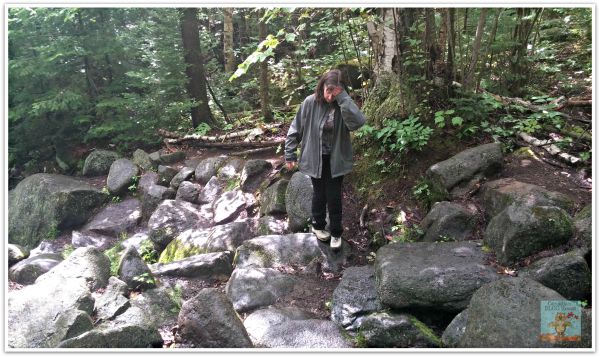 Don't worry, you can laugh. For one thing, what the heck was I thinking when I asked to borrow Vanessa's jacket because I thought I might get chilled on my hike? At this point in the hike (photo) it felt like it was 30 gazillion degrees up there! Also, why did I think this hike was going to be a "piece of cake"?. Before starting out, I was delusional and assumed that this was going to be a hike of gently sloping dirt trails.
HA!
Thanks to Jan, who documented my ascent, you can see the "cracks" forming in my determination to make it to the summit.
It was time to take off the coat, cool off, put a smile on my face, and keep going!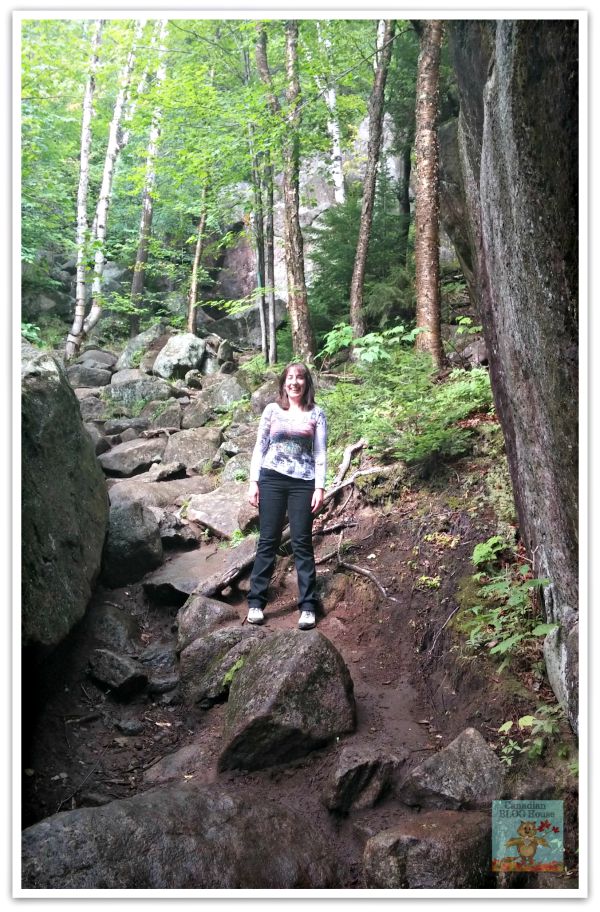 While the hike up Mt. Jo, with a summit of almost 2900 feet, is not considered to be a difficult hike, it is a challenging climb for those of us who aren't used to this kind of hiking. But, that's a good thing. Despite having to stop twice for a short break on the way up, reaching the summit of Mount Jo is one of the most rewarding experiences of my life. After exerting every bit of energy I had, using every muscle that hadn't been used in years, running short of breath, and dodging a few face plants along the way, I made it!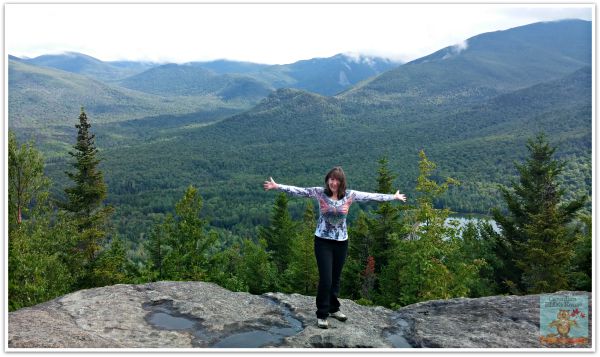 The views from the top of Mount Jo were spectacular, and worth every bit of effort it took for me to get up there!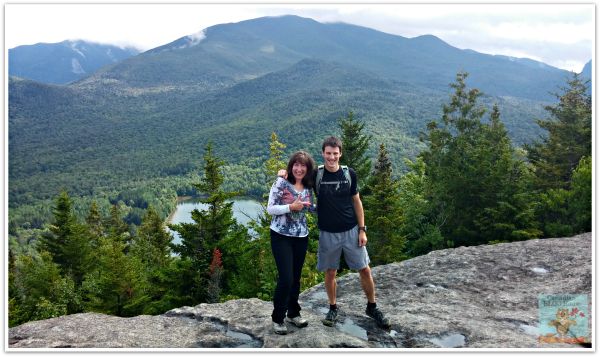 Of course, I can hardly compare myself to mountaineers like my brother-in-law, Larry, who has climbed Mt. McKinley, Mt. Aconcagua, and even the magnificent Mount Everest, just to name a few. It takes a whole other type of human to be able to climb mountains like that.
What I discovered though, was how good it felt to climb higher than I ever had before. I faced my fear of heights, and my fear of falling due to my poor balance (a result of my disability). I faced my misguided, ingrained attitude that I can't do something like this. I faced these fears and conquered the mountain.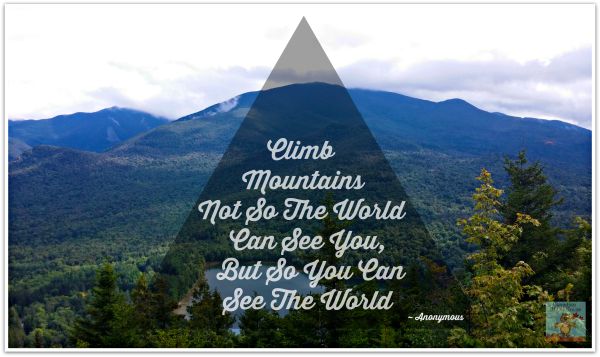 My climb to the top of Mount Jo sums up everything that I had hoped for in taking part in this #EatPlayLoveNY adventure. For me, it was about so much more than just a hike up a mountain. While I experienced so many other amazing adventures on the #EatPlayLoveNY tour, like kayaking the St. Lawrence River and canoeing Lower Saranac Lake, it's my climb to the summit of Mount Jo that gave me the greatest satisfaction.