This post was the most terrifying post I have ever written. Why? That's because I'm an Acrophobe. I have a dizzying fear of heights. I've been afraid of heights since I was a kid. I'm not sure if it's genetic or not, but my dad and my brother both have a fear of heights as well.
So in doing a little research for this post, I had to browse some photos of very high up places. Not an easy feat for me – I got dizzy just looking at the photos! Instant vertigo! In fact, during the writing of this piece I had to frequently look away, or distract myself by doing something else for a few minutes – the vertigo got that bad! How crazy is that?!
Despite my Acrophobia, I've managed to conquer a few of these "wonders of the world" myself. That's not to say I didn't do them without very sweaty palms…and while clinging to the arm of the nearest family member!
I have started my list with places I have actually visited myself. The rest is in no specific order (because they are all equally terrifying to me!).
Here is my list of 10 of the most terrifying places on earth for Acrophobes: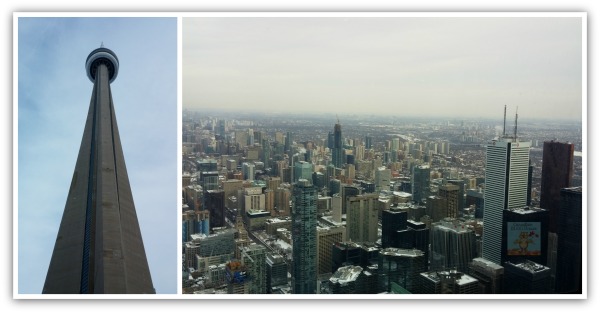 CN TOWER – EDGEWALK: This extreme urban adventure takes you up 1,168 feet above the city of Toronto…and outside! You get attached to a rope and safety harness,  and away you go! You spend 20-30 minutes walking around the edge of the CN Tower…and (literally) hanging out over downtown T-Dot. I took the loooong elevator ride up the CN Tower to the observation deck last March Break, but I was not brave enough to do the EdgeWalk! I was dizzy just hanging out on the inside of the CN Tower!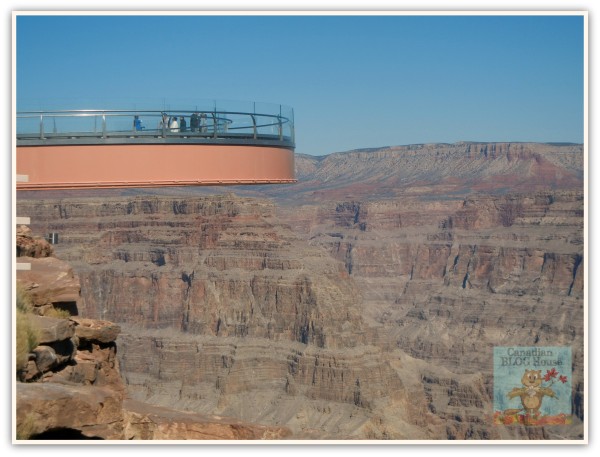 A few years ago I made it back to the Grand Canyon for the second time.  Anyone who has ever seen the Grand Canyon in person will tell you it's a wonder of the world that everyone should get a chance to experience at least once in their lifetime. I've never felt so minuscule as I did standing at the edge of the Grand Canyon. That's right, I stood within a few feet of a sheer drop off. We're talking very sweaty palms again. Nothing beats the Grand Canyon Skywalk though. I slipped on my shoe covers and stepped out onto the clear glass walkway, staring 4,000 feet straight down to canyon floor. I believe I may have set a new Guinness World Record for fastest tourist to complete the Skywalk but, hey, I did it, right?!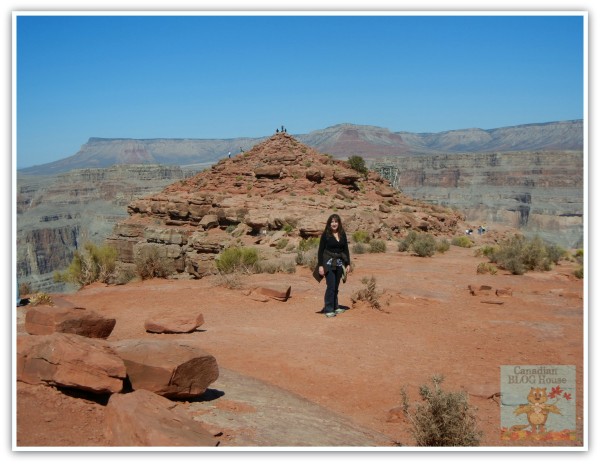 I also walked out to "Guano Point" at the Grand Canyon.  Although you can't really tell by the photo, this is a thin point of land that juts out into the canyon with sheer drop offs on almost all sides, giving you a 360 degree view of the Grand Canyon. Perhaps you can get a little more perspective by finding those "tiny" people in the photo behind me! Needless to say, I experienced severe vertigo here!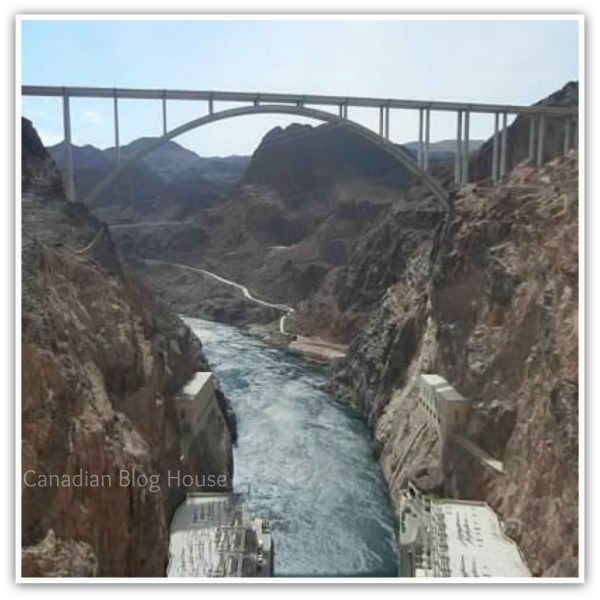 MIKE O'CALLAGHAN-PAT TILLMAN MEMORIAL BRIDGE
Otherwise known as the Hoover Dam Bypass, this bridge was completed in 2010 and crosses the Colorado River at Black Canyon just south of the Hoover Dam. An engineering marvel, at almost 900 feet over the Colorado, the Mike O'Callaghan-Pat Tillman Memorial Bridge is:
the longest single-arch bridge in North America
the second-highest bridge in the United States
highest concrete-arch bridge in the world
Yes, I've also traveled over this 4-lane bridge – both ways. If you are heading to the Grand Canyon from Las Vegas, chances are you will too. This is one terrifying bridge for acrophobes. The only relief for me is that, because of the way the bridge is built, you actually don't get to see that much of a view. You really wouldn't know how high up you are as you travel across it. Problem for me was, I was at the Hoover Dam BEFORE traveling over the bridge. I got to see a perfect view of the bridge from the Hoover Dam. So despite the fact that I couldn't actually see much while traveling over the bridge, my mind knew exactly how high up we were! More sweaty palms and heart palpitations! Don't even get me started on the fact that there is actually a pedestrian walkway on this bridge for those of you who feel inclined to walk across the length of this bridge! *Shudder*
The above photo of the Hoover Dam Bypass Bridge was taken from another beautiful, yet terrifying, viewpoint (again, for more perspective, take note of the "tiny" people on top of the structure!):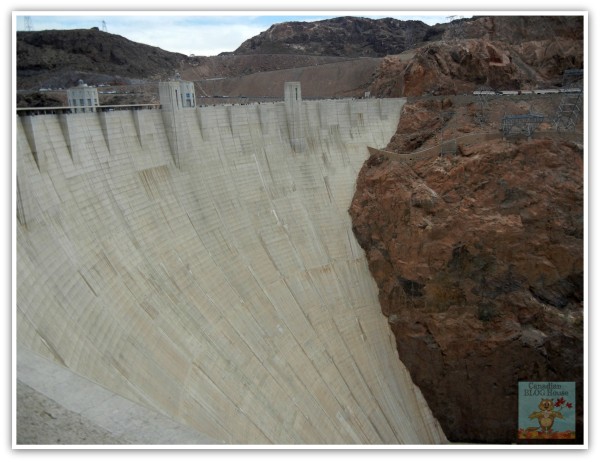 Now really, how terrifying can a dam be? I'm probably not the best person to ask. My answer? Terrifying. At 726.4 feet above the Colorado River, peering over the edge of this concrete wonder is something I simply could not do. Just walking across the length of the Hoover Dam, from Nevada to Arizona, brought on the vertigo…because my brain knew I was mere steps away from this drop off: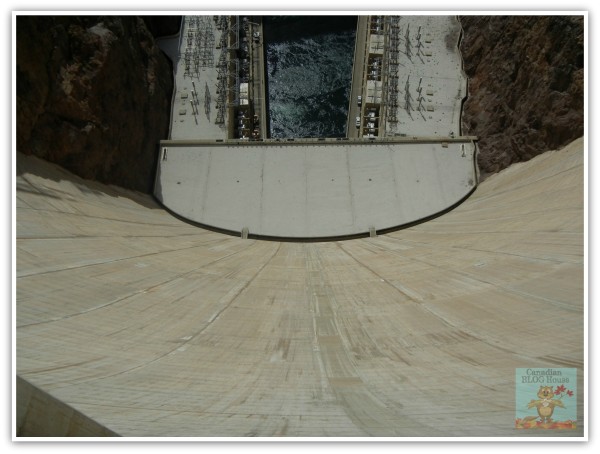 I have walked the Hoover Dam twice, but for me, it was no easier the second time around. Not only does the sheer size of the dam make me feel minute, that "straight-down" view is just something I can't do. There is enough of a view for me around the dam, without having to peer over the edge! Still, I would never miss a chance to visit the Hoover Dam. It is truly amazing!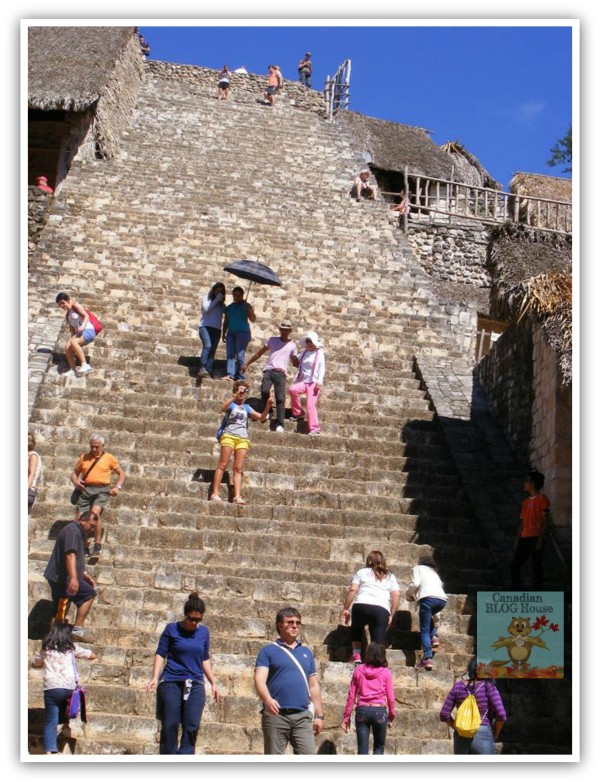 I added this one to my list because my cousin Sue, and her husband, recently visited this amazing tourist attraction in Mexico. When I saw Sue's photo, I knew I had to add this terrifying climb to my list. Sue was the one who took this photo. Take note, Sue was standing at the bottom of Ek Balam when she took this photo – and that is exactly where she stayed! Her hubby braved the climb but apparently, the climb is so steep, it makes you feel like you are going to fall back down the stairs even when you are only part way up! Ack! As beautiful a view as this climb must give you, I just couldn't do it!
The rest of my list terrified me equally – just by looking at them online!
 The Burj Khalifa in Dubai – The tallest building in the world.
Meteora, Greece – Beautiful monasteries perched high up on cliffs…accessible only on foot.
Chamonix , France – A "snowy" version of the Grand Canyon Skywalk.
Blackpool Tower Eye, England – Glass Skywalk atop Britain's famous tower.
Cliff Camping  Ok, um. No. Just no. NEVER!
Have you visited any of the terrifying places on my list? What about other places? I'd love to hear about them!