Destiny USA was one of the road trips we were lucky to be able to take this summer.  Located a 3 hour drive from Ottawa, in Syracuse, New York, Destiny USA is a fabulous shopping, entertainment and dining extravaganza all rolled into one (very large) location.  You may remember my blog post from back in July talking about their great summer deal – the Destiny USA Summer Fun Day Pass.
We got to experience the Destiny USA Summer Fun Day Pass during our visit, filling one entire day with fun, exciting, and breathtaking (literally!) adventures, some great food, and even a little shopping at the end of the day.
The Destiny USA Summer Fun Pass gave us the opportunity to choose from 4 of the 9 amazing entertainment venues that make up this kid (and adult!) friendly destination. It was a hard decision, but here's what we settled on:
Canyon Climb

WonderWorks

Pole Position

 5WITS
I must admit, after successfully completing the Camp Fortune Aerial Park climb earlier in July, I was all gung-ho to strap into my harness and confidently complete the awesome Canyon Climb at Destiny USA.  After all, if this acrophobe could master the Aerial Park, surely I could dance my way across all the ropes and beams on the Canyon Climb, right?
WRONG!!
"Challenge your skills at the Canyon Climb Adventure, the largest indoor suspended ropes course in the world! At nearly 70 feet high at it tallest point, the Canyon Climb Adventure features more than 80 elements and 35 platforms."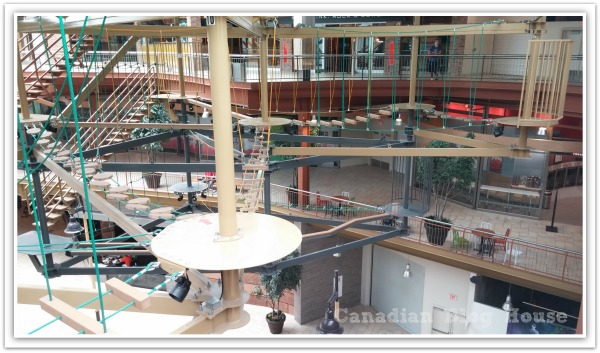 Hanging on for dear life, to the rope and pulley system that was the only thing saving me from imminent death, I gingerly made my way across the first three crossings. Ever walked across a plank of wood that is narrower than a woman's foot? I have! What about walking on that plank as it sits 3 stories above a concrete floor? I have!
For most visitors, Canyon Climb is a thrill. For me, it was SCARY. Terrifyingly so. After my third crossing (over a swinging rope bridge), I looked at my boyfriend and X-Man and admitted that there was just no way I was going to be able to complete the course. I had only been up there 10 minutes and couldn't stop the heart palpitations, profuse sweating, or surges of vertigo roaring through my head. Time for this Canuck to get back down on solid ground!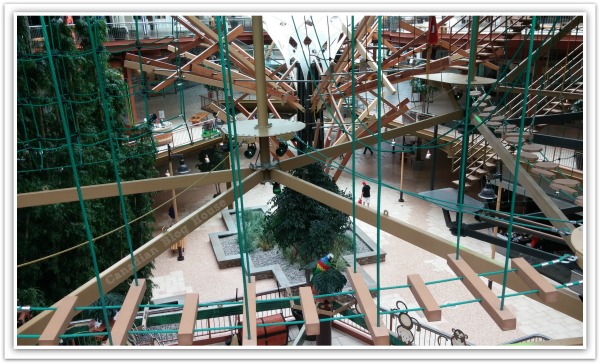 The guys were all ready to keep calm and climb on, however, they graciously joined me as I bolted back to the starting gate. The Canyon Climb staff member noticed the look of terror on my face as he calmly greeted me and helped me off with my harness.  He kindly gave us our tickets back so that we could use them for another attraction.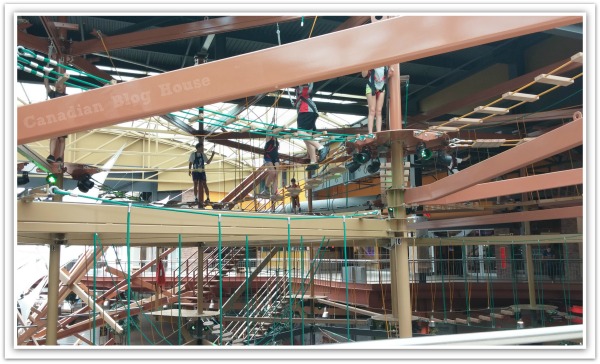 So while we didn't make it across the Canyon Climb, don't let my story scare you. This is a FANTASTIC attraction and I would still highly recommend visitors try it – unless you know for certain that you suffer from a fear of heights like me.  We saw tons of kids, and adults alike, crossing over the beams and ropes, high above our heads, with no fear at all.  Canyon Climb is very safe! You are well secured to the structure, and provided with all safety equipment required.  I was truly disappointed that my fear of heights kept me from accomplishing this adventure.  Maybe next time!
My advice? Be sure to try Canyon Climb when you visit Destiny USA. Don't let my fear stop you!
Aiming to stay on solid ground for the rest of the day, we decided next to visit WonderWorks. This was a must-see attraction for me as I had heard great things about it. WonderWorks did not disappoint.  WonderWorks is rated as one of Syracuse's top attractions, and I can see why.  From the minute you stand in line in front of the ticket counter, the tricks played on your mind begin.  Check out these photos…and keep in mind that what you are looking at is on the ceiling: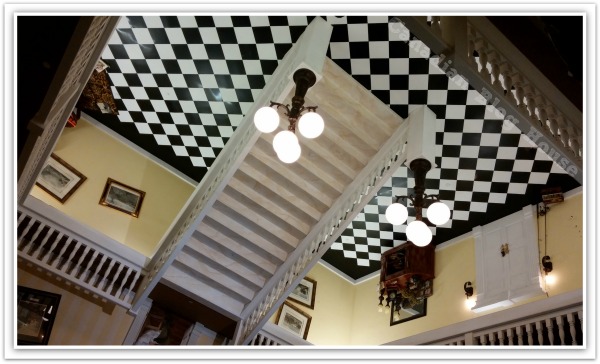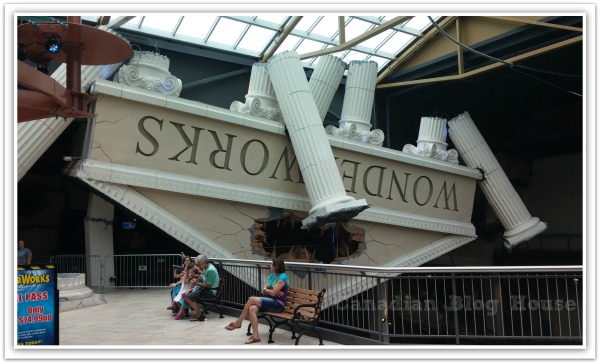 Take a science museum, add a pinch of Chuck E Cheese, stir in a few amusement park stomach-churning rides, add a whole lot of hands-on FUN interaction, and you've got WonderWorks!
Eye-catching, fascinating, educational and fun are words that pretty much sum up Destiny USA's WonderWorks. This interactive family attraction is something that shouldn't be missed if you are visiting Destiny USA.
Experience the Hurricane Shack

See a man-made tornado

Find your house on the giant Google Earth screen

Sit inside a space capsule

Lie on a bed of nails

Experience zero gravity

Play with a giant Lite-Brite

Experience a far out illusion gallery
There is so much to see and do at WonderWorks, you could literally spend at least half your day there. WonderWorks is fun for all your senses!!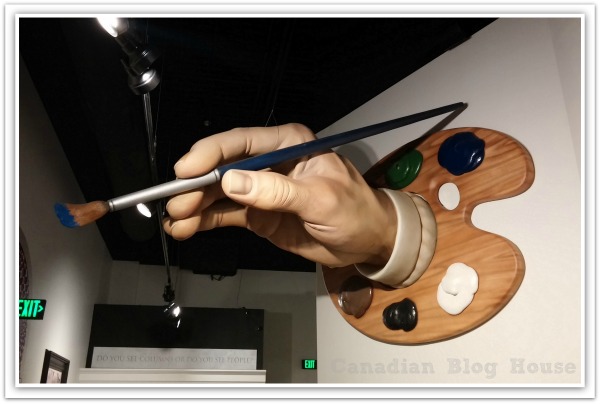 I had some fun of my own in the Recollections Room where I danced to the music and my technocolour image was displayed on the screen in front of me.  I also enjoyed a peek into a life-size replica of a space suit and a space capsule. My claustrophobia wouldn't let me enter the capsule!
Next we ventured on to Pole Position, an attraction I wasn't sure I would like – but ended up loving!  Pole Position is Destiny USA's very own electric go-kart raceway.  I had never driven a go-kart before, and was a little apprehensive about getting on to the racetrack with other more experienced go-kart drivers.  My fears were unfounded though. Once I donned my helmet, sat in the driver's seat and grabbed the steering wheel, I felt ready to hit the road…er…track.

Like we did, if you take part in Pole Position's most popular race format, Arrive and Drive, you will be placed with a few other drivers and compete against them in standard races.  The races last approximately 10 minutes. You are free to drive at the speed you are comfortable with, so for me, that meant slow. LOL. I made sure I stayed over to the right-hand side so that the faster drivers, including my boyfriend, could whiz by me.  The longer I drove, the more comfortable I became with the go-kart, so the faster I was able to go.  I quickly realized how fun it was to take the corners a little faster – it's amazing how the tires grip the track!  We all loved our experience at Pole Position, especially X-Man who got to drive the track for 10 minutes all by himself! Younger riders are placed together in races, and no other young drivers were present during his race.  Lucky kid! X-Man had a blast tearing around the track. I was amazed at how well he drove…and how fast he drove! For those that have safety concerns, rest assured.  Pole Position staff provide great instructions (including a pre-recorded video that must be watched before racing), and all riders must wear a helmet and seat belt at all times.  Staff keeps a close eye on all drivers, and don't hesitate to pull any riders who are breaking rules or being reckless. Pole Position is definitely a great activity for the whole family!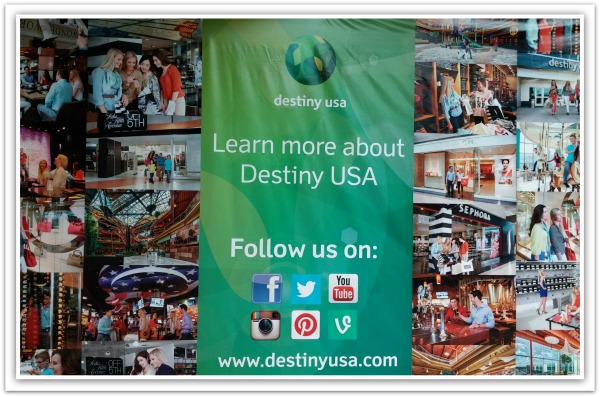 Our last activity of the day was 5WITS. This Destiny USA attraction "
is a cutting-edge, live-action entertainment venue that immerses participants in realistic, hands-on adventures, challenging them to prove they have what it takes to battle a Pharaoh (Tomb) or save the world (Espionage)!"  We decided to choose TOMB, so we placed our imaginary "Indiana Jones" hats on our heads and entered the fight of our lives against an angry Pharaoh.  With a few other tourists working beside us, we set off on an adventure that kept us mostly in dark rooms with very little lighting. This created a fabulous atmosphere for the adventure.  There's no doubt about it, you need your WITS about you when completing all the tasks you need to complete in order to escape your doom.  You need to be able to solve puzzles and mysteries, and work well as a team.  TOMB provides lots of laughs, lots of confusion, and a few scary bits all rolled into one.  Another super fun Destiny USA adventure! 
As great as they are, Destiny USA is not just about all the attractions we visited. Destiny USA is also a prime shopping destination, boasting over 200 retail and dining options.  If some cross-border shopping is your thing, Destiny USA is your shopper's paradise.  For us though, we spent almost the entire day enjoying the entertainment attractions (and eating at the yummy TGIFriday's), that we too tired to spend much time walking around the massive mall.  Our advice?  Enjoy 2 days at Destiny USA. One full day for the attractions, and one full day for shopping.  The stores are large and the great deals are plentiful!
If you plan on being in the Syracuse area, be sure to check out Destiny USA and all their great entertainment venues.  Destiny USA is a Syracuse tourist attraction that should be at the top of your list.  For more information, be sure to visit the Destiny USA website.
For all my readers who love contests, from now until September 7, 2014, you can enter to WIN a $250 Destiny USA Back-To-School Gift Card to spend at 1 of 7 Destiny USA retailers.  I have already confirmed that this contest is open to Canadians…so be sure to enter!!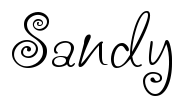 Disclosure:  Canadian Blog House received complimentary Destiny USA Summer Fun Day Passes in exchange for this review.  All opinions are our own.