We recently traveled to Syracuse, New York, nestled in the foothills of the Allegheny Plateau in central New York State, for a relaxing "date weekend" away.
Our objective was to explore another side of Syracuse, one that Canadians often miss as we "shop 'til we drop" at Destiny USA.
We set out to discover some hidden gems in this city known for its salt, china, and glass industries, and what we found surprised us.
Exceptional Eateries In Syracuse New York
Did you know that Syracuse is home to some exceptional eateries?
We were amazed to discover some superb eateries in Syracuse that could rival that of its big sister to the south, New York City.
Great eateries in Syracuse? You bet!
Barney Rubble, BB King, and a Three Any Way.
Modern Malt – I stepped inside Modern Malt, Syracuse's newest diner, located in the historic Armory Square Neighbourhood, and was instantly transported back to my childhood. I grew up in the 1970's, so the sight of the beautiful and bright turquoise and orange seating, decor, and fabrics surrounding me, instantly brought a smile to my face. The chic, retro decor of this downtown diner gives a great vibe to an eatery where patrons are can order their favourite breakfast items – all day long.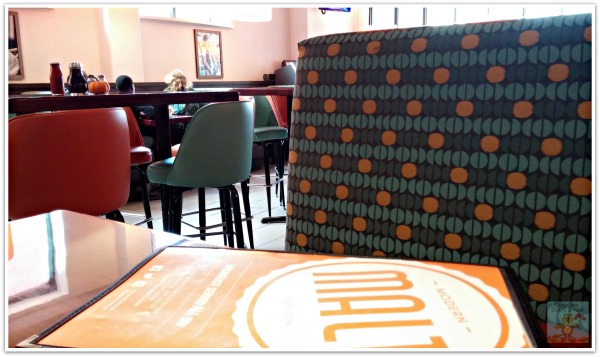 Visiting Modern Malt early one morning, with Nikita from Visit Syracuse, our mission was to experience a few of the decadent breakfasts this fab diner is known for. A peek inside the menu had me giggling within seconds. It did not take us long to make a decision.
A Barney Rubble, A BB King, and a Three Any Way.
I know what you are thinking. It sounds like a title straight out of a naughty Hollywood movie. How the waiter took our order without laughing, I do not know.  For me…giggles.
All silliness aside, the verdict was unanimous. We all loved our choice of breakfast.
While you will have to check out the Modern Malt breakfast menu for yourself to find out what comes with each of these breakfasts, I will tell you two things. One, if you love Fruity Pebbles, order the Barney Rubble. Two, if you love blueberries and Bourbon, you must try the BB King. If you love large breakfasts, try anything that catches your fancy. Modern Malt's breakfasts are huge!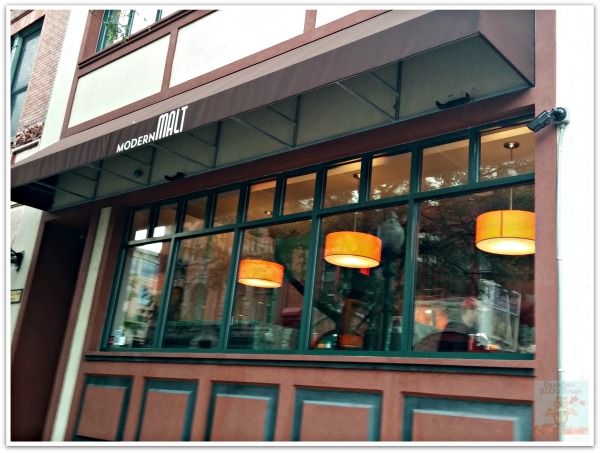 Breakfast out not your thing? No worries, Modern Malt offers satisfying soups, tantalizing sandwiches and burgers…AND POUTINE! I've already got my eyes on the Canadian Gold poutine the next time I return to Modern Malt.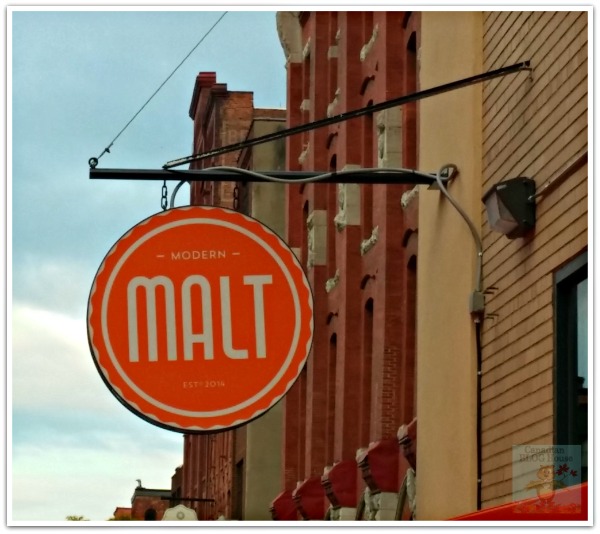 With extended business hours that should please anyone with a late night craving, and those suffering from an end of the week 3AM snack attack, be sure a visit to Modern Malt is on your agenda, no matter your reason for a visit to Syracuse!
Eat Where You Live
Empire Brewing Company – One of EBC's mottos is "Eat where you live", and if I lived in Syracuse, I wouldn't have a problem following this advice having this popular brewing company in the neighbourhood.
After a few trips to New York State over the past year, I've come to realize that this state produces some pretty fine craft beer.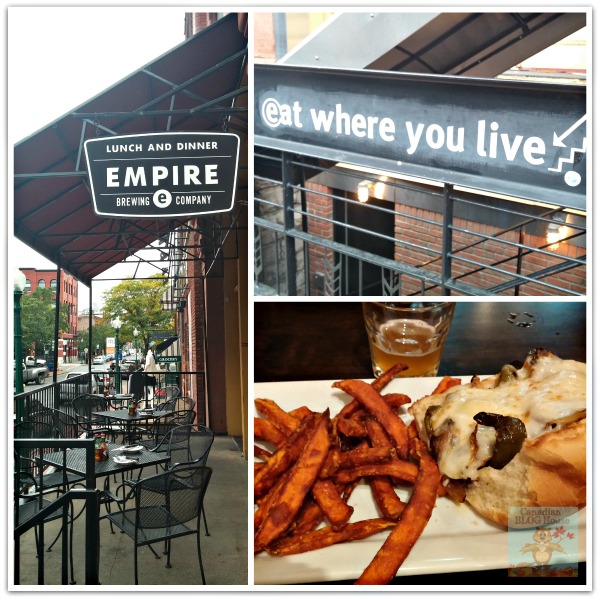 With a focus on sustainability, Empire Brewing Company's Brew Pub offers visitors award-winning ales and lagers that contain fresh, locally sourced products from over 60 Central New York farmers. This "We Grow Beer" brewery is the producer of 45 different ales and lagers.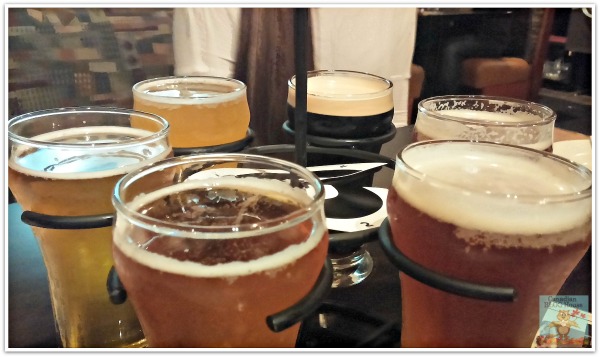 On tap the night we visited, was a selection of six beers which were offered to us for taste-testing. We did not taste an ale or lager we did not like, though one of our personal favourites was a surprise to us. Empire Brewing Company's "east meets west" ale, Two Dragons, is a combination of hops, house ale yeast, malt, and Chinese tea, that creates a tasty, unique flavoured ale.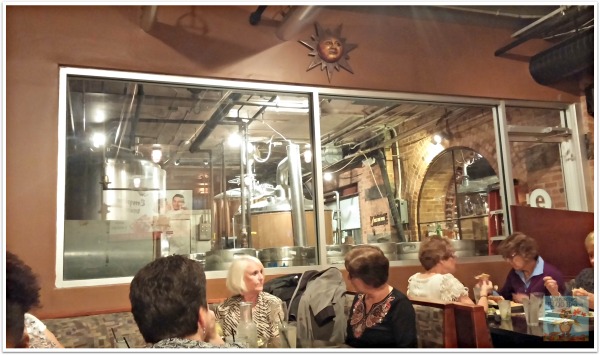 Located in downtown Syracuse, a few steps below street level, the Empire Brewing Company has a very warm and inviting atmosphere. I could easily envision myself there, on a cold winter's night, craft brew in hand, tasty brew pub fare on my plate, and surrounded by good friends.
Empire Brewing Company's brew pub features a large and varied menu, with many of their dishes made with delicious, locally sourced ingredients. This is a menu that has some great comfort food to keep everyone in your group happy.
But don't take our word for it. Take it from singer Josh Groban's 20+ back-up dancers who all dined along with us that night.
Traveler's Come Here To Relax
Sherwood Inn – Nestled on the shore of beautiful Skaneateles Lake, just a short drive from Syracuse, the Sherwood Inn, a meticulously restored inn, has been hosting travelers since 1807, when it originally served as stagecoach stop.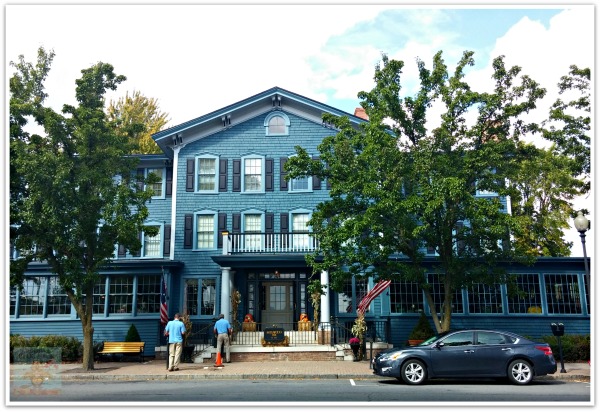 Today the Sherwood Inn hosts guests for dining, events, and pleasurable stays in one of their 25 beautifully appointed guest rooms – each one unique. While it is a large inn, the Sherwood gives you the feel of a comfortable, "at home" experience, the minute you walk through their doors. Surrounded by elegant decor, a visit to this grand inn is a classy treat that we don't often get to enjoy in our world full of chain hotels and cut-and-paste hotel rooms.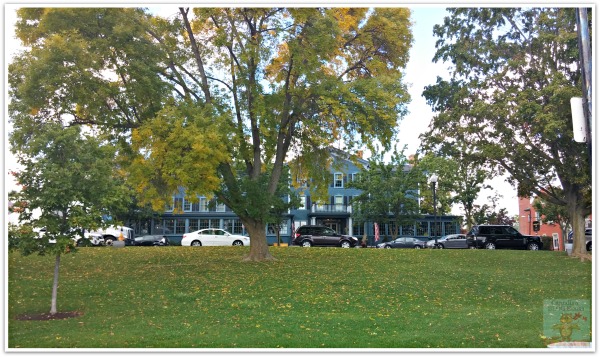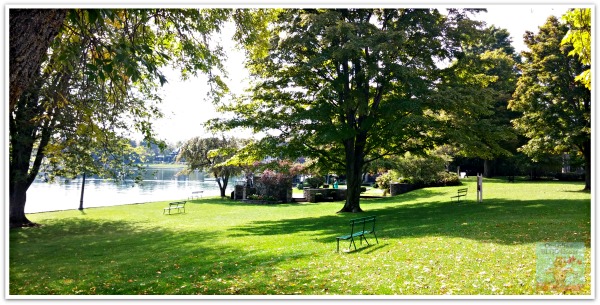 In an exquisite dining room that overlooks the lake, guests can enjoy a fabulous meal at Sherwood Inn. It was apparent to us that guests of the Sherwood Inn enjoy the tasty selection of food offered on the menu. This is confirmed by the fact that the Sherwood Inn sells a cookbook, of their best recipes, on their website.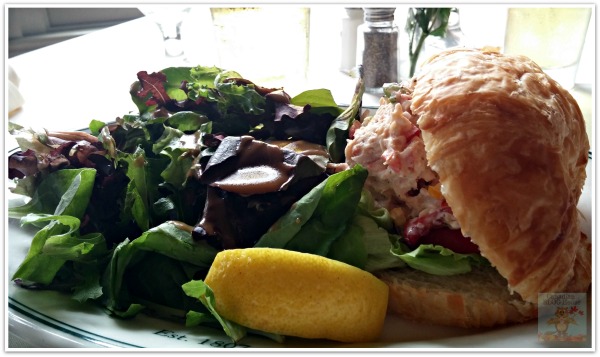 It's evident that the Sherwood Inn is a beloved treasure in the town of Skaneateles. We can understand why, after experiencing a lunch at the Inn. With a warm and inviting atmosphere, beautiful surroundings, great staff, a lovely view of Skaneateles Lake, and food like our Lobster Salad Croissant, what's not to love about the Sherwood Inn? And that Lobster Salad Croissant? If you love lobster…this scrumptious, generous stack of seafood is a must! This lunch may leave you asking "where's the bun?".
The Best BBQ In The Northeast
Dinosaur Bar-B-Que – I'm always a little suspicious of an eatery that boasts that they have the best "fill in your favourite food here" in the west, east, or whatever location they claim to be the best of. I have to admit though, when Dinosaur Bar-B-Que claims to be the best BBQ in the northeast, they are probably bang on.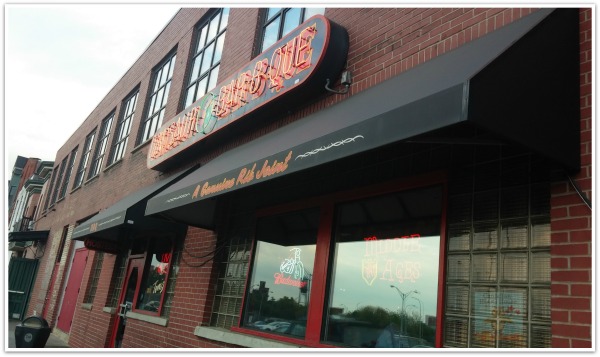 One of the beloved eateries in Syracuse, this BBQ restaurant is actually one of 10 Dinosaur Bar-B-Que locations in the U.S. northeast. The Syracuse location lays claim to the original location which started in 1983 as a mobile concession stand. Syracuse's Dinosaur Bar-B-Que is now so popular, this rib joint does not take reservations. Most evenings, if you don't get there early, you will be left standing in a line-up that will line the street and wind around the corner. It's just that popular.
The wait is worth it though. SO worth it.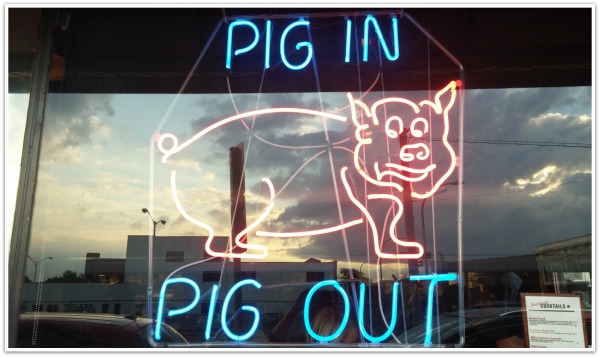 The sign above, located in the window of Dinosaur Bar-B-Que serves as a warning. Go with an empty stomach. You WILL pig out. Literally.
Portion sizes are colossal, menu selection is extensive, and the food?
Sticky-fingered fabulous!
We dug into a rack of ribs, and a "Pick Your Own" combo of pulled pork and BBQ brisket. I've "racked" my brain trying to come up with a more descriptive word that can give you a better sense of how good the food is at Dinosaur Bar-B-Que, but I can't. You'll just have to try it for yourself!
If you are a BBQ fan, and you visit Syracuse, don't miss a chance to get your fingers sticky at Dinosaur Bar-B-Que!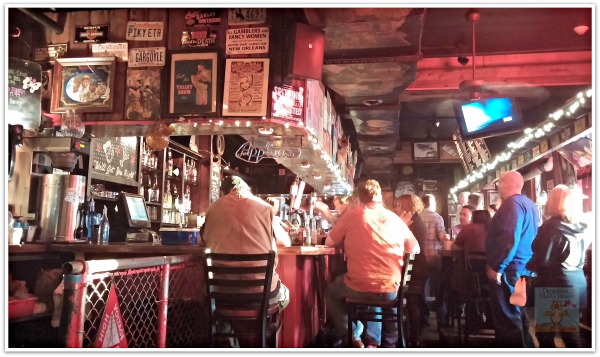 A big thank you to Nikita and Visit Syracuse for facilitating our visits to these great Syracuse eateries. All opinions are our own.