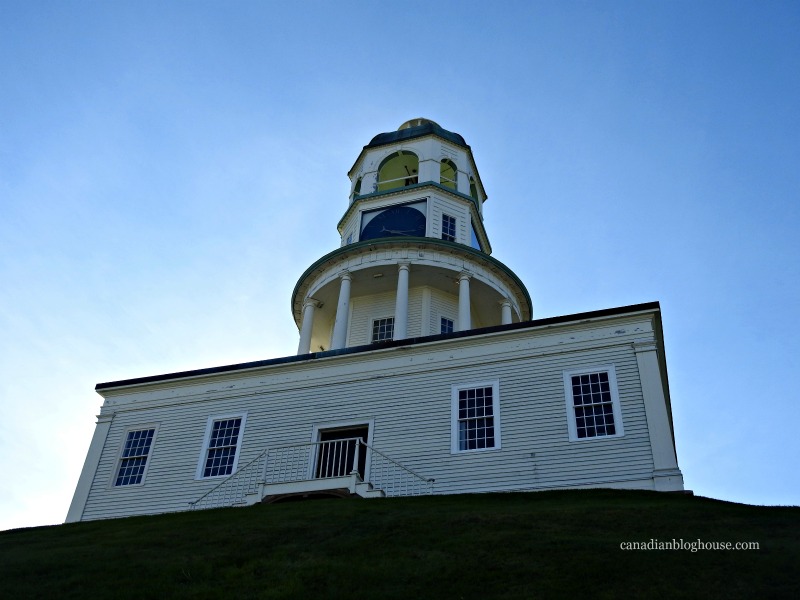 Visiting Halifax Nova Scotia
A weekend getaway to Halifax, Nova Scotia last November, with my friend Lyne, had us eating like the locals – at two of this city's culinary hotspots!
I know what you're thinking. When you hear the words "culinary hotspots", Halifax is probably not a city that comes to mind.
But, Halifax should come to mind. 
That's what we discovered when we ventured out for a couple of meals during our brief visit to this beautiful maritime city.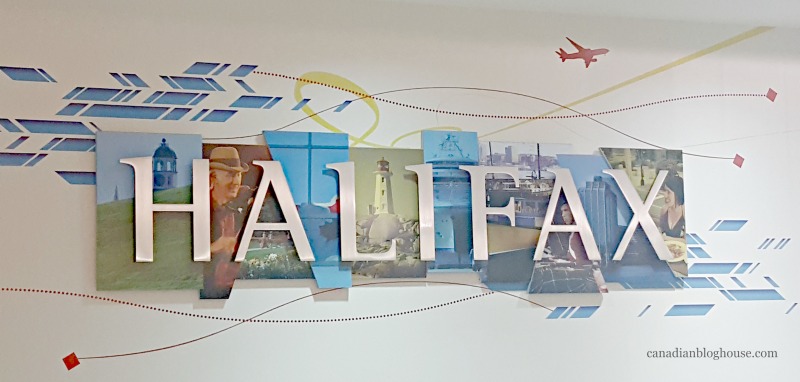 Eat Where The Locals Eat
My number one rule when visiting a new city is to eat where the locals eat. Afterall, no one knows the best restaurants, in any city, better than the locals, right?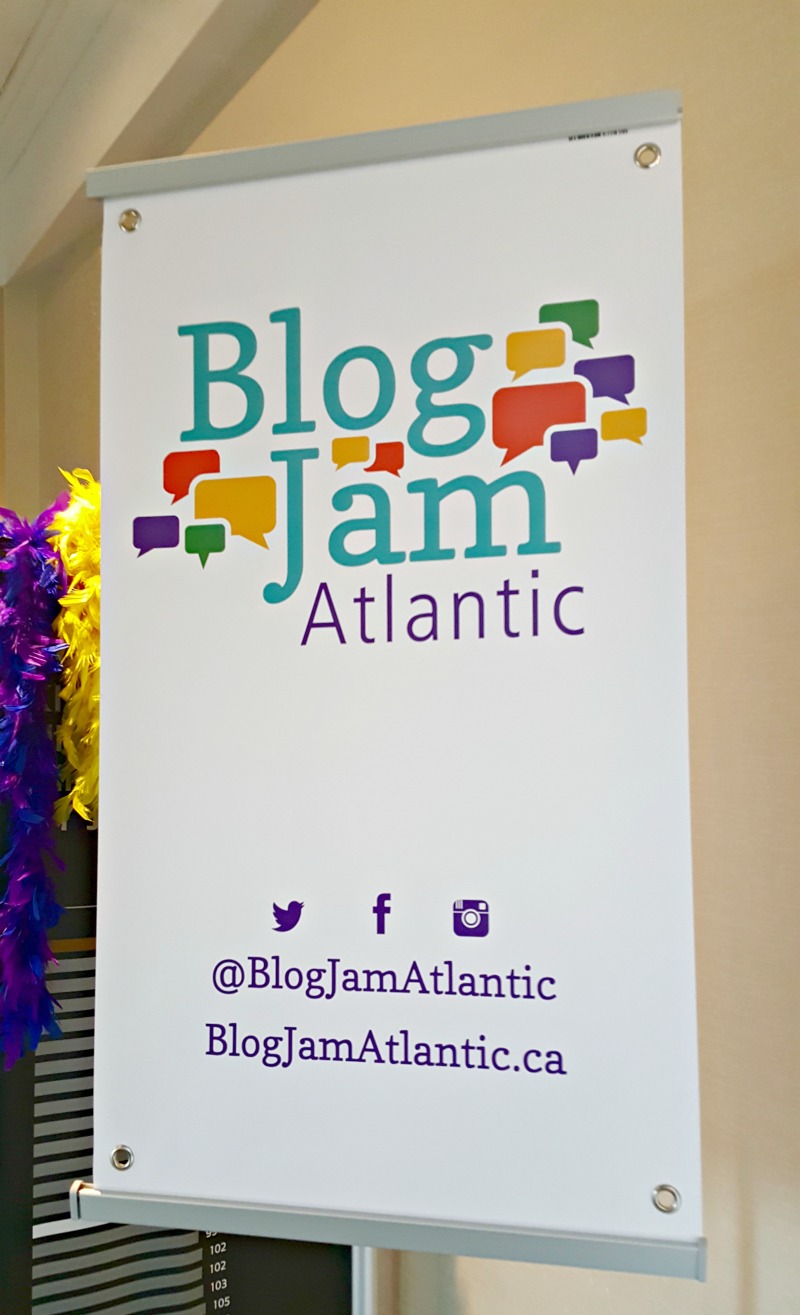 So we put a call out to our friends Renée, Kerra, and Krista, from BlogJam Atlantic, to ask them where they recommend we eat while in Halifax.
They had some fabulous suggestions for us!
We decided upon dinner at The Wooden Monkey, and lunch the next day at The Bicycle Thief.
Don't Miss These 2 Culinary Hotspots
The Wooden Monkey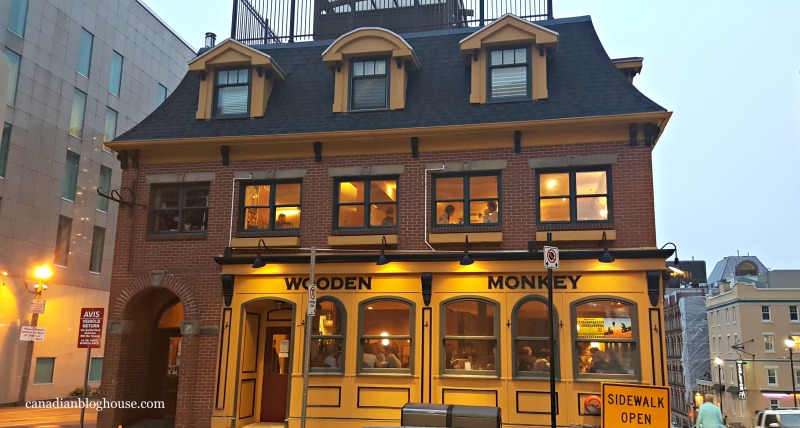 When the BlogJam ladies recommended The Wooden Monkey restaurant, Lyne and I agreed to eat dinner there, our first night in Halifax.
Truth be told, we liked the fact that it was so close to our accommodations at the beautiful Prince George Hotel.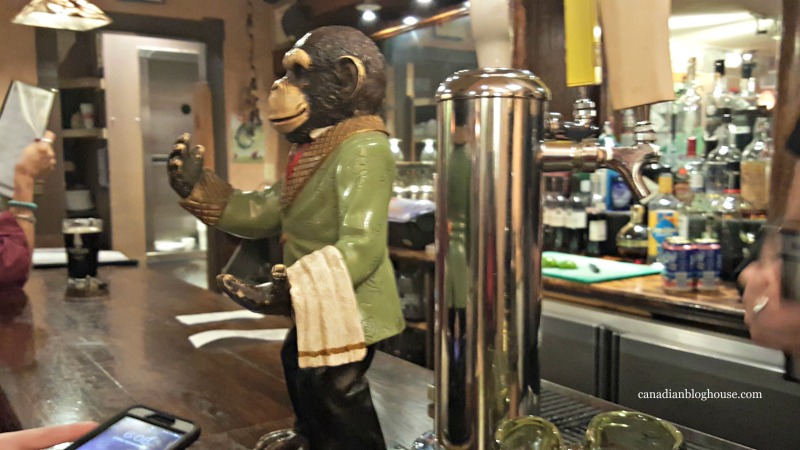 Turns out, I would have walked a lot further just to enjoy a dinner at this restaurant that prides itself on its "vision of supporting as many organic and local farmers as we can by purchasing ALL our beef, chicken, pork, and lamb from NS only."
"The Wooden Monkey strives to support and help grow a healthier, local, sustainable food system here in Nova Scotia."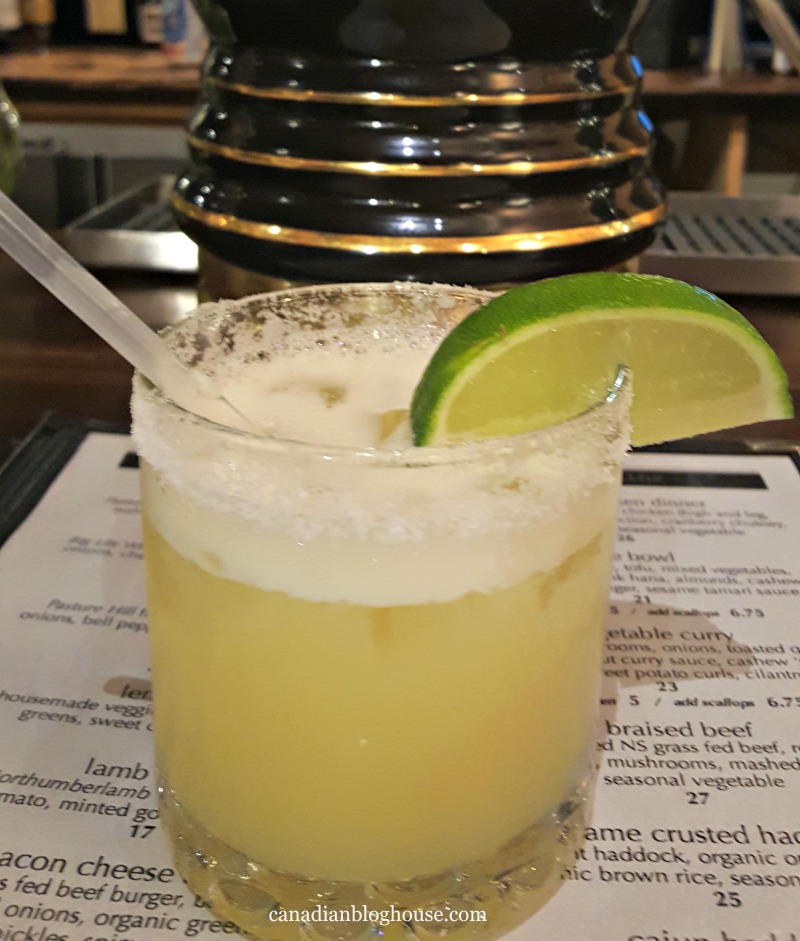 After indulging in a thirst-quenching margarita, I feasted upon this plateful of Sesame Encrusted Haddock, fries, and veggies.
What a taste sensation the haddock was, and the fries and veggies were cooked to perfection.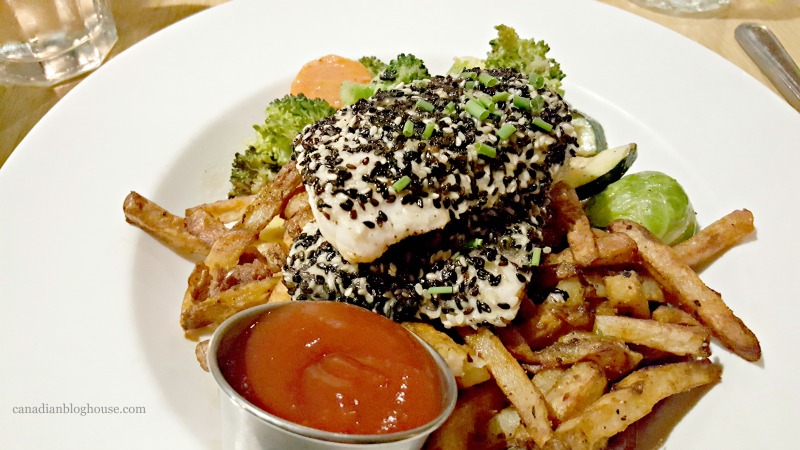 The atmosphere at The Wooden Monkey was warm and inviting. On the Friday evening that we visited, all tables, on both floors, were packed with patrons.
We soon realized how lucky we were to be seated at a table so quickly after arriving. Don't take chances like we did. Be sure to reserve a table in advance if you wish to dine at The Wooden Monkey.
The staff was friendly and attentive, helping to make our overall dining experience at The Wooden Monkey a most enjoyable one.
My biggest problem at The Wooden Monkey that night was narrowing down the choice for my meal. There are just so many delicious menu options at this Halifax hotspot.
So. Many.
Next visit, I fully intend to order the Seafood Chowder. Or maybe the Nova Scotia Salmon. Or perhaps the Fish Cakes. Remember my love affair I had with crab cakes in Florida? I love a good fish cake/crab cake!
So when in Halifax, don't monkey around trying to find a great place to eat. Book a table at The Wooden Monkey and see for yourself!
And…
Read the story behind the team behind The Wooden Monkey. Seriously. The Wooden Monkey team is truly inspiring.
[clickToTweet tweet="Visiting Halifax Nova Scotia? Don't Miss These 2 Culinary Hotspots!" quote="Visiting Halifax Nova Scotia? Don't Miss These 2 Culinary Hotspots!"]
The Bicycle Thief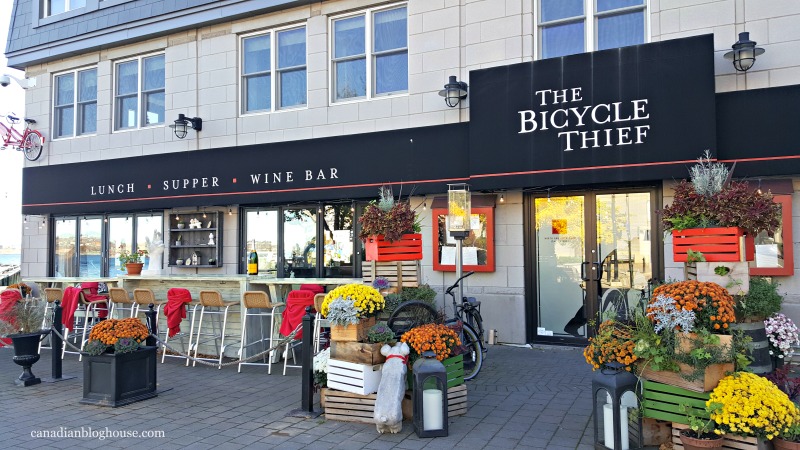 The sign of a delicious meal is a clean plate, right?
More on that later.
Lyne and I spent a beautiful sunny fall morning wandering around Halifax's downtown core and pretty waterfront area.
By lunchtime, we had worked up quite the appetite and had a huge craving for more seafood.
When staying by the ocean, one must indulge in all the seafood they can eat, right? 
Right!
So we followed the recommendation from our friends from BlogJam Atlantic, and popped into another one of Halifax's culinary hotspots – The Bicycle Thief.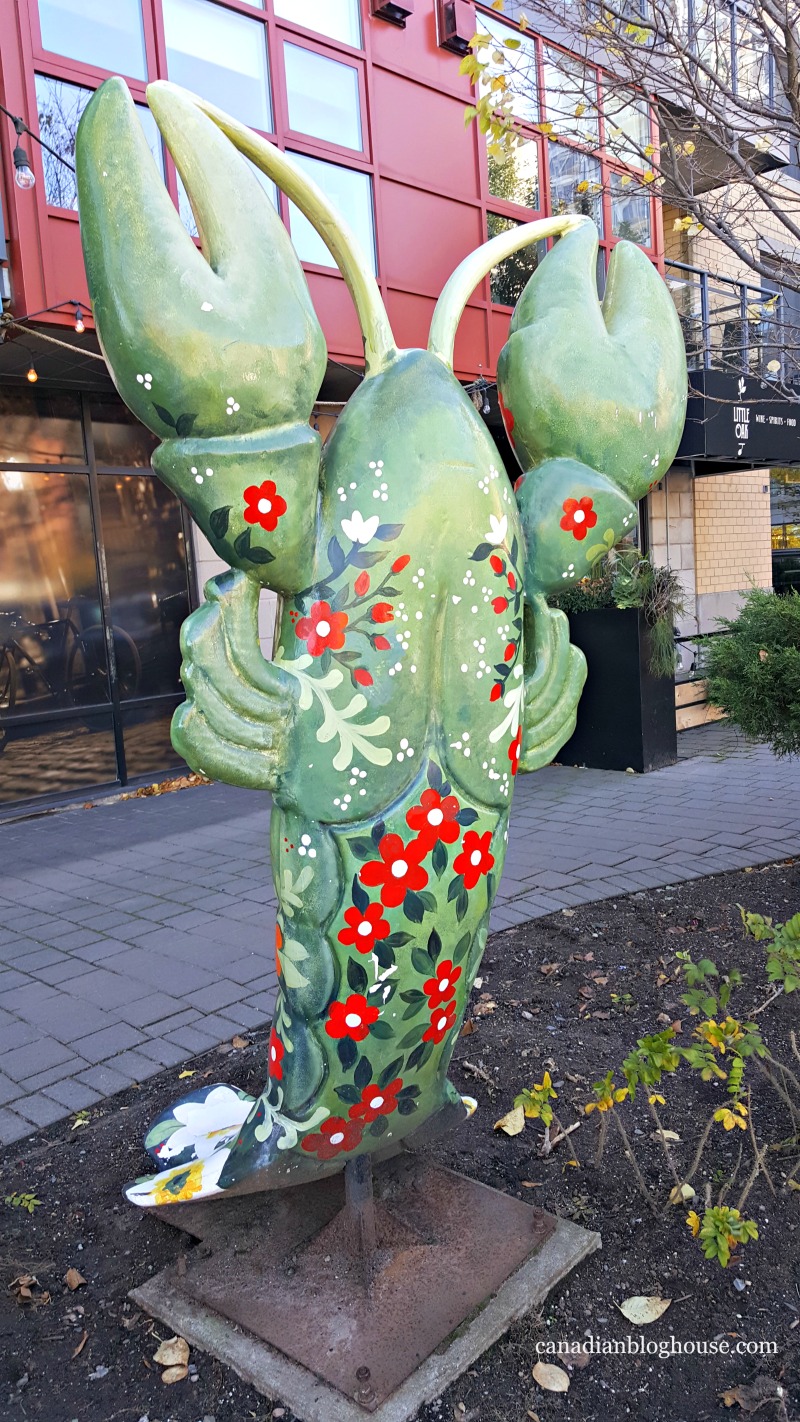 Touted as offering "North American food with an Italian soul – Maurizio's Italian soul!",  The Bicycle Thief features some of Halifax's finest dining, overlooking the beautiful waters of Halifax harbour.
Turns out, the locals love The Bicycle Thief, including our airport limo driver who, when asked where we should eat while in Halifax, said unequivocally –  "The Bicycle Thief!".
Back to my seafood craving.
Funny enough, I did not realize that The Bicycle Thief is an Italian restaurant.
I was in Halifax, I was focused on seafood, and the first – and only – food item I spotted on their menu, was a delicious lobster roll.
How I missed all the other ah-mazing Italian-influenced items on the menu, I do not know.
For me…it was all about this lobster roll…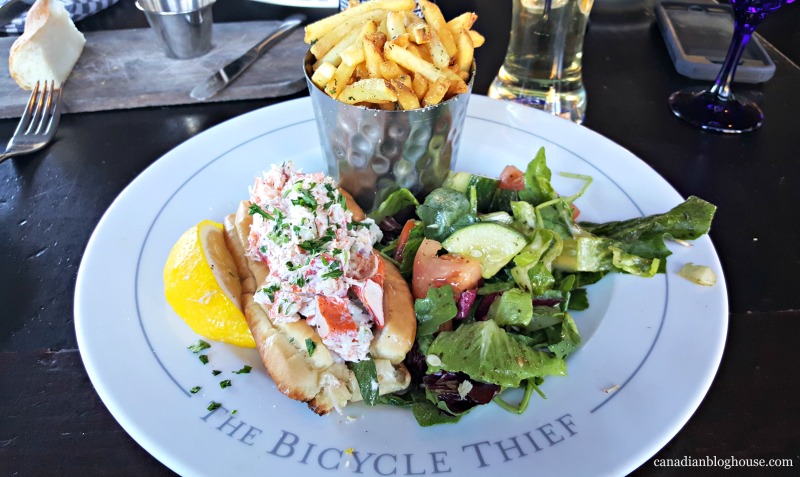 I'm salivating just looking at this photo again.
This was one of the best lobster rolls I have ever eaten…at any seafood restaurant…let alone an Italian restaurant. Just ask Lyne. She had to sit through lunch listening to all my "mmmms".
If you need proof of how much I enjoyed my meal, here you go…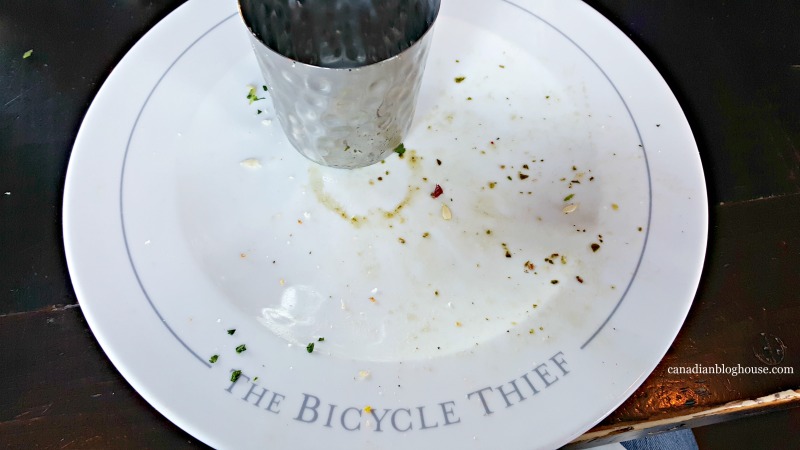 If I could have licked the plate, without looking uncouth, I would have. It was that good.
All of it. The lobster roll, the fries, and the salad.
Even the bread, served fresh before our meal, was delicious.
I can certainly understand Halifax's love affair with The Bicycle Thief.
In addition to the mouth-watering food, great quirky name and the superb location on the waterfront, they also make cold temperatures fun.
Weather-permitting, if you dare, head out onto the patio, sit by the fire, and snuggle up in some faux fur blankets to stay warm. Now that's a great Canadian experience!
Go ahead. Take a peek at The Bicycle Thief's menus, and make a plan to enjoy a meal there next time you are in Halifax!
Just try not to drool on your keyboard!
Halifax Foodie Scene
It's not just because of these two culinary hotspots that Halifax's foodie scene deserves heaps of praise. As we found out, there are plenty of great local foods and beverages to get your taste buds all fired up!
Local seafood tops our list but…think apples, blueberries, and yes – donairs! According to friends, Halifax donairs are a "must-eat" treat when visiting. This means I will have to head back to Halifax one day soon – I've never had a Halifax donair! Have you?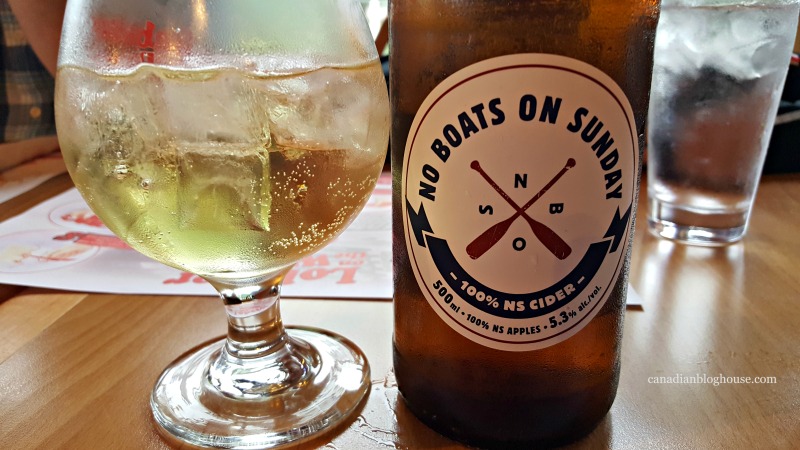 And speaking of Nova Scotia apples, last summer I fell in love with Halifax's No Boats On Sunday apple cider. Funny enough, my love affair with No Boats On Sunday did not begin in Halifax – it began in Prince Edward Island.
Caring About Halifax's Culinary Scene
A nod to the foodie scene in Halifax wouldn't be complete without a shout-out to my cousin, and Haligonian, Adam of Caring Counts.
Adam is in the business of helping businesses "Create personal, emotional, memorable and shareable customer experiences."
One such local business that Adam works with is Kitchen Door, a creative catering company in Halifax.
Kitchen Door offers "scratch" food made with love…where every bite is chef-crafted from scratch.
I learned all about what it's like to run a great "scratch kitchen" down in St. Augustine Florida, so I love the concept behind Kitchen Door.
They sure look like they are on to something good, not only with their catering business but, with their Chit-Chat-Chop Facebook Live series, produced by Adam.
Every Wednesday at 9PM Atlantic time, the folks from Kitchen Door host an hour of fun and laughs, cooking and chatting with interesting people from the Halifax community. Check it out!
I have no doubt that Halifax is home to many other fabulous culinary hotspots! If you know of any others, please share them in the comment section! I would love to know what foodie stops to check out next time we are in Halifax!