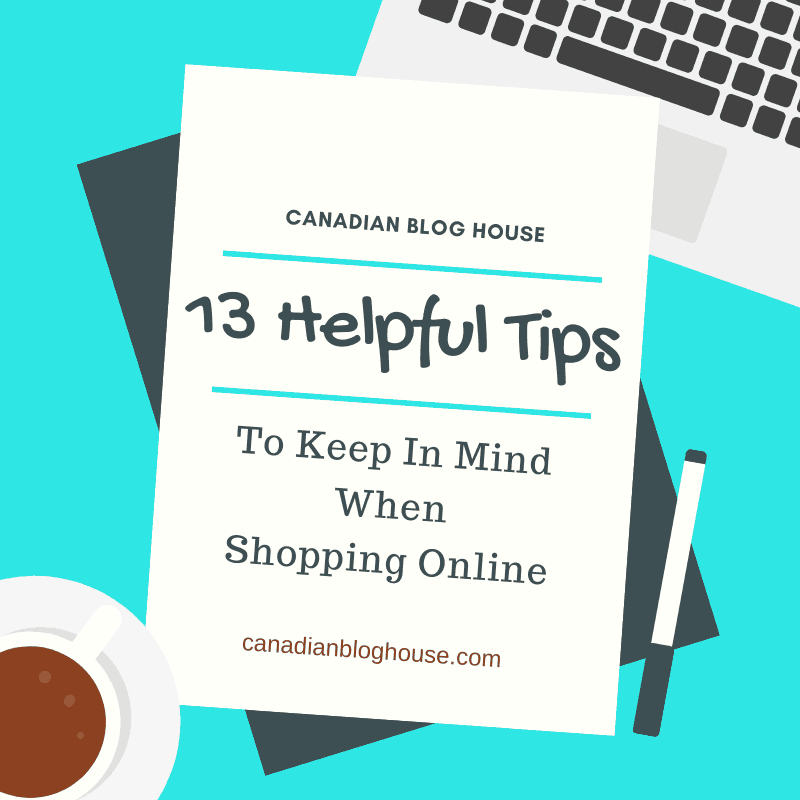 For those of you who love to do your holiday shopping online – and who doesn't when online shopping can save you lots of time and money – here are 13 helpful tips to keep in mind when shopping online:
13 Helpful Tips To Keep In Mind When Shopping Online
Shop At Secure Sites
See that little padlock and the "HTTPS" up in the left corner of this site that come before the URL canadianbloghouse.com? That indicates you are visiting a secure site. We had to purchase a security certificate in order to obtain HTTPS for this site. Doing so helps protect you when visiting Canadian Blog House.
According to Google, "HTTPS (Hypertext Transfer Protocol Secure) is an internet communication protocol that protects the integrity and confidentiality of data between the user's computer and the site."
When shopping online on sites that are NOT secure, you could be risking your private information because sites that "don't encrypt communication between the user and the website – communication may not be secure and the user's interactions with the website can be hacked."
Examples of secure online shopping sites include Parks Canada Shop, and Chapters-Indigo.
Go Incognito
We've all heard of online "cookies". Websites you visit use cookies to compile things like your browsing history. When it comes to online shopping, cookies can be used to remember what has been added to your shopping cart, your name, and shipping address, etc.
Cookies can also be used to store information about what retail items you were previously browsing for. Many people believe that cookies can be used to inflate prices when you come back to a website to purchase a product you had previously looked at on the same site.
Whether this is true or not (and I believe it is based on my own personal experiences), when shopping online, be sure to browse retailers in "incognito mode" which stops your browsing history from being recorded. Don't forget to browse incognito when shopping for travel deals like airfare and hotels also!
Stay Skeptical
Another thing to keep in mind when shopping online – if a deal looks too good to be true, it probably is. This age-old advice definitely applies online where scammers thrive.
Some red flags may include:
poor customer reviews
a website full of spelling and/or grammatical errors
vague/no contact information
insecure site
site not kept up-to-date
no social media accounts
You've Got Mail
Not that any of us need more emails in our inbox but, signing up for a retailer's newsletter could provide you with money-saving discounts, coupons, free shipping promotions, and specials for loyal customers.
Discount All Your Deals
Online discount codes abound on the internet. Before you hit "purchase", be sure you have searched for all available discount codes that may be available to you on sites like Sello. Don't lose out on any potential discounts you may be able to obtain!
Shipped Happens
We all hate paying extra on our online purchases for shipping costs, right? Shipping costs can turn a great online shopping deal into an expensive purchase. Many sites offer free shipping when you spend over a certain amount. Sometimes it is as easy as adding a pair of socks to your total purchase in order to get free shipping.  Always check if a site offers free shipping for spending a minimum amount.
Get Rewarded
You've got your discount code, you've scooped free shipping. Don't forget to get rewarded by using your rewards cards for points, future discounts, or whatever a membership may offer. Your online purchases now could result in free merchandise or hotel stays later.
Just Popping In
If you are anything like me, you find pop-up boxes on websites highly annoying. There is, however, one pop-up box you may want to pay attention to when shopping online – those pop-up chat boxes that ask you if you have any questions or concerns while you are browsing a site.
If you are actually thinking of making a purchase on the site, and one of these boxes pop up, why not ask them if they have any promo codes for you that can help you save money on your purchase. It never hurts to ask!
Are All Devices Treated Equally?
I am not sure what truth there is to this, however, I've heard rumours that not all devices are treated equally when it comes to the pricing you will receive when shopping online at some retailers.
Could high-end mobile phones and laptops cost you more when it comes to online shopping? I don't know but, you may want to try accessing the same site using different devices next time you shop. Anything that could potentially save you some cash is worth trying!
Happy Birthday To You
Many retailers, restaurants, and online shops will offer you a special "gift" on your birthday simply for signing up for their newsletter. This birthday gift may include a special discount, a coupon,or even a free meal or appetizer at your favourite restaurant.
Take Your Time
In no rush to receive the items in your shopping cart? You could leave them sitting in your cart and walk away for a day or so. When you do this, some retailers will end up emailing you a reminder notice that you have items sitting in your cart – and include a code for an extra discount if you finalize your purchase. I've had this happen to me.
Just keep in mind that, by leaving your intended purchases in your shopping cart, you may lose out on the item if it's out-of-stock by the time you finalize your purchase.
Shop Tuesdays
Personally, I like to do my online shopping on Tuesdays if I can. Online retailers seem to offer better deals on this day of the week. For example, VIA Rail offers their best deals on rail travel on Discount Tuesdays.
Get Social
If you are here reading this, chances are you love shopping, the internet, and you probably have several social media accounts. Be sure to follow your favourite brands and products on their social media channels. You will often find these channels are a great place to find sale info, discounts, coupon codes and product giveaways.
Online shopping is here to stay in Canada, where online shopping is expected to "reach roughly $39 billion by 2019".
Do you like to shop online? Have you got any helpful tips to keep in mind when shopping online? We'd love if you'd share them in the comments below!