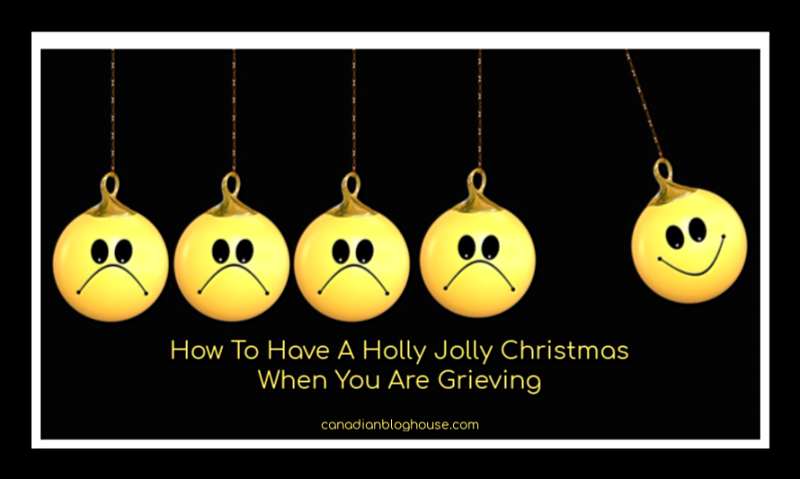 Canadian Blog House received compensation for this post from BetterHelp.com, in order to bring you suggestions on how you can still enjoy the holiday season even when you are grieving the loss of a loved one. All opinions are our own.
The holiday season can be such a difficult time of year when you are grieving the loss of a loved one.
Grief is like that mean ol' Mr. Grinch. It can rob you of your holiday spirit when you least expect it.
It has been just over 2 years since Mum passed away. The grief I experience from the loss of my mother will never go away but, somehow it becomes "easier" to deal with.
Sort of.
I am okay…most days.
Then, all of a sudden, grief slams into me out of nowhere, like it did a few days ago.
A good friend of mine shared a video which shows a grown man sitting down to listen to a series of messages recorded by his mother over a number of Christmases. The video (an advertisement) shows this man listening to the last Christmas message his mother recorded for him before she passed away. This video, "Love Is A Gift", has gone viral.
"So this is it…my last tape . I wish I could keep talking to you every Christmas but, it's time to say goodbye. Just remember how much I love you. Never forget that, okay? I will always be your mum."
That did it for me.
All. The. Feels.
A river of tears ran down my cheeks. I was a mess. Mascara everywhere.
Another good friend of mine commented on the same post. She could relate. She has also lost her mum.
Grief can hit at any time, in any place, and under any circumstances but, it often hits hardest during the holiday season.
For me, not only do I miss Mum the most over Christmas (because Christmas was always something she made very special for me), I also miss her because Mum's birthday was on Christmas Day.
This year, we will be celebrating our third Christmas without Mum with us. While my grief may not be as raw as it was the first holiday season without her, it's still a difficult thing to truly be able to enjoy the holidays without her.
So I've managed to find some ways to help me cope with that grief, and embrace the holidays.
If you are having a hard time coping with the loss of a loved one this Christmas, I hope some of these suggestions may help you too…
11 Ways To Help Yourself Have a Holly Jolly Christmas When You Are Grieving
Don't Be Afraid To Cry
Over time, grief will come and go and will hit you when you least expect it. When it does, don't be afraid to cry. Crying helps us release those feelings of grief. We all need a good cry once in a while!
Tame That Green-Eyed Monster Called Jealousy
Social media can make it especially hard for those that have lost a close loved one, like a parent.
Just seeing friends post on social media about their get-together with their parents, celebrating Mother's or Father's Day, can be a trigger for grief and bring on feelings of jealousy.
Acknowledge that jealousy but, don't let it take control of your emotions. Your friends aren't posting their stories and photos to upset you. They are celebrating happy times with their family and are not in the same situation as you.
Taking time away from social media may be a good decision for you until you feel better able to cope with your feelings.
The Best Of Times May Still Be Hard
No matter how good you feel, you can still experience grief at the best of times.
In the midst of a wonderful celebration, you may find yourself missing your loved one. The urge to share that great celebration with them can remind you of how much you miss your loved one. This is normal and you will likely experience this often.
Say Their Name
In a nod to Bryan Cranston's character in Breaking Bad, Walter White says it best…"Say my name!"
Talk about the person you miss. Bring them up in conversation. Share funny stories and cherished memories about your loved one.
One day, saying their name will bring a smile to your face instead of tears to your eyes.
Don't Be Hard On Others
Most of us have experienced the loss of a friend or family member. While all losses are difficult, losing a parent, is likely the most heart-wrenching loss many of us will ever experience.
If friends and family in your life have not experienced this type of loss, it may be hard for them to truly understand how you feel. That doesn't mean they don't care and don't sympathize with you. Try not to be hard on others who can't possibly relate to how you are feeling.
Reach Out And Acknowledge Another Person's Loss
There will be many people around you who can relate to your loss. Reaching out to other's who have lost a very important person in their life, can actually help you come to terms with your own loss.
I have a number of close girlfriends who have also lost their special moms. Chatting with them about how they feel, and what they have gone through, has helped me deal with my own grief.
Don't Feel Obligated To Celebrate
Sometimes, no matter how hard we try, we just can't muster up the energy to celebrate anything when we are grieving – and that's okay.
Give yourself permission to take a pass on a holiday party or get-together. There's nothing wrong with taking a pass on a few things that you simply don't feel like celebrating – as long as the feelings of grief aren't causing you to miss out on everything!
Just remember…your loved one would never want you to grieve so hard that you continue to miss out on your own life.
Seek Help From A Qualified Therapist
Grief is normal, and we all experience it in some way. If, however, it feels like your grief is overwhelming and causing you to miss out on day-to-day activities and all special occasions, it may be time to seek help from a qualified therapist.
A qualified therapist can help you work through your grief and provide you with tips, advice, and tools that can help you move on with your life.
Enjoy Old Traditions – Or Start New Ones
For some, carrying on holiday traditions can help surround you with happy memories of your loved ones. For others, these traditions and memories can bring on grief.
Do what works for you. If it's too much for you to bake those family favourite cookies your mom always used to bake at Christmas, start a holiday baking tradition and make your own favourite holiday dessert.  Family traditions are great if they make you smile – not if they make you sad.
Honour Those You've Lost
Sometimes it can help to publicly acknowledge and honour a loved one who has passed away. Making a donation to a charity they once supported, volunteering to help out in your community, or pouring your grief into you own passion, can help immensely.
For me, writing this post about losing my mum truly helped my grieving process.
In fact, any time I write about my mum, it helps me to grieve her loss, and remember all the wonderful memories I have of her.
I take comfort in the hopes that my words will help comfort and provide advice to others going through the same thing.
Focus On The Family You Have With You
Don't let your grief cause you to miss out on spending time with friends and family who are still with you. Cherish those that you have in your life. Watch out for others around you who may be continuing to experience their own grief. Reach out to them. It may help you both!
Do you have a tip that helps you cope when you are grieving during the holiday season? Please share them in the comments below!