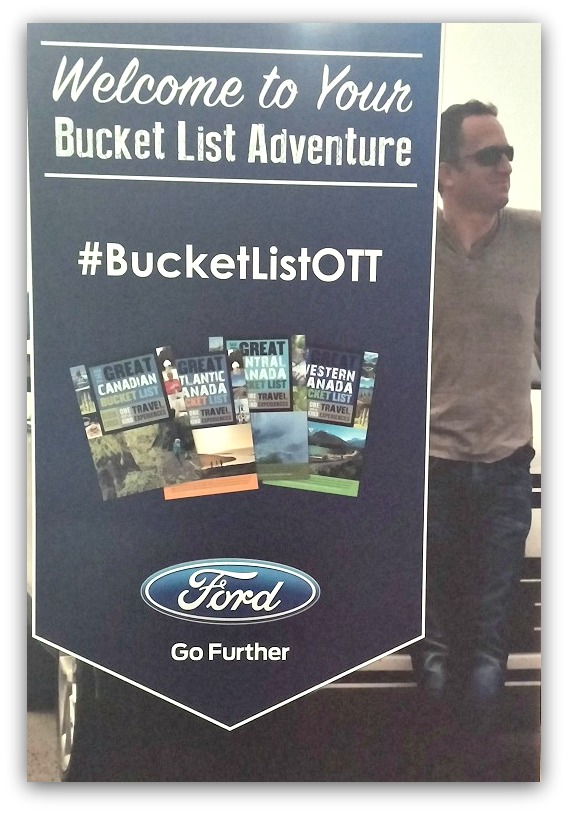 Have you got a bucket list? I do, and as my Twitter bio says, I'm always working on my bucket list.
Bucket List:  – a list of things that one has not done before but wants to do before dying
– from the phrase "kick the bucket" (to die)  *source: merriam-webster.com
The older I get, the more I like to work on checking things off my bucket list.
Like doing a free fall jump onto a giant air bag. Or riding in a Ford Escape Titanium on my way to hear Robin Esrock talk bucket lists…from deep inside the Diefenbunker.
Contrary to popular belief, we do not need to travel to the ends of the earth to check items off our bucket list. As Robin told us, bucket list items can be close to home – like mine were on this windy day in April in Carp, Ontario, just outside of Ottawa.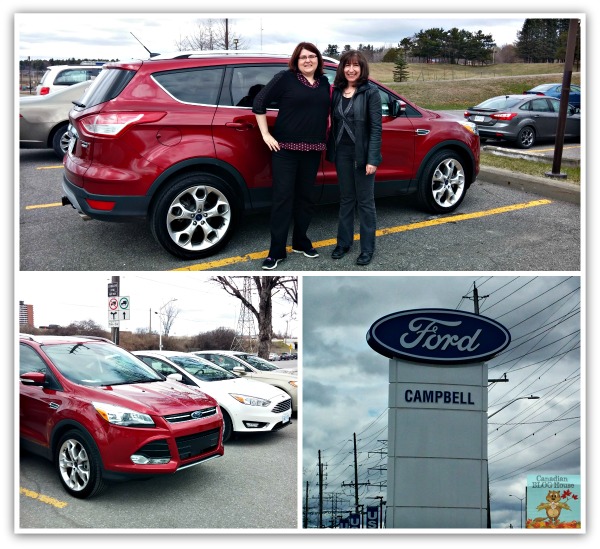 Vanessa and I at Campbell Ford – Ottawa
Our bucket list adventure started at Campbell Ford in Ottawa where my friend Vanessa (from Turnipseed Travel) and I climbed into this beautiful red 2015 Ford Escape Titanium for our mini road trip out to the mysterious Diefenbunker.
I let Vanessa do the honours of driving the Ford Escape Titanium. Vanessa thinks I graciously handed over the controls of this beautiful beast to her, however, I had other selfish plans. I wanted to play passenger so I could check out all the fabulous bells and whistles of this impressive vehicle (you won't share my devious secret with Vanessa, will you?).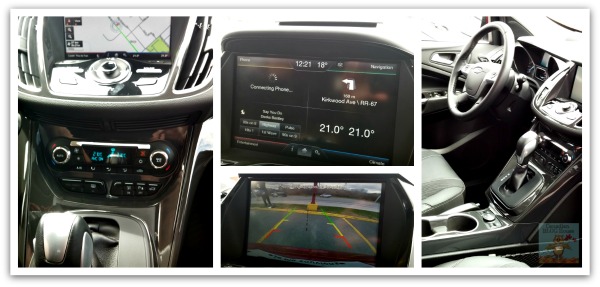 Interior of the 2015 Ford Escape
Our bucket list test drive made me realize that the current car I am driving is sadly lacking in a couple of  "must-have" features that I can't believe I'm presently living without:
Button ignition (who knew the car key may soon be on the endangered species list?!)
Rear View Camera – with 4.2-inch screen (as someone who hates parallel parking, or backing in or out of a parking spot, for me, this feature is a true gem).
There was a lot more that intrigued me about the Ford Escape, including the fabulous Moonroof, and the large windows with great sight lines. While large windows with great sight lines aren't features that are important to everyone, they are to me. My current vehicle has horrible sight lines at both corners of my windshield due to the width of the interior moldings. I loved how I could easily see everything around me in the Ford Escape. This smooth-riding SUV is super roomy and ready to carry all sizes of family members, pets and related cargo, yet gives you the feeling you are riding in a mid-sized car. This Ford Escape gave us a great ride out to our destination – Diefenbunker – Canada's Cold War Museum.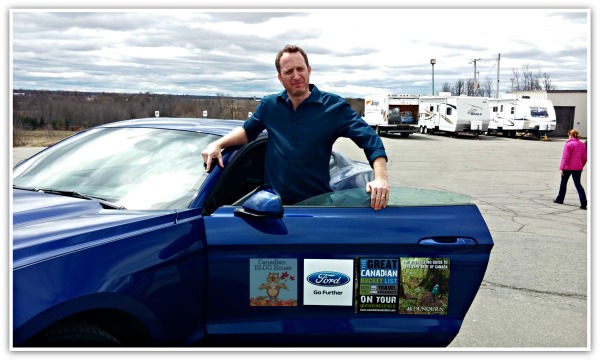 Robin Esrock posing with his cross-Canada ride – a 2015 Ford Mustang!
LIFE IS JUST AN ACCIDENT WAITING TO HAPPEN…
It was outside the Diefenbunker that we met our special guest – Robin Esrock: Bestselling Author, Speaker and TV Host.
As Robin's bio states, it all started with an accident…
"Robin Esrock's success as a global adventurer, travel writer, bestselling author and international TV personality is no accident, although it did start with one. Struck down on his bike at a Vancouver intersection, Robin hobbled away with a broken kneecap, and one year later, a modest $20,000 insurance settlement. It was just enough for him pack up his things, quit his job, and set off on a one-year solo round-the-world backpacking adventure to 24 countries. Committed to record his year of living dangerously, he uploaded weekly reports, photography, videos, reviews, and interviews with every person he met. In doing so, he pioneered a new era of multi-platform, switched-on and wired-in travel journalism, leading to adventures beyond his wildest dreams."
Listening to Robin's story was nothing short of inspiring. Robin took a horrible experience and literally took his life down a whole new road, a road that has led him from coast-to-coast in Canada…and beyond!
For anyone who already knows Robin, his work, and his many accomplishments, knows that he is a fascinating man with many fascinating stories. After all, he has checked plenty of items off his own bucket list, including drinking a "sour toe cocktail" in Dawson City, Yukon (yes you read that right – Google it!).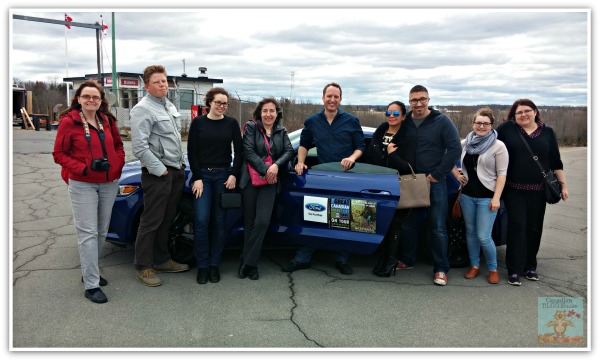 Robin's most recent bucket list adventure is what brought him (and his mother!) to Ottawa recently. Robin is on a cross-Canada tour promoting his newest book, The Great Canadian Bucket List.  For someone like me who has a passion for experiencing fun, new and interesting things and destinations, I consider Robin's latest book my new favourite travel guide. A quick flip through the pages of The Great Canadian Bucket List and I can see there are pages full of places I have yet to visit, and things I have yet to try.
What I love most about Robin's concept behind his book is that every item on his bucket list must be something that everybody has the opportunity to enjoy.  So while climbing Mount Everest (like my brother-in-law did) may be on your bucket list, the world's tallest mountain would not make it into Robin's book.
My favourite bucket list story Robin told us about that day? It was the story of his road trip adventure crossing Labrador on the Trans-Labrador Highway. If you've ever driven the Trans-Labrador Highway (and most of us haven't!), you would know that this 1,246 kilometre highway is one of the most isolated (and beautiful!) drives in Canada. Robin crossed this (mostly) gravel-covered highway (800 km of gravel) in a Ford Escape – with street tires. Ask any local and they would tell you that Robin was nuts to travel this highway in anything less than a heavy-duty truck. After all, we are talking about a very long and rugged stretch of highway, where the government of Newfoundland actually provides travelers with a free emergency phone before setting out on any road trip crossing the highway.  A highway where one road sign you pass reminds you it is 240KM to the next gas station. According to Robin, the Ford Escape was "a mighty white bullet", able to handle any obstacles they encountered while crossing this amazing part of Canada.  Too bad the Ford Escape couldn't help Robin deal with the giant-sized mosquitos that would dive-bomb him whenever he set foot outside the SUV!
So after this great afternoon in the lovely town of Carp, I managed to check 3 things of my own bucket list:
ride in a 2015 Ford Escape
meet Robin Esrock in person (and get an autographed copy of his book!)
take a tour of the infamous Diefenbunker
Oh and….visit the town of Carp for the first time in my life!
Speaking of the Diefenbunker…I learned a lot of interesting information about Canada's cold-war bunker, but you'll have to stay tuned for a whole other post about that! For now, this information is staying top-secret!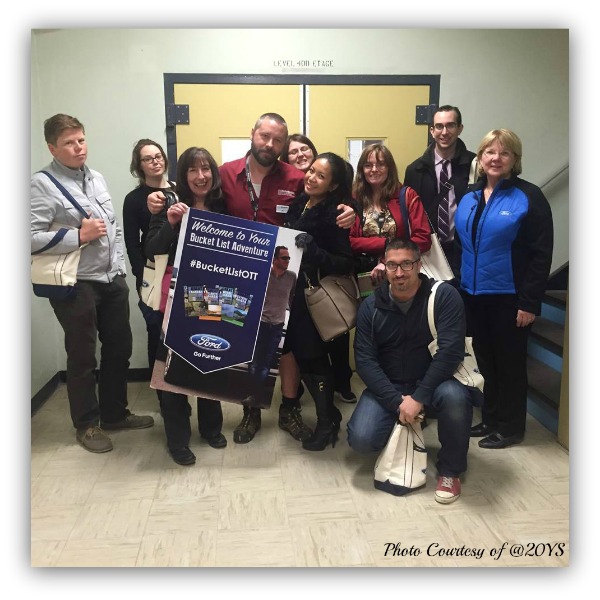 Group shot at the Diefenbunker courtesy of my friend, Marilou, from the fabulous blog 20 York Street
A huge thank you to Robin for coming to Ottawa to share all his entertaining stories with us, to Campbell Ford/Ford Canada for letting us try out some of the latest and greatest Ford vehicles, and to the wonderful Melissa from National PR for organizing this fantastic #BucketListOTT event!