Ottawa NBA fans turned out in full force last night for the #NBACanadaSeries game featuring the Toronto Raptors versus the Minnesota Wild!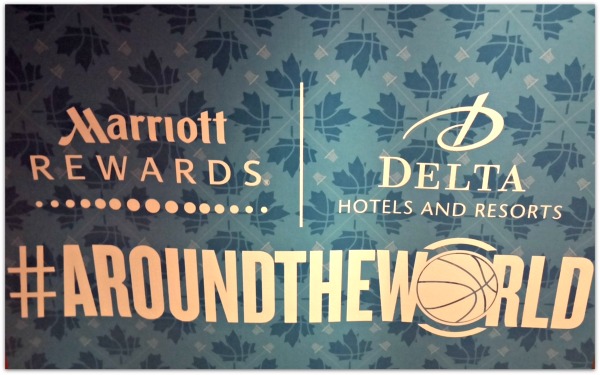 Thanks to Marriott Rewards and Delta Hotels and Resorts, I was invited to attend this special NBA game in the Marriott Suite at Canadian Tire Centre in Ottawa. As a long-time Raptors fan, I was super-excited for this opportunity. Making things even more fun was the fact that I was going as the guest of my friend, and fellow blogger, Julie from Coffee With Julie.
An evening of food, drinks, friends, an NBA legend, and a fantastic NBA basketball game – what more could a basketball fan want?
The great thing about our evening in the suite with Marriott Rewards was the fact that it wasn't just a blogger event. Did you know that Marriott Rewards members often get special perks like this for being a member of this frequent traveler program?
As a Marriott Rewards member, you can enjoy exclusive member privileges when you travel, as well as a choice of frequent flyer miles in preferred airline program, or points toward free vacations. This includes Delta Privileges members who are now a part of the Marriott Rewards program.
So thanks to the Marriott Rewards program, a few of their members also got to enjoy this exciting evening in the Marriott suite high above the NBA Canada Series basketball court.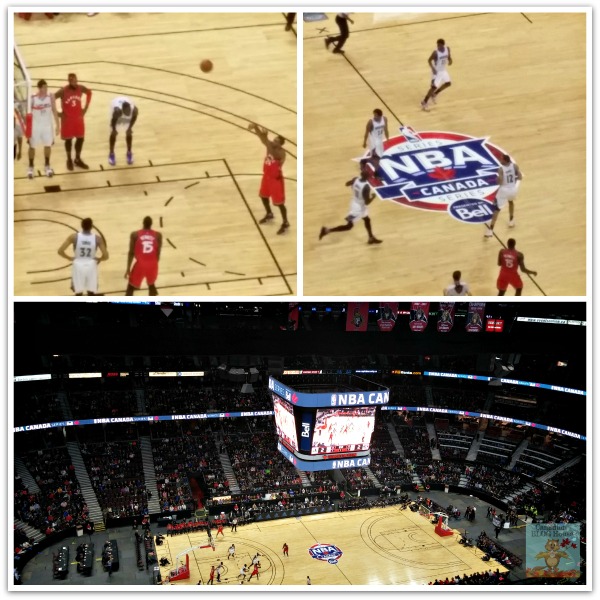 It was a terrific night for sports fans in Ottawa. It's not often we get to see an NBA game live and in person. Some video screens at the Canadian Tire Centre were also showing the Toronto Blue Jays game, making this an extra-special night for Blue Jays fans when their favourite baseball team won the game against the Texas Rangers, advancing the Jays to the ALCS for the first time since 1993.
Speaking of the 1990's, that was a decade I remember fondly, watching NBA games featuring some of my all-time favourite Raptors including Muggsy Bogues, Antonio Davis…and Chauncey Billups.
A Meet And Greet In The Suite
Have I mentioned how much I love the new social media app called Periscope? Thanks to Periscope, I was able to bring some of the fun from last night's #NBACanadaSeries game to you, live from the Marriott Rewards Suite! A special thank you to those of you who watched and gave hearts! If you missed my broadcasts, no worries, you can watch them here.
In this first broadcast, you may recognize a few other Ottawa bloggers who were there with me. Of course, as with any live broadcast, things can go wrong. All was good until the end.
It's okay. You can laugh. When my phone locked up, and we couldn't stop the broadcast, all Julie and I could do was laugh. Fits of giggles followed.
***Content no longer available***
Determined not to let my phone stop me, I went on to broadcast our fabulous meet and greet with NBA legend (former Raptor AND Timberwolf), Chauncey Billups. Only problem…in my excitement to meet Chauncey, and have my photo taken with him, I completely forgot about my camera angle. Let me tell you, I won't be winning any awards for this one!
***Content no longer available***
Chauncey graciously greeted all of us one-on-one, and stayed for autographs after the photo opportunities. I had the chance to have a quick chat with Chauncey, and stumped him with a little trivia when I asked him if he knew where the 24 second shot clock was invented. He didn't know. Do you? You can find the answer in one of my recent posts.
This is not a very flattering photo of me but, hey, it shows my excitement at meeting Chauncey!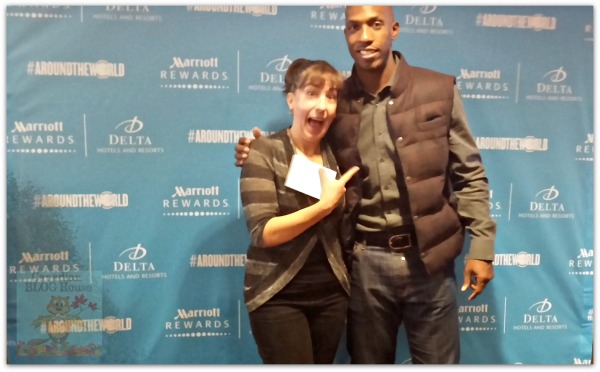 After the meet and greet with Chauncey, the game continued. It was a great game, from start to finish, even if it ended up in a disappointing loss for my fave Raptors:
***Content no longer available***
Our evening out at the #NBACanadaSeries game did not end here. We left the suite and were escorted down to Club Rouge at the Canadian Tire Centre for the post-game reception. Julie and I waited in anticipation for team members to show up. In the mean time, we spotted this special NBA trophy sitting on a table surrounded by security guards – the Larry O'Brien Championship Trophy. Of course this called for a photo-op!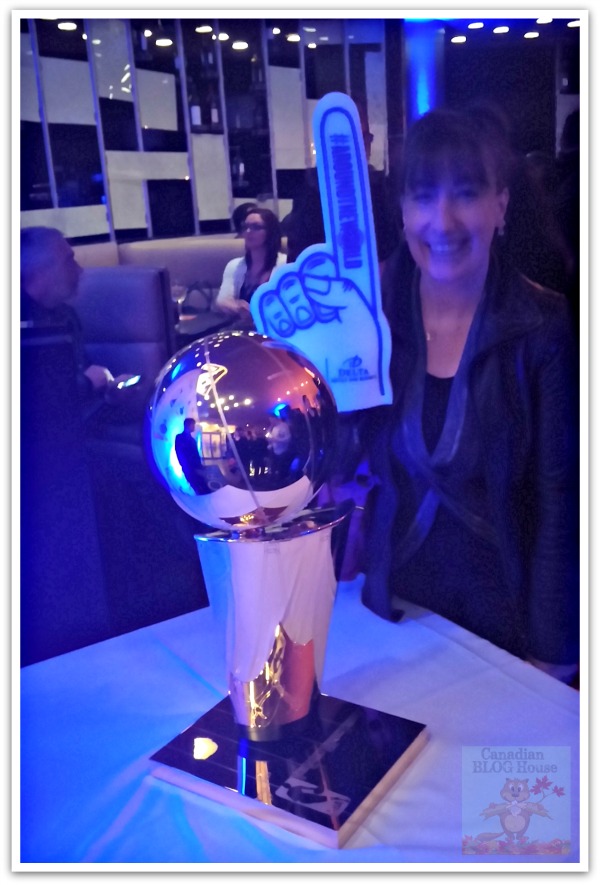 Julie and I hung around for a short while, but after seeing a few players come in, do a quick walk around, and then leave, we decided to call it a night and head home. We were tired out from our super fun night in the Marriott Rewards Suite and our beds were calling our names.
Want the chance to experience some great Marriott Rewards for yourself? Be sure to sign up for the Marriott Rewards program and start earning rewards points the next time you stay with Marriott (and now Delta Hotels and Resorts!). Be sure to follow Marriott Rewards and Delta Hotels and Resorts on Twitter, and like Marriott Rewards and Delta Hotels and Resorts on Facebook, to stay up-to-date on all their latest promotions!
Don't forget! If you are a Marriott Rewards member, you can look for the opportunity to enter in an upcoming elite #AroundTheWorld sweepstakes for an once-in-a-lifetime chance to win a trip and tickets to an upcoming NBA global event!
A huge thanks to Marriott Rewards for inviting me to enjoy this fantastic experience! It was truly a hoop dream come true!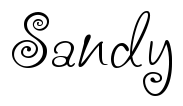 Disclosure: Canadian Blog House received special perks in exchange for this post. All opinions are our own.