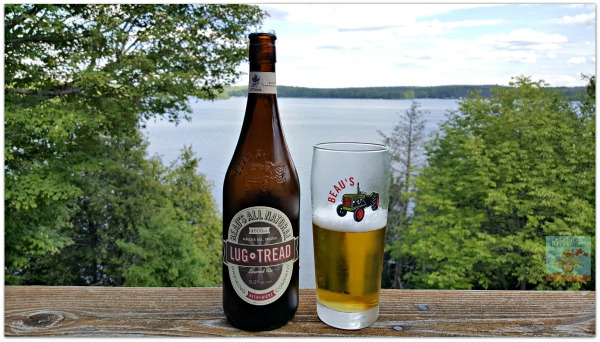 Beau's All Natural Brewing Company has been a staple on the Ottawa craft brew scene for a long time now. Just an hour's drive from Ottawa, in Vankleek Hill, Ontario, this year Beau's is celebrating their 10th year in business.
That's pretty "heady" stuff for any brewing company in the competitive craft beer industry.
Ottawa's Official Beer
Now Beau's has even more reasons to celebrate. Beau's flagship lagered ale, Lug-Tread, has been chosen as Ottawa's official beer for Ottawa 2017, the nation's capital's celebration of Canada's 150th birthday.
[bctt tweet="Ottawa's Official Beer? Naturally, It's Beau's! #LugTread #OfficialBeer #Ottawa2017 #Canada150″ username="CanBlogHouse"]
I have been a fan of Beau's for a number of years now. I still remember the first time I spotted their uniquely packaged Lug-Tread beer at my local LCBO: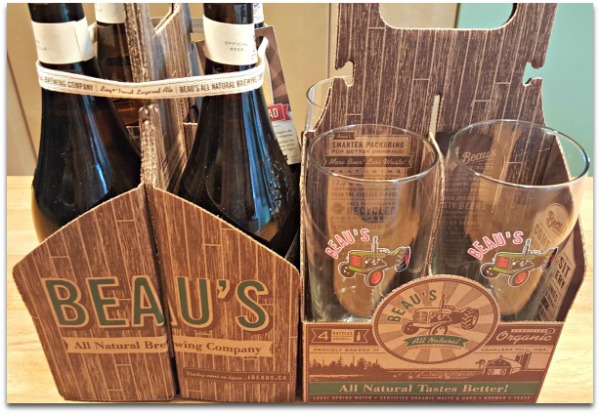 The attention to detail makes Beau's packaging very aesthetically pleasing.
Over-sized bottles of beer, tied together with special Beau's ribbon, cardboard packaging full of great designs and fascinating facts about Beau's, and a special Ottawa 2017 label now added to each bottle, make drinking a bottle of Ottawa's official beer, Lug-Tread, a whole experience in itself.
Clever packaging with a comfortable "down home" country feel to it.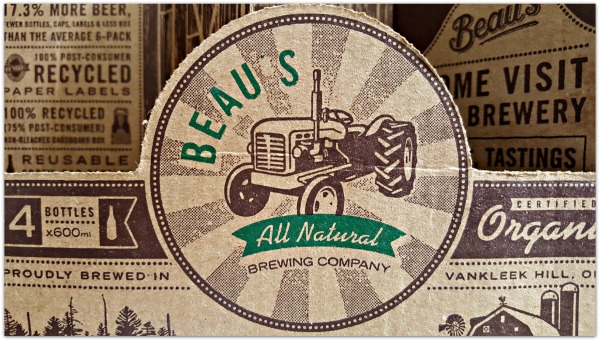 But enough about the packaging (for now)…because it's really all about the beer, right?!
"Since 2006 Beau's All Natural has been brewing interesting, tasty beers like our Lug Tread Lagered Ale using the best ingredients & local spring water. Our family takes pride in creating unique, wonderful and certified organic craft beer, conceived with honest consideration for the environment and our local communities, and delivered with a sense of friendly relationship. We are an award-winning, local, family-run, organic, and independent brewery."
[bctt tweet="Sustainability and ethical sourcing are among our tenets here at Beau's @BeausAllNatural" username="CanBlogHouse"]
Our delivery of Beau's All Natural Lug-Tread lagered ale could not have been better timed. Four bottles of Lug-Tread, and four very cool Beau's Lug-Tread tractor beer glasses, arrived at the door just in time to be packed in the car for a trip to my sister's home on a lake in cottage country.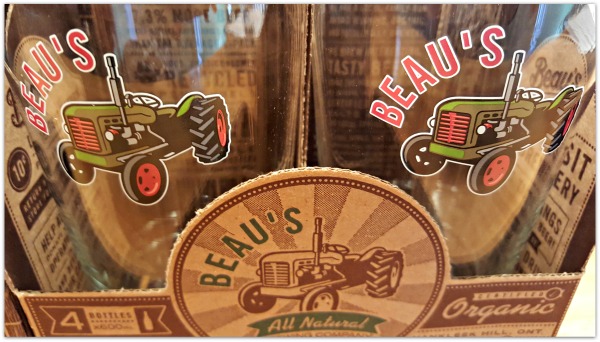 Now, under normal circumstances, I'm not usually keen to share my beer with others. If you enjoy a good beer, I'm sure you understand. In this case, however, I was more than happy to share Ottawa's official beer with my whole family – for a few reasons:
I'm a big fan of promoting local products that I love.
I love helping others discover a great product like Lug-Tread.
Family members from the U.S. were visiting and we were excited to share Lug-Tread with them – a beer they had never heard of before.
[bctt tweet="Cheers to @BeausAllNatural and their #LugTread Lagered Ale #OfficialBeer of #Ottawa2017! " username="CanBlogHouse"]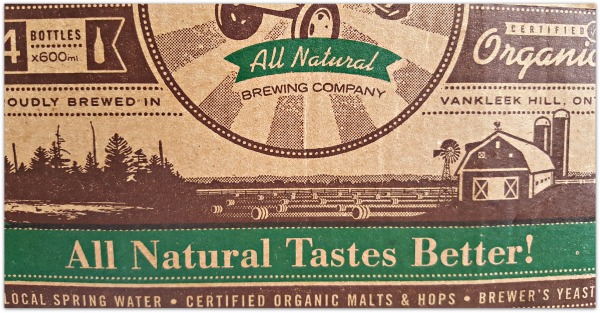 Up at the lake, we cracked open 2 bottles of Beau's Lug-Tread Lagered Ale and poured some into our freezer-chilled Lug-Tread glasses (the best way to enjoy a Lug-Tread in my opinion!)
Two bottles? Yes, two. I know my readers are very smart, so I know you are wondering about the other two bottles, aren't you?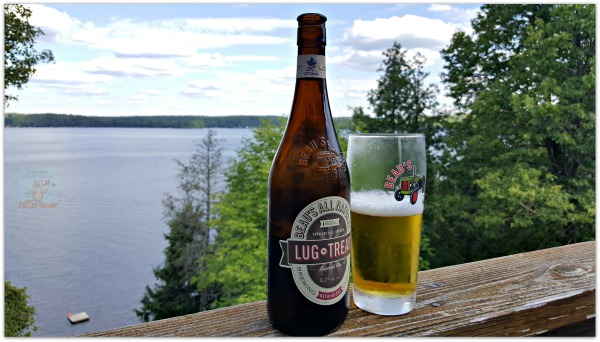 Yes, I sheepishly admit it. I split two large beers amongst 7 adults.
Yes, I kept the other two bottles hidden.
And yes, those bottles went back home to Ottawa…and straight into the fridge.
I selfishly kept the other two for my partner and I.
Lug-Tread lagered ale is just that good.
Lug-Tread lagered ale is a great mix of exactly that – lager and ale. Light and refreshing, with just the right amount of hoppiness for me. To us, Lug-Tread is the quintessential Canadian patio beer…or in our case…lakeside beer. Crisp, refreshing, but not too light.
A good craft beer needs flavour, and Ottawa's official beer has a great flavour if you are a lager/ale lover like I am.
It was unanimous that day at the lake. Everyone enjoyed their taste of Beau's Lug-Tread. Especially my niece Margaret. She enjoyed every last drop of hers, and was the one to point out the Beau's tractor on the bottom of her glass! How cool is that?!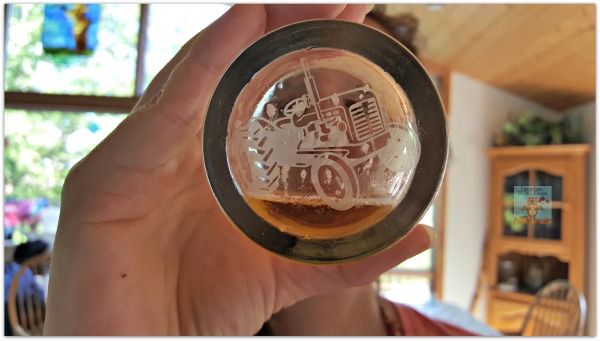 Looks like I may have to put Lug-Tread on my list of drinks to bring with me to the lake next year!
While I already knew Lug-Tread was a great beer, and loved the fact that Beau's is a local brewery, what I didn't realize was that, during my research for this post, I would discover a whole new appreciation for Beau's – the company.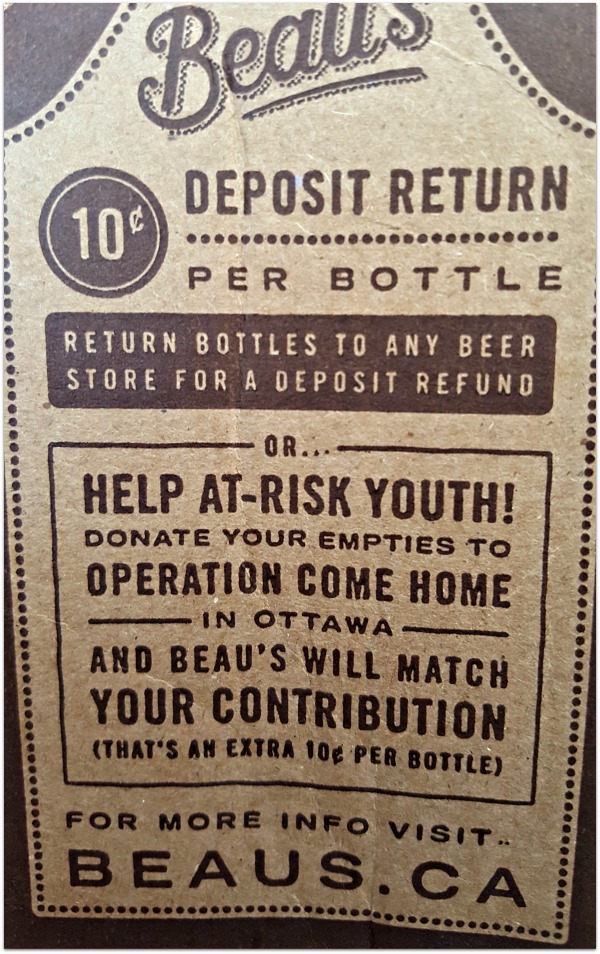 Here are just a few more things that make Beau's All Natural Brewing Company great: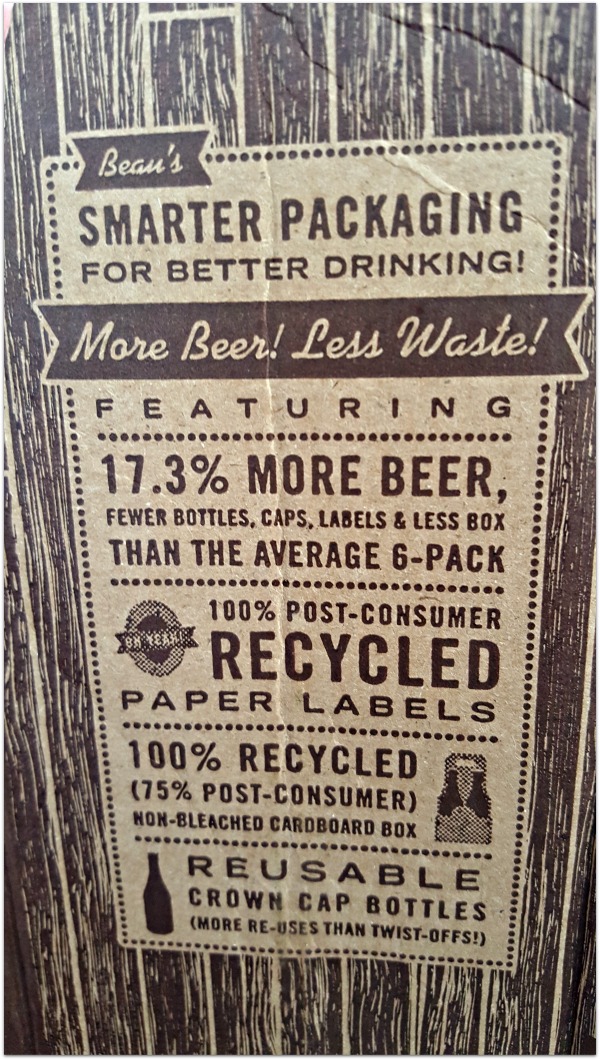 Now, just because I speak of Beau's being a local (Ottawa) craft brewery, doesn't mean you can't find a Beau's craft beer near you. You'll find Ottawa's official beer at various beer retailers in select provinces across Canada – and even in New York State! Check out the Beau's Beer Finder to see if you can grab some Beau's near you!
Be sure to like Beau's All Natural Brewing Company on Facebook, and follow Beau's Brewery on Twitter and Beau's All Natural on Instagram to stay up-to-date on everything Beau's!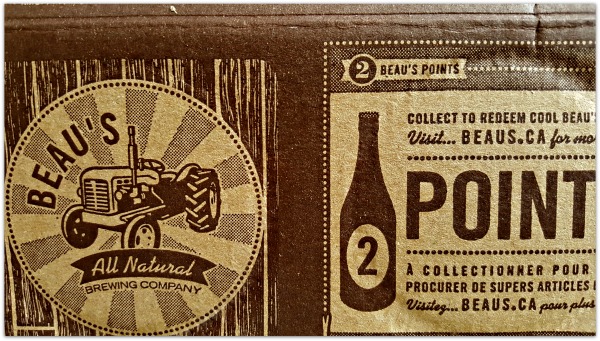 By the way, take another look at all my photos of the Beau's packaging…you may just learn a few more things about Beau's you didn't know!
I'm thinking it's time for another one of my favourite Ottawa-born comedians to get his own Beau's beer too, don't you Jeremy?
Have you ever tried a Beau's beer? Are you a Lug-Tread fan? Do you prefer another type of Beau's beer?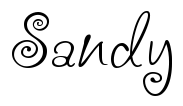 Disclosure: Canadian Blog House received the above products in exchange for this review. All opinions are our own.