Sailun Ice Blazer Winter Tires, I love you already, and you haven't even touched snow yet.
That statement may sound "over-the-top" but it isn't…really.  I am so grateful to be riding on my new set of Sailun Ice Blazer Winter Tires, that I'll tell anyone who cares to listen about these Sailun Tires.
You see, it wasn't too many years ago that the only winter tires I would drive on weren't even winter tires.  They were all-season tires.  You know, the tires that are good for any and all road conditions.  At least that is what I used to think.  Boy, was I wrong!
Think you know the difference between all-season tires and real winter tires?  See if you do – check out these facts:
Winter tires are made using special compounds that help improve traction below temperatures of 7C/45/F.
Winter tires provide as much as 50% better traction in winter conditions than all-season tires.
All-season tires are like a "Jack Of All Trades" type of tire which, on the flipside, means they are a "Master Of None".  All-season tires work great under a variety of conditions, but not winter conditions like we experience here in Canada.
Winter tires tend to be "narrower" than regular or all-season tires.  This helps winter tires to get through the snow easier.  Wide, low-profile tires that are found on many of our cars these days are great in summer, but do not perform well under winter conditions.
So what convinced me to purchase my very first set of winter snow tires?  A few years ago, I was a passenger in a slow-moving vehicle equipped with all-season tires.  Out driving right after a heavy snowfall, we rounded a minor curve at 20KM an hour and lost total control of the car.  The driver, realizing we were headed for the ditch,  and that there was nothing we could do about it, tried to "gun it" and get the car into the ditch faster than we were already going.  We had noticed another car coming at us "head on".  Rather than damage two vehicles, the driver tried hard to avoid having the other car hit us.  Unfortunately, the all-season tires we were riding on had absolutely no traction, so all we continued to do was slip and slide slowly into the ditch.  There was no way for the other driver to avoid us, and he ended up hitting the back end of the car.  Everyone was okay, and as far as accidents go, it was a very minor one.  But, not only were we shaken up, we had to have the car towed out of the ditch and to a repair shop, and the driver was now responsible for the damage caused to the other car.  We all know how much "minor" repairs to a car's bumper can cost.  If you don't, let's just say, they aren't cheap!
All I could think of was that we had only been travelling 20KM/HR.  What could have happened if we had been travelling a more "normal" city speed of 60KM/HR?  I didn't even want to think about that.  This is why it's important to winterize your vehicle.  You and your family need all the protection you can get from driving on a good set of winter tires.  Winter tires won't prevent all accidents, but they sure will help you to avoid them if possible.
This accident proved to be the end of my use of all-season tires for winter driving conditions.  From that day on I became a fan, and hardcore supporter, of real winter tires.
Last summer I became the proud owner of a "new to me" car, thanks to my wonderful parents.  I love my car, but as Fall approached, I became focused on the older all-season tires that came with my car.  I just knew they had to go, and long before snow blanketed Ottawa for the first time.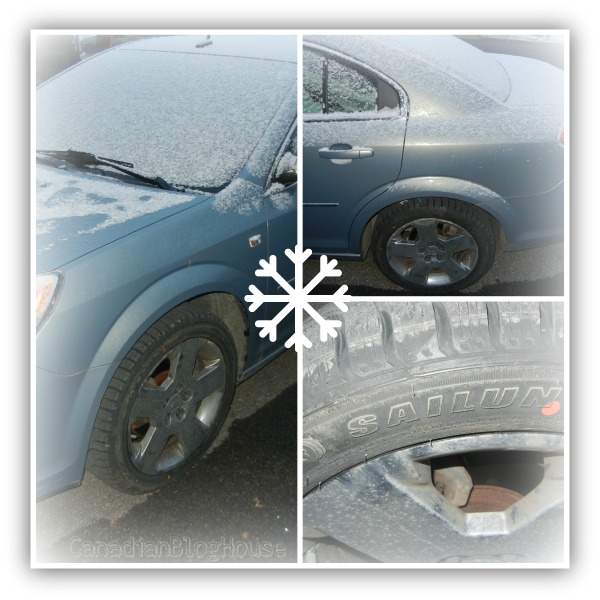 I recently had a brand new set of four Saliun Ice Blazer winter tires installed on my car by the great guys at Frisby Tire in Ottawa.  Sailun Tires first rolled onto the road in 2001, priding themselves on providing consumers with "tires that fit within your budget but also perform".  Now, 12 years later, Sailun Tires produce over 30 million tires annually, in 50 different countries around the world.  Pretty amazing stats for a company that hasn't even hit their "teenage" years yet.
"Sailun Tires manufactures and distributes various types of passenger and light truck, medium radial truck, and off-the road tires in all major markets throughout North America, Europe, Asia, Africa and South America. Sailun's international teams have the ability, knowledge and long term strategies to expand in the tire industry.
Building on real world testing and continuing to develop a motorsports proven product, Sailun will continue to build the most advanced and cost-efficient platform for tire manufacturing and distribution, while utilizing its information technology and substantial research platform to help establish new tire enterprises."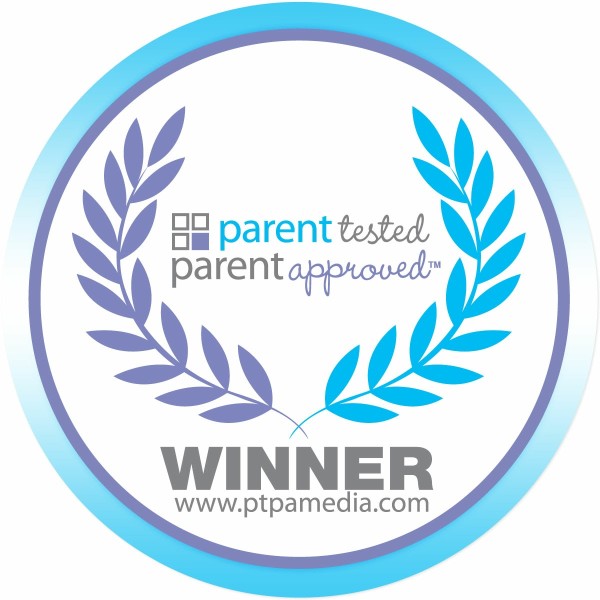 So how did I come to find out about Sailun Tires?  Thanks to the great folks at PTPA (Parent-Tested Parent-Approved), that's how.  They have been applauding the quality and performance of Sailun Tires for awhile now.  PTPA has even awarded Sailun Tires with their "PTPA Seal Of Approval" – the most publicized and highly recognized award seal in North America.  That's some pretty amazing recognition for a newer tire company that is up against many other "tire giants" in the tire industry.  Especially since Sailun Tires is the ONLY tire company to receive this award!
Sailun Tires offer 3 different winter snow tires for passenger vehicles:
Sailun IceBlazer WSL2 – Studless Performance Winter Tire
Sailun IceBlazer WST1 – Studdable Winter Tire
Sailun IceBlazer WST2 LT – Studdable Light Truck Winter Tire
I never realized the difference driving with winter tires can make to a vehicle's performance until I became a hardcore supporter of winter tires.  From the very first time I tried driving with a full set of real winter tires, I could feel the difference.  Don't believe me? Ask to borrow a friend's car that is equipped with snow tires.  You'll see.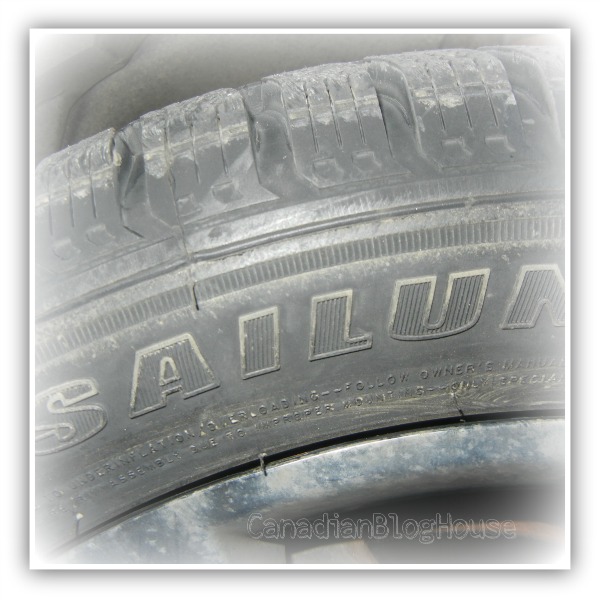 You think you don't need winter tires because your vehicle comes with Traction Control and ABS?  So does my car.  Neither option actually provides more traction – only winter tires can do that.  Traction Control and ABS aren't going to help you too much if you are riding on tires with poor treads.  Look closely at quality winter tires like my Sailun Ice Blazer winter tires.  They come with special tread designs that allow the tires to dig deep into snow and ice, and stay in contact with the pavement.  What Traction Control and ABS do is work well in conjunction with winter tires, giving you the best possible control over your vehicle in slippery conditions.
The best time to install winter tires on your vehicle? NOW! Winter tires should be installed on your vehicle as soon as temperatures drop below 7 degrees celcius.  In most locations across Canada, that's "long before the snow flies".  So don't wait until you see the white stuff on the ground.  Experts suggest late October/early November as the optimal time to install winter tires in Canada.
Look for the mountain/snowflake symbol on any winter tire you purchase.  Winter tires marked with this special symbol meet specific snow traction performance requirements, and are designed for use in severe winter conditions.

QUALITY, SAFETY, VALUE
This winter, I'm trusting Saliun Tires to protect me, my family, and anyone who is a passenger in my car.  That's a pretty big responsibility, but I am confident Sailun Tires can live up to this responsibility because, when you own a set of Sailun Ice Blazer Winter Tires, they are "With You Through Every Turn".
You can find more information on the Sailun Tires website.  Please stop by and like Sailun Tires on Facebook and Sailun Tires on Twitter.
I'm pretty excited about my brand new Sailun Ice Blazer Winter Tires, but I'm even more excited about this!  Thanks to the great folks at Sailun Tires, Canadian Blog House readers get a chance to WIN YOUR VERY OWN SET OF SAILUN ICE BLAZER TIRES!!!  How exciting is that?  This Sailun Ice Blazer Winter Tires giveaway is open to CANADIANS and is set to end on December 5, 2013 at 11:59PM EST.
Here's all you have to do for your chance to WIN:
***GIVEAWAY OVER***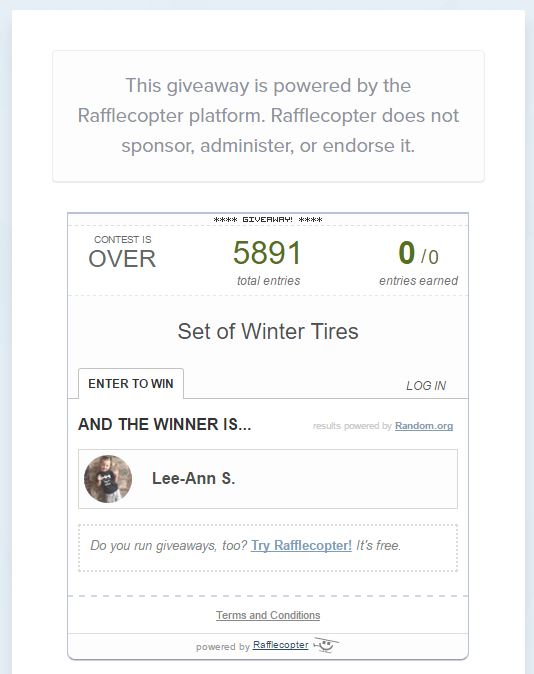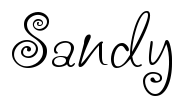 "Disclosure: As a Brand Ambassador with PTPA and Sailun Tires, Canadian Blog House received compensation for my participation. However, all opinions expressed on this blog are my very own."