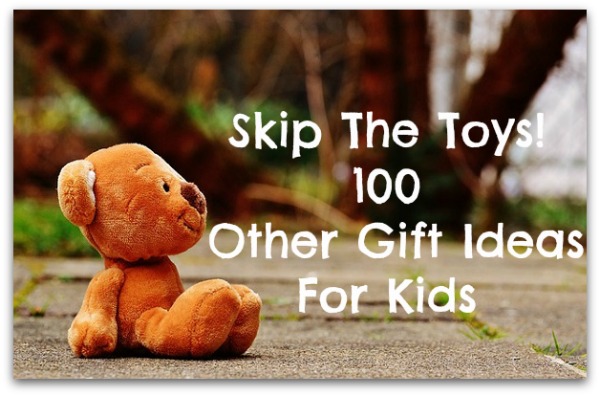 Skip The Toys! 100 Other Gift Ideas
When I was younger, as much as I hate to admit this, Christmas was all about the pile of gifts under the Christmas Tree.
Christmas Past
Back then, my idea of a gift experience was walking out to the living room on Christmas morning and climbing "Mount Christmas" – the mountain of gifts surrounding our family Christmas tree.
My parents provided me and my siblings with many years of toy-filled Christmas mornings. We have plenty of photos and home movies to prove this.
Thankfully, they also provided us with other things that brought comfort and joy at Christmas, like bringing all the family together for cherished Christmas dinners, and fun birthday celebrations for my mum.
Christmas Present
Now that I'm old…er…ahem…older…I am finding that I am becoming more and more interested in the "experience" rather than the "gift". Don't get me wrong, I always love a beautifully wrapped gift but, I now treasure receiving a gift that allows me to take part in an "experience" rather than receiving the gift of a new kitchen appliance (my Kitchen-Aid mixer aside!) or a new sweater.
So I loved reading this list from my friend and fellow blogger, Heather Lynne, featuring 100 other gift ideas for kids. It's a terrific list, and dozens of these ideas apply to adults too!
I see all sorts of things on Heather Lynne's list that I've experienced, or would love to experience.
This list has made me think more about the types of experiences that X-Man may like for his birthday. We already know how much he would love to experience a bi-plane flight over Ottawa, like the one we experienced last summer.
X-man may not always remember the clothing he received as a gift, but you can be sure any of he would never forget a bi-plane flight over downtown Ottawa!
So if you are looking for some great experience ideas for your kids, or you are looking for other gift ideas, but want to skip the toys, check out Heather Lynne's list!
[bctt tweet="Skip The Toys! 100 Other Gift Ideas For Kids! " username="CanBlogHouse "]
Are there any other gift ideas you'd suggest that aren't on Heather's list? Tell us in the comments below!
---
…I thought I would share a list on the blog of Non-Toy Gift Ideas that can serve as a reference for birthdays and Christmas when you're feeling overwhelmed with toys!… READ MORE