Canadian Blog House was provided with a media pass from Ottawa Tourism to experience a Feast and Revel gourmet dinner, at Sky Lounge, 150 feet over Ottawa. All opinions are our own.
What do you do when you get invited to experience something that absolutely terrifies you?
Something that makes your head spin just thinking about it, yet so incredible, it qualifies as a once-in-a-lifetime experience.
You say "yes please!", and then spend the next few days wondering just what you've gotten yourself into!
This past weekend, a gourmet dinner, featuring locally sourced, great Canadian food products, was served to me, and 21 other adventure-seekers, 150 feet in the air over Ottawa.
Part of Ottawa 2017's year-long Canada 150 celebrations, Sky Lounge, is serving up exquisite food, great fun, and spine-tingling thrills, from July 7-22nd, to those who wish to strap into a Formula 1 seat and dangle their feet over Ottawa's City Hall.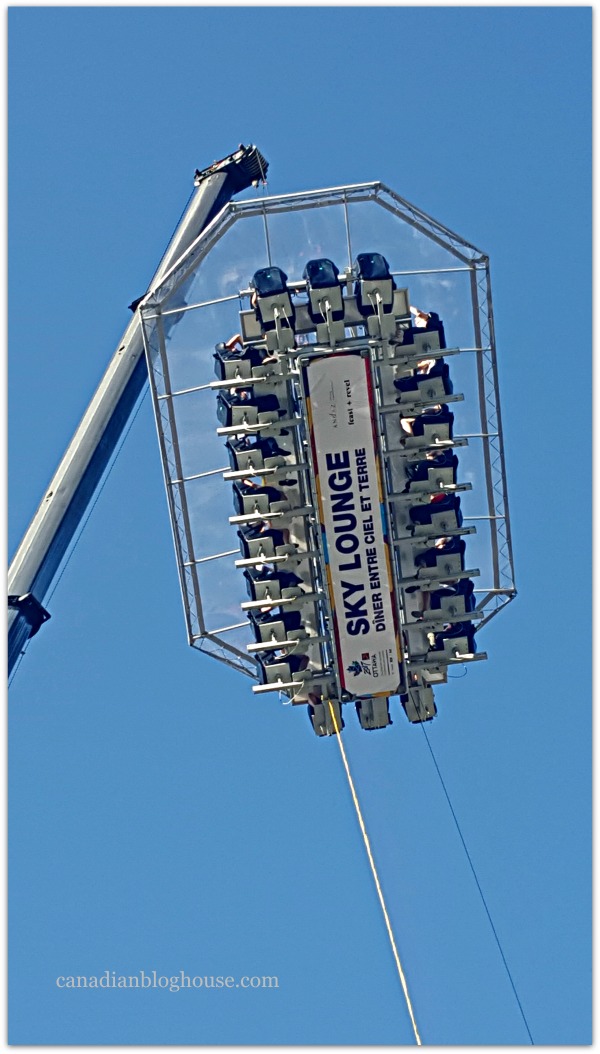 While I knew this was going to be an exciting year here in Ottawa, celebrating Canada 150, I never envisioned it would get this exciting for me personally.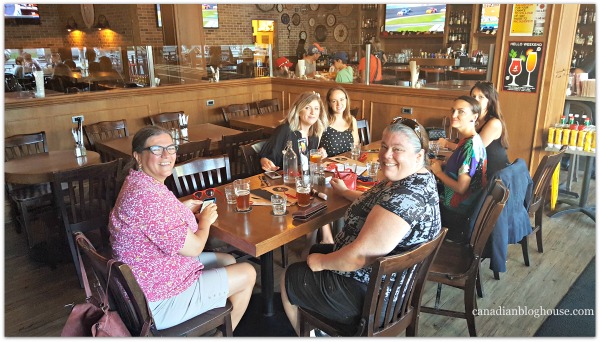 Our hosts for the evening, Jantine and Nives, from Ottawa Tourism, had suggested we meet for a drink at a local brew pub before heading to Sky Lounge. Smart ladies. They knew we might need a little help calming our nerves!
This was not the time for a big frosted glass of craft beer from Clocktower Brew Pub, however, at least not for me (despite the fact that they have an amazing selection of craft beer!). Remember, I was about to head up 150 feet into the air…with no toilet!
Once we arrived on-site at Ottawa City Hall, and I looked up…way up…to see this, I realized my small glass of apple cider did not provide the anticipated calming effect I had hoped for.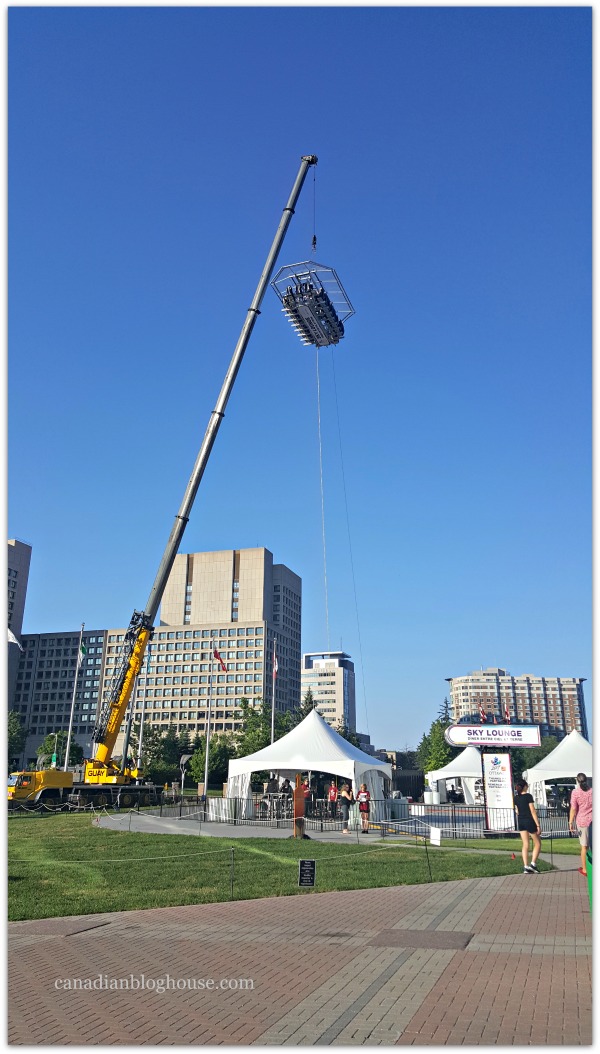 I know what you are thinking. Why put myself through this?
Three reasons, really.
Facing one of my biggest fears – my fear of heights.
Experiencing another "first" in my quest to accomplish #50FirstsAt50 this year.
Saying yes to something I will likely never get the chance to experience ever again.
A quote I recently read by Jack Canfield, American author and motivational speaker, gave me that final push:
"Everything you want is on the other side of fear".
More than anything, I wanted to be able to say that, despite my fear, I did it. I wanted to be a part of this amazing opportunity. I did not want my fear to stop me from experiencing something incredible.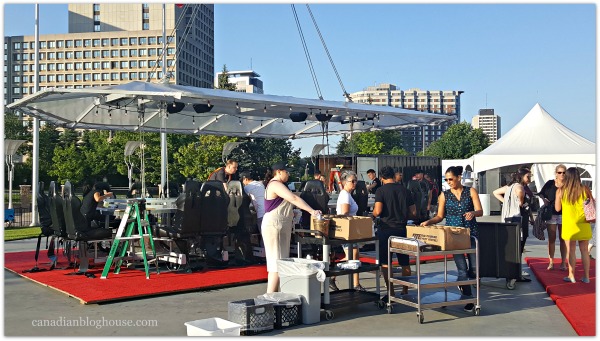 Watching the busy crew clean up from the guests before us, and getting everything ready for our launch, helped me focus on something other than my fear.
That and making jokes about what was going to happen – something that didn't exactly help the nerves of my good friends there with me that night, Emily, Shannon, and Andrea. Luckily, they were great sports, and giggled right along with me.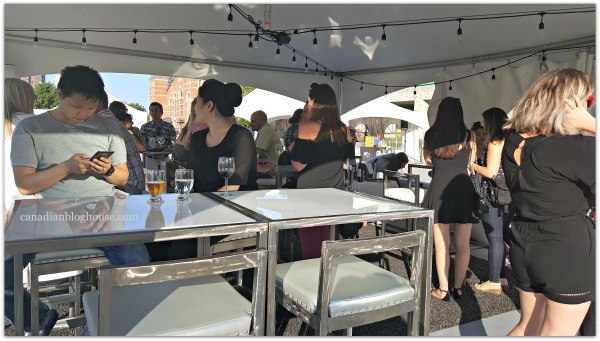 An Experience Of A Lifetime
While awaiting our turn at Sky Lounge, we were offered a drink of wine or beer from the Sky Lounge crew. At any other time I would have gladly accepted a full glass of either but…no toilet at 150 feet!
Then things got real.
Instructions from the crew, an escort to the seat they picked for us (it's all about an even weight distribution, right?), and a crew member strapping us into that Formula 1 seat – nice, tight, and secure!
Up, up, and away! (turn on your volume)
— Canadian Blog House (@CanBlogHouse) July 15, 2017
It's amazing how excited staff, fun dinner guests, great music, and a mobile phone in front of my face, could make me forget just how high up we were.
My apologies for the quickly moving video, I was a wee bit excited! Hope it doesn't make you dizzy!
Before we knew it, we had reached 150 feet (that platform moves quickly!), and our starter was placed in front of us almost immediately. There's no time to waste when you've only got an hour in the air, and a spectacular selection of gourmet food to serve up!
We began with this fabulous starter, prepared by Executive Chef Stephen La Salle, of Andaz Ottawa's Feast and Revel:
Labrador Tea Cured Arctic Char with Cedar-Crème Fraiche, Pickled Pearl Onions, Fennel
Flowers, MTL Bagel Chips, Sorrel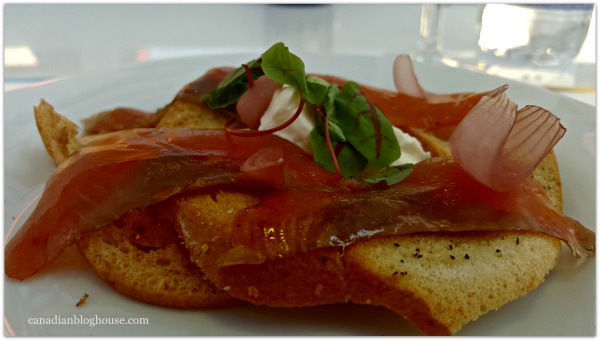 I set my phone down to eat…and the vertigo kicked in. Suddenly, I was all too aware of how high up I was.
Focus on the food! Focus on the food! I kept repeating this to myself.
I tried hard but…my darned peripheral vision got in the way. I kept seeing little ants running around below me on either side.
Oh wait. Those weren't ants. Those were people! Gulp!
Back to the food.
I discovered, no matter how hard I tried, some proper dinner manners do not matter 150 feet up in the air. Being well strapped into my Formula 1 chair meant I could not move forward towards the table very well, leaving a large gap between me and my plate. Perfect for food to fall off my fork, and onto my lap, or worse yet, 150 feet to the ground below.
So my Feast and Revel starter quickly became finger food for me!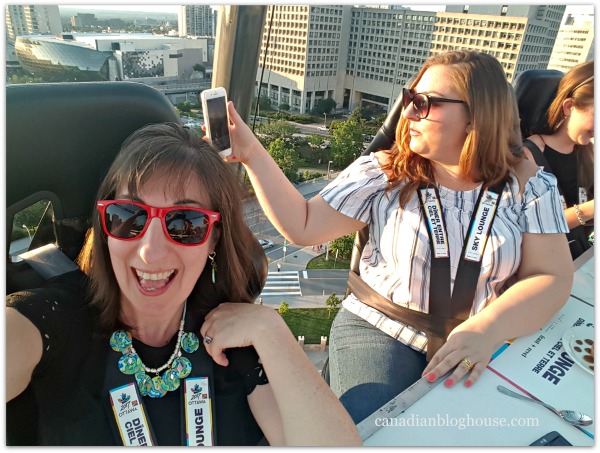 This delicious creation of Chef La Salle's helped me forget the distance between me and solid ground…and so did the refreshing glass of Canadian wine.
Finally I was feeling relaxed enough to enjoy my surroundings, and the view! That's Emily and I above…and tiny ants…er…people…below.
Next up was our mouth-watering entrée:
Elevated Braised Beef Poutine – Braised Beef on Duck Fat Fondant Potato, Canadian Merlot +
Birch Jus, Whipped Cheese Curd Foam, Apple Cider Glazed Ottawa Valley Carrots + Chives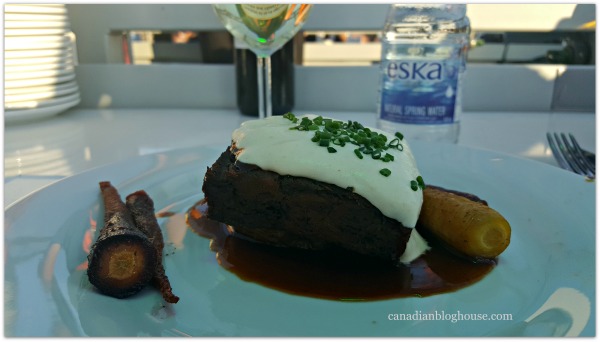 Time at Sky Lounge is a fantastic mix of spectacular gourmet food, fabulous wine and beer (or non-alcolic beverages), and a whole lot of fun!
The Sky Lounge crew who joined us on our adventure provided great service, fab photography skills (when requested), and even entertainment…like when Chef La Salle and another crew member re-enacted a scene from "Titanic".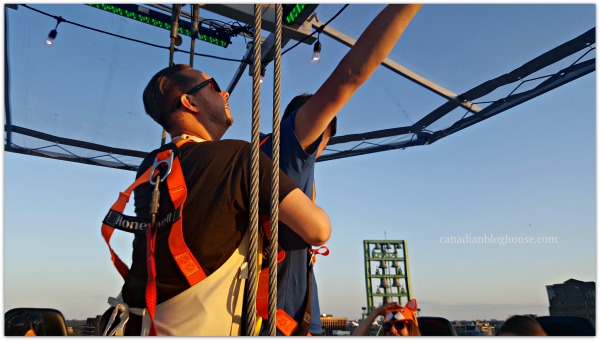 There was so much fun and great music on board Sky Lounge, that I may have taken just a few videos…
— Canadian Blog House (@CanBlogHouse) July 15, 2017
— Canadian Blog House (@CanBlogHouse) July 15, 2017
After what seems like a spring and summer of non-stop rain, we were incredibly lucky to have such beautiful weather for our evening at Sky Lounge, including a fabulous sunset.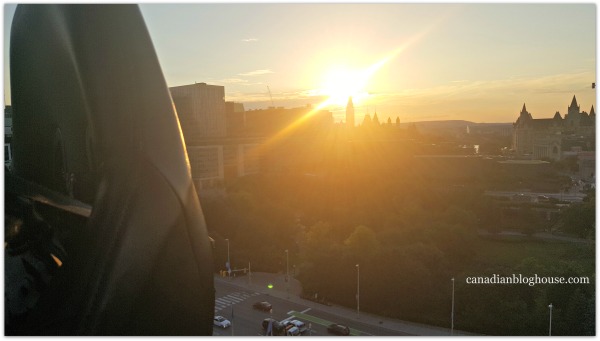 Cheers to our incredible Sky Lounge experience!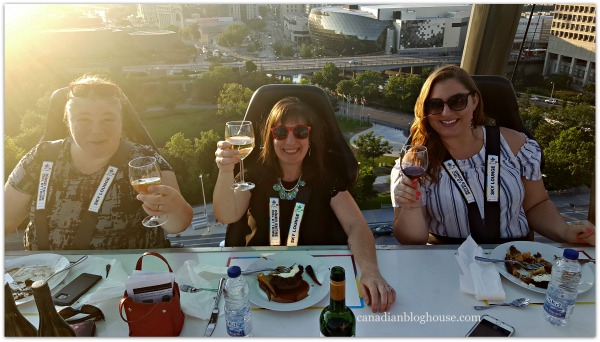 And then, just like that, it was time to descend back to the ground…
As you may have heard in the above video, I lost track of time up in the air, and almost missed out on our dessert…
Maple Scented Butter Tart, Spiced Date Puree, Spiced Canadian Whiskey Soaked Sultana
Raisins, Vanilla Ice Cream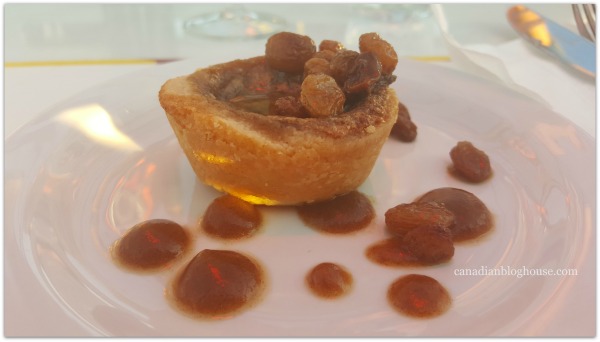 I gobbled my butter tart up in record time! There was no way I was going to miss out on this. It was divine!
And so, despite my extreme fear of heights, I did it! And it felt FANTASTIC!
I had to celebrate when I got back down to the ground…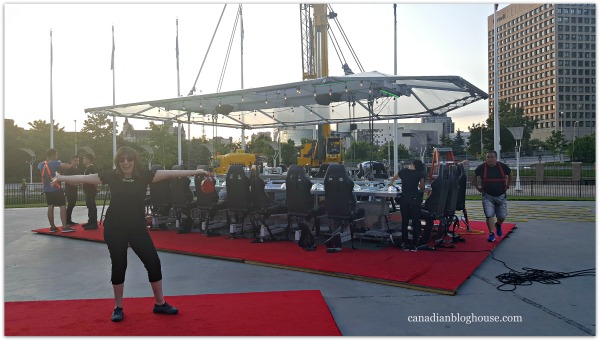 Apparently I had a crew member celebrating right along with me…and didn't know it…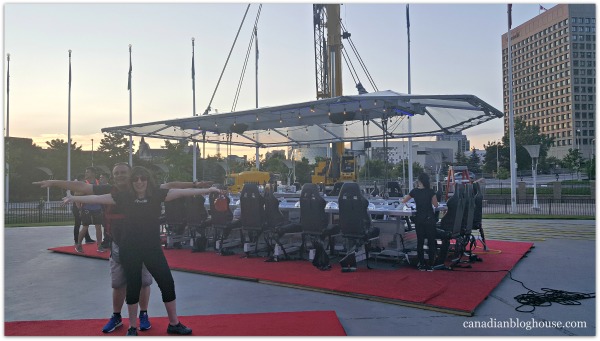 Until my friend Emily pointed this out to me…and I turned around and poked the poor man in his stomach with my elbow!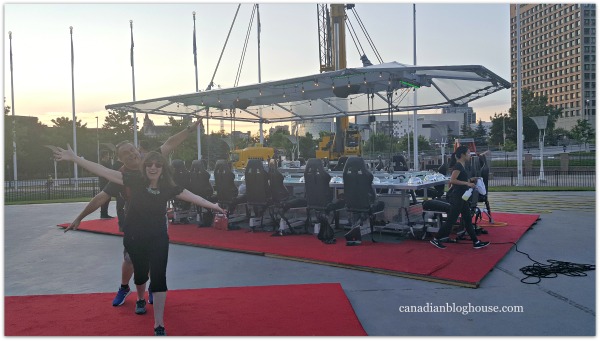 Happy to report he was okay, and we had a great chuckle over this.
Friends, while the gourmet dinner tickets are sold out, there are still a few tickets available for the Cocktail experience.
From now until July 22nd, enjoy a Cocktail experience aboard Sky Lounge ($150 + tax & service fee)!
A few pieces of advice from me if you go…
Do not wear flip-flops or any other shoes that are not securely attached to your feet
Wear sunglasses – you may be facing a spectacular sunset
Do bring your phone/camera but, make sure they have straps to hang on to. No screen protector will protect your phone from a fall of 150 feet.
Pee before you go up! No toilets on board Sky Lounge.
Do NOT let your fear stop you! If I can do it…so can YOU! Don't miss out on this incredible experience!
In case you missed it on our Facebook page…one last video of our ascent into the sky!
Our evening with Ottawa Tourism did not end after we departed Sky Lounge. Stay tuned for a follow up post with our take on Kontinuum, and the Northern Lights Sound and Light show at Parliament Hill!
A huge thanks to Jantine, Caroline, and Nives, at Ottawa Tourism, for the invite, and for hosting this incredible evening out!