Hey Toronto! Ever heard of Smoke Bourbon Bar-B-Q House? If not, take note.  Smoke Bourbon Bar-B-Q House is one of THE BEST authentic southern BBQ smoke house's to ever open north of the 49th parallel.  Opening in downtown Toronto just over a year ago, Smoke Bourbon Bar-B-Q is one restaurant that should be at the top of the list of places to dine in Toronto for any southern BBQ lovers or smokehouse rib aficionados.
While on a recent overnight visit to Toronto, we were welcomed to the Smoke Bourbon Bar-B-Q House as the guests of Tony Gallippi, Owner and Head Chef of Smoke Bourbon Bar-B-Q House.  The minute we walked in and smelled the mouth-watering aroma coming from the kitchen area, we knew we had found our new favourite restaurant.
Smoke Bourbon Bar-B-Q House is located at 291 Harbord Street (south of Bloor St. and west of Bathurst St.), in the heart of Toronto.  Housed in a very nondescript building, passerby could easily miss this little gem…if it weren't for that amazing scent of southern BBQ wafting from the building.  It was the smokey BBQ smell that we first noticed as we approached the building.  You can't miss it!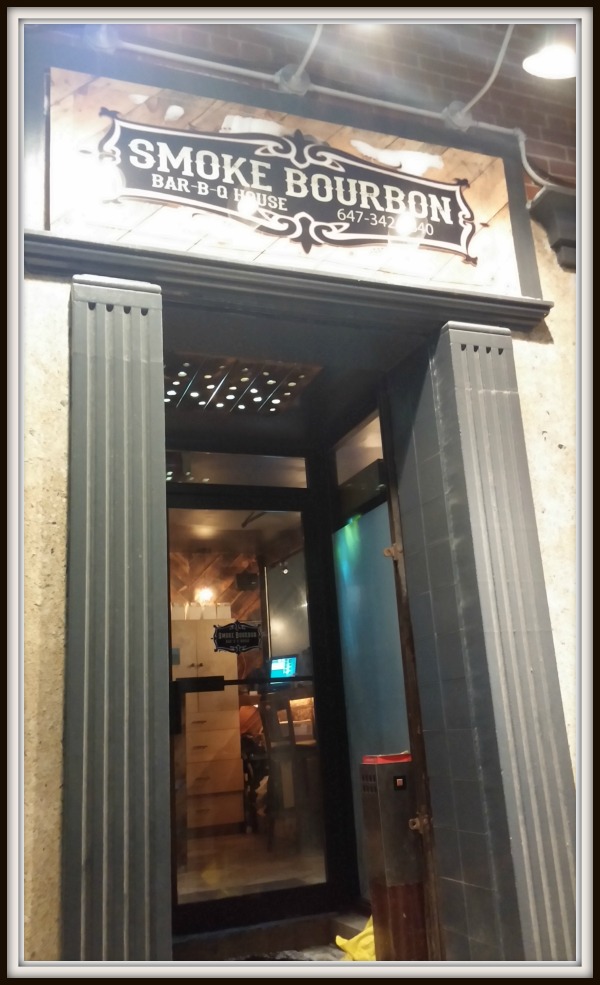 Inside Smoke Bourbon Bar-B-Q House you'll find a casual, warm and friendly atmosphere.  The decor is "pub-like" with lots of wood adorning the walls, tables and chairs. This is not a large restaurant, but looked like it could easily seat 40-60 guests. The guests sitting near us included groups of male and female friends, a couple of business men in suits, a few couples, and some families including kids.  Smoke Bourbon Bar-B-Q House is one of those restaurants that appeals to everyone!
It was the great folks at The Grand Hotel & Suites that told us about Smoke Bourbon Bar-B-Q House when we asked them for a suggestion of where we could eat delicious ribs in downtown Toronto.  They could not have suggested a better place in our opinion.  Take one look at Smoke Bourbon Bar-B-Q House's menu, and I dare you not to start drooling.
As soon as we arrived, we were seated at our table by owner Tony himself.  Tony was our waiter for the evening!  Not only was he our waiter, he was the waiter for a number of other tables that night.  I'm always impressed when I see an owner of a restaurant playing the part of waiter/waitress.  It means he gets to see what it's like for his staff to do this difficult job, and see things "from the other side" so to speak.
Tony quickly brought us out menus and offered us a drink.  Smoke Bourbon Bar-B-Q House has one of those menus that makes it so hard to decide what you wish to eat.  That's because everything on the menu looks delicious! It didn't take us long to choose our dinner selections however, as we had arrived at the restaurant pretty much knowing what we wished to try.
I chose to order the Sampler For 1 because I wanted to be able to try a few different menu items.  So I chose the St. Louis Style Ribs (as recommended by Tony), and the Pulled Pork.  My sides were the Macaroni and Cheese and the Waffle Fries.  My boyfriend had a big craving for ribs so he went with a full order of Baby Back Ribs with Macaroni and  Cheese and Potato Salad, and X-Man went with a half order of Baby Back Ribs and two orders of Waffle Fries.
Here is SOME of the food that was served to us: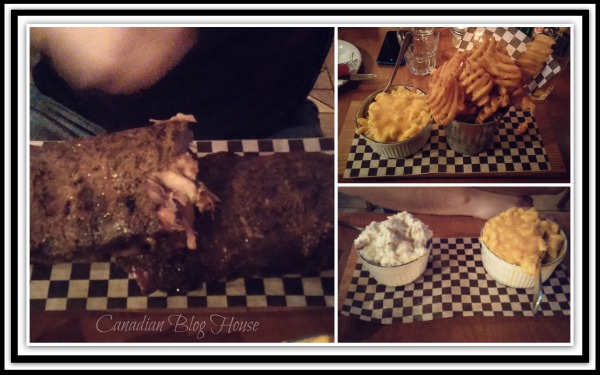 It's hard to tell by the pictures but those portions are huge…and the spread of Baby Back Ribs extends well past the width of the picture here.  Don't forget, besides what you see in the picture, we had an order of St Louis Style Ribs, an order of Pulled Pork, and two more orders of Waffle Fries. Just one bowl of the macaroni and cheese would have been enough to fill me up! But of course we were there to enjoy the ribs, and enjoy them we did!
It was time to dig in, but before we did, Tony brought us out a whole selection of different BBQ sauces to choose from to slather onto our ribs.  At Smoke Bourbon Bar-B-Q House, they don't assume to know what sauce you would prefer on your meat – you get to decide what sauces you want to try. Love this!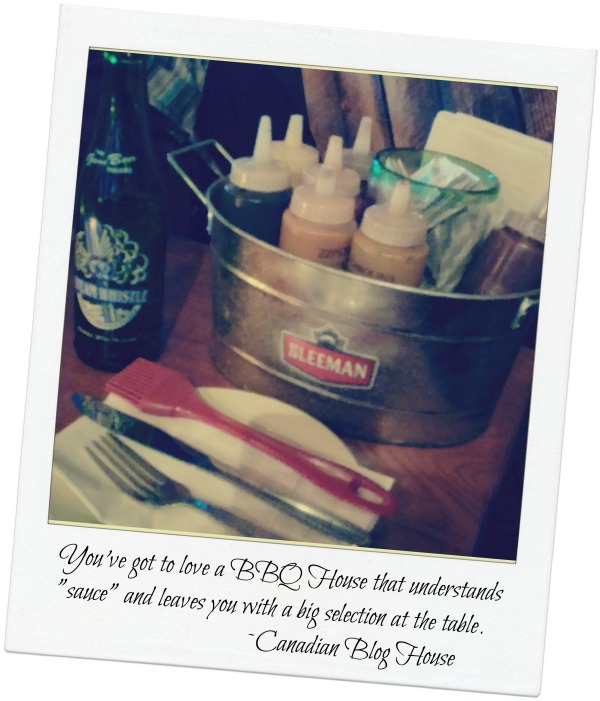 So were we happy with our meal at Smoke Bourbon Bar-B-Q House? You bet we were.  It was outstanding! Both styles of ribs were succulent,  and so very tender and tasty (even without any sauce!).  The Pulled Pork was tender and savoury. The Waffle fries were scrumptious (don't forget I'm a "french fry lover" so I know my fries, lol), the Macaroni and Cheese was oh so cheesy with a delicious "tang", and the Potato Salad was better than any homemade potato salad I've ever had.  The food at Smoke Bourbon Bar-B-Q House is so hearty and full of flavour that every belly will leave there full and completely satisfied. In fact, we all left with full bellies and FIVE containers full of food!! The portion sizes at Smoke Bourbon Bar-B-Q House are huge!  We had enough for a second full meal for the three of us the next day, plus some additional food left for snacking after.  You WILL NOT leave Smoke Bourbon Bar-B-Q House hungry.
I often make note of the little "added touches" restaurants make for their guests when I eat out.  Sometimes it's something to do with the overall atmosphere, sometimes it's some extra special service by the wait staff, and sometimes it is something completely unexpected like this: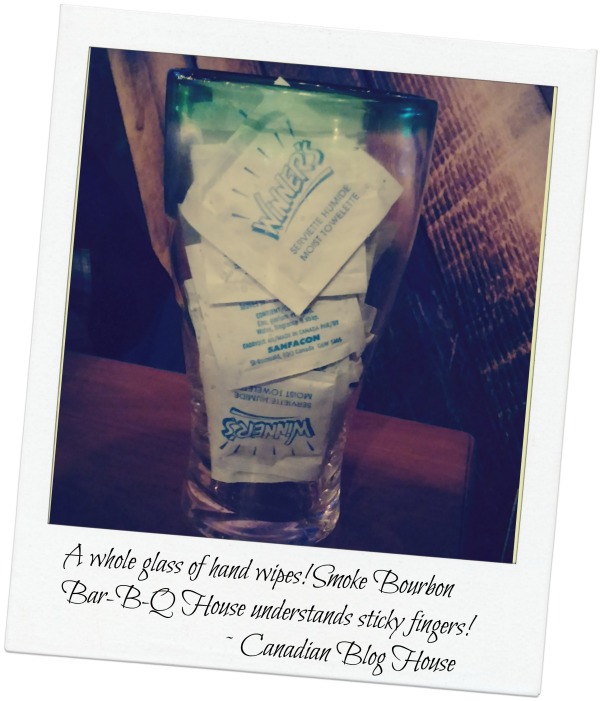 I love a BBQ restaurant that understands…when you eat BBQ'd ribs, you get sticky fingers! One moist wipe just won't cut it for cleaning those sticky fingers! Sometimes it's the simple, yet thoughtful, things that will make a customer happy – like lots of wipes .  I can't tell you how great I thought this "added touch" was.
So Canadian Blog House readers, if you love BBQ and live in Toronto, or plan to visit there sometime soon, be sure to put Smoke Bourbon Bar-B-Q House on your list of "must eat" places. Be sure to tell Tony that Canadian Blog House sent you!
Many thanks to Tony Gallippi and his staff at Smoke Bourbon Bar-B-Q House for hosting us for a superb meal, and an experience we won't forget!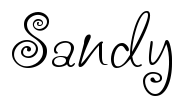 Disclosure:  Canadian Blog House received complimentary meals in exchange for this review.  All opinions are our own.