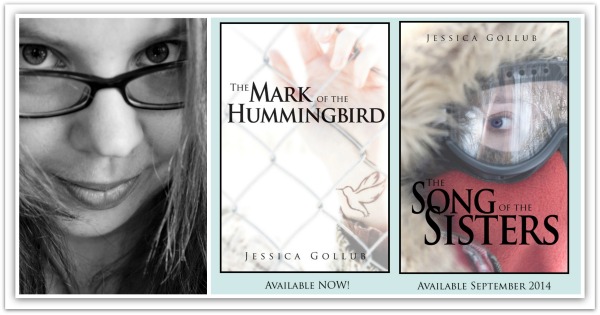 It's time for another installment of my Top 10 Fun Facts series!  This time I'm featuring the lovely Jessica Gollub, Blogger and Canadian Author.  Jessica is the author of the Young Adult novel "The Mark Of The Hummingbird", and is set to release her new book "The Song Of The Sisters" in September 2014.
Jessica was born and raised in the fabulous city of Winnipeg, Manitoba, where she still resides with her family: hubby, 2 kids, AND….9 chickens!  Jessica came to my attention via my last Top 10 Fun Facts featured Blogger, Sarah from Journeys Of The Zoo.  I loved checking out Jessica's list, it's pretty funny!  Being a huge Poutine lover, I'm partial to #2.  Then again, I'd love to see the tongue wave.
Love to read? Interested in checking out Jessica's books? Be sure to read all the way down to the bottom of Jessica's Top 10 Fun Facts List.  She has a little surprise in store for you…
TOP 10 FUN FACTS ABOUT JESSICA GOLLUB:
I have wanted to be a writer since the moment I realized people wrote all those books I was devouring. Of course, my parents told me to have a good solid back-up plan, so I went to school, got my diploma, and ended up being a stay-at-home mom. Sometimes I wonder what would have happened if I had just started writing back then, though I have a feeling my books would have been terrible.

I have a pioneer streak in me. I like to bake my own bread, brew my own beer, curd my own cheese, and grow my own tomatoes. If I can make it/grow it/harvest it, I will try it.

I can make waves with my tongue, and if you ask me, I will show you.

I wrote my first complete novel about three years ago. It will probably never see the light of day. I call it my "practice novel".

I have a love-hate relationship with my daughter's craft supplies.

I hate coffee, tea and hot chocolate, getting enough caffeine to keep up with two rug-rats, make cheese and write novels is not easy, but Slurpees help.

I have a college diploma in public relations, but the scariest thing I can think of doing is calling someone I don't know on the phone. I can write a mean press-release though.

I love photography and for many years was a professional wedding photographer. Now I mostly just take pictures of my kids, and the ones for my book covers.

I have a serious weakness for Poutine.

I love to give stuff away, and seeing as how my second book "The Song of the Sisters" is coming out in September 2014, I am giving away eBook copies of "The Mark of the Hummingbird". Just click 

here

 and it's all yours.