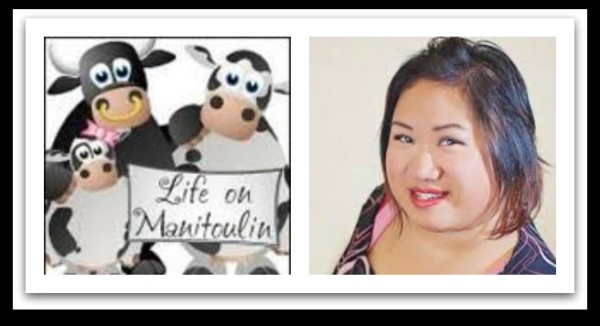 In my latest edition of my "Top 10 Fun Facts About",  I'm featuring one of my favourite bloggers, and a good friend of mine, Christine from Life On Manitoulin.  Christine is a big city girl living the country life on Manitoulin Island (which is surrounded by the waters of Lake Huron and Georgian Bay in Ontario).  I met Christine online, however, I've had the chance to spend time with her IRL, and let me tell you, she's every bit as sweet and fun in person as she is in online.  Be sure to stop by her blog and check out what Life On Manitoulin is really like!
TOP 10 FUN FACTS ABOUT LIFE ON MANITOULIN:
1. Back in 2008, people started following the story of my high risk pregnancy, bed rest, and Little One's dramatic entrance into the world when she canon-balled her way into existence at 28 weeks gestation (with no doctors in the room to deliver her)! Yes! She delivered herself!
2. Life On Manitoulin has been a place for parents of preemies to get info and support for all things preemie and life in the NICU. It's a place where parents of preemies can share experiences as well as help bring awareness and understanding when it comes to premature births
3. We love featuring and supporting local Manitoulin businesses and events on Life On Manitoulin. Readers can find out what a hidden gem "the Island" is.  Some of our  favourite posts on Life On Manitoulin are "Where to Stay on Manitoulin" and "Where to Eat on Manitoulin: The Comfort Food Edition".
4. Life On Manitoulin was an official FoodNetworkCanada food blogger for Recipe to Riches (season one) & we befriended some of the fabulous contestants of the show.  Life On Manitoulin even got invited to the filming of the season finale and got to have Dim Sum with Melaney Gleeson-Lyall and coffee with Melissa Lam.
5. Life On Manitoulin attended the Food Bloggers of Canada conference in 2013 and we took with us a lot of useful information on all things foodie.  We learned about recipe development, food photography, and so much more. What a wonderful experience it was.
6. Life On Manitoulin had the chance to attend WeDay with TELUS and was inspired by the amazing youth and all their efforts to lead local and global change.
7. Life On Manitoulin was invited to Detroit for #FordNAIAS with Ford Canada!
8. It's not all sponsored stuff on the blog! Life on Manitoulin features posts like raising "spirited" kids, life in a small, rural Northern Ontario town, parenting experiences,funny things kids say, and more.  A popular recent post is "On Death and Dying ~ Raising Farm Kids".
9. Life on Manitoulin is also an online journal of Christine's life as a city girl (by the way of Toronto and Montreal) now living in rural Northern Ontario. Not only was Christine a city girl, but she was a vegetarian (for most of her adult life) who married a beef farmer! She writes about life on the farm and tries to shed light on the reality of living on a working beef farm. She's a supporter of Canadian Beef.
10. Not only is Life on Manitoulin the journal of a city girl gone country (or at least trying to!), but also the account of a Filipina-Caribbean-Chinese person living in the North. Christine shares lots of recipes from her culture and uses locally grown product and local meat (most of which are grown on her husband's farm). Check out some of her recipes: Filipino Tortang Talong, Turón, Filipino Bistek, Filipino BBQ, Chicken Adobo, Filipino Fruit Salad, and more!